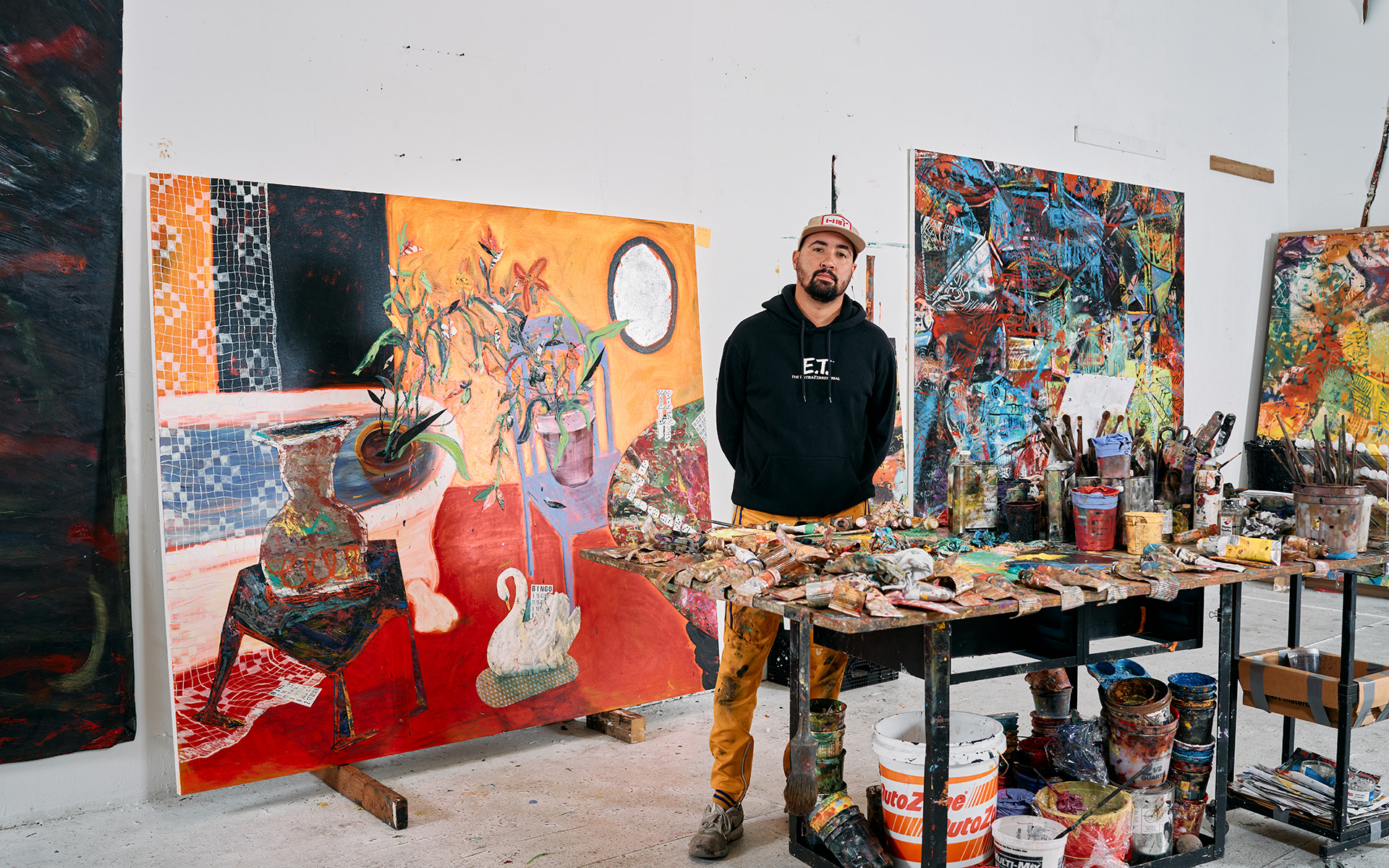 How Angel Otero, Pat Steir, Rashid Johnson, and More Build Their Own Art Collections
The long-standing practice of artists trading works lives on as an excellent means to building a collection
The idea of artists making a mutual trade of their works undoubtedly goes back as far as art itself, extending across mediums, eras—even feuds. Pablo Picasso and Henri Matisse traded canvases despite being fierce rivals; it was simply what you did to tip your cap. "It's about friendship and respect," says the veteran abstract painter Pat Steir, who has swapped artworks with other luminaries, including Joan Jonas and Ross Bleckner. It's hard to imagine two more different artists, which reveals one of the benefits of an exchange: It can build a diverse collection. 
The practice varies depending on the artist, of course. Mostly, Steir has exchanged prints and drawings. "My paintings are so big no one has room for them," she says, laughing. But that will soon change: The installation maestro Sarah Sze has initiated a painting-for-painting swap with Steir, who says she is game.
Some artists have woven trading fully into the fabric of their friendships. That's the case with Rashid Johnson and Angel Otero, whose Brooklyn studios are only three blocks from each other. "I love art and I live with it—and I don't want to only hang my own," says Johnson, the multimedia artist known for plant-filled installations and abstract pandemic-era "anxiety drawings." He and Otero, Johnson's friend for some 15 years and a maker of exuberant collaged paintings, have traded pieces in different mediums, most recently ceramics.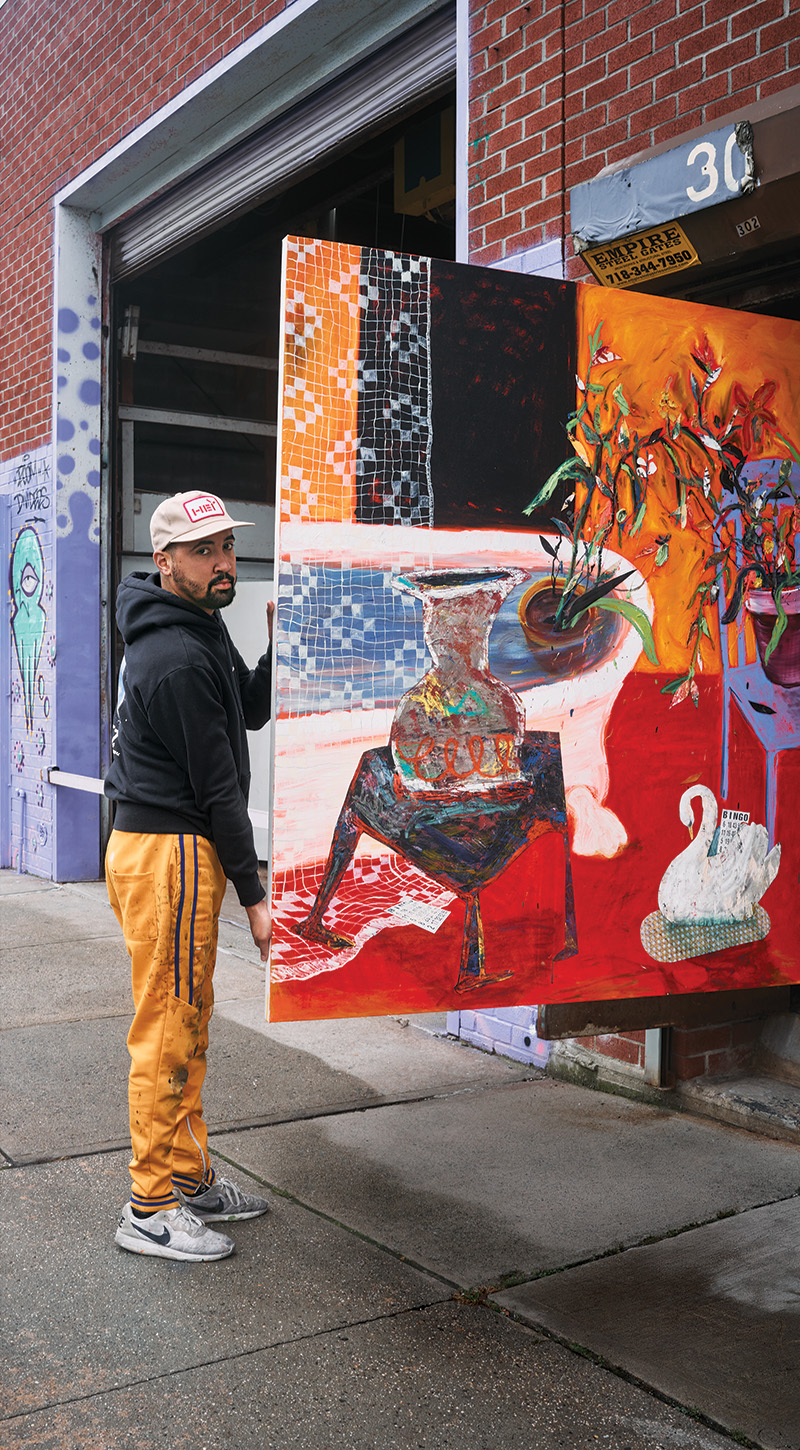 For his part, Otero says that the practice is a feel-good relationship marker, but it also makes him a bit nervous. "I get curatorial with it," he says. "I think, 'Should I give him that one? Is it the best one?' I love Rashid, and I want him to have a good work."
Otero calls this the "emotional uncertainty" factor, and the practice turns out to have many surprising wrinkles. For starters, the very ubiquity of the idea of trading leads some to give it merely lip service. "Eight out of ten trades that are discussed don't happen," says Johnson. "It's the artist's version of 'Let's do lunch.' "
"I love art and I live with it—and I don't want to only hang my own"

Rashid Johnson
Thorniest of all—and least discussed—is that in theory every artwork has some kind of financial value, especially at the level of these talents, and rarely are two works worth the exact same amount. "I think most people are aware of the value thing to some degree," says Johnson, who also cautions that over time, the tables may turn. "Maybe mine's more expensive than yours today," he adds, "but that may change."
Ian Alteveer, a modern and contemporary art curator at the Metropolitan Museum of Art in New York, notes that the issue may be even more acute in the current climate. "Most artists would be horrified to think of it as an investment, in either direction," he says. "But the market is so fraught these days, it may be difficult to avoid."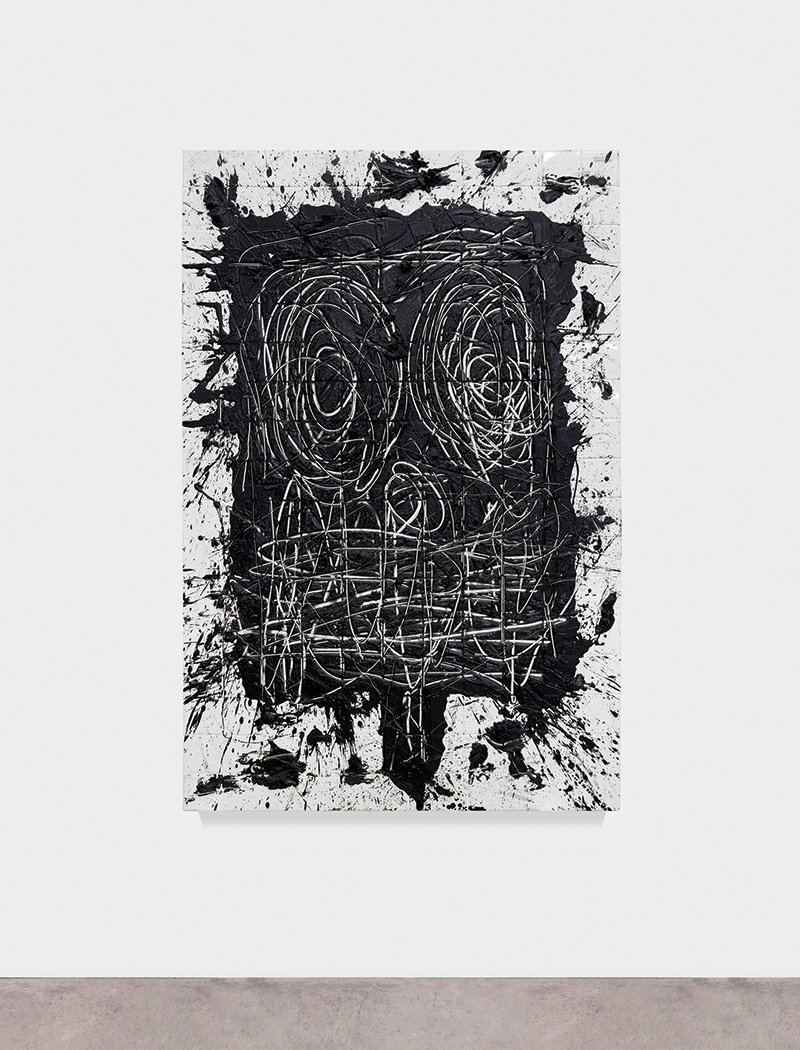 Of course, not all exchanges start off that way. Although late-19th-century painters such as Gustave Caillebotte, Edgar Degas, and Pierre-Auguste Renoir passed around works like canapés, Gary Tinterow, the director of the Museum of Fine Arts, Houston, notes that sometimes "an outright gift prompted a reciprocal gift."
The veteran ceramist Arlene Shechet prefers the latter, giving her sculptures away in some cases, partly on the principle that they should be spread around. "You don't want to be the biggest collector of your own work," she says. 
When it comes to art by others that she loves, Shechet enjoys showing respect by purchasing it. "I lean toward buying if I can," she says. "It's cleaner." That was the case with a Nicole Eisenman painting, Sunday Night Dinner (2009), featured in the 2022 show "Stuff," which Shechet curated at Pace Gallery. Among a small, trusted circle—including longtime friend and fellow Pace artist Kiki Smith—she has a gifting routine that often turns into trading. "I say, 'Just give me something you think I should have,' " Shechet notes. "It eliminates the awkwardness of the negotiation." With Marilyn Minter, "it just feels easy," says Shechet, who is delighted by one of the gifts she has received from the photographer, an editioned Trump plaque.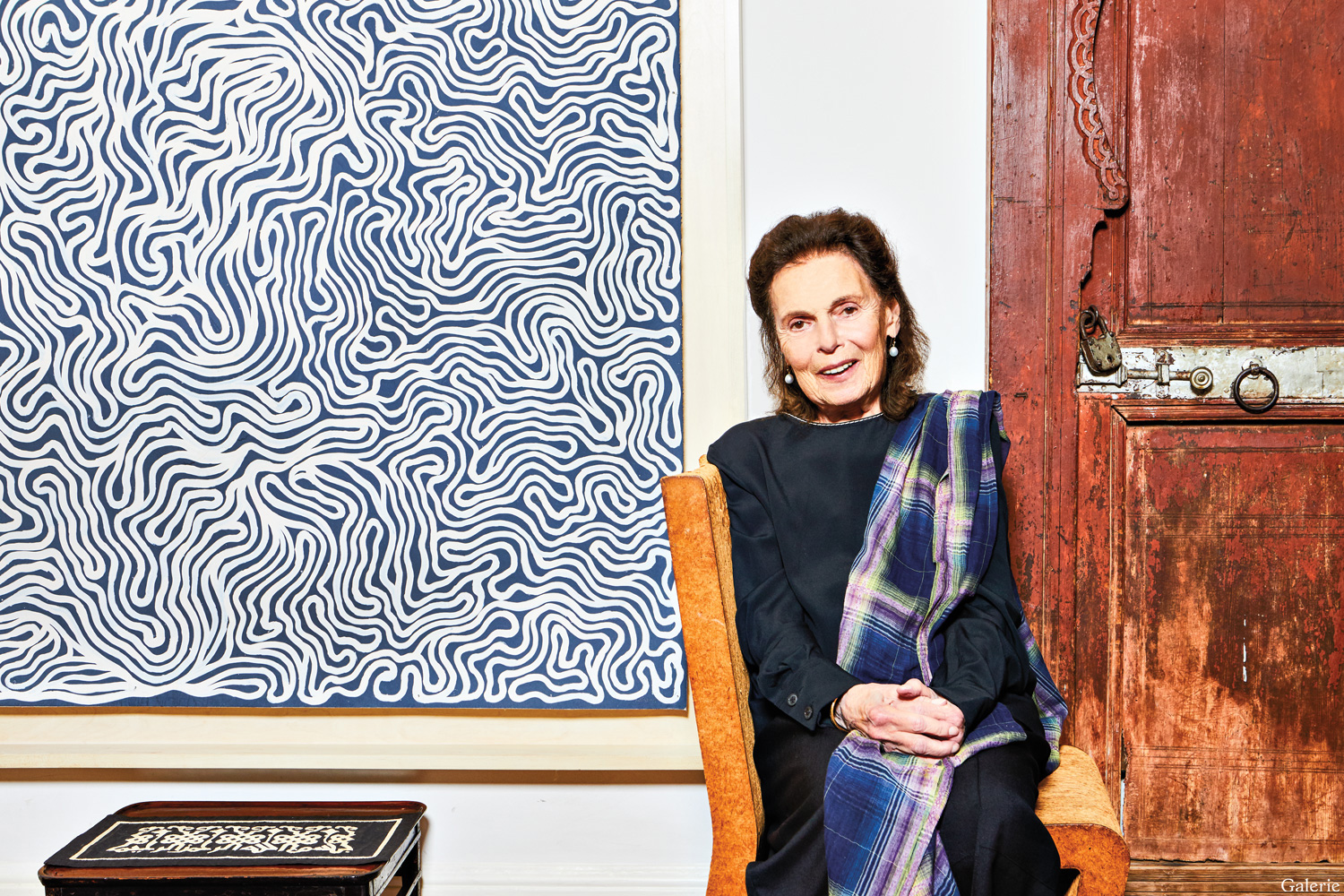 Artist Adam Pendleton, perhaps best known for his "Black Dada" series, was involved in one the most precocious swaps of all time. As a 16-year-old budding artist, he was making work and dutifully sending out slides to galleries, including to Onetwentyeight on the Lower East Side in New York, run by Kazuko Miyamoto, who had been an assistant to Sol LeWitt and was friendly with the great conceptual pioneer. When she put one of Pendleton's teenage creations in a show—a major achievement on its own—LeWitt came to the exhibit, admired the work, and tried to buy it.
The gallerist urged him to swap instead, an easy argument, since LeWitt was among the most prolific traders of the age, exchanging with numerous artists, including Steir. (Many of his swaps were featured in a Drawing Center show in 2016, and he considered the act an integral part of his practice.) "In his collection is a work from my youth," says Pendleton, referring to an abstract painting with collaged elements. "And I got a beautiful gouache."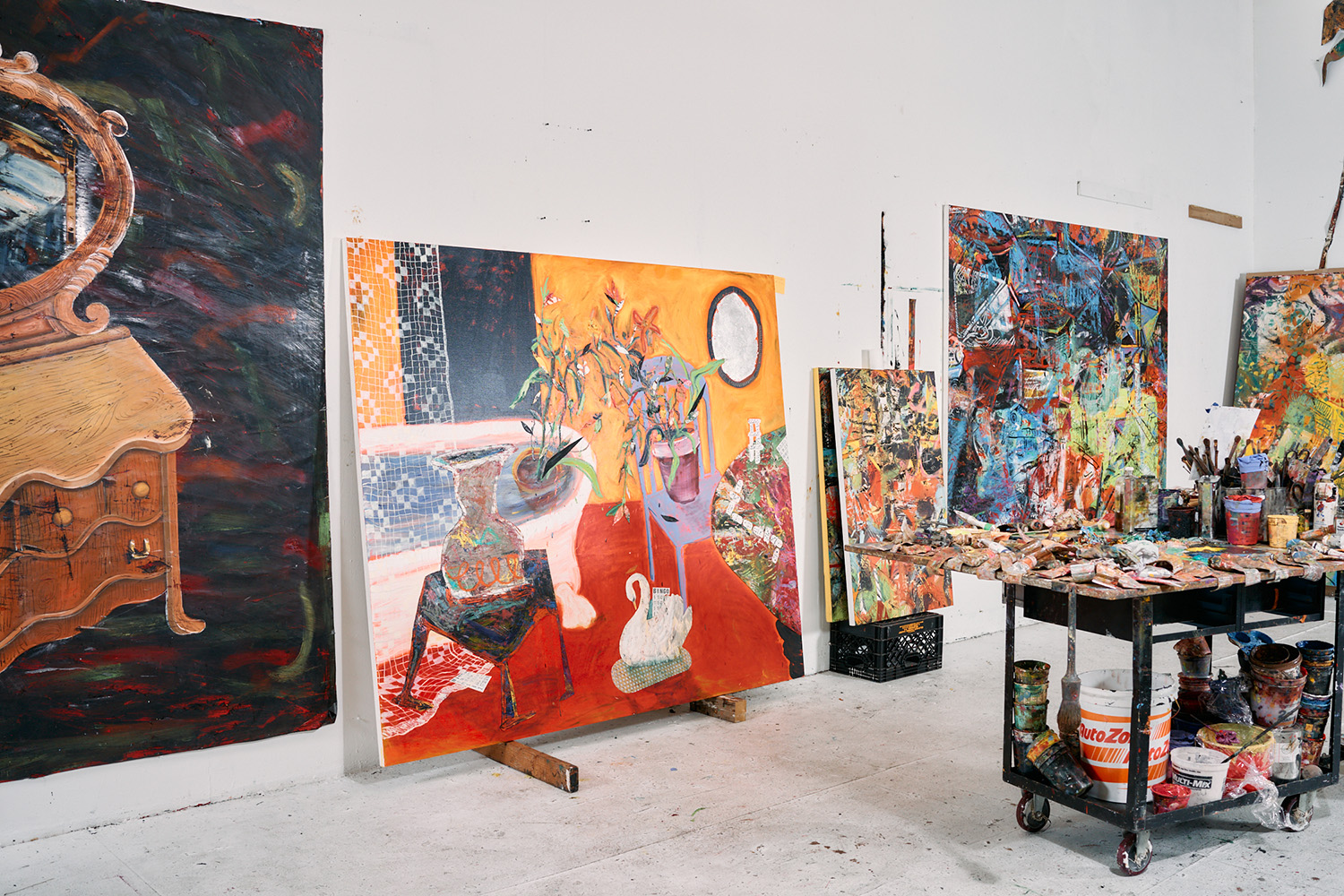 Nowadays, Pendleton is a little more circumspect. "I'm hesitant to trade," he says, noting that he also does not make a lot of work, so there is not a large reserve from which to pull. "I'm bigger on putting my money where my mouth is and buying something I like." 
The painter Nathaniel Mary Quinn has an old-fashioned enthusiasm for exchanging art. "I'm in the midst of doing a trade with three artists: Hugo McCloud, Derrick Adams, and Amoako Boafo," says Quinn. With his friend Derek Fordjour, a maker of ebullient figurative work, he has an ongoing swap meet of sorts. "I love his work," he adds. "He's a beautiful spirit. And he feels the same about me."
The painter Jenna Gribbon has not done a lot of swaps, save for one with Doron Langberg, but she notes, "I have a wish list!" Quinn also has something of a hope chest, which he would fill with works by Gerhard Richter and John Currin. "I'd love to trade with Jenny Saville, but I've never mustered up the courage to suggest it," Quinn adds about the fellow Gagosian artist.
Often a trade does not get suggested because "some people don't want to be turned away," Johnson admits. The sometimes-uncomfortable politesse around the tradition is brought home by a story from Shechet involving a pushy male artist, whom she will not name. "When someone asks you, it's very awkward to say no," she says of an incident several years ago. "This guy came to my studio and talked his way into two pieces. He was so smooth," Shechet says with a sigh. "I still have his work. In the basement."
A version of this article first appeared in print in our 2022 Winter Issue under the headline "Exchange Rate." Subscribe to the magazine.
Next Post