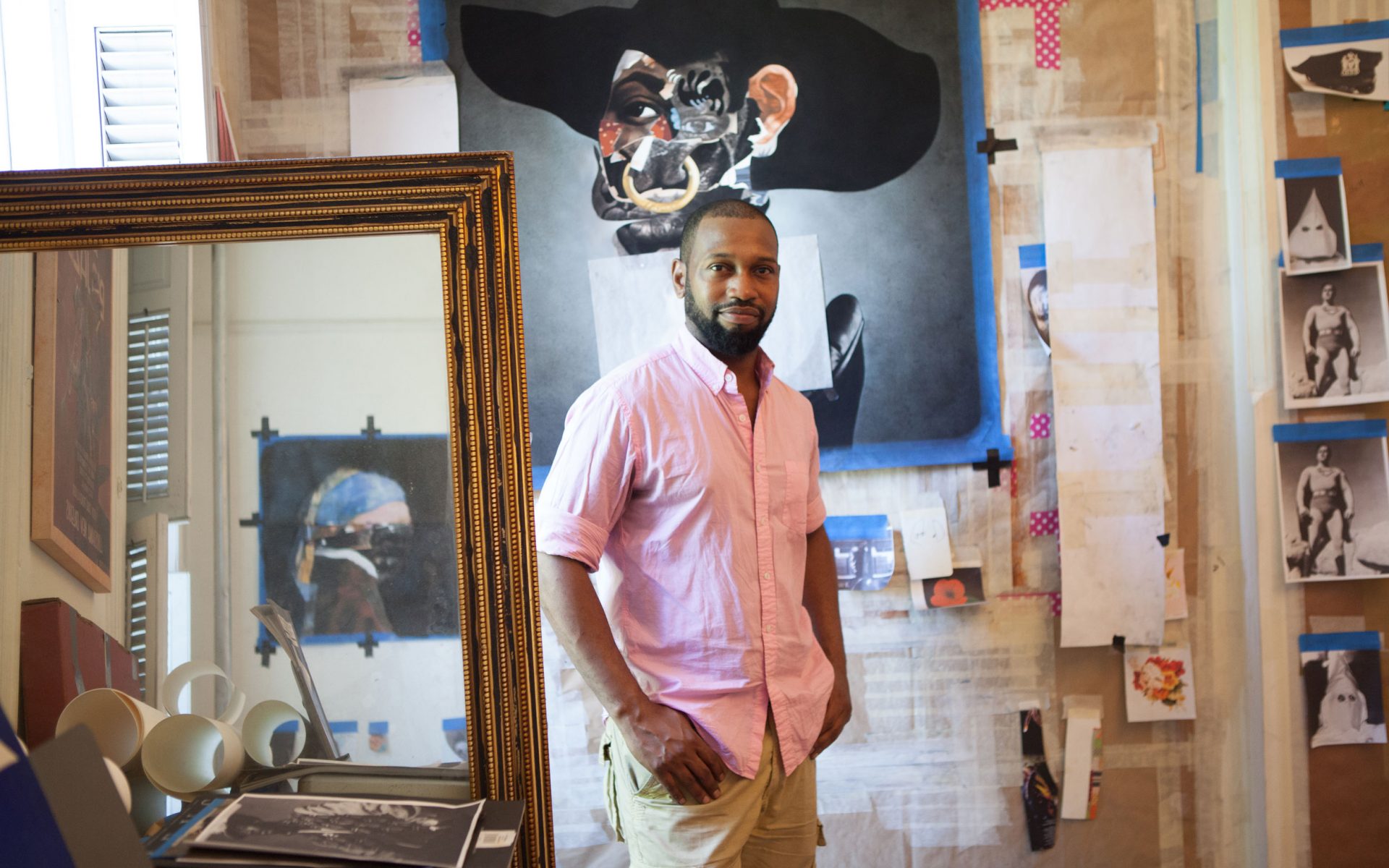 How Artist Nathaniel Mary Quinn Got on the Collector Hot List
Galerie speaks with the Chicago-based talent who is now represented by Gagosian gallery
It's hard to forget the portraits of Nathaniel Mary Quinn. Looking into the fragmented, kaleidoscopic faces, the features seem startlingly familiar—an old friend, a neighbor, or perhaps someone you saw crossing the street.
Though Quinn's works appear to be collages, they are actually paintings—perfectly rendered in charcoal, gouache, and pastel from images he spends hours searching for on websites, in fashion magazines, and even on Instagram. The resulting tension between the grotesque and the beautiful, the strange and the alluring is powerful.
The Chicago-based artist's story is as astounding as his artworks. The youngest of five brothers, Quinn grew up on the South Side of Chicago, in the one of the most notorious public housing projects in the country. At age 15, while attending boarding school in Indiana, he received notice that his mother had died. Upon returning home, he discovered his father and brothers had abandoned him. This heartbreaking personal tragedy continues to have a tremendous influence on his work, allowing him to explore the complex constructions of identity and memory.
Recommended: Carmelo Anthony Scores Off the Court with His Art Collection
Throwing himself into art-making, the young talent went on to graduate from an MFA program at NYU. He then spent some years teaching disadvantaged youth before turning to painting full time in 2015. He's now represented by Rhona Hoffman in Chicago, M+B in Los Angeles, and recently, the Parisian dealer Almine Rech, and his work has garnered a waitlist of some 200 international collectors. "By looking at his works," Rech says, "we're led to reconnect with his own memories of forgotten faces or places and reflect upon what led him to be where he is now."
Moved by the impactful nature of his work, Ari Emanuel, Anderson Cooper, Elton John, and Carmelo Anthony have all snapped up his pieces after spending time visiting his sprawling studio in Crown Heights, Brooklyn. "Nathaniel showed me all his pieces and sketches that he's working on," Carmelo Anthony told Galerie in a recent interview. "I loved almost everything in there, but I just kept coming back to this one piece, called Chainsaw Master, which wasn't even finished yet. I just had to have it."
Recommended: Take a Look Inside Lehmann Maupin's New Peter Marino-Designed Gallery
This fall is shaping up to be especially bright, with a solo show at Salon 94 and a group exhibition with Elijah Burgher and Toyin Ojih Odutola at New York's Drawing Center.
We sat down with the vivacious artist to talk about his inspirations, incredible process, and a few celebrity tales for good measure.
Galerie: You're in the midst of preparing for a flurry of shows. How do you know when a work is finished?
Nathaniel Mary Quinn:  I'm a very harsh critic of my work. I firmly believe that I am yet to make a good work. There is a threshold that the works must meet in order for them to leave my studio. Let's say 10 is the best and 1 is the worst. Each work must be at least a 6. I feel like every piece is around a 5.9.
Who are the characters in your new series of paintings? Are they people you know?
All my work is based on real people. They are people I either actually know, have met, or spent time with. This body of work is a reflection of the community in which I currently live. I'm fascinated by this community. I'm trying to record the old school community, the guys I talk to every day, the guys on the street. It's my way of trying to record that history. The question is, why does one need to record this history? Because this history is going to disappear because of gentrification and change.
You've spoken about the people in your portraits coming to you in visions. Can you explain that process?  
I get these mental visions of what I want to paint. Normally it's pretty clear. I don't know what it means, and at the time I don't know what it represents. I then go to magazines and Google Images and even Instagram. I have to find the images that will help to satisfy each component of these visions. So, I find the eyes and the nose and the mouth and maybe some decorative patterns and some shapes here and there. I take the photographs onto my wall and I hang them up and just look at them. In my mind, I fit the photographic images and make sure all the parts from my vision fit together just about right. Then I mount the drawing paper or canvas and I just start painting. I don't do any pre-sketches.
What are the reasons you utilize a collage-like style? To me, you seem to be able to capture the essence of a person more truthfully than with say photorealism. 
Yes, exactly. It's not important to me that the works look like the person. I'm trying to paint something that's not what you see, but how you feel. You begin to see how we are all interconnected. All the fragmented parts are a reflection of one's own identity. We are all composed of different experiences that you have to live with. People are confronted by these grotesque, odd, disjointed entities and at the same time they are beautiful and powerful. I want to show that we are all like that.
Who are some of the artists either working today or from history that have inspired you?
Contemporary artists would be Matthew Day Jackson or William Villalongo. From art history: Caravaggio. I have never in my life seen paintings that did such a wonderful job with two things. Number one: Caravaggio was the master of manipulating light. Masterful. Incredible. Secondly, he was masterful at exploring the complexities of the human spectrum. He did that very beautifully in his work. At that time in the 15th century, painters were interested in copying nature. He was exploring nature, he wasn't interested in copying it.
Your work is now in the collections of major collectors like Ari Emanuel, Anderson Cooper, Carmelo Anthony. What has that experience been like?
I'm going to tell you a story right now! I was working in L.A. on a show and the gallerist told me Elton John wanted me to come to his house. He already owns two of his works. So he comes out and he hugs me and directs me to the sofa. It was surreal. You could see a yacht and cars out the front, people in the kitchen cooking food. I saw my paintings hanging up in his house. He told me my work changed his life. Two days later he sends me an email asking if I would go to his Oscar party!
"For Opacity: Elijah Burgher, Toyin Ojih Odutola, and Nathaniel Mary Quinn" is on view at the Drawing Center from October 12—February 3, 2019. 
Next Post