Rashid Johnson's First Jewelry Collection Interprets His Anxious Men in Gold and Rubies
Made with LizWorks—whose last project translated Cindy Sherman's and Catherine Opie's portraits into lifelike cameos—the gender-neutral line reflects the artist at his most vulnerable
For many artists, seeing their work rise to monumental proportions is a career-affirming, awe-inspiring experience. But for Liz Swig, founder of LizWorks, the challenge of conveying art's power in miniature form offers even more of a thrill. In past collections LizWorks has produced charm bracelets with Wangechi Mutu and Barbara Kruger, among other artists, and incredibly detailed three-dimensional cameo jewels with Cindy Sherman and Catherine Opie. Swig's latest collaboration, which launched in September, sees Rashid Johnson's signature "Anxious Men," a series he debuted in 2015, interpreted in precious metals and stones for the first time.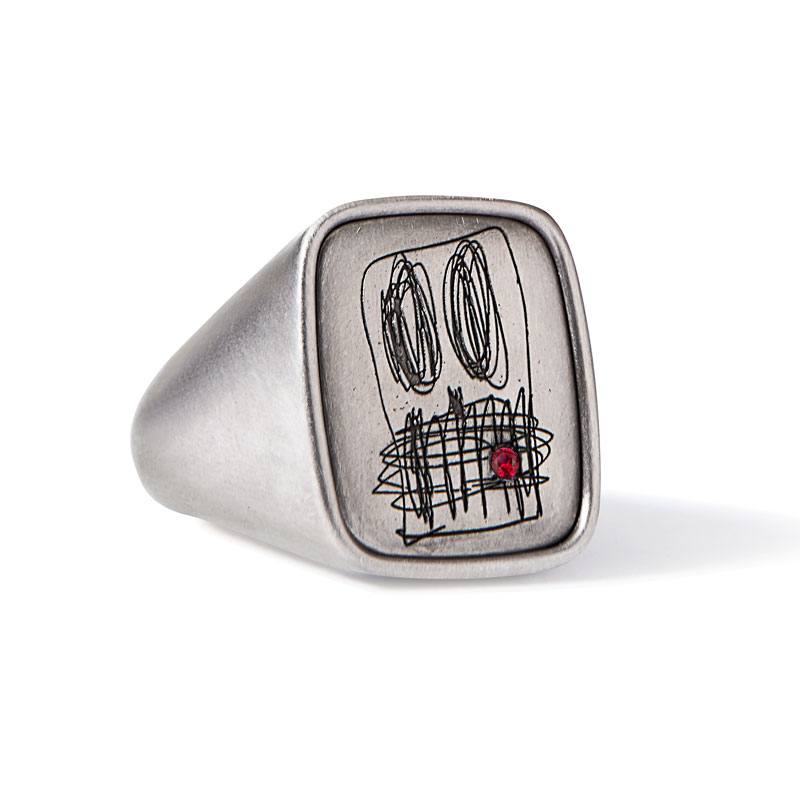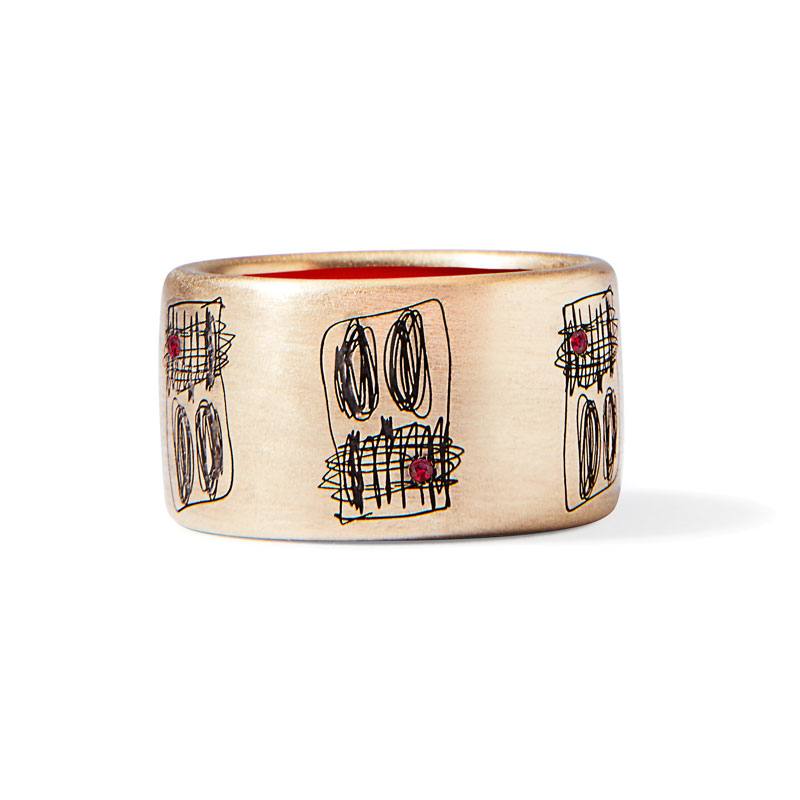 "I've known Rashid a while and love his work for many reasons," Swig, an ardent collector and patron who founded LizWorks in 2014, tells Galerie. "I loved the idea of bringing the enormity of his art to a different scale while retaining its power and integrity. It's been a dream and a delight."
The two began discussing the project, which Swig calls "one of those perfect synergies," in December of last year. After channeling female energy for LizWorks' previous collections, Swig was looking for a new challenge with a more gender-neutral approach, and it just so happened that Johnson, known for his experimentation with media ranging from sculpture to film, had been considering dabbling in jewelry.
"Who isn't anxious right now? Who isn't questioning? Who isn't feeling all these things?"

Liz Swig, Founder of LizWorks
Like much of his oeuvre, the frenzied figures in Johnson's "Anxious Men" series are deeply personal and grapple with African-American experience and identity. Little did Swig and Rashid know just how resonant this conversation would be a few months later, when social justice issues and the fight against systemic racism came to the fore. Nor could they have anticipated the COVID-19 pandemic, which ensured anxiety would mount on an international level.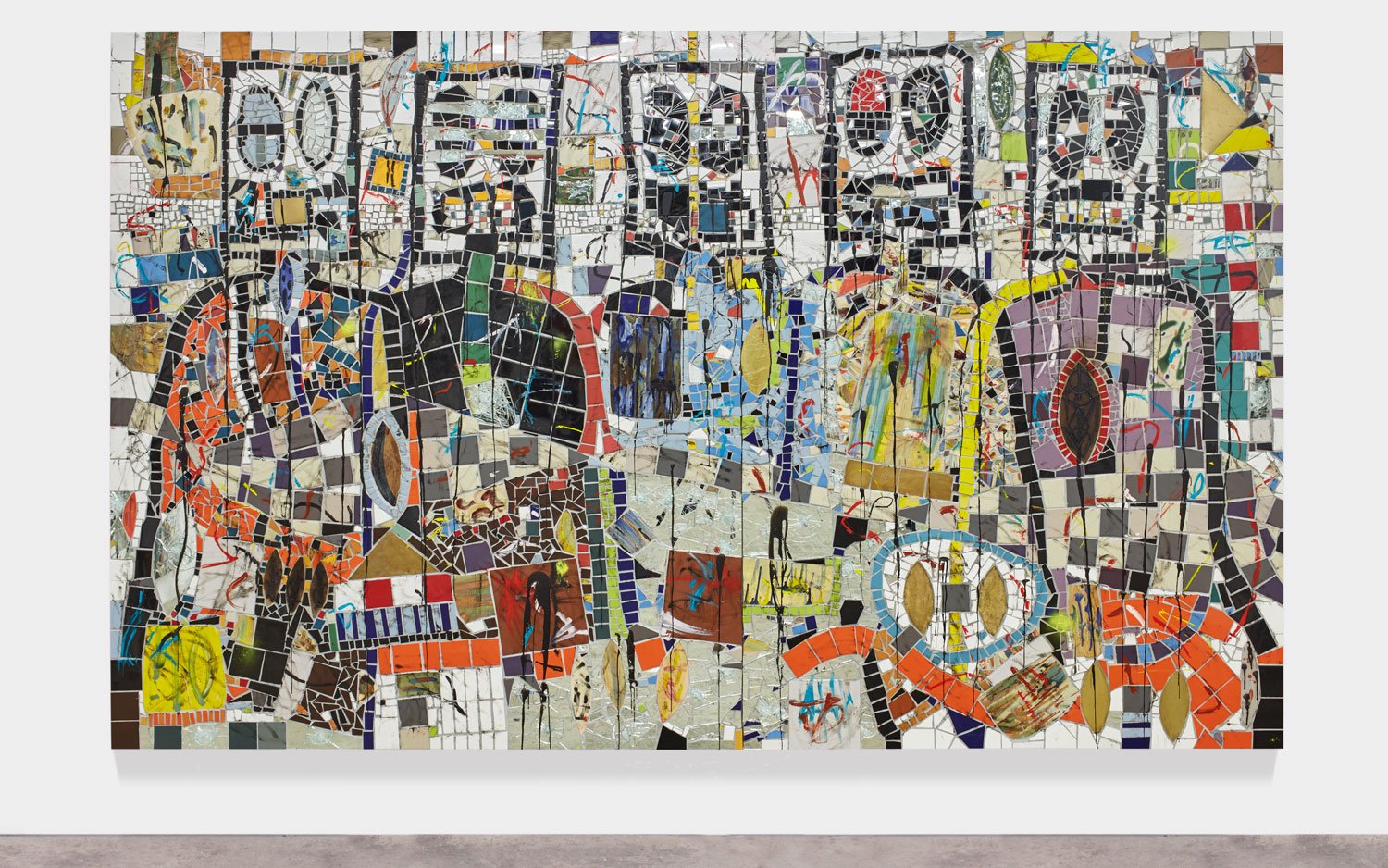 "Who isn't anxious right now? Who isn't questioning? Who isn't feeling all these things?" asks Swig about the timing of it all. While the passionate collaborator is usually extremely hands on when developing collections, the crisis provided an unprecedented challenge in having to work with her jewelry artisans in Italy almost exclusively through Zoom. "You can feel the tension in Rashid's drawings, and to be able to play with these materials, to give it this other sense of dialogue, was an amazing mental and creative space to be able to go to."
For Johnson, this collection is not only about anxiety but his personal negotiation with fear, as he shares in a statement for the launch: "I started making this body of work with cathartic intentions, to push back against the feelings that were at times really handicapping me, to illustrate those feelings and to give myself an action step to consider and unpack why I was feeling that way." Not only does this collection promote mental health awareness through Johnson's vulnerability, but it also gives back. A percentage of the sales will benefit the Black Mental Health Alliance and Prep for Prep, a New York City–based leadership development program that offers promising students of color access to private education.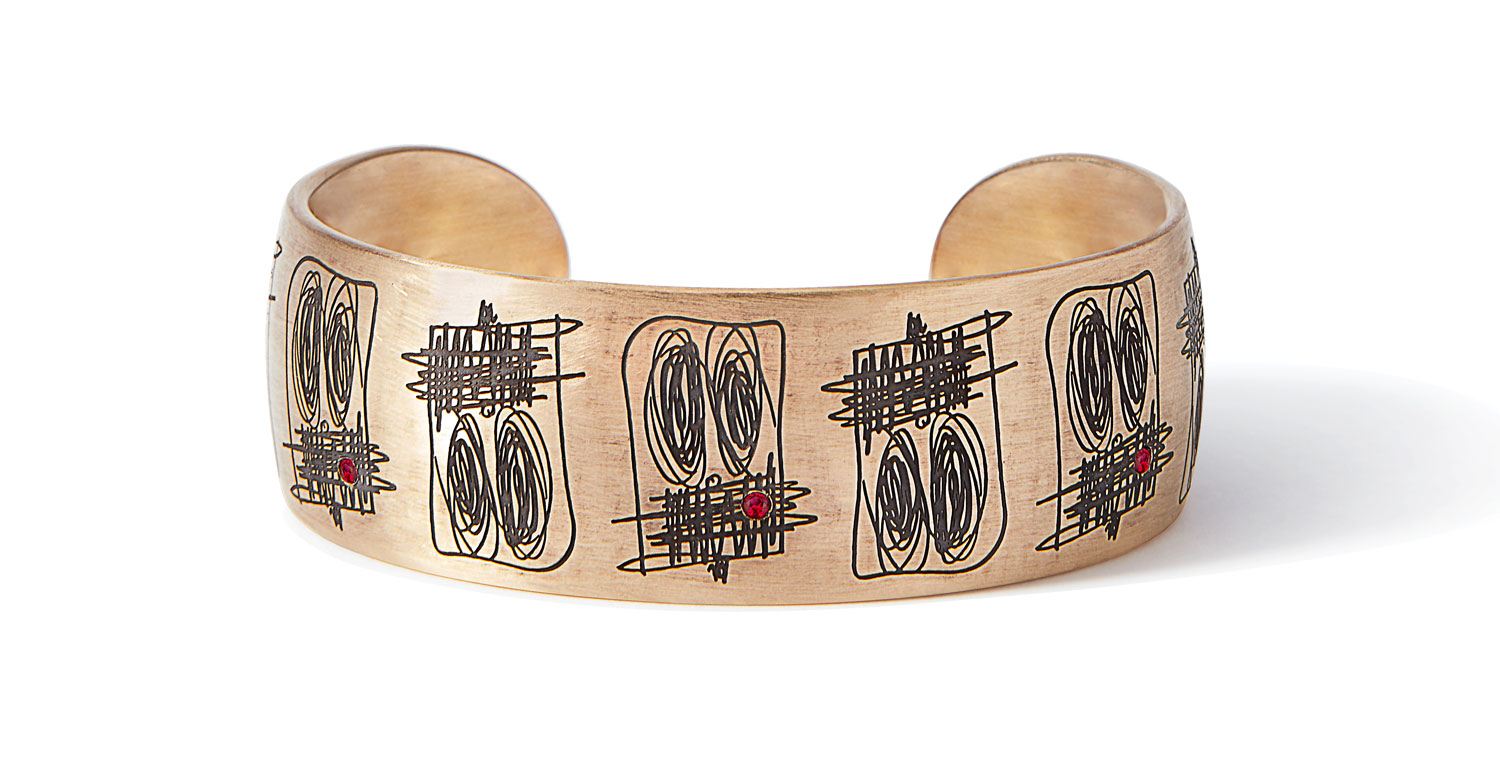 The collection includes editioned and signed rings, bands, necklaces, and cuff bracelets that use gold and titanium as backdrops for Johnson's graphics. Rubies, red enamel, and cords add occasional pops of color, hearkening back to the vivid hue commonly featured in the artist's "Anxious Men" paintings and drawings. "We wanted to take the roughness and the anxiety and give them a little jeweled, unexpected twist," explains Swig. "Each things cancels the other out. It's a military tag necklace, but it's in 9K gold with a ruby."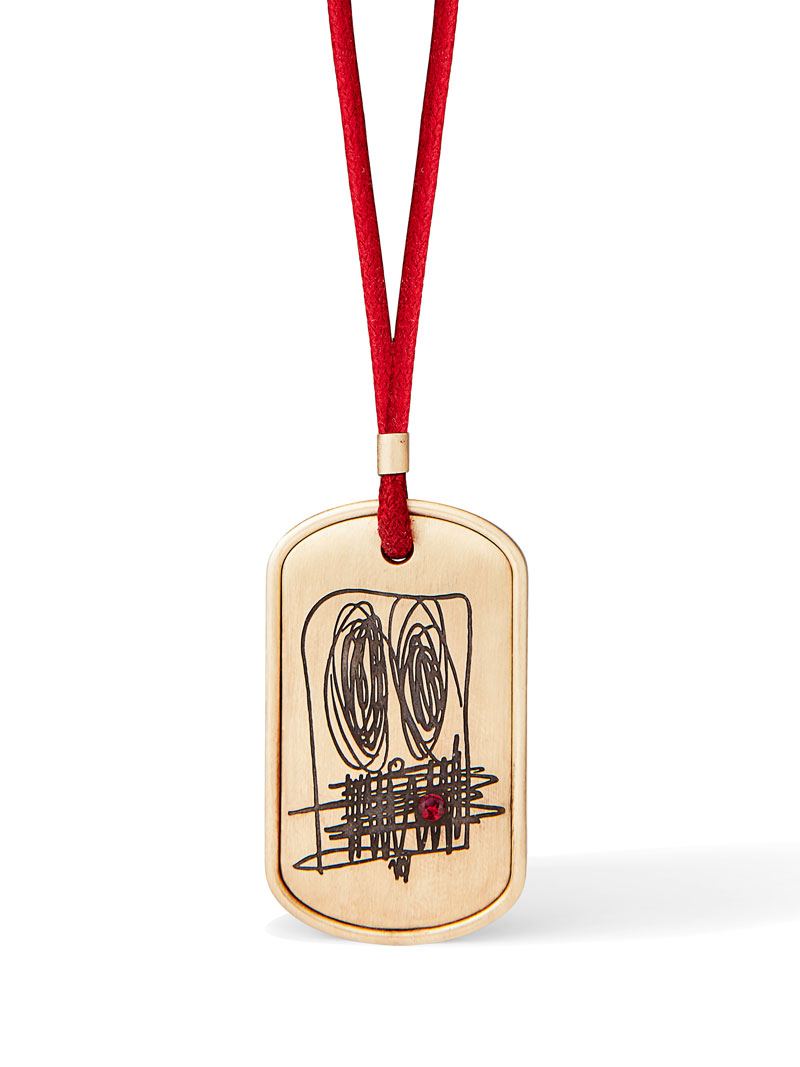 While to Swig, male adornment felt more novel when conceptualizing this collection versus her past ones, Johnson explains in the statement how in the Black community, there is a long history of people, regardless of gender, wearing one's wealth: "I don't think of jewelry as feminine at all. I grew up with Marvin Gaye and Isaac Hayes wearing jewelry. I also grew up a child of hip-hop. Rakim of Eric B. & Rakim, Biggie—a lot of my heroes wore jewelry. There is a great interview on David Letterman with Mr. T where Letterman jokingly asks him why he wears so much jewelry. Mr. T replies that his ancestors were brought here with chains around their necks and their wrists, and he wears them now, but he has turned them into gold, which makes people uncomfortable. He tells Letterman that people are constantly asking him if the chains get heavy, and yet no one asked his ancestors that question."
Although enigmatic and undeniably cool, Swig and Johnson's collection serves as a reminder of both social plights and emotional struggles increasingly faced in certain communities around the globe. Ultimately, however, the jewelry presents an optimistic outlook on mental health, in which one strives to possess the agency to manage and overcome the demons inside. "My anxiety travels with me," says Johnson. "Translating this work into a wearable gives it its own mobility—an antidote to those feelings wherever I am."
Next Post