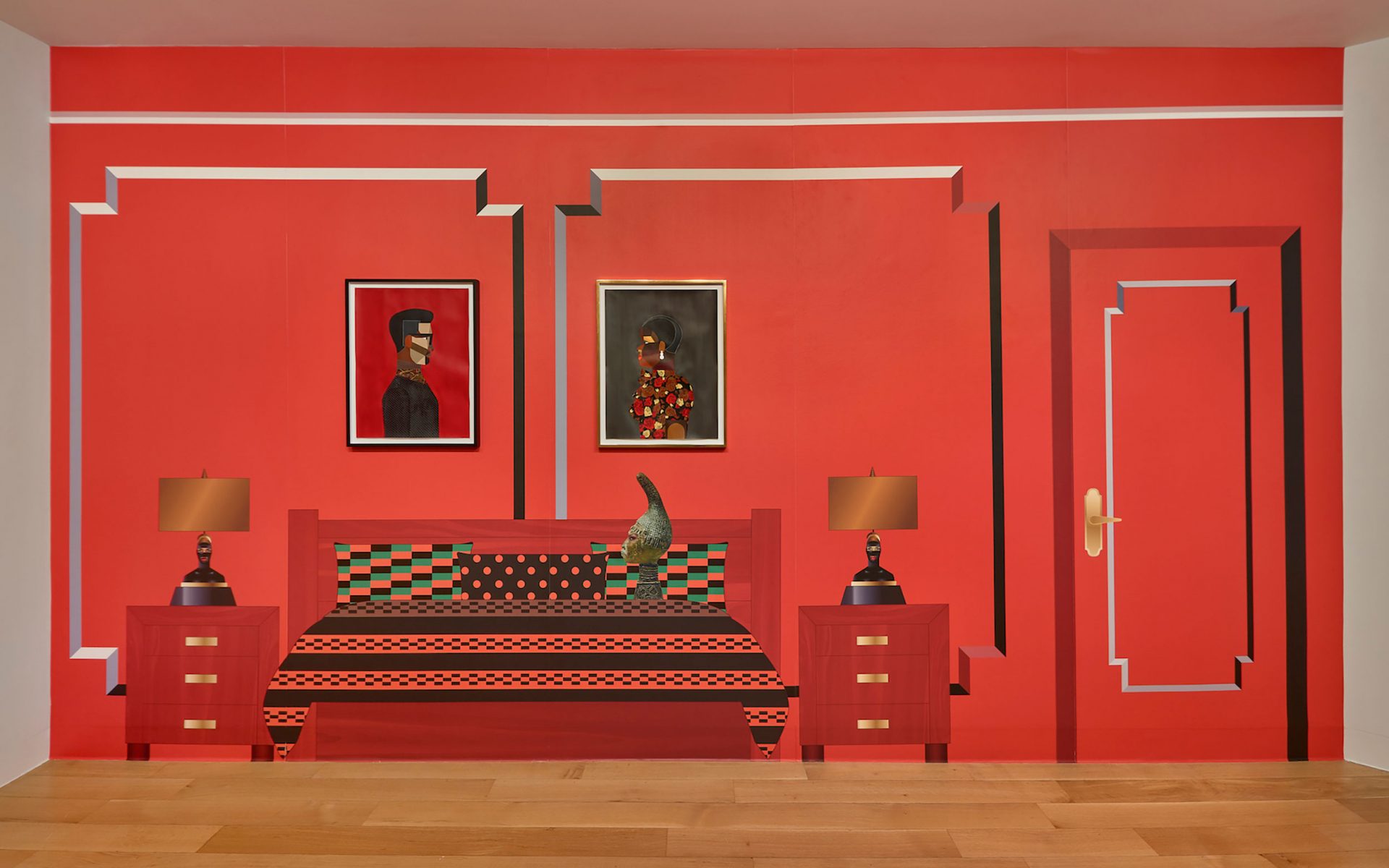 Derrick Adams Goes Back to the Future at Luxembourg & Dayan
There's a fanciful form of déjà vu transpiring on Manhattan's Upper East Side
There's a fanciful form of déjà vu transpiring at 64 East 77th Street on Manhattan's fashionable Upper East Side. Home to the blue-chip art gallery Luxembourg & Dayan, the tiny townhouse—built in the 1870s and given a new façade in 1925—has returned to resembling a residence, at least through April 20, via the imaginative vision of artist Derrick Adams.
Tapped by Italian art curator Francesco Bonami, who organized the 2003 Venice Biennale and cocurated the 2010 Whitney Biennial, to present a project on three floors of the 12½-foot-wide brownstone, the Brooklyn artist has created the exhibition "Interior Life." Consisting of five colorful wallpaper installations with collaged elements and framed portraits, it provides a sense of stylish habitation in the former single-family home.
Taking Mattel's famous Barbie Dreamhouse as his point of departure, the artist, who created an installation inspired by The Negro Motorist Green Book for the Museum of Arts and Design last year, has constructed his own ideal home by producing two-dimensional versions of a living room, den, kitchen, bedroom, and bath. Creating digitally designed murals that smartly simulate the various rooms, Adams then inserted anthropological elements into the scenarios by collaging utilitarian objects and African sculptures with affixed human eyes (a nod to Romare Bearden) onto the wall coverings.
Hanging on the papered walls are 12 fictional collages of stylish black characters from Adams's "Deconstruction Workers" series, which is inspired by architectural concepts of structures that appear to be both in a state of deconstruction and the process of being built. Composed on monochromatic grounds as geometric figures in profile with sliced painted paper forming their bodies and diced bits of fabric fashioning their clothes, the figures resemble robots as much as they do real people—recalling cyborg characters from sci-fi films, especially in their penetrating eyes.
Recommended: 6 Must-See Figurative Painting Shows in New York
Three of the striking figures face left—toward the gallery's entrance—in portraits that hang over a fireplace in the living room on the first floor. Facsimiles of African sculptures flank the room, while an idol burns in fake fireplace flames and small statues of praying, fisted, and cupped hands grace the mantel above. Two decoratively draped windows—with a crowned child who conjures up Jean-Michel Basquiat peering through one of them—and two modernist chairs covered in fabric printed with images of African masks complete the scene.
On the gallery's second floor, a pair of portraits hang one over the other on the subtly striped wallpaper of the den. Nearby, a replica of a flat-screen television broadcasts the opening scene from the 1970s black sitcom What's Happening!! and cutouts of ceramic vases, audio components, and a selection of art books from Adams's library line the room's integrated shelves.
The kitchen follows, with three portraits communing over an Eero Saarinen–designed table and chairs in front of a colorfully striped corner. Recipes for soul food are taped on the cabinets above a deluxe stove, which is topped with reproductions of pots and pans holding African statuettes, and alphabetic magnets symbolically spell out "Love, Peace, and Soul"—host Don Cornelius's parting words on TV's celebrated Soul Train—in a rainbow array of colors on a stainless-steel fridge.
In the third-floor bedroom, portraits of male and female figures face off on the bloodred wall behind the bed, which boasts a dynamic printed bedspread topped by patterned pillows, as end tables with lamps, made from collaged African figurines, sit at either side.
Recommended: Diane von Furstenberg Enlists Ashley Longshore to Create Feminist Portrait Series
Finally, in the nearby bathroom, two portraits of women float above black-and-white tiles on a boldly striped wall. Images of African masks unexpectedly pop up around the room, with one ironically appearing in the mirror (as though it's the visitor's reflection) as another one pokes its face from behind the shower curtain—playfully looking like it's about to bathe.
The installation provides a domestic context for Adams's imaginary people, while referencing the objects he looks at when making these futuristic portraits. Highlighting facets of contemporary urban culture, he draws attention to the influential relationship between traditional African crafts and modern art. In the process, Adams also reveals the personal—taking us back to the future with him by recycling cultural markers from a shared past and dynamically presenting them anew.
"Interior Life" is on view at Luxembourg & Dayan, 64 East 77th Street in New York, through April 20. 
Next Post