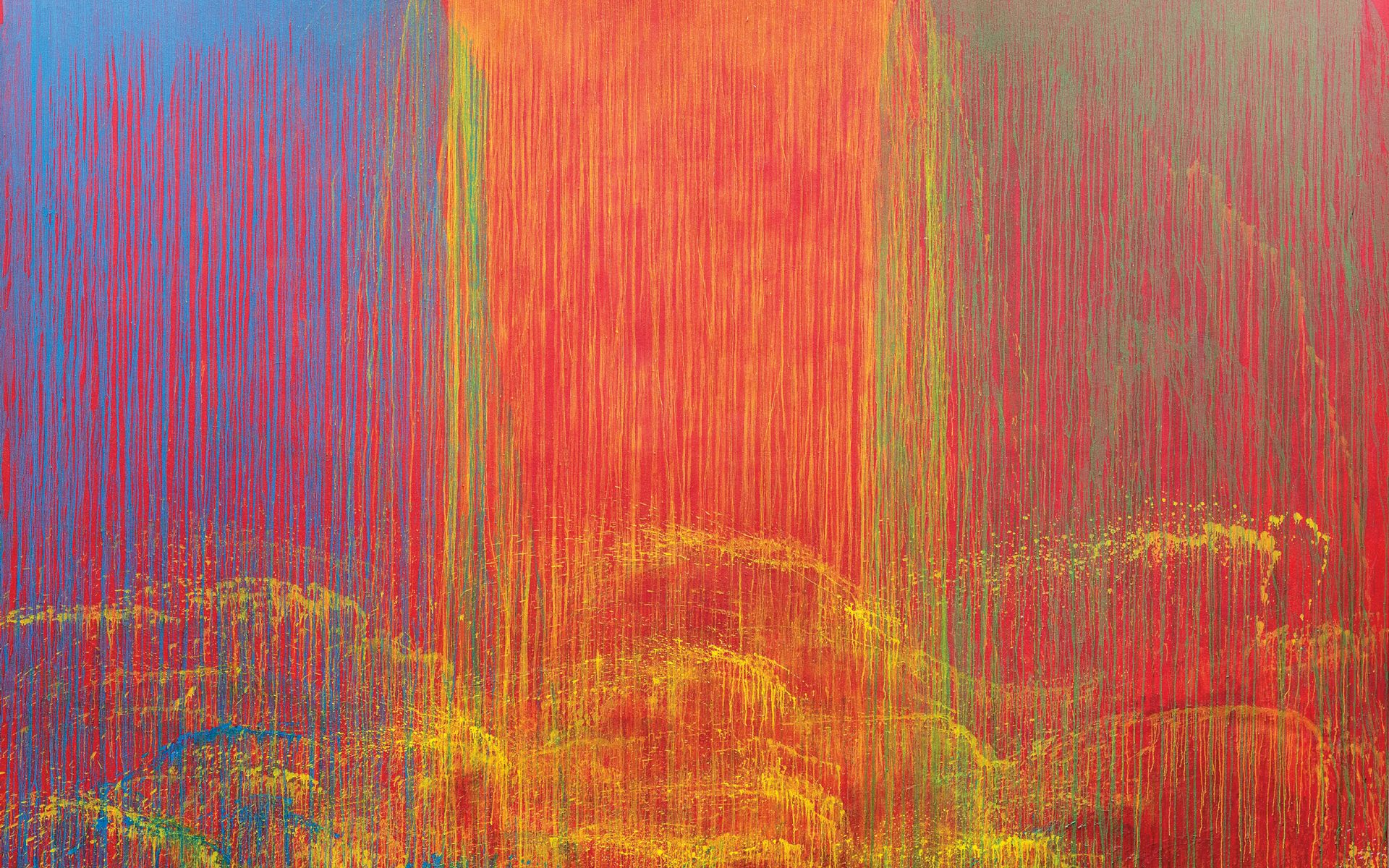 5 Key Works from Pat Steir's Remarkable Career
With the artist debuting two major museum installations this year, Galerie looks back at her most memorable works
1982 | The Brueghel Series (A Vanitas of Style)
In 1984, the Brooklyn Museum exhibited this striking 64-panel work, which emulated hundreds of artist styles, from Vincent van Gogh to Jackson Pollock, to create a cohesive image inspired by the 17th-century painter Jan Brueghel the Elder.
1992 | Smaller Yellow on Blue Waterfall
After experimenting with Conceptual art and Minimalism, Pat Steir began to apply paint by dripping and flinging it onto the canvas in the 1980s. These unrestrained, performative "Waterfall" paintings, inspired by Chinese literati works, have been the center of Steir's focus for the past 30 years.
1992 | Elective Affinity Waterfall
This radiant piece, painted a year before Steir's participation in the prestigious 45th Venice Biennale, sold for $2.3 million at a Phillips New York auction in 2018, well above its high estimate of $800,000 and more than double her previous record of $975,000.
Recommended: Inside Bosco Sodi's Sprawling Red Hook Studio
2017 | "Kairos"
In a slight departure from her celebrated "Waterfall" works, Steir's latest series, "Split," achieves a radiant glow through layer upon layer of color; a dramatic center rupture completes each piece. This 2017 exhibition was her first with New York megadealers Dominique Lévy and Brett Gorvy. Steir is also represented by Locks Gallery in Philadelphia.
2019 | "Silent Secret Waterfalls: The Barnes Series"
Steir's suite of 11 new "Waterfall" paintings is the first time a painter has been invited to make something for the Barnes Foundation since founder Albert Barnes commissioned his Matisse mural, The Dance, in the early 1930s. In October, a site-specific project will transform the inner gallery of the Hirshhorn Museum and Sculpture Garden, in Washington, D.C., into a rainbow of color.
A version of this article first appeared in print in our 2019 Spring issue under the headline "Milestone: Pat Steir." Subscribe to the magazine.
Next Post