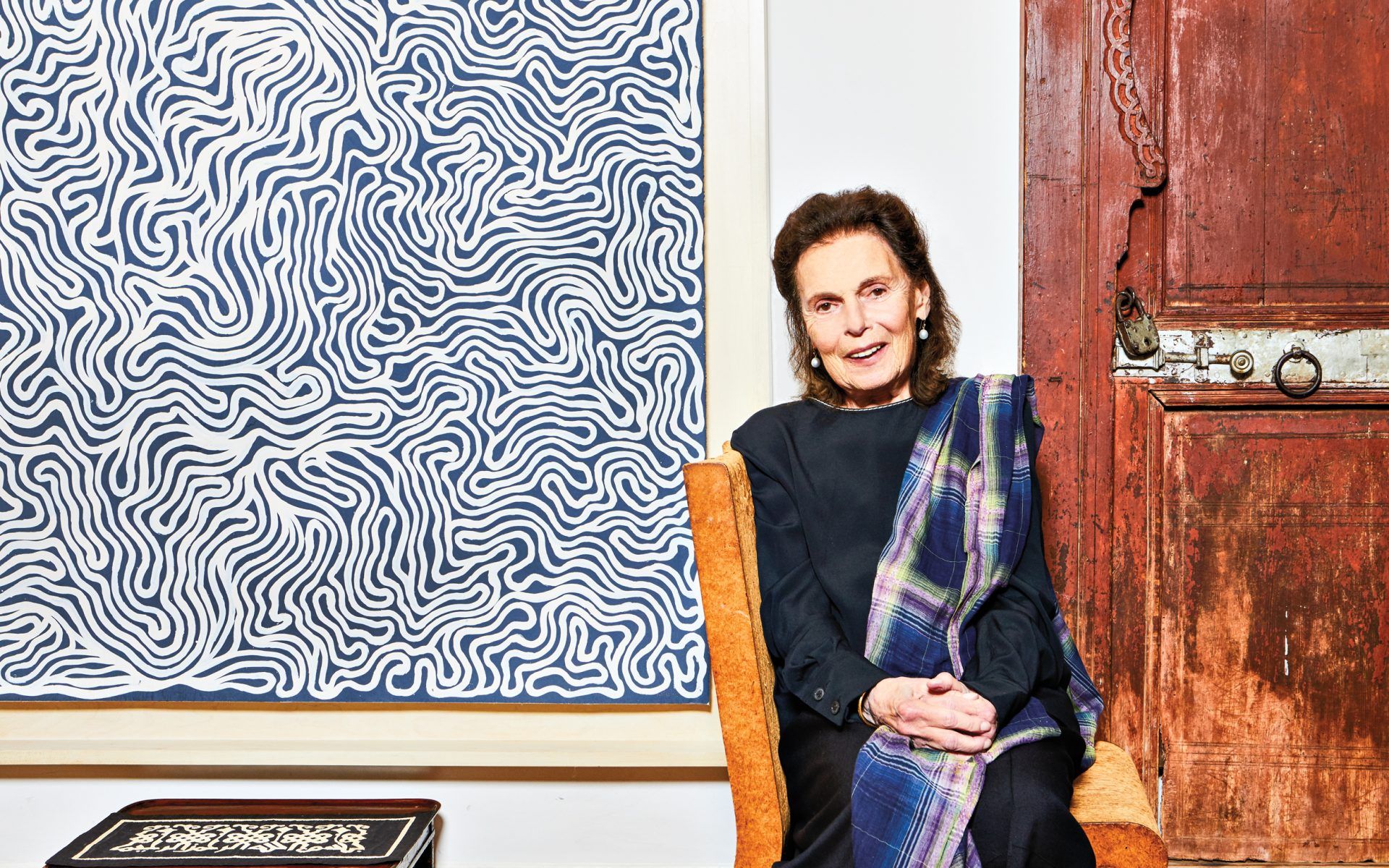 Look Inside Artist Pat Steir's Treasure-Filled Townhouse in Greenwich Village
The Manhattan home where she has lived for close to three decades is brimming with works by Sol LeWitt, Anish Kapoor, and Lynda Benglis
Known for the "Waterfall" canvases she makes by pouring and throwing paint, Pat Steir produces monumental works that are prominently displayed in some of the world's most prestigious museums. Conversely, her townhouse in Greenwich Village's MacDougal-Sullivan Gardens, where she has lived since 1990 with her husband, publisher Joost Elffers, is its own group show of sorts. Here, a vast and intimate array of creations by her network of friends and colleagues in the New York art world reflects a life well lived among a creative community that has included Sol LeWitt, Ross Bleckner, and Kiki Smith.
Meandering from room to room, Steir points out gifts and trades collected over the past five decades. There's an etching by Brice Marden, her classmate at Boston University, and a glazed ceramic by Mary Heilmann, an artist with whom Steir began exhibiting in group shows in the early 1970s, as well as a work by Alighiero Boetti. A sculpture of a giant fly clinging to the wall is by friend Rob Wynne. A tabletop sculpture of a human head on a bird's body and an etching with women's legs floating off the page are by Smith, who comes regularly to Steir's townhouse for holiday meals. "I found it stuffed in my mailbox," says Steir, pointing out the creases still visible in the print.
Most abundant in the warmly furnished home are LeWitt's conceptual abstractions based on simple sets of parameters. A wall drawing of a white circle on a yellow background was done as a housewarming gift; a gouache painting on paper with a continuous free-form white line on a dark background was given as a birthday present. "I could spend forever figuring out where he stopped and started," says Steir about the work by LeWitt, her one-time partner who remained a close friend until his death in 2007.
She credits both LeWitt and her friend John Cage, who is represented by a smoke etching in which he used the I Ching to determine its composition, with influencing a dramatic shift in her painting. "They each had a system that operated itself," says Steir.
Recommended: 5 Key Works from Pat Steir's Remarkable Career
In the late '80s, Steir liberated herself from decisions about imagery. She set up basic rules and began experimenting with pouring and throwing layers of paint onto canvases. Her largest painting installation to date, Color Wheel, is on view through the summer at the Hirshhorn Museum and Sculpture Garden in Washington, D.C. For the exhibition, the artist transformed the museum's inner circular gallery with 30 nine-by-seven-foot canvases, which create a color wheel when seen together.
Back in her kitchen, Steir points out a series of photographs of industrial structures by Bernd and Hilla Becher that are tied to one of her memories of LeWitt. "When Sol and I were a couple, he couldn't drive a car and I could barely drive, but I drove him around Europe, where he had lots of shows. One night I entered the Autobahn in Düsseldorf on the exit side and ended up facing a big truck at midnight," Steir recounts. Somehow, the artists avoided a crash and showed up at the Bechers' door completely frazzled. "They gave me a lot of photographs," she says, "and I never drove again." Just one more adventure in a life history told through art.
A version of this article first appeared in print in our 2019 Winter Issue under the headline "Hang Together." Subscribe to the magazine.
Next Post