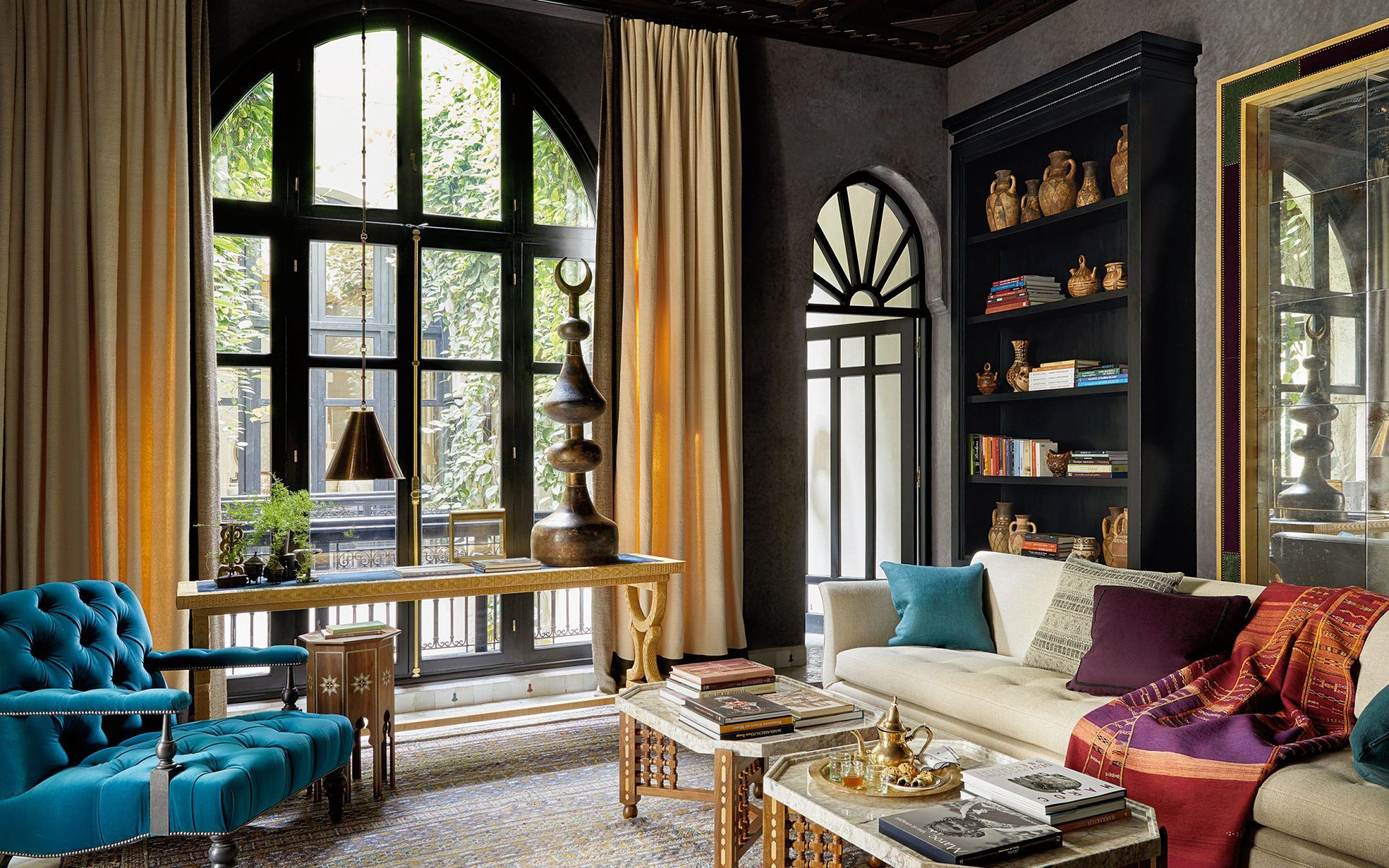 11 Chic Home Libraries Designed by Axel Vervoordt, Markham Roberts, Gil Schafer, and More
Tour these extraordinary work spaces crafted by the world's top interior designers
Creating the perfect home office is all about balance; the space needs to be visually stimulating but at the same time tranquil and conducive to getting work done. Comfort is also key, and a beautifully framed work of art never hurts, either. Over the past five years, Galerie has published scores of such masterful spaces designed by top talents like Axel Vervoordt, Gil Schafer, and Markham Roberts. Below, we gathered our favorites.
1. An art-filled Paris reading room by Stewart Manger
In a striking Paris pied-à-terre created by Stewart Manger, an Hervé Van der Straeten light fixture hangs in the library above Émile-Jacques Ruhlmann–style lounge chairs by Jouffre and a leather-clad table by Marc du Plantier; next to the window with custom-embroidered curtains by Linge au Coeur is an artwork by Victor Vasarely, while Taj Monjardo bookshelves and Patrice Dangel floor lamps flank the fireplace.
2. An elegant New York library by Gil Schafer
A painting by Walton Ford anchors the library of a Fifth Avenue apartment designed by Gil Schafer. The tufted suede ottoman is by John Rosselli & Associates, and the Regency armchair is from Niall Smith Antiques; Patterson Flynn Martin made the carpet.
Recommended: Gil Schafer Infuses a Classic Manhattan Residence with Contemporary Art
3. A study in a London residence by Markham Roberts 
This London townhouse by designer Markham Roberts displays a brilliant mix of art and furnishings. In the study, presided over by an Henri de Toulouse-Lautrec lithograph, a brass lantern by Soane overlooks Milo Baughman swivel club chairs, an English Regency cabinet, and a circa-1970 Jansen cocktail table.
4. A classic Connecticut library by Charlie Ferrer 
At his parents' home in Connecticut, designer Charlie Ferrer took a thoughtful approach when crafting this classic library, which features a Louis XVI–style desk with a vintage Jean-Pierre Vitrac lamp from Demisch Danant and a Jean Pascaud armchair from Maison Gerard. A Mark Steinmetz photograph hangs in the window, and by the fireplace are a Maynard Monrow text work, a 1947 floor lamp by Angelo Lelli for Arredoluce, a tiger photograph by David Yarrow, and a wing chair upholstered in a Scalamandré velvet.
5. A library in a Madrid palazzo by Michael S. Smith 
In designer Michael S. Smith's elegant apartment in a 19th-century Madrid palazzo, the library features an O. Henry House sofa, club chairs, and pillows upholstered in Jasper fabrics. The cocktail table is a vintage Ron Seff design, and the wall covering is original; the portrait of King Charles IV is by Agustín Esteve y de María Marqués.
Recommended: Former White House Designer Michael S. Smith's Home Work Space
6. A library in a Moroccan riad by Pablo Paniagua 
Moorish meets modern in this sensational Moroccan estate owned by the Bulgari family. In the library, the sofa is covered in a Loro Piana linen, and the cocktail tables were designed by Pablo Paniagua.
7. William. T. Georgis's home office in California 
A salon-style display in architect William T. Georgis's home office includes works by Chuck Close, Joel Shapiro, Jennifer Bartlett, Jack Pierson, and others; the tiered table is a midcentury William Haines design.
8. Eugenia Silva's Madrid library designed by Casa Muñoz 
In the library of supermodel Eugenia Silva's Madrid home designed by Casa Muñoz, a Michael Anastassiades light fixture is suspended above a daybed and cocktail table designed by Casa Muñoz. A painting by Antonio Saura is mounted over the fireplace, which is flanked by an Anacleto Spazzapan wood chair and a Miguel Milá lamp on a pedestal.
9. Eugenio Lopez's library in Mexico designed by Luis Bustamante
Museum-worthy art animates übercollector and patron Eugenio López's spectacular Mexico City residence. In the double-height library, designer Luis Bustamante installed a sculptural Hervé Van der Straeten light fixture above a constellation of refined furnishings, among them a pair of playful clam chairs by Philip Arctander.
10. A library designed by Axel Vervoodt in Belgium 
Famed minimalist Axel Vervoordt revamped this 17th-century military barrack in Belgium for a longtime friend. The library boasts a Georgian armchair next to shelves displaying a variety of ancient art objects, including a Bronze Age Indus figurine.
11. Pamella Roland's Chicago home office conjured by Kadlec Architecture + Design 
Fashion designer Pamella Roland's five-level Chicago townhouse offers a serene escape brimming with blue-chip art and custom furnishings. Enlivening Roland's office are a Holly Hunt sofa, a curvy Jean de Merry armchair, Fran Taubman's steel-ribbon table from Ralph Pucci, and an Alexander McQueen bird carpet from the Rug Company.
Next Post