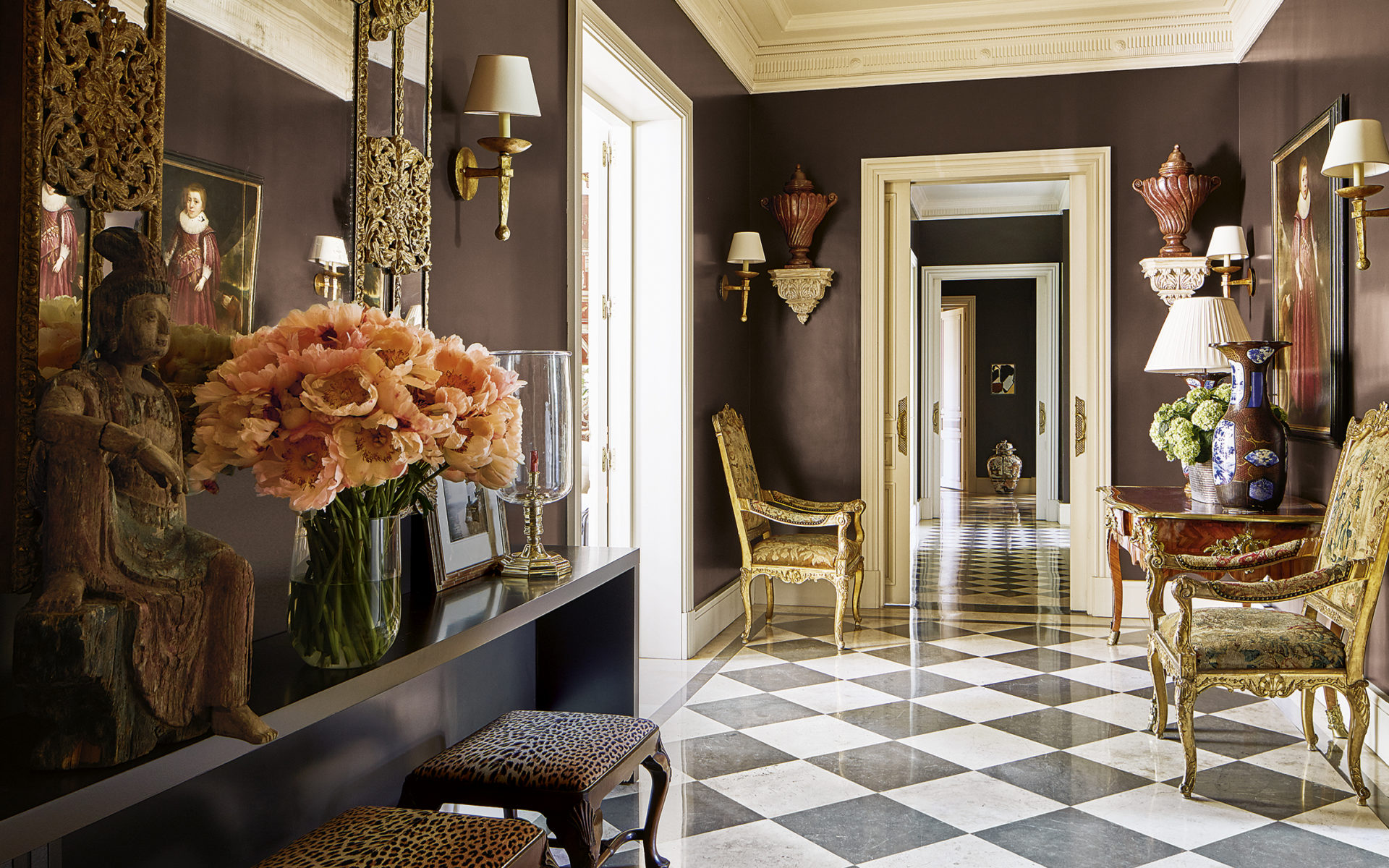 Inside Designer Michael Smith's New Home in Madrid
An elegant apartment in a 19th-century Spanish palazzo casts the designer's art collection in a new light
During nearly four years of service as President Obama's ambassador to Spain and Andorra, James Costos and his partner, interior designer Michael S. Smith, were known for always achieving the perfect blend of Spanish and American culture—business and art, nobility and celebrity, diplomacy and diversion—in virtually every event on their packed agendas. Meanwhile, Smith used his own creativity, collections, and contacts to transform the ambassador's official residence in Madrid into a showplace for the best of American, Hispanic, and Spanish art, design, gastronomy, and enterprise. As America's highest-ranking hosts in Spain, the couple introduced Spanish wines to American businessmen and film stars while serving savory baked Virginia ham to Spanish grandees weaned on jamón ibérico. 
With the change of administration last January, Costos and Smith exited the diplomatic stage and flew to their home in Southern California, delighted with the prospect of introducing their new dog, Greco, whom they rescued from a shelter in Madrid, to his furry siblings in Los Angeles.
But they never said good-bye to Madrid, instead relocating their possessions to a gracious 5,000-square-foot apartment on the piano nobile of a 19th-century former palace in the city's elegant Barrio Salamanca.
"We truly feel part of Madrid, and while we can't be here quite as often as we'd like, we really wanted to keep connected to our friends," says Smith, whose design projects in Spain and Europe have him frequently touching down in Madrid, while Ambassador Costos is busy consulting for a variety of Spanish and American companies. "This place is a tribute to our desire to always have a home to come back to."
Smith was drawn to the elegant proportions and beautiful ceiling details befitting what would traditionally have been the grandest suite of rooms in a European nobleman's house. He describes the process of completing the home—a rental that he has decorated but not altered—as a veritable "reshuffle" of much of the couple's art, antique furniture, and objets, which had been deployed so effectively at the ambassadorial residence. He found it both fun and illuminating that pedigreed pieces he'd grown accustomed to seeing in a certain way suddenly had new life in a fresh and far more relaxed context. 
An impressively tall 18th-century Coromandel screen that appeared in the background of many official embassy photos—not to mention countless party pictures posted on Instagram—seems even more luxurious anchoring a quiet corner of their new living room. And the antique Chinese painted panels that hang in the dining room came from the guest suite where the Obamas stayed in the ambassador's residence. "To get different effects with our 'recycled' furnishings, I've used simple white cotton slipcovers in a variety of shades and patterns," Smith explains.
"Michael's work in the apartment is perfection," Costos raves. "I think he hit all the right notes. It has modern formality, yet it's bright and comfortable."
Like most traditional Spanish homes, the apartment faces both the street—in this case one of the neighborhood's prime thoroughfares—and a verdant courtyard in the back, which, as their luck would have it, features a large swimming pool and provides at least a visual link to Los Angeles. Off the large foyer, with its checkerboard stone floor, are the living room, the dining room, and a library that serves as Costos's office. The master bedroom and guest quarters overlook the tranquil garden. 
They came with all the furniture they needed, but they are still buying art for the home, Smith notes. "And the mix is getting more and more Spanish." Currently installed are works ranging from 19th-century disciples of Goya to a bold composition by Luis Feito, an éminence grise of Spanish abstraction. A Chuck Close portrait of President Obama hangs near the entrance hall, and a newly acquired and sumptuously embroidered banner emblazoned with the crest of an old Spanish family floats over the headboard in the master bedroom.
The pair are enjoying Madrid more than ever, on their own terms. "Our life here is even more interesting and engaging now," Smith says, adding that "as private citizens we're no longer limited to going only where the official schedule would allow. Now we walk the streets, ducking into cafés and galleries at will. We get to experience the city on a much more intimate and immediate level."
Next Post