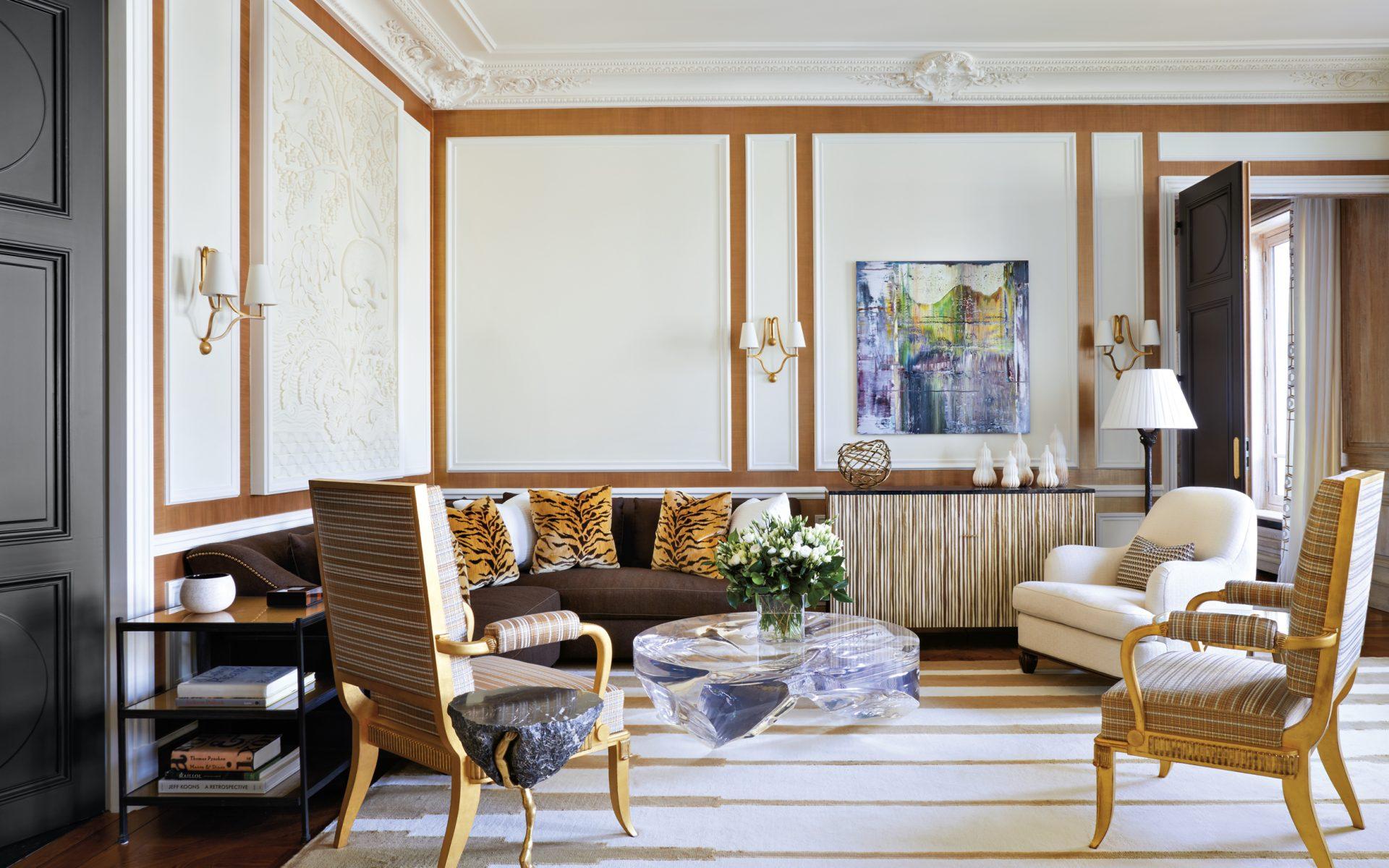 Stewart Manger Creates an Art-Filled Pied-à-Terre in Paris
The historic Left Bank apartment was recast as a family home with classic-meets-modern flair
A few years ago, a London-based couple with two children and a predilection for historic architecture set out to find the perfect Paris pied-à-terre. In the Left Bank's atmospheric sixth arrondissement—home to the Luxembourg Gardens, the Odéon Theater, and the storied Café de Flore and Les Deux Magots, where the likes of Jean-Paul Sartre, Simone de Beauvoir, and Albert Camus once held court—they fell in love with a quintessentially Parisian apartment.
Tucked inside a 19th-century Beaux Arts building accessed via a gracefully columned entrance court, the four-bedroom residence was blessed with generously proportioned rooms and soaring ceilings. Though it was in dire need of renovation, the couple saw nothing but possibility. So they called in Stewart Manger, a New York designer they had worked with many times, to help come up with a plan. For starters, they agreed the apartment should retain its sense of place and history but also appeal to the owners' preference for pared-down interiors. The overall feeling would be more Art Deco refinement than classical grandeur, with sensuous modern pieces marked by superior craftsmanship deployed throughout.
Manger's first step was to tweak the floor plan, adding closets and baths, while installing an HVAC system and restoring decorative moldings. A jog in the hallway was transformed into an intimate family space with bookcases, cozy seating, and a television. One of the biggest decisions was not to create a stand-alone dining room. "The apartment is a pied-à-terre, so we didn't need it," says Manger, who collaborated with the Paris firm A+B Kasha on the renovation. "Instead, we furnished the main salon with a dining table for family meals at home."
[Slideshow: See more photos of this Parisian pied-à-terre designed by Stewart Manger]
The dining table occupies one end of the multifunctional salon, joined by an Art Deco–inspired folding screen with polar bear scenes by lacquer artist Anne Midavaine and a distinctly Deco-ish straw marquetry credenza by Lison de Caunes. "Clients who want to work at a certain level, with everything custom, are a rare opportunity," says Manger, a veteran of the offices of designers Bunny Williams and David Kleinberg. At the room's opposite end, a carved plaster panel created by Atelier Mériguet-Carrère in the manner of Deco master Armand-Albert Rateau overlooks a seating area animated by such contemporary pieces as a strikingly striated Hervé Van der Straeten cabinet and Fredrikson Stallard's acrylic Gravity table, which appears to have been sculpted from ice.
In the master bedroom, the tone is set by de Gournay scenic wall panels hand-painted in a graphically decorative style inspired by Rateau and an exquisite rock-crystal chandelier by Alexandre Vossion. Curtains and bed linens, here and throughout the apartment, are hand-stitched. "The client and I agreed, when at all possible, we would use local artisans and ateliers," says Manger. That meant innumerable trips to Paris and Lyon workshops, something that never phased the unflappable designer. "After all, Lyon is the food capital of the world," he says sportingly. "I travel light, with carry-on luggage and a canvas bag for paperwork."
Recommended: Designer Alvise Orsini Crafts a Stunning Art-Filled Penthouse in Paris
The couple continue to expand their art collection, buying from galleries and auctions based on "what they like," says Manger. The entrance hall features a painting by the Danish Neo-Expressionist Per Kirkeby as well as a piece by London ceramist Kate Malone. In the library, a Pablo Picasso still life and a Marc Chagall work hang near an Op Art painting by Victor Vasarely. A bold Gerhard Richter abstraction presides over the salon, while a Damien Hirst "Butterflies" print adds a splash of whimsy—and color—to the playroom.
When the project was completed, the clients invited Manger for a meeting to share important news. Thrilled with the Paris apartment, they announced they had another project, an island vacation home, and asked if he would help. Manger, without hesitation, let them know that his trusty carry-on would be at the ready. 
[Slideshow: See more photos of this Parisian pied-à-terre designed by Stewart Manger]
A version of this article first appeared in print in our 2019 Winter Issue under the headline "Deco in the Details." Subscribe to the magazine.
Next Post