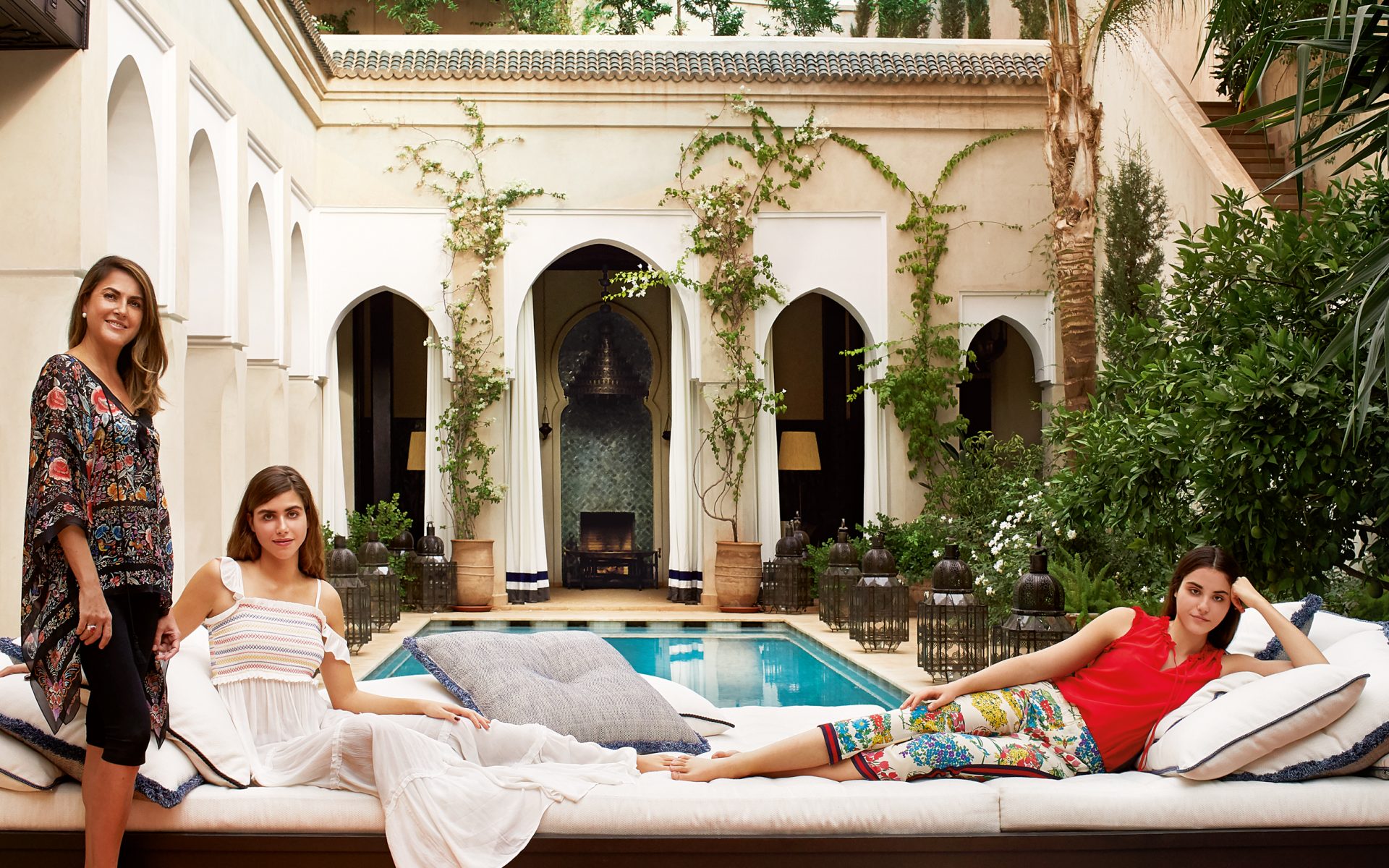 Inside the Bulgari Family's Opulent Marrakech Riad
Moorish meets modern in this sensational Moroccan estate
Back when she was a college student in her hometown of Madrid, Maite Carpio Bulgari and her friends liked to visit Marrakech on long weekends and holidays. It was a fashionable thing to do, as well as a quick trip—like flying from New York to Toronto, except the getaway was sunnier and infinitely more exotic.
Years later, she would return to the Moroccan imperial city, this time with her husband, Paolo Bulgari, chairman of the famed Italian jewelry and luxury-goods dynasty (and great-grandson of its founder), and their young children in tow. "My daughter Marina walked around the medina with a scarf covering her mouth because she didn't like the smells," Maite recalls, laughing, "and Carlotta wanted to buy all the animals she found in the streets."
What the Rome-based couple did buy, a decade ago, was a derelict parcel in the heart of the medina—basically "just a pile of sand and rocks," says Maite—where they would painstakingly construct a gracious Moroccan riad, with a garden and multiple courtyards and an inviting rooftop terrace overlooking the bustling historic center.
Construction on the two-story, seven-bedroom house took five years, with work slowing in summers, thanks to the extreme heat, as well as during the annual monthlong observance of Ramadan—not to mention the general unhurried pace of the meticulous local crew. And when it came time to find the right decorator for the interiors, that process turned out to be nearly as protracted. "I looked all over Europe, but everyone I talked to wanted to make the house too sophisticated," says Maite, who is a screenwriter and TV producer with her own production company. "I wanted the interiors to reflect Moroccan style but be simple and easy to live in."
Then, on a trip with some friends to Seville, the Andalusian capital where the architecture retains striking Moorish influences that date back to the Middle Ages, Maite had an epiphany. "I realized what I needed was a Spanish designer from Andalusia," she says, "someone who already had the right aesthetic, for whom Morocco would not be foreign."
Some online research led her to Pablo Paniagua, a Málaga-born designer with whom she instantly connected—"a coup de foudre," as she playfully puts it. Paniagua, who works alongside his two brothers at their Madrid studio, has decorated everything from high-style apartments in London and Barcelona to the Garden Court Hotel in Palo Alto, California. He has a reputation for creating unfussy, elegant interiors that are contemporary yet timeless, with a touch of Andalusian flair. The Bulgaris told Paniagua they wanted their home to embrace the local culture while avoiding a predictable ye olde Marrakech look.
Throughout the home Paniagua used Moroccan tiles and the traditional polished plaster known as tadelakt, while his brother Gustavo, an architect, conceived richly detailed coffered ceilings, handcrafted in Spanish cedar. Many of the furnishings were custom made in the spirit of classic Moroccan craftsmanship, such as the dining room's expansive table of walnut and brass, but Paniagua also mixed in select antiques sourced from Spain, including such exquisite finds as a 16th-century velvet-upholstered chest in the entrance courtyard and an ornate 19th-century secretary inlaid with mother-of-pearl and exotic woods in the foyer. Curtains and upholstery embroidered with ancient Berber motifs were handwoven by artisans from the High Atlas Mountains. "We wanted to give a soul to the riad," the decorator says. "It has a Moroccan sensibility with an Andalusian essence."
What the riad doesn't have is fine art. Even though the Bulgaris are serious collectors and Paniagua is passionate about art, they wanted to respect prohibitions, observed by many Muslims, against depicting human and animal forms. Instead, they turned to the boldly colored, often geometric-patterned kilims found all over Morocco, hanging them, along with monumental mirrors, like paintings. Antique lanterns and lamps, meanwhile, provide a sculptural presence. "It was very difficult to renounce images," Maite admits, "but we felt that it was not possible to have figurative paintings. In the end, we found another solution."
The riad was finally completed nearly two years ago, and the family particularly enjoys coming for Christmas and other holidays. For them, a typical day in Marrakech starts with a traditional Moroccan breakfast, often followed by a steam in their hammam and then a walk through the medina, which "is always full of fantasy and chance," remarks Maite. Lunch is usually served on the rooftop terrace, after which everyone finds a shady spot to settle in with a book or the newspapers. They are, after all, on Morocco time. "Here, you are no longer in a hurry—you can just relax," says Maite. "If people arrive an hour late, nobody cares."
Click here to view more photos of the home.
Next Post