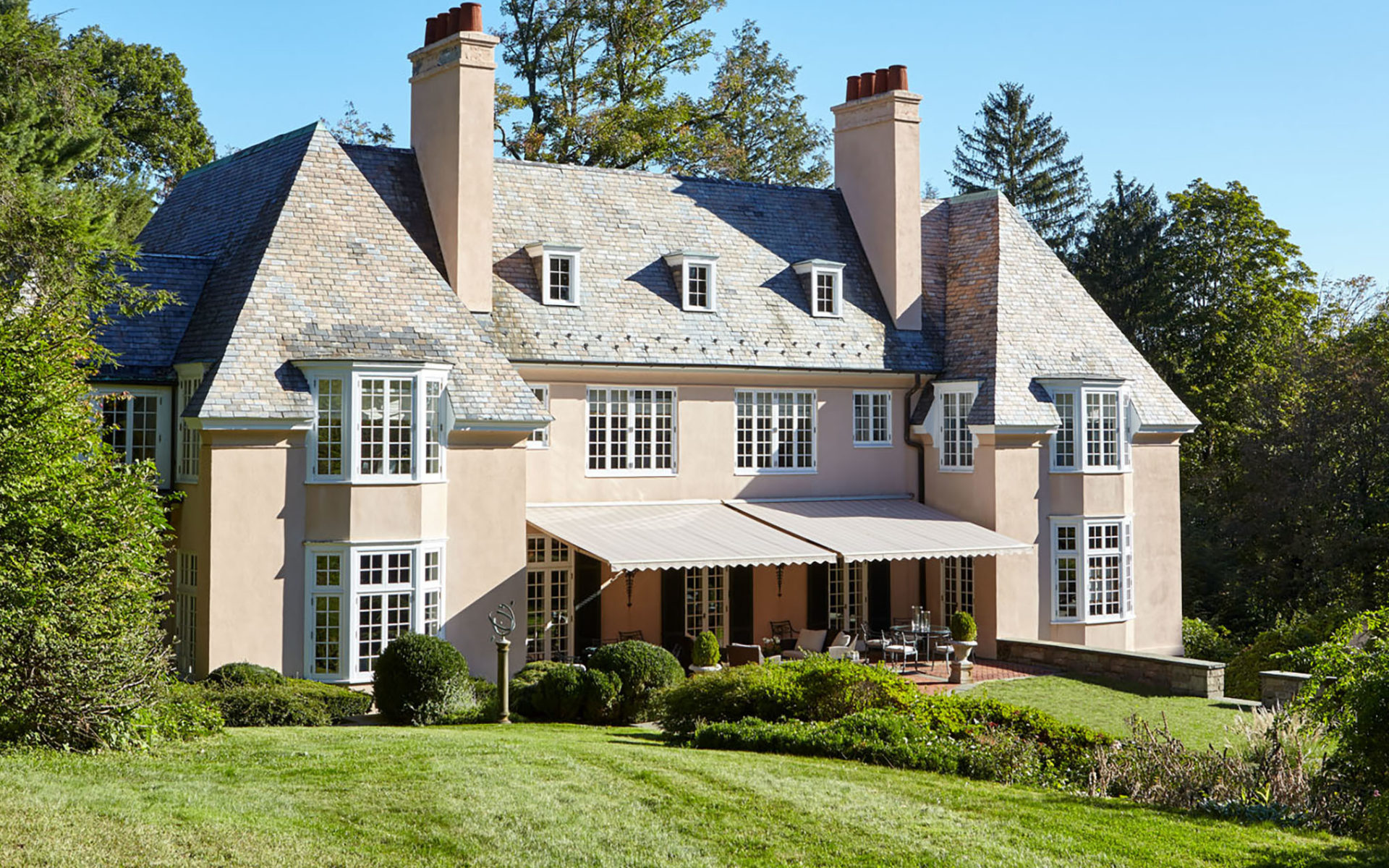 Charlie Ferrer Takes on a Design Challenge: His Parents' Connecticut Home
The fast-rising designer shares his thoughtful approach for this classic country house
For a designer, one of the hardest projects is your own home. And right behind that? A home for your parents—though, as I know well, that can also be very rewarding. In the five years I've had my practice, Ferrer, in New York City, my parents, Rosemary and Carlos, have enlisted me to work on two of their places. The first, a newly built residence in Palm Beach, Florida, was completed a few years ago; the latest, featured here, is a century-old house in Greenwich, Connecticut, a downsizing from the place where I grew up.
Our former family home, also in Greenwich, was a 1920s clapboard structure reminiscent of an English farmhouse. Its interiors were in the conventions of the 1990s: a mix of English and French antiques and reproductions, Persian rugs. There was a fair amount of color and pattern and art in gilded frames. With the kids out of the house, my parents were ready for a change.
Their goal was to simplify—and to modernize. Not that you would get that from looking at the exterior of the house they chose, a 1929 structure in French Normandy style. The beauty of the home lies in its graceful proportions, high ceilings, abundant natural light, and elegant decorative details. The boiserie in the living room and the rich millwork in the library are two of my favorite elements. To avoid heavy construction, we left the kitchen and baths mostly as they were and focused on the furnishings and art. One of my parents' mandates was to use as much of their existing furniture as possible. While my work tends toward the modern, I welcomed the challenge of combining their antiques with some of the 20th-century and contemporary designs I love.
To create a compelling mash-up of periods and styles, I culled the best of the pieces from the old house: a painted-and-gilt neoclassical settee, a pair of English 19th-century one-and-a-half chairs, and a large Louis XV–style wing chair, among others. As I began conceiving individual rooms, I looked for ways to introduce lyrical modern notes. And the more idiosyncratic the better, from the colorful shaded lamp by Angelo Lelli in the library to the living room's towering Pietro Chiesa lamp to the life-size Kristina Riska sculpture in the entrance hall.
The focal point of the entertaining spaces is the perfectly proportioned salon-style living room, which I divided into generous seating areas on either side, leaving a path in the center that leads from the main hall to the terrace outside. To help unify the space, I used a single carpet: an incredible, monumental 1940s kilim. A large Barbizon School landscape and two early-20th-century canvases share the room with contemporary paintings, sculptures, and photographs. I am especially fond of the pairing of a quirky Paul Kiss lamp and an Art Nouveau chair, their disparate but complementary forms holding court in one of the corners.
In the dining room, colors come together in a particularly compelling fashion. A gray-blue lacquered credenza and Persian Tabriz rug play off the panels of Gracie wall covering that turn the space into an Arcadian reverie. These elements provide a lovely backdrop for the imposing corner armchair and the graphic French '50s dining chairs that dance around the Directoire table.
The dark oak millwork that ripples across the library's walls is original, its shelves housing a collection of West German pottery from the '60s and '70s as well as some of my parents' favorite books. Objects of American, English, Pakistani, French, Italian, and Chinese origin coexist harmoniously here. This is where my dad has his desk, which he says reminds him of the library tables of his eating club at Princeton—"classic, utilitarian, and a little beat-up." He often comes here to read, nap by the fire, and retreat in the evenings with a glass of wine.
Keeping my parents' bed was a compromise. It resonates emotionally for my mother as an anchor of stability and familiarity, so it stayed. But I gave it a fresh context: I hung a large abstract canvas by Jacob Kainen on the adjacent wall and set a chic vintage Lelli floor lamp beside it. To lend the room a bit more of a charge, I placed a piercing self-portrait by Zanele Muholi next to the bed. Much to everyone's satisfaction, the room feels intuitively familiar yet current and energetic. As my mom has told me, "I love walking into the room and setting my eyes on that wall of color where the Jacob Kainen hangs."
In the end, working with existing furniture and art within a traditional envelope expanded my range and versatility. Now that my parents have embraced 20th-century design and eclecticism, I look forward to working with them on a modern house next—where we could push the mix in a new and different direction. Maybe more Scandinavian. We shall see.
Click here to view more photos of the home.
Next Post