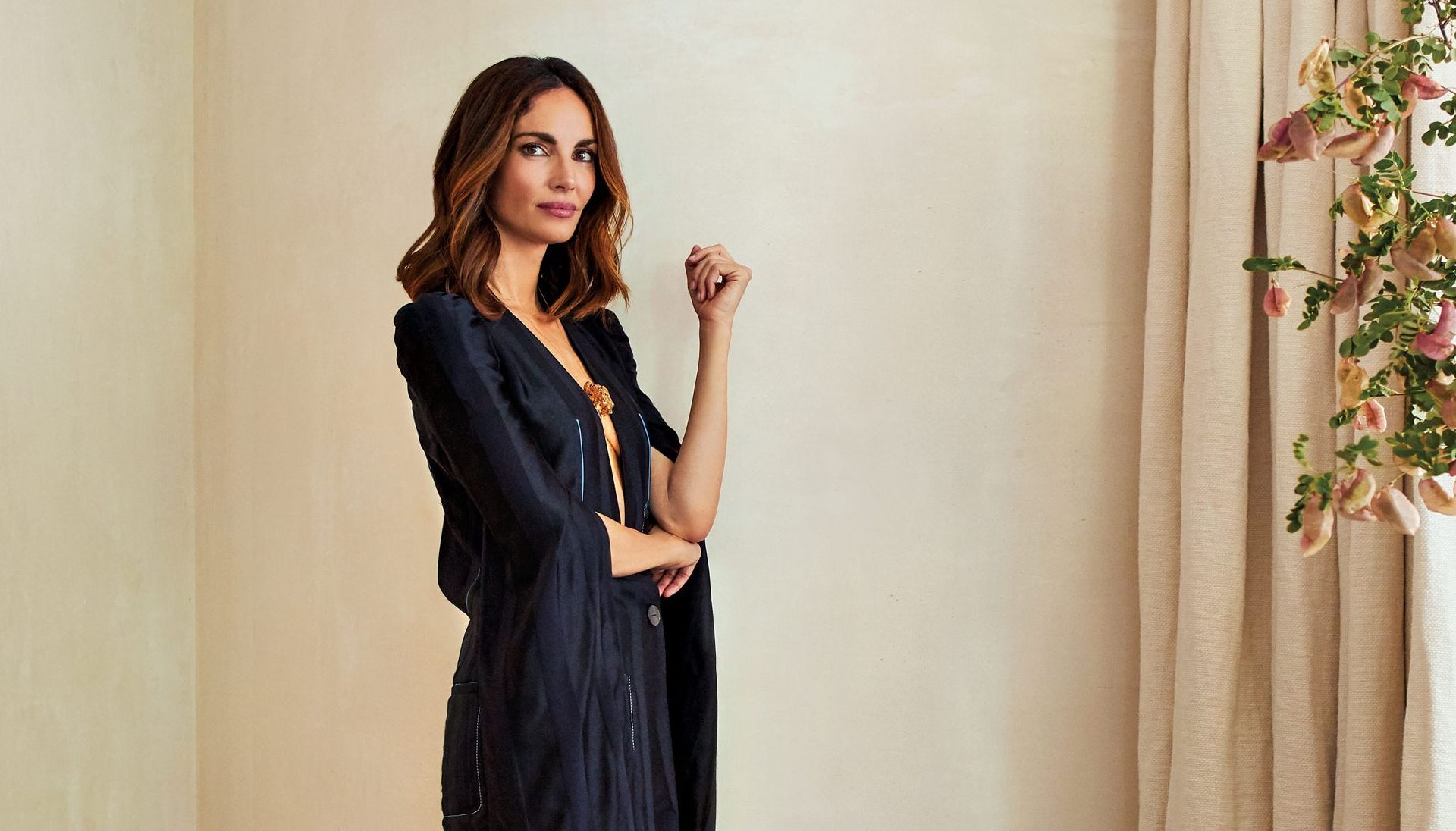 Inside Supermodel Eugenia Silva's Gorgeous Home in Madrid
Interior design firm Casa Muñoz elegantly devises a chic setting for the global trendsetter's family
What's a globe-trotting Spanish supermodel to do when she's about to have her first baby and settle down? For Eugenia Silva, the answer was to return to her roots in Madrid. Around four years ago, with family life imminent, she and boyfriend Alfonso de Borbón y Yoldi, a businessman and relative of Spain's King Felipe VI, hit the streets of the Spanish capital in search of the perfect home.
"I think we looked at every residence available at the time," says Silva, who spent the past 20 years gracing countless runways as well as the pages of Vogue, Elle, and Hola. Along the way, she also launched the online shopping site Eustyle, amassed a blue-chip collection of contemporary art and midcentury furniture, and had two sons, Alfonso and Jerónimo, now ages four and one, respectively.
Click here to view more photos of the home.
Fashionable friends tried to lure the couple to El Viso, a leafy enclave of villas and townhouses. "But after 15 years in New York, I was off townhouse living, with everything on different floors," Silva recalls. She found herself gravitating toward the area where she'd grown up, along the Paseo del Pintor Rosales, an elegant café-lined boulevard bordering the vast and verdant Parque del Oeste. Cross the street and Madrid's urban bustle fades into playgrounds and tree-shaded tranquillity.
So it was that Silva found a 3,800-square-foot apartment with three exposures and a large terrace overlooking the park, and only a few doors down from her grandparents' former home. The architectural studio Plantea helped convert the warren of tiny rooms into the open plan she desired. The interior design firm Casa Muñoz, led by Gonzalo Machado and Mafalda Muñoz, oversaw the finishes and furnishings as well as the installation of artworks by the likes of Miquel Barceló, Louise Bourgeois, Andreas Gursky, and Manolo Valdés.
Recommended: Inside Designer Michael Smith's New Home in Madrid
"The idea," Machado explains, "was to respect the building's rather posh 1960s architectural soul while inserting Eugenia's sensibility and the realities of 21st-century family living into the way the space functions." In addition to the stylish kitchen designed by Plantea, that meant generously scaled, free-flowing living and dining spaces that work for hosting guests as well as quiet evenings with just the family. "We can close off the kids' rooms when we are entertaining, but the rest of the house is completely open," Silva notes. "You see the park from the kitchen, which was never the case with these apartments originally."
Creating relaxed, flexible living spaces did not mean going bohemian. "That kind of vibe works great for my beach house on Formentera," says Silva, referring to the family's island retreat. "But for the home where my children will grow up, I didn't want hippy chic. It needed to be a proper house."
There's an unmistakable refinement that runs throughout the apartment, not least in the sumptuous materials: Calacatta marble, cerused oak, rosewood, honed plaster. The aesthetic, as Silva sees it, is decidedly more masculine than feminine. "There are no floral prints, no fringe, and frankly not much color," she notes. "It's almost all black and white." Indeed, aside from some of the art, the residence is mostly a symphony of neutrals: blacks and grays with an array of pale earth tones and a blush of pink found on the stool of her custom-designed Casa Muñoz oak dressing table. "We looked at countless vintage vanities," Muñoz says, "but ultimately decided we could make a better one."
An array of bespoke Casa Muñoz furnishings—sculptural oak sofas, a lacquered cocktail table that could have been Halston's—integrates seamlessly with standout vintage pieces Silva has collected, such as George Nakashima cabinets and a suite of Michel Cadestin chairs designed with Georges Laurent. "Eugenia was the best client in decorator history," says Muñoz. "We delivered the home we would have done for ourselves, if only we had her amazing collections."
The designer confesses to experiencing a moment of separation anxiety when the project was finished. "Honestly," Muñoz says, "it was a little hard to hand over the keys."
Click here to view more photos of the home.
A version of this article first appeared in print in our 2018 Fall Issue under the headline Model Apartment. Subscribe to the magazine.
Next Post