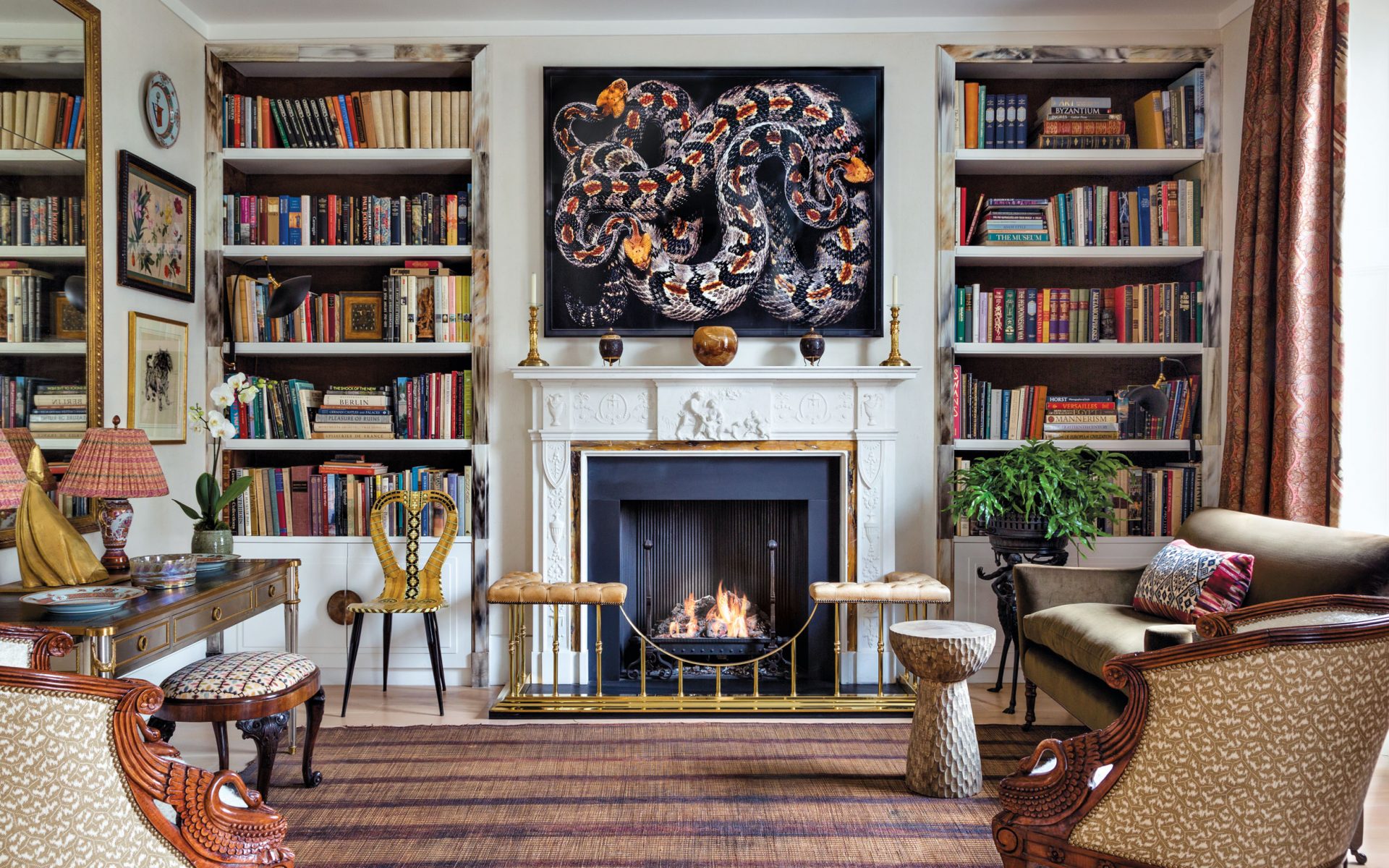 Markham Roberts Designs a London Townhouse with Museum-Quality Art
The Notting Hill residence he crafted for a longtime friend displays a brilliant mix of art and furnishings
For designer Markham Roberts, decorating the new London home of an American expat, her Italian-born husband, and their three children was an opportunity to spend time working with an old friend. It was also a chance to reconnect with some outstanding antiques and museum-quality artworks he has known and loved since college. "I remember them from visiting her old apartment in New York and her first apartment in London," recalls the Manhattan-based Roberts, who has known the wife since their student days at Brown University. "I was so happy to reconnect with all of these things."
When the family decided to trade their traditionally decorated townhouse on one of London's posh garden squares for an early-19th-century house in Notting Hill, they entrusted Roberts, who had decorated their summer home on Long Island, with the renovations. They had fallen in love with the four-story, Regency-era residence and its expansive garden and distinctive quirks, including a pared-down industrial metal staircase and a skylighted octagonal living room.
Click here to view more photos of the home.
Previous owners had stripped out much of the original ornament and detailing, giving the spaces a more modern feel and letting their graceful proportions and airiness shine through. "It was completely different than their last home," says Roberts. "The openness and lightness here were incredibly appealing to them."
So, while the family spent the summer abroad, Roberts set about refreshing and fine-tuning the elegantly restrained rooms, creating a neutral but richly textured backdrop for the owners' collections. "Our approach was always with the mind-set of using all of their things but making them look different in this space," he says. Among the refinements he introduced were luxurious finishes—luminous polished plaster and smoked-mirror panels in the living room, sensuous snakeskin in a powder room—updating several baths, refinishing pale bleached-oak floors, and crafting suede-backed bookcases with painted faux-horn trim in the entry parlor.
Recommended: Pierre Yovanovitch Transforms a Brussels Townhouse for Major Collectors
That space, where a roaring fire welcomes family and guests on chilly London days, perfectly captures the home's harmonious layering of diverse furnishings, art, and objects, conveying the story of connoisseurs who both grew up in collecting families and continue to acquire things together. Here, a contemporary photograph of snakes by Guido Mocafico hangs prominently above an 18th-century carved marble mantel, a wedding gift from the wife's father that had been installed in the dining room of the couple's previous home. Beneath a Louis XVI–style mirror, a pair of George II stools are tucked under a 1960s bronze-and-steel desk by American designer John Vesey, an heirloom from the wife's family. A pair of Empire armchairs, a Fornasetti Musicale chair, and a vintage North African Tuareg mat—"to loosen things up," explains Roberts—round out the room's stylishly eclectic vibe.
In the more understated octagonal living room, sofas and armchairs designed by Roberts are grouped with vintage side tables from Jansen and Baguès atop a large custom carpet designed by Allegra Hicks, a close friend of the wife's. Hanging on one of the mirrored walls, which reflect light from a trio of windows above the garden, is an exquisite watercolor of an architectural capriccio, or folly, by the 18th-century artist Jean Henri Alexandre Pernet.
Recommended: Designer Alvise Orsini Crafts a Stunning Art-Filled Penthouse in Paris
The couple's art collection, which is particularly rich in drawings, watercolors, and other works on paper, speaks strongly to the interests of the wife, a longtime benefactor of the Morgan Library & Museum in New York. Other important artworks throughout the home, spanning centuries and styles, include an Henri de Toulouse-Lautrec lithograph in the study and a large, circa-1910 painting of Nijinsky in an Orientalist costume by Jacques-Émile Blanche that presides over a hallway. "The art reflects their sophistication, multicultural backgrounds, and broad interests," remarks Roberts. "It also conveys a sense of humor. They're worldly clients who don't take themselves too seriously."
The success of Roberts's seemingly effortless blending of elements—classical and modern, family treasures and new acquisitions—is in how compellingly it all captures the owners' personalities. "I'm not the kind of decorator who says it has to be my way," he adds, noting that he and his longtime friend and client have a mutual appreciation for each other's sensibilities. "Ultimately, this home is a reflection of the family."
Click here to view more photos of the home.
A version of this article first appeared in print in our 2018 Fall Issue under the headline Finders Keepers. Subscribe to the magazine.
Next Post