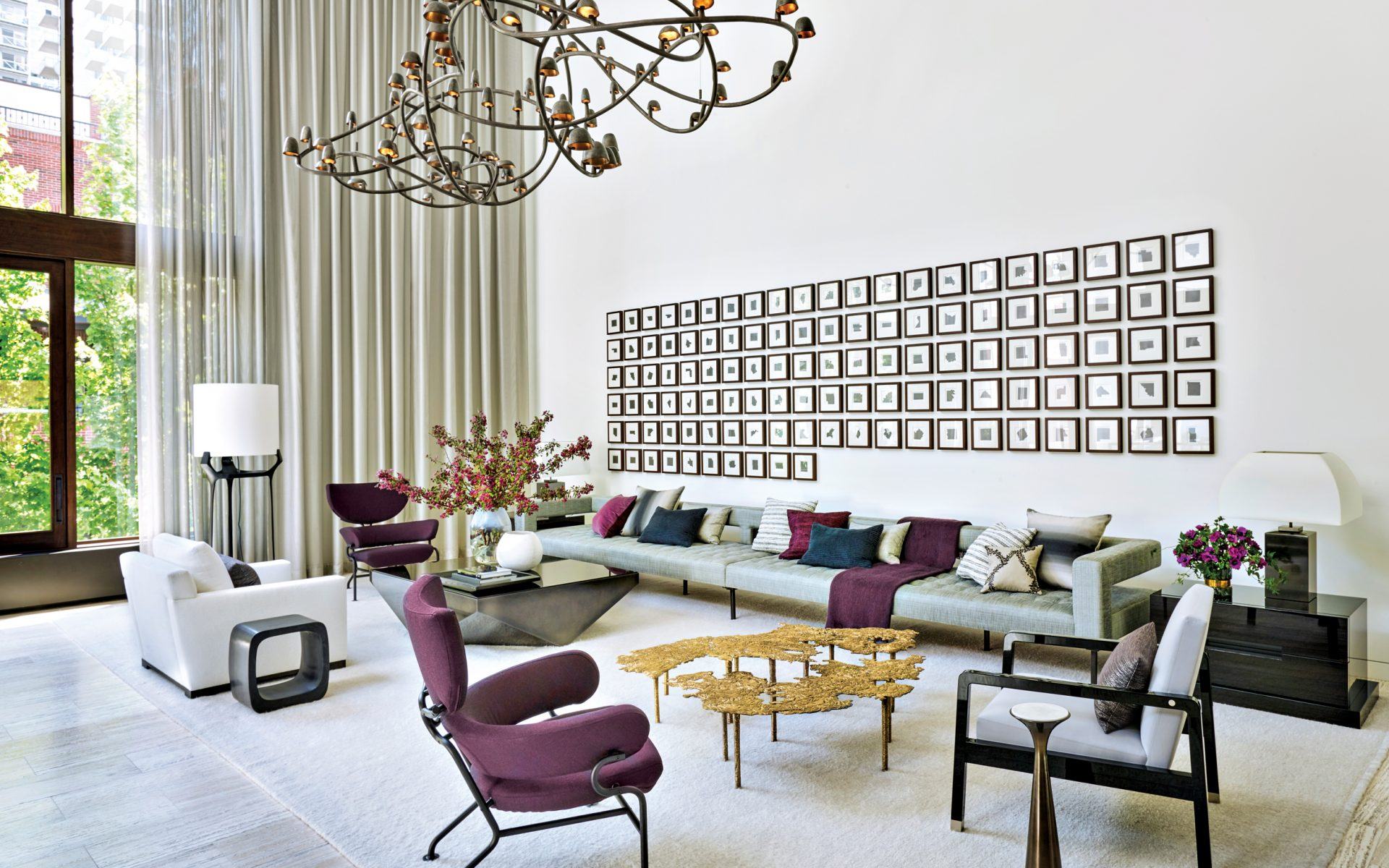 Inside Fashion Designer Pamella Roland's Extraordinary Chicago Townhouse
The five-story modernist dwelling offers a serene escape brimming with blue-chip art and custom furnishings
The Chicago home that fashion designer Pamella Roland shares with her husband stands out for its breadth and its style. Not unlike Roland's collections of glamorous evening dresses, which can routinely be spotted on red carpets, worn by stars like Halle Berry, Debra Messing, and Allison Janney.
The couple's five-story, 13,000-square-foot residence, designed by Chicago firm Wheeler Kearns Architects, spans two lots and, in contrast to its more traditional brick-and-limestone neighbors, is a striking modern structure clad in richly veined black marble. The interior, overseen by another local firm, Kadlec Architecture + Design, balances clean-lined furnishings and works by noted contemporary artists with subtle, luxurious textures.
"We were interested in creating a city home that would be both comfortable and intimate for our immediate family as well as open and spacious for larger entertaining," says Roland. "We worked with the architect to design a bold modern aesthetic and organize the spaces throughout the five floors to make living and entertaining hubs that have a natural flow."
[Slideshow: See more photos of Pamella Roland's Modern Chicago Manse]
Joy Meek, a principal at Wheeler Kearns who served as the project architect, describes the first floor, where you enter the house, as "basically a backyard," with an indoor basketball court, a media room, an exercise room, utility areas, and two garages. An angular black steel staircase winds its way up through the center of the house, becoming a spiral at the top, where it connects the fourth-floor master bedroom, dressing room, and Roland's office to the fifth-floor spa, her husband's office, and a roof deck. In between, the second floor contains the guest rooms, while the third floor features the main entertaining spaces, including living, dining, and family rooms as well as the kitchen and a large terrace.
Recommended: Deborah Berke Partners Crafts a Refined Penthouse for a Major Collector
Living in such a contemporary house was a departure for the couple, who, as Roland puts it, are drawn to "classic and enduring design." So Steve Kadlec's mission was to soften the interiors with inviting textures, warm tones, and comfortable furnishings, while also conceiving high-impact moments. In the double-height living room, a large bronze light sculpture commissioned from designer Frederik Molenschot hangs over the space "like a cloud," Kadlec says, "celebrating the amazing volume but nurturing a sense of enclosure, too." Above the 18-foot-long sofa, an artwork by Allan McCollum—a series of 115 framed graphite drawings that represent all the counties in Missouri—is another example of what Kadlec calls "big pieces with small parts."
Armchairs are arranged around two tables by Steven Haulenbeek—one a hefty, angular volume with a smoked-glass top, the other lighter in spirit, with a richly textured top of ice-cast bronze resting on slender legs. Together, notes Kadlec, they offer a contrast "between geometric and organic." The living and family rooms look onto an expansive, double-height covered terrace with seating and dining areas. Meek says it's meant to feel inside-outside and serve as a space for displaying artworks such as a large stone head by Jaume Plensa and a delicate bronze wall sculpture by Haulenbeek.
On the fourth floor, the master bedroom is distinguished by a spectacular ceiling installation created by David Wiseman with twining plaster branches and porcelain blossoms. Roland's office—"a calming space to start and finish the day," she says—is a colorful counterpoint to the house's largely neutral palette with its Alexander McQueen–designed rug and purple Holly Hunt sofa. Her dressing room has a wall of open closets for displaying some of her more showstopping dress designs, as well as a cabinet that contains her collection of vintage Fendi clutches.
When it came to the art, Kadlec worked closely with the couple on both new acquisitions and the display. "Art and fashion have always been my twin passions," says Roland, who with her husband had previously acquired key pieces like the colorful Damien Hirst in the first-floor entry and the black-and-white Ellsworth Kelly painting on the third-floor landing that happens to be her favorite work. "Commissioning and finding new art and mixing with existing pieces was one of the first things we focused on." With Kadlec's guidance, the couple added the McCollum drawings, the Plensa and Haulenbeek sculptures, and the Molenschot and Wiseman commissions.
[Slideshow: See more photos of Pamella Roland's Modern Chicago Manse]
"Pamella has a very good eye," says Kadlec, "and pedigree is not her sole consideration. It's a personal approach." That self-assured individuality is felt throughout this home, where the architecture, furnishings, and art combine in uncommonly elegant harmony.
A version of this article first appeared in print in our 2020 Spring Issue under the headline "Urbane Oasis." Subscribe to the magazine.
Next Post