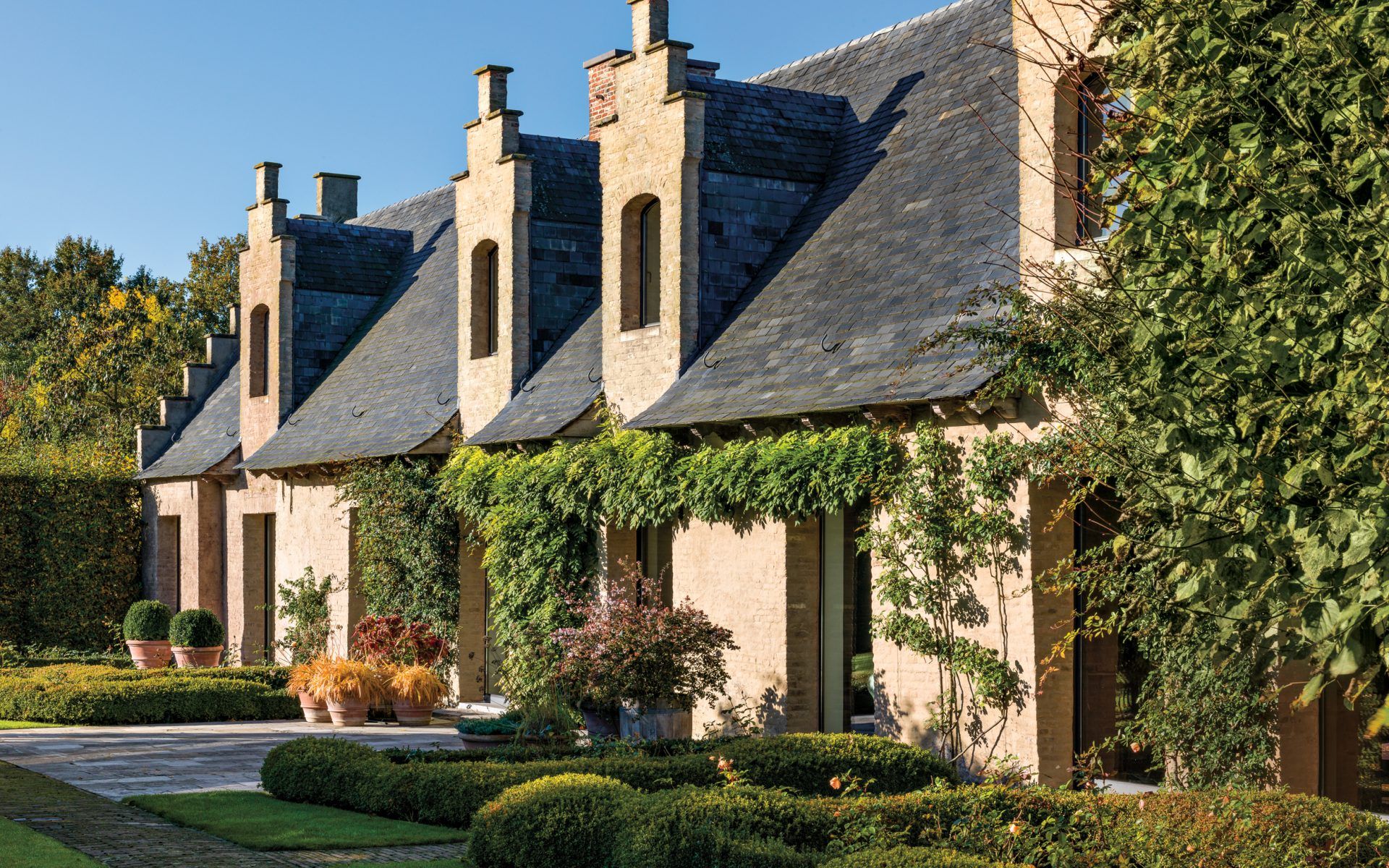 Axel Vervoordt Transforms a 17th-Century Military Barrack into a Minimalist Masterpiece
Designed for a longtime friend, the retreat near Bruges also boasts enchanting gardens by Jacques Wirtz
Johan Vandendriessche is an absolute aesthete. The Belgian real estate entrepreneur falls in love as easily with a historic building as he does with a work of art. And he tends to acquire both by relying on the same gut feeling. Professionally, he converts historic buildings to mixed-use housing or offices with respect for the original architecture. In his private life, he likes to surround himself with art, as illustrated by his home in the polder landscape near Bruges.
[Slideshow: See more photos of Axel Vervoordt's minimalist masterpiece]
Vandendriessche lives in a former military barrack that dates back to 1614. In his garden, which was designed by the late landscape luminary Jacques Wirtz, there is even an original pigeon tower, once used for sending messages to surrounding castles. Architects Claire Bataille and Paul Ibens renovated the elongated stone building in the 1980s in minimalist style. In addition to carving out a succession of living spaces along a monastic corridor, they devised, in the heart of the home, a double open staircase that suggests a crow-stepped gable—cleverly referencing a hallmark of traditional Flemish architecture.
To infuse the rooms with authenticity and soul, Vandendriessche called upon designer Axel Vervoordt, whose unmistakable stamp is evident throughout. His elegantly simple sofas and chairs upholstered in rich monochrome linens bring comfort, while isolated paintings and sculptural objects on sober plinths quietly animate the spaces with moments of focused contemplation. From an African statue and a Gotthard Graubner "Pillow" painting to a set of Egyptian predynastic vases in alabaster, the mix of ancient and modern is unified by a basso continuo of universality and timelessness.
"Time is the best artist, and great art is timeless," Vervoordt says. "My very first exhibition, at the Palazzo Fortuny during the 2007 Venice Biennale, was 'Artempo: Where Time Becomes Art,' and that exhibition changed my life." A pair of antique wooden mannequins that were on the cover of the show's catalogue now stand in Vandendriessche's hallway—symbols of the friendship and mutual respect between designer and client.
Recommended:The Ultimate Art Insiders' Guide to Antwerp
The two teamed up again in 2006, collaborating on plans to add a pair of structures to the property to be used as spaces for hosting friends or escaping for quiet reflection. At one end of the house, connected via an underground art gallery, is a classic Flemish barn, and at the other, a freestanding Japanese minka—the name for a rustic timber-frame dwelling built by farmers and craftsmen. Among the many passions shared by the two men is a love of Japan's culture. Vandendriessche owns a number of works by Japanese artists, including paintings by postwar Gutai movement giant Kazuo Shiraga, whose soaring profile among collectors can be partly credited to Vervoordt.
At Vandendriessche's home, Vervoordt says, the idea of bookending the house with the two buildings was about creating a "bridge between traditional Flemish and Japanese architecture. It's a kind of universal connection between East and West." The structures, he adds, "keep each other in balance. They are yin and yang."
[Slideshow: See more photos of Axel Vervoordt's minimalist masterpiece]
Although the Flemish barn was newly built, it looks as though it has always been there. The roof, constructed entirely with traditional techniques, features beams recycled from the Louvre in Paris. For the floors and walls, the designer used a mixture of local soil and lime, while the stones that support the wood pillars were salvaged from an old church. The barn has an elemental, almost primitive atmosphere, thanks to the monumental fireplace, old peasant table, and earthy ceramics from Japan and Korea.
The Japanese minka, meanwhile, was discovered dismantled outside Kyoto. "Beam by beam, the structure was rebuilt in Flanders," says Vandendriessche. "We flew over Japanese craftsmen specifically for that purpose, and 11 people worked on the reconstruction for three months."
The minka's spartan interior is all about natural elements: stone, water, wood, earth, fire. As is typical, the main room features a central wood-burning sunken hearth, known as an irori, that provides heat. There's also a low table handmade from a 300-year-old linden tree that tops a pit ringed by seat cushions custom made by Vervoordt. "Everything is made from natural materials," says the designer, whose son Boris now heads the day-to-day running of the interiors business. (The firm's latest projects are featured in the book Axel Vervoordt: Portraits of Interiors, coming out in October from Flammarion.) "You feel the passion of the artisans who patiently created it."
This fall, however, the minka will be dismantled and shipped to a new owner, who plans to install it on a Texas ranch. "I believe architecture is like art—you are only the temporary guardian," says Vandendriessche. "My art collection also changes regularly. I love charging my house with new artistic energy from time to time."
Recommended: Isabel López-Quesada Crafts a Magnificent Family Getaway in the Spanish Countryside
For his part, Vervoordt, who has long been inspired by Japanese principles of impermanence and imperfection, emphasizes that the house is "a living work of art—a lively dialogue between East and West, between nature and culture, between intimacy and monumentality." It is, he adds, "full of contrasts, which are perfectly complementary." 
A version of this article first appeared in print in our 2019 Fall issue under the headline "Kindred Spirits." Subscribe to the magazine.
Next Post