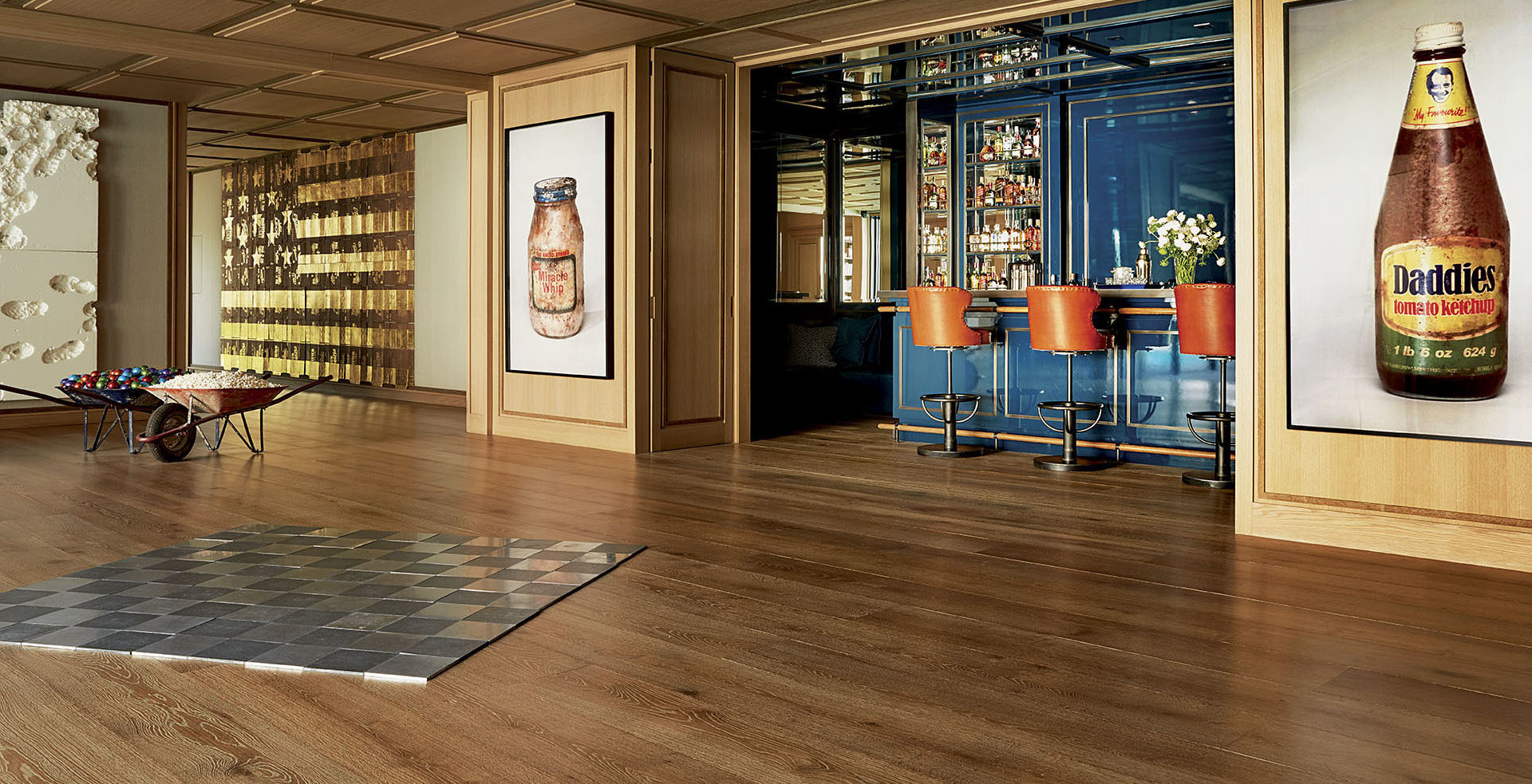 See Collector Eugenio López's Art-Packed New Home
Museum-worthy art animates the übercollector and patron's spectacular Mexico City residence
When the Museo Jumex opened to major fanfare in Mexico City a few years ago, observers compared the sawtooth roof of the David Chipperfield–designed building to a crown. And why not? After all, the project was the brainchild of an international art-world prince, Mexican collector and patron Eugenio López. A scion of the fruit-juice juggernaut Jumex, López has devoted the past two decades to assembling what is often called Latin America's largest private art trove, while presiding over the Fundación Jumex Arte Contemporáneo, which encompasses not only the museum but also an array of philanthropic activities.
López, who serves on a number of museum boards, travels regularly, dividing his time between homes in Los Angeles and Mexico City, entertaining streams of friends and colleagues wherever he goes. While L.A. is his main base, he now spends more time in Mexico City, and he recently traded his longtime apartment in the Polanco district for a 16,000-square-foot house in the posh Lomas de Chapultepec neighborhood. The new residence offers López space to display more of his roughly 3,300 modern and contemporary works—among them large-scale pieces by Richard Serra, Rudolf Stingel, and Ellsworth Kelly.
A modernist three-level concrete structure built in the 1970s, the house attracted López with its "good bones, large rooms, and great light," he says. "Plus, the layout was ideal. The downstairs was perfect for entertaining, while upstairs I could create separate private quarters. You shut two doors and you're completely away."
For the renovations López enlisted Madrid-based designer Luis Bustamante, who had done houses for some of his friends. On the ground floor, Bustamante tailored the spaces to accommodate gatherings of various sizes. At one end is a stunning double-height library that contains about 4,000 volumes, mostly art books and exhibition catalogues. "Eugenio wanted to be surrounded by his books, which he never had enough space to access before," the designer explains. "When he's conversing, he often runs off to reference something in a book or an architecture magazine from the '80s. He is very curious in that sense, with a great cultural awareness."
[Slideshow: See more photos of Eugenio López's art-packed new home in Mexico City]
Next to the library's fireplace, mammoth curved sofas and Vladimir Kagan wing chairs are arranged around a Fredrikson Stallard mirrored low table, inviting quiet reading or relaxed conversation. The space is clad in the same warm, pale oak used throughout the home—for wide-plank floors, walls, shelves, and paneled ceilings. "The wood makes the house cozy," Bustamante says. "And the art looks good against the color of the wood." Hanging above the fireplace is a punchy Paul McCarthy photograph of baby-food jars from one of his performances, while a witty black-and-white conceptual work by John Baldessari is installed on the mezzanine above. The library's towering windows, meanwhile, offer views out to walled-in gardens by Spanish landscape designer Jesús Ibañez.
At the house's opposite end, flexible seating and dining areas were designed for museum-related gatherings and lively parties. A gleaming Damien Hirst cabinet filled with perfect rows of white pills overlooks a striking pair of Ado Chale bronze-top dining tables, while a massive Danh Vo gold-leafed American flag makes a showstopping statement next to a group of clean-lined sofas and marble-top cocktail tables.
[Slideshow: See more photos of Eugenio López's art-packed new home in Mexico City]
Between this area and the library is an expansive art gallery and an intimate bar, the latter entirely lacquered in a lustrous blue. One can easily imagine guests, cocktails in hand, moving about the gallery and taking in the diverse works on display: a wall-size Styrofoam work by Stingel resembling tracks in fresh snow, two McCarthy photographs of mundane kitchen condiments blown up to monumental scale, a classic Carl Andre metal-plate floor sculpture, and a Gabriel Kuri work comprising a couple of wheelbarrows, one filled with glass Christmas ornaments, the other with popcorn. López says the plan is to rotate the art on the ground floor basically every month, though some larger pieces will remain in place longer. "It's surprising how much changing the art affects the space," he notes.
The second floor is where López spends much of his time. There he can relax or entertain on a more intimate level, using the comfortable art-lined living area, formal dining room, and terrace. It's also where his commodious master bedroom is located. Three guest rooms on the top level are outfitted in luxury-hotel style, including one decorated wall-to-wall in blue. "I'd seen a blue bedroom by Michael Taylor in a magazine years ago, and it was something I'd always wanted to do," says López.
Naturally the bedrooms also feature works from López's vast collection—a Cy Twombly drawing here, a colorful Donald Judd box assemblage there. In this house, one is constantly reminded that it's all about the art, whether passing an iconic Jeff Koons sculpture in a hallway or finding a Louise Bourgeois spider scaling a wall by the pool. As Bustamante puts it, "Here, art is the protagonist."
Next Post