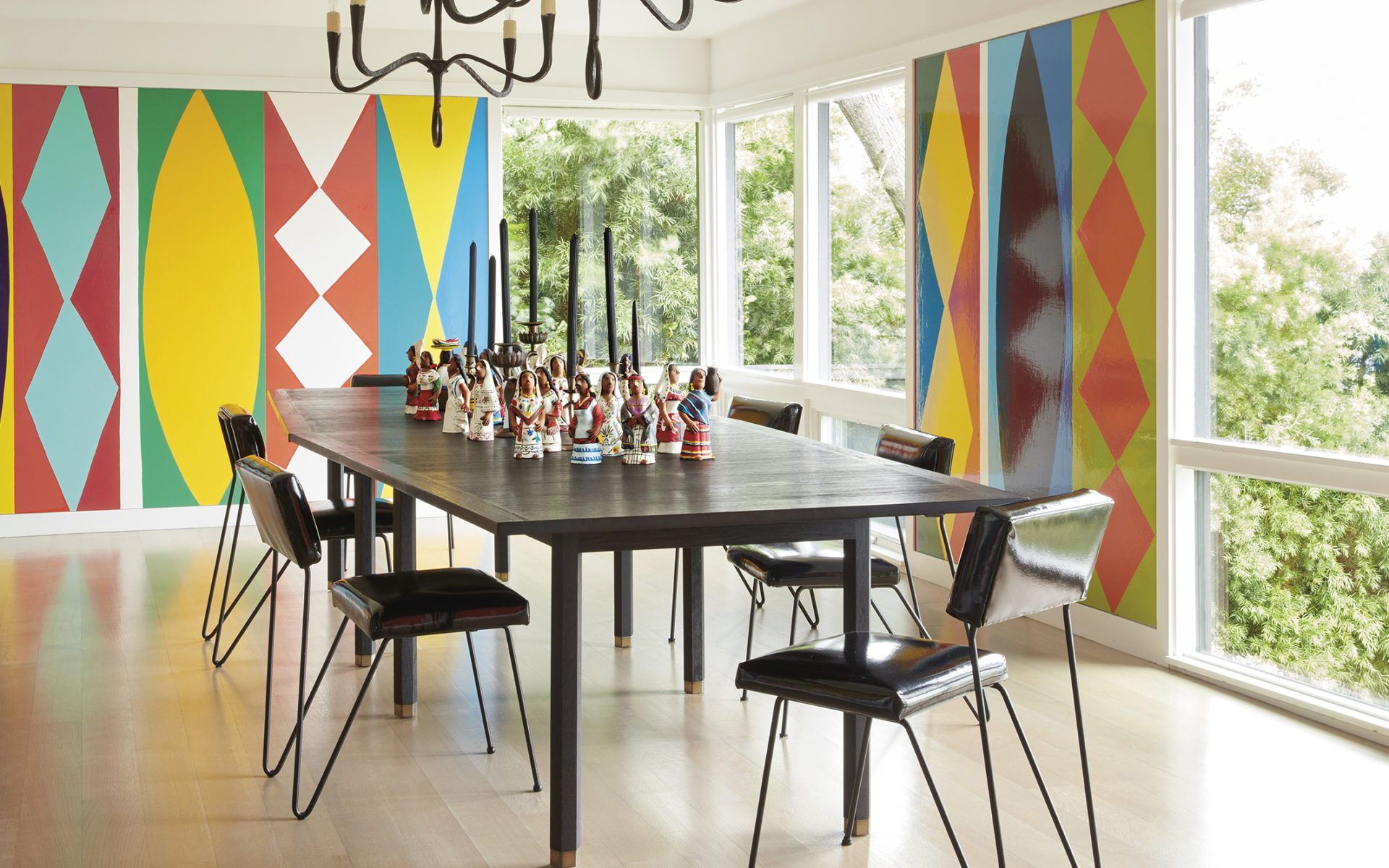 Inside Architect William T. Georgis's Artful Residence in La Jolla
The tastemaker's midcentury beach retreat gets a striking makeover worthy of its spectacular views
Some people really have it: that particular kind of vision that enables you to see not only what's in front of you, right now, but what could be there in the future. But it's not clairvoyance—it's imagination. And unlike ESP, you don't always know exactly where it will take you. Architect William T. Georgis has this special sixth sense in spades, and it's how he ended up with a stunning seaside house in La Jolla, California, almost 2,800 miles from his home in New York City.
For years, Georgis and his longtime partner, the late art curator and consultant Richard Marshall, had searched for the perfect place to spend weekends and holidays. They had even bought a piece of property in Amagansett, on Long Island's East End, with the intention of building on it, but they never did. Then fate intervened.
After Georgis's brother moved to La Jolla in the 1980s and his parents followed a decade later, he and Marshall began visiting them for holidays. Unexpectedly, over the years they found themselves warming to the charms of this pleasant beach community in northern San Diego. "It still seems like post–World War II America in La Jolla," says Georgis. "There's this unspoiled beauty, a sense of optimism, and a gentler pace of life. Plus, there's cultural sophistication because of the arts institutions there. It's like this anachronistic hidden gem."
Around 2005, they started casually looking at local properties to see if something would excite them. Finally, four years later, a house caught their eye: a 3,000-square-foot modernist residence that William Lumpkins, a noted artist and architect, designed for himself and his wife in 1955. It wasn't just the house, with its long, low, Japanese-inflected sense of elegance, that attracted the two men. Set high up on a slope, it had unobstructed views out over the Pacific and north up the coast all the way into Orange County.
Even with the fabulous vistas, the place needed a vision. As well as suffering from general aging and disrepair, the house had an awkward layout, courtesy of an ill-conceived addition that had undermined Lumpkins's simple design. But Georgis and Marshall saw potential that others could not. So they got to work.
"We demolished the addition and restored the exterior, but the big thing was to reconfigure the entire interior plan and turn what was a chaotic four-bedroom house into a streamlined two-bedroom home," says Georgis. By adding a steel superstructure, they were able to raise the ceilings in the living room and construct a terrace that cantilevers off the front of the house, where Georgis can often be found at sunset, enjoying a cocktail. To realize his equally ambitious ideas for the outdoors, he brought in Los Angeles landscape designer Judy Kameon, who surrounded the home with a series of garden spaces that loosely correspond in function and mood with the interior rooms they are connected to. And just off the living room, there's a new swimming pool, where Georgis swims daily.
It all makes perfect sense, yet pure logic is not the only allure of this place. The underlying decor has plenty of restrained beauty and subtle texture: sea-grass wall coverings, cerused oak, unfilled travertine. But given that this is a man who named his 2013 book Make It Fabulous, you can't be surprised that the interior also has its share of splashier notes, including some eye-catching hits of midcentury populuxe.
Georgis covered a Hans Wegner–esque armchair in a shocking-pink silk in the bedroom and placed a Sunkist-orange vintage Chinese carpet in the library. A trio of Japanese-style Murano-glass lanterns hang above a pair of blue velvet Deco sofas in the living room, where the Georgis-designed carpet evokes dozens of ink splatters. That striking motif is echoed in the powder room, where walls of mirror are punctuated with real bullet holes.
This distinctive hybrid of restraint and exuberance finds its most ecstatic expression in the dining room, thanks to walls lined with a suite of paintings that Georgis and Marshall commissioned from San Diego painter Kim MacConnel. Like a playground of Matisse cutouts running riot and reverberating with color, the space is a visual magnet that draws in the eye, making it a lively spot for intimate dinners.
Tragically, Marshall died in 2014, so the house now has only one champion. But the vivid beauty and creativity that run throughout are a testament to the couple's conviction that art and design and life should exist together on a continuum—playfully, gracefully, resolutely. And the sooner everyone else can come around to this idea, the better off we—and our homes—will be. 
Click here to view more photos of the home.
Next Post