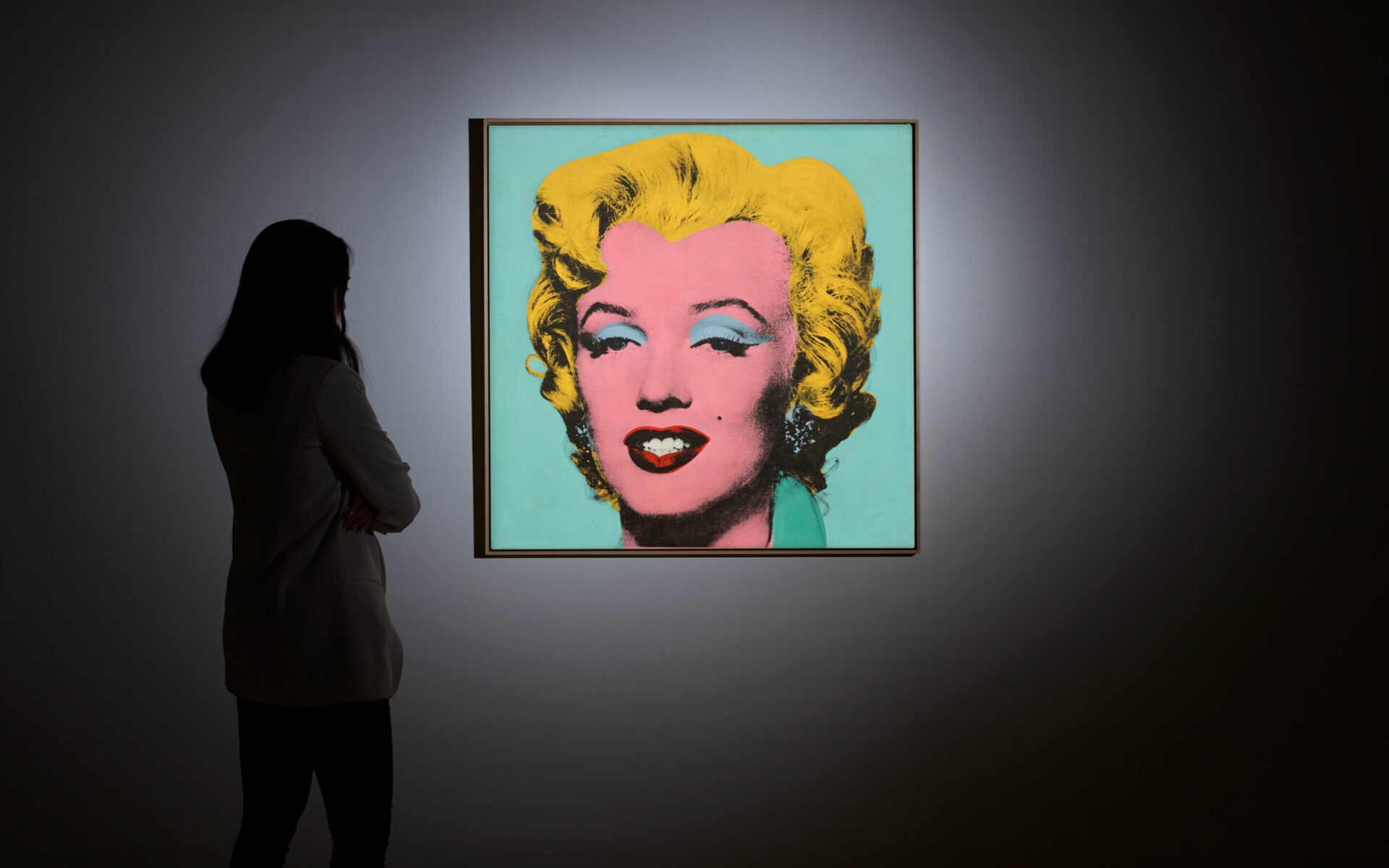 Look Back at 13 of the Most Notable Auctions of 2022
Records were broken, previously unseen treasures were brought to market, and collectors sent prices soaring in a blockbuster year
While real estate has had its ups and downs this past year, the auction market was hotter than ever. And with some major collections and noteworthy lots coming across the block it's easy to see why. In the last 12 months, buyers have had the opportunity to own pieces once held by icons of their fields, like Henri Matisse and Charlotte Perriand, as well as bid on jaw-dropping stones, unprecedented artworks, or one-of-a-kind artifacts. While to chronicle all of them would result in a catalog as fat as that of the Getty auction, here are a few standouts from 2022.
1. Louis Vuitton Virgil Abloh-Designed Air Force 1s at Sotheby's
While game-worn sneakers routinely cause a bidding frenzy for collectors of sports memorabilia, designer footwear doesn't often get the same buzz. However, Sotheby's February auction of 200 extraordinary pairs of Louis Vuitton Air Force 1s designed by the late polymath Virgil Abloh drew huge numbers—realizing $25.3 million for Abloh's Post-Modern Scholarship Fund, which supports Black students in fashion, and setting a new benchmark for charity auctions.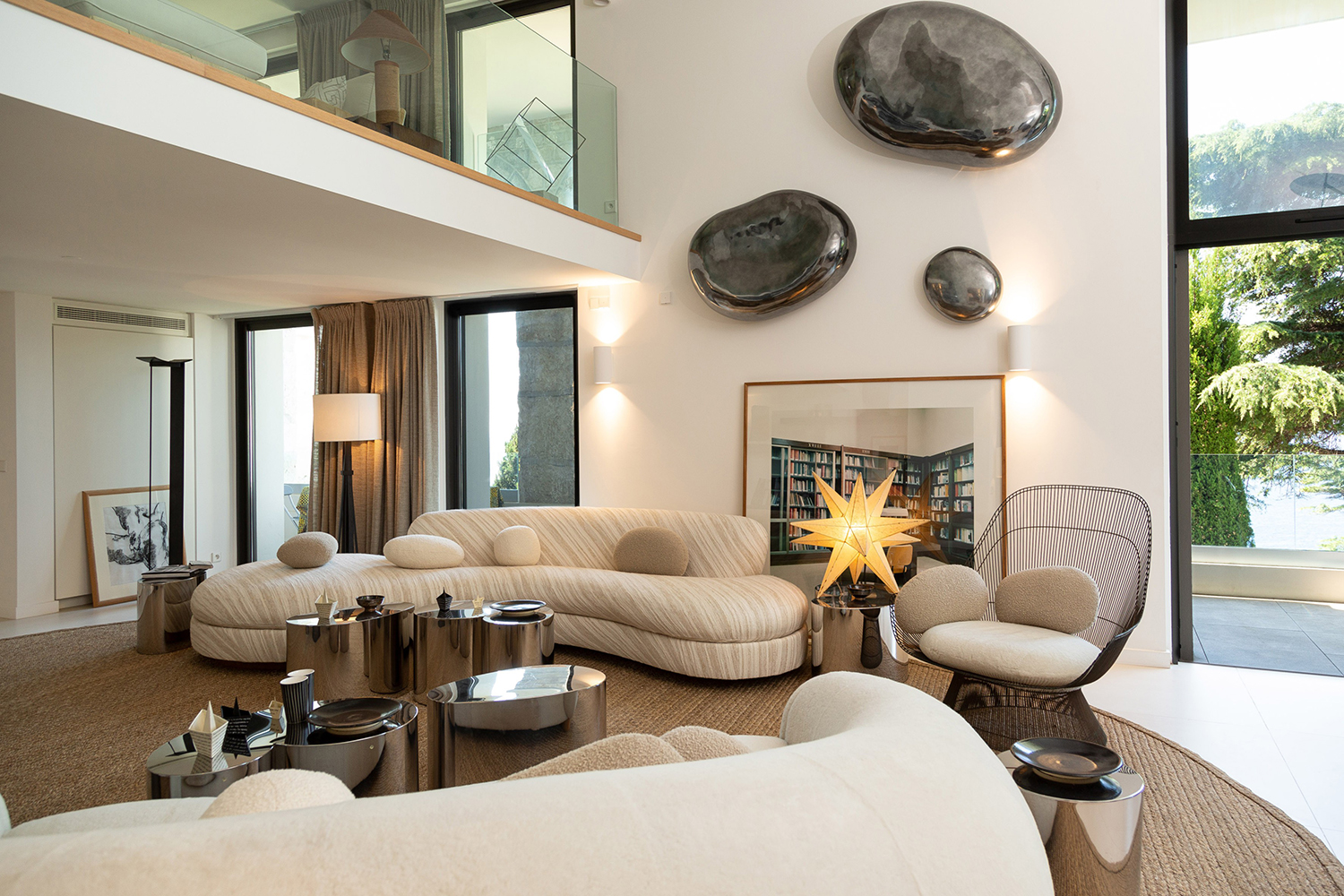 2. Estate of Betty and François Catroux at Sotheby's
The Parisian "It" Couple of the 1970s, Betty and François Catroux occupied several equally glamorous residences, including an apartment on Quai de Béthune in the City of Light, photographed by fashion lensman Horst P. Horst, and filled with notable pieces of collectible design. Their trove of art and furnishings, which included works by Ettore Sottsass, Josef Albers, Xavier Veilhan, and Ron Arad, came up for auction at Sotheby's, giving viewers a peek inside the couple's previously unseen home in the French Riviera, curated by François.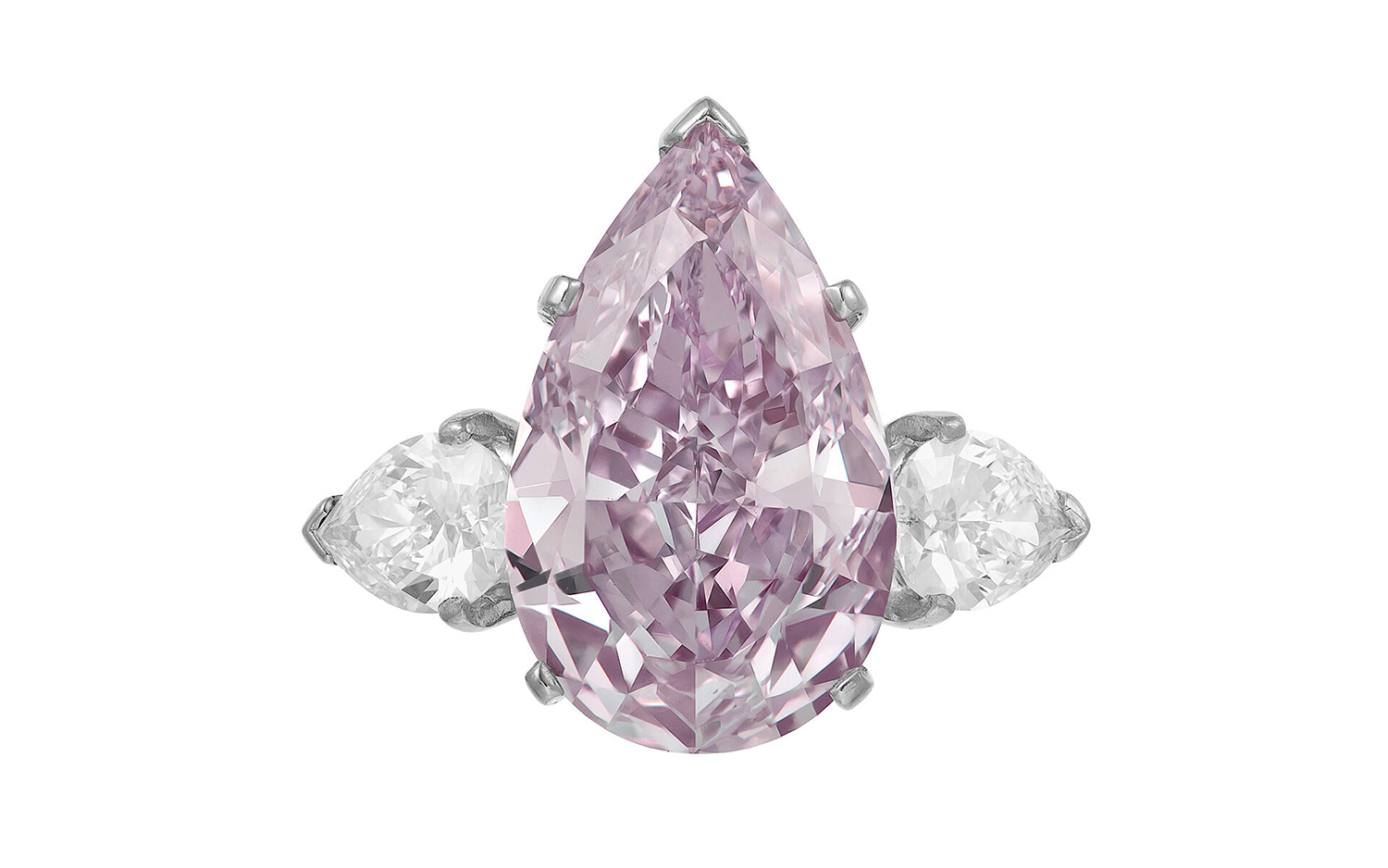 3. Magnificent Jewels Sale at Christie's
Colored stones (literally) rocked this year's jewelry sales, particularly during Christie's Magnificent Jewels auction in April. Among the event's 71 lots was the Fuchsia Rose, an 8.82-carat fancy intense purple-pink pear modified brilliant-cut diamond, set in platinum between two pear modified brilliant-cut diamond of 0.61 carats. The breathtaking bijoux went for $6.8 million, surpassing its $4 million to $6 million presale estimates.
4. Man Ray Photograph Le Violon d'Ingres (1924) at Christie's
"Le Violon d'Ingres is without doubt one of the most iconic images of the 20th century," Christie's international head of photography, Darius Himes, told Galerie in an exclusive preview of the May 13 sale. "In the history of 20th-century art, show me another work that is more powerful, erotic, true to life, and playful." The seductive photograph hammered at $12.4 million—far surpassing its $5 million to $7 million presale estimate and indeed becoming the most expensive photograph ever sold at auction.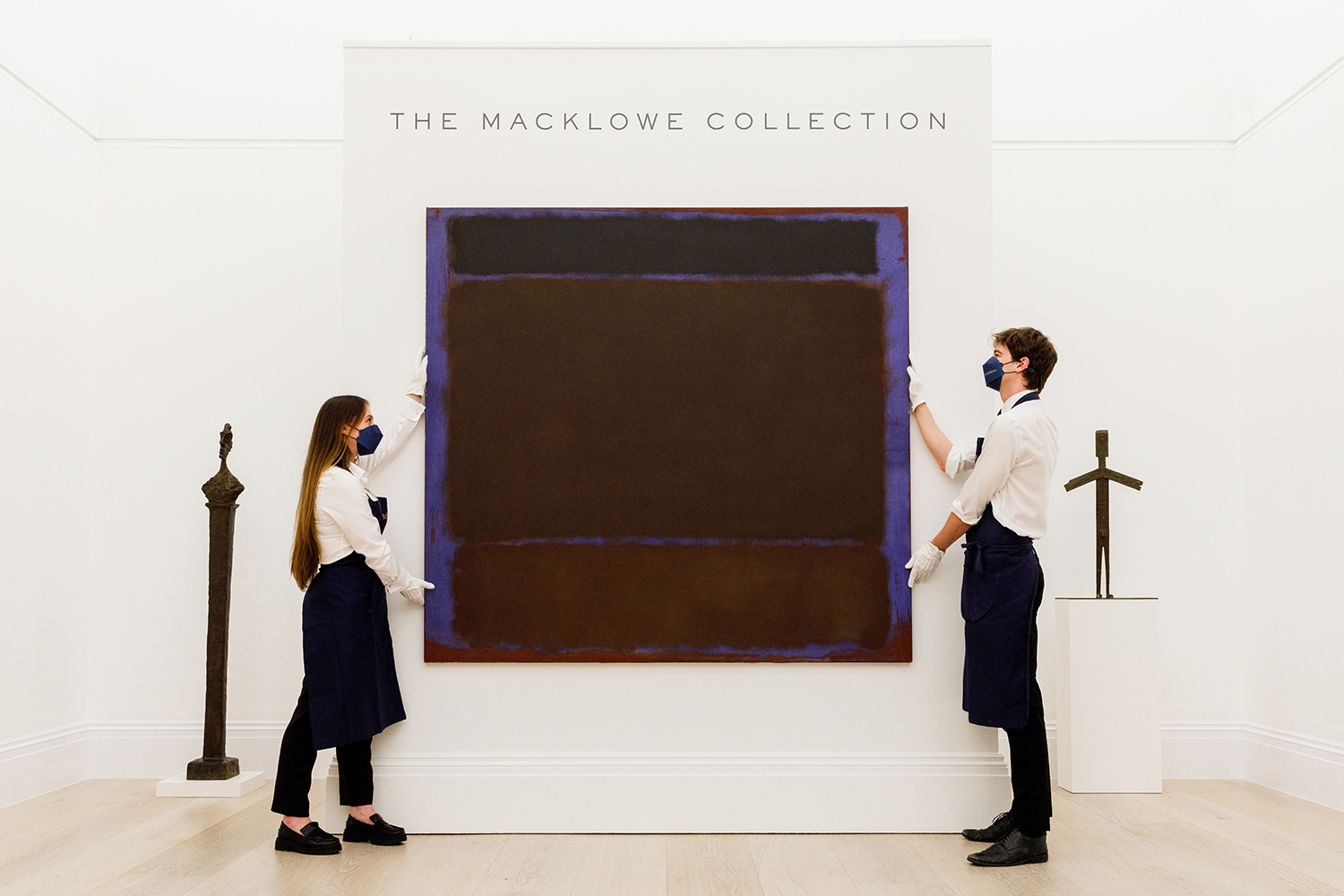 5. The Macklowe Collection at Sotheby's
Sotheby's second dispersement of divorcing collectors Linda and Harry Macklowe's breathtaking collection, this white-glove sale smashed a slew of auction records when the final 30 pieces achieved $246.1 million, bringing the final tally to a jaw-dropping $922.2 million. More than half of the works exceeded their top estimate, with the night's top lot being a previously unseen "Untitled" artwork by Mark Rothko, which brought just over $48 million. Other notable canvases included Gerhard Richter's moody Seestück (Seascape) and Andy Warhol's camouflage-colored Self Portrait.
6. Andy Warhol's Shot Sage Blue Marilyn at Christie's
Andy Warhol produced electrifying silkscreens and sculptures that transformed celebrities or everyday items, like soup cans and Brillo boxes, into dynamic works of Pop art. One of his most identifiable subjects, Marilyn Monroe, was back in the spotlight this May when his technicolor canvas Shot Sage Blue Marilyn (1964) sold for an astounding $195 million, earning it a place in the history books as the most expensive 20th century artwork to sell at auction.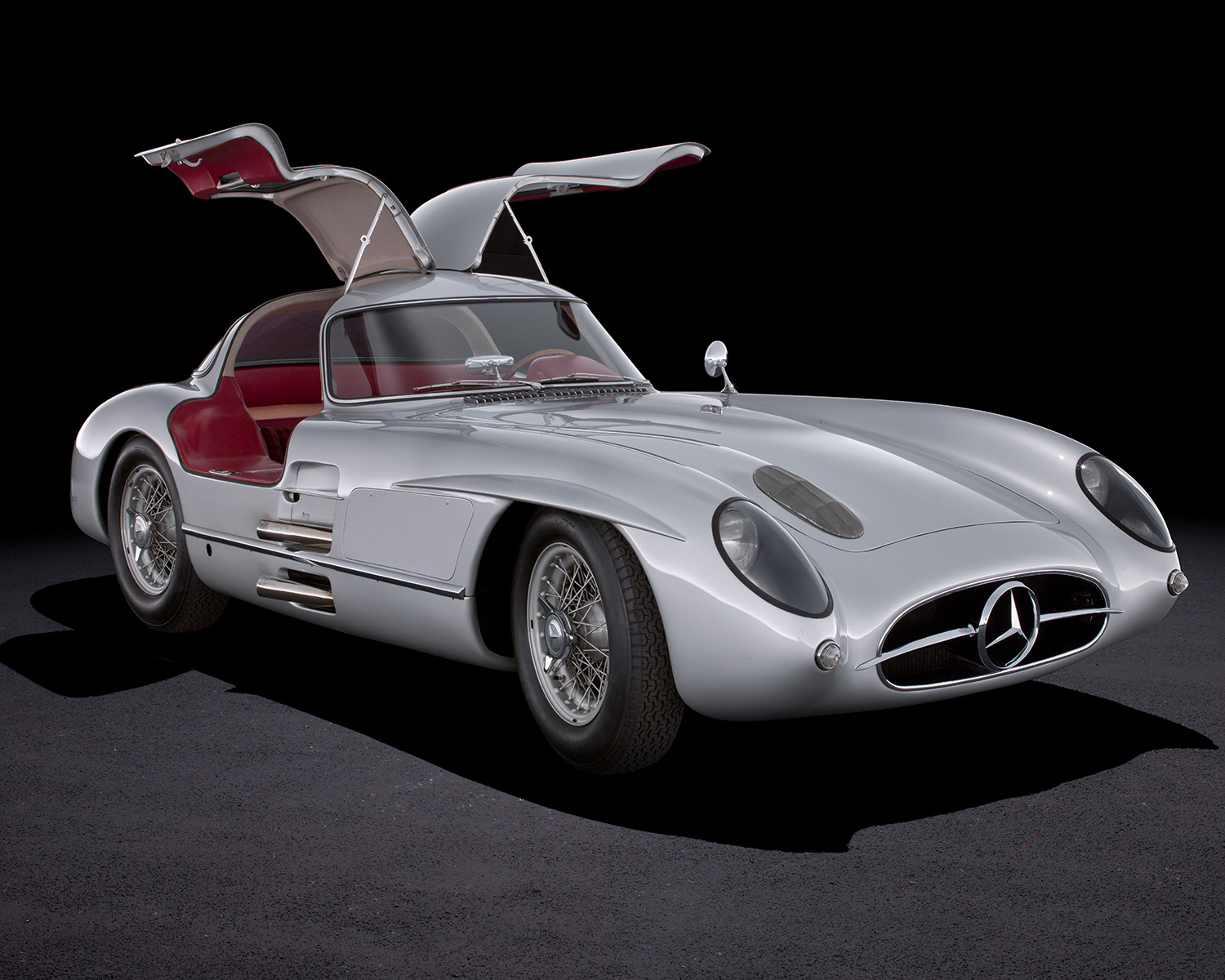 7. Mercedes-Benz 300 SLR Uhlenhaut Coupé at RM Sotheby's
Not all masterpieces hang on walls or sit on plinths—in May, a 1955 Mercedes-Benz 300 SLR Uhlenhaut Coupé went for €135 million—the then-equivalent $142 million—at RM Sothebys, earning the marque the distinction of being the most expensive car ever sold. "What an absolute thrill to bring the hammer down on this masterpiece of design and engineering, which now stands shoulder to shoulder with the greatest works of art ever sold," said Oliver Barker, Chairman of Sotheby's Europe.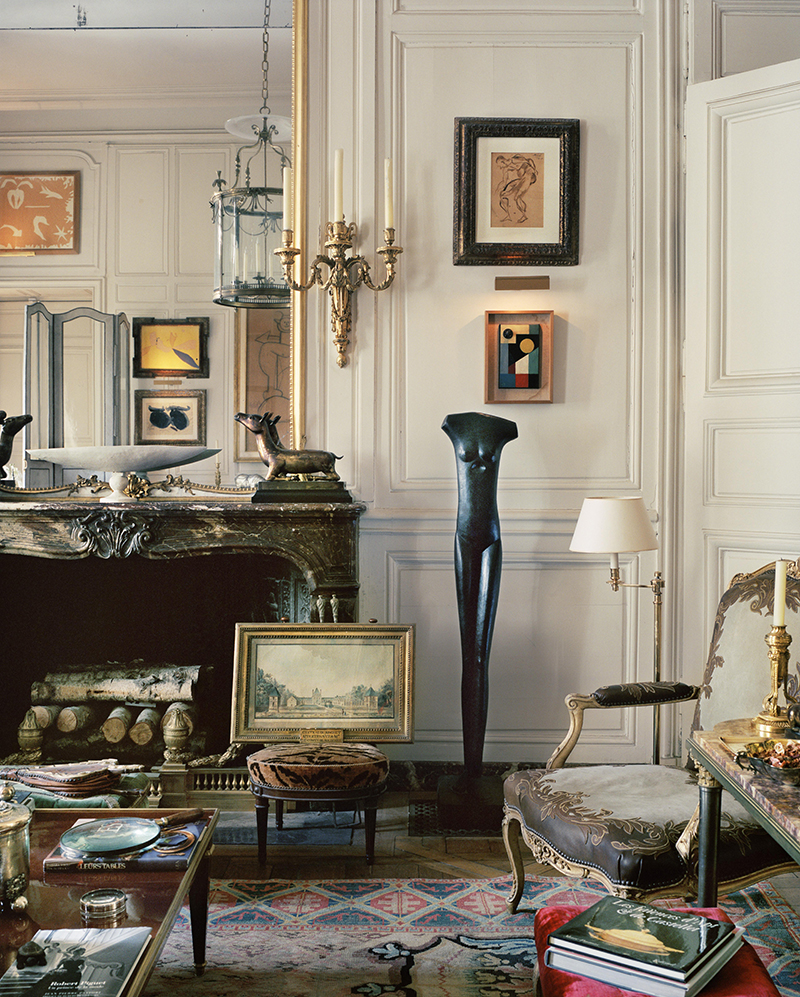 8. "Hubert de Givenchy: Collectionneur" at Christie's
The picture of refinement and good taste, Hubert de Givenchy curated remarkable examples of art and collectible design at his homes the Hôtel d'Orrouer in Paris and the Château du Jonchet in the Loire Valley. Announced in February to coincide with the 70th anniversary of de Givenchy's first haute couture collection, "Hubert de Givenchy: Collectionneur" was organized into a three-part sale that kicked off on June 8. Most exciting among the wide range of offerings were from pieces by Alberto and Diego Giacometti, Joan Miró, and Kurt Schwitters. "His collecting journey is incredibly interesting," said Charles Cator, Christie's chairman. "His taste is very disciplined and very architectural, but once you have the framework, you can have a bit of fantasy. You have the whole gamut of somebody's eye and taste. Everything has a story."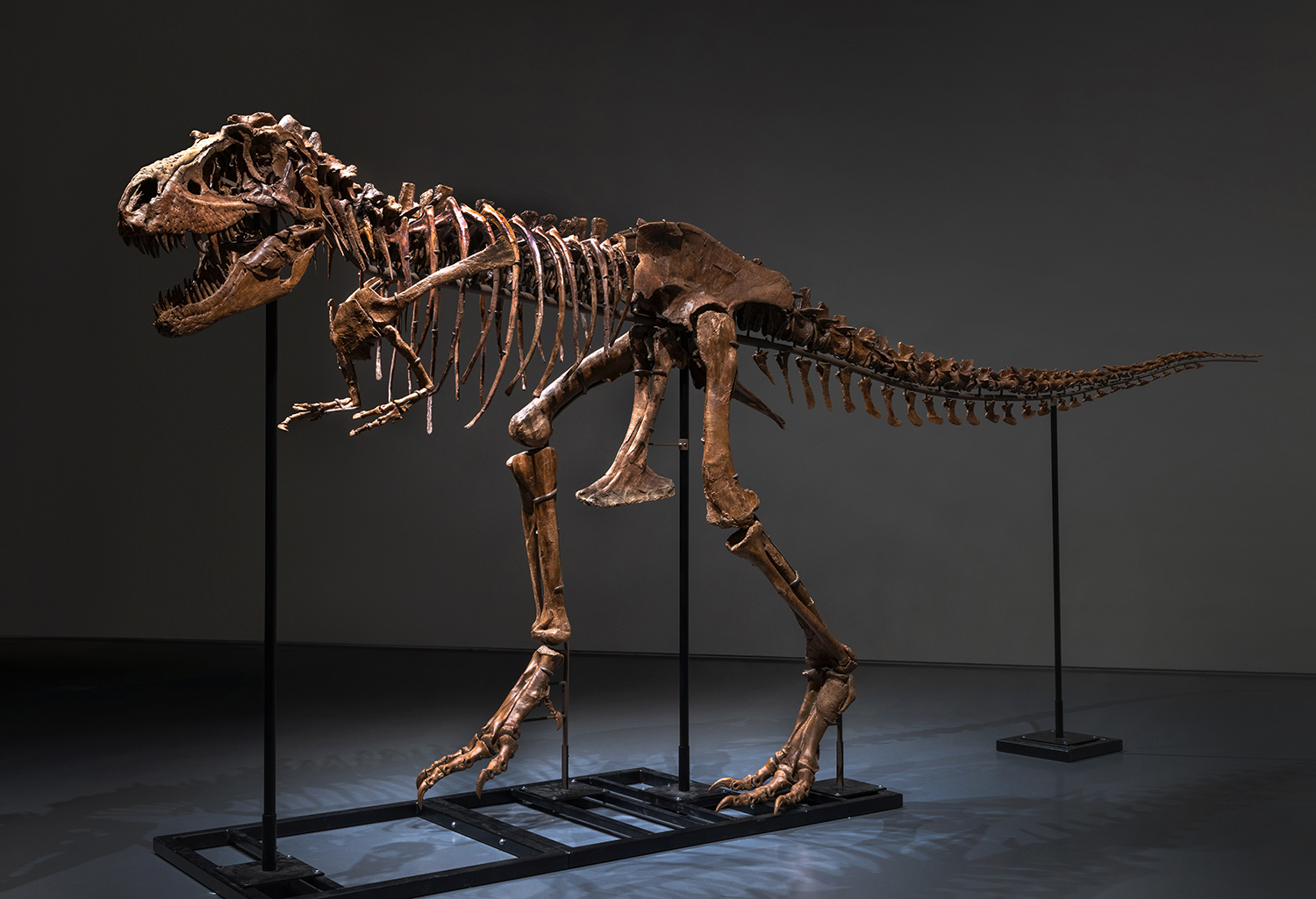 9. A 77-Million-Year-Old Gorgosaurus Sells for $6.1 Million at Sotheby's
It wasn't just art that brought big numbers in 2022; in July a ten-foot-tall Gorgosaurus skeleton came across the auction block in Sotheby's "Natural History" live sale, which featured an array of fossils and minerals. Hard to ignore was this 22-foot long specimen—one of only 20 known examples and the first ever to be brought to auction—which fetched $6.1 million.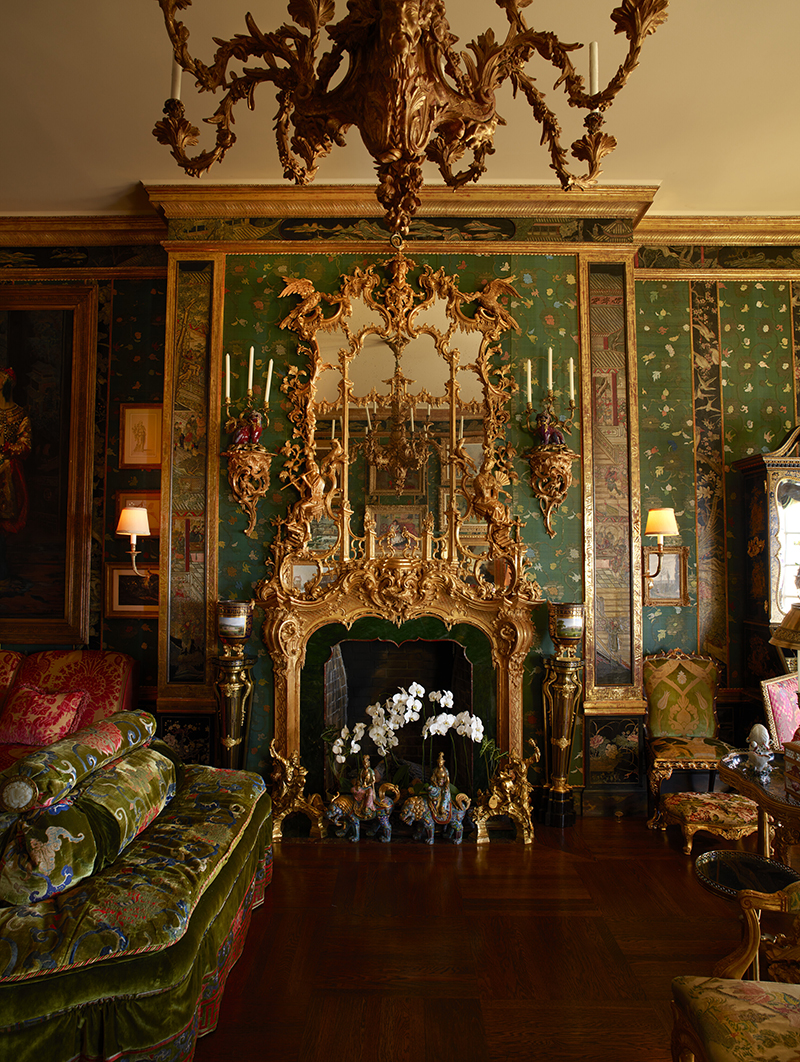 10. The Collection of Ann and Gordon Getty at Christie's
Ask anyone fortunate enough to have been invited to Ann and Gordon Getty's San Francisco home and they will readily tell you it was a wonderland of treasures, skillfully layered by Ann, who viewed their exemplary holdings through her archeologist's lens, and Gordon's transportive music. To present the ten-part sale of their holdings, Christie's recreated several of the couple's most inspired spaces inside the auction house's Rockefeller Center headquarters. The installation was without question a sensory overload, and it brought an even greater sense of excitement to the dispersement, which by the time the final hammer fell, had achieved $150 million which will go to support philanthropies important the Gettys, including the San Francisco Conservatory of Music, San Francisco Opera, San Francisco Symphony, University of San Francisco, Berkeley Geochronology Center, and the Leakey Foundation.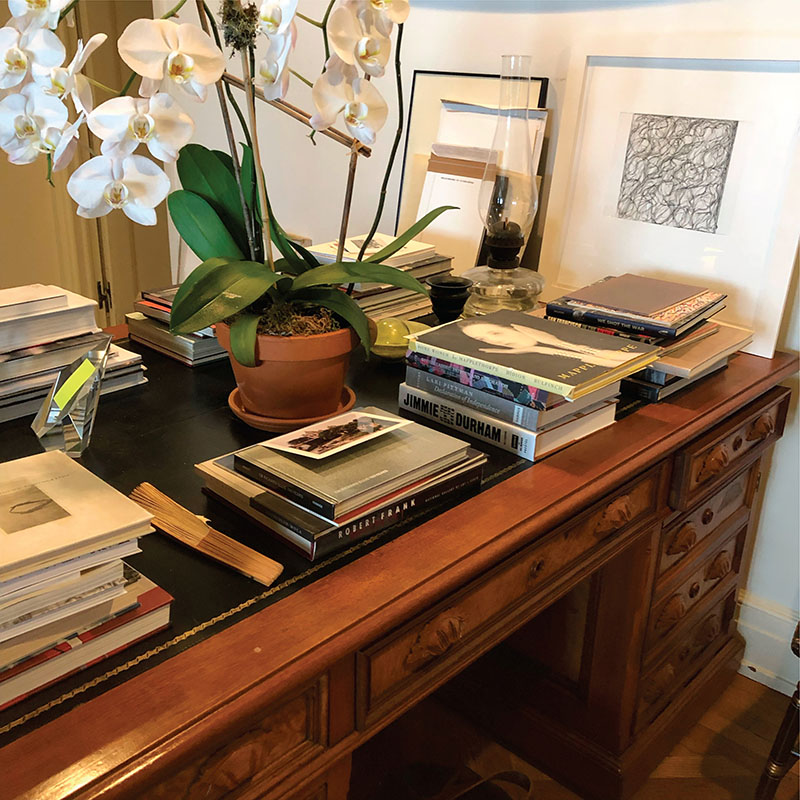 11. "An American Icon: Property from the Collection of Joan Didion" at Stair
Understated yet beloved by those in the know, Stair in Upstate New York is a treasured destination for designers seeking vintage American furnishings, silverware, fine art, and thoughtfully composed collections from those in the trade. However, fashionistas and bibliophiles flocked to the gallery to bid on items once owned by the literary titan Joan Didion. The fervor was so intense it sent prices soaring over their early estimates, in particular a pair of the writer's signature Celine sunglasses that hammered at $27,000—far outpacing its $400 to $800 presale estimate.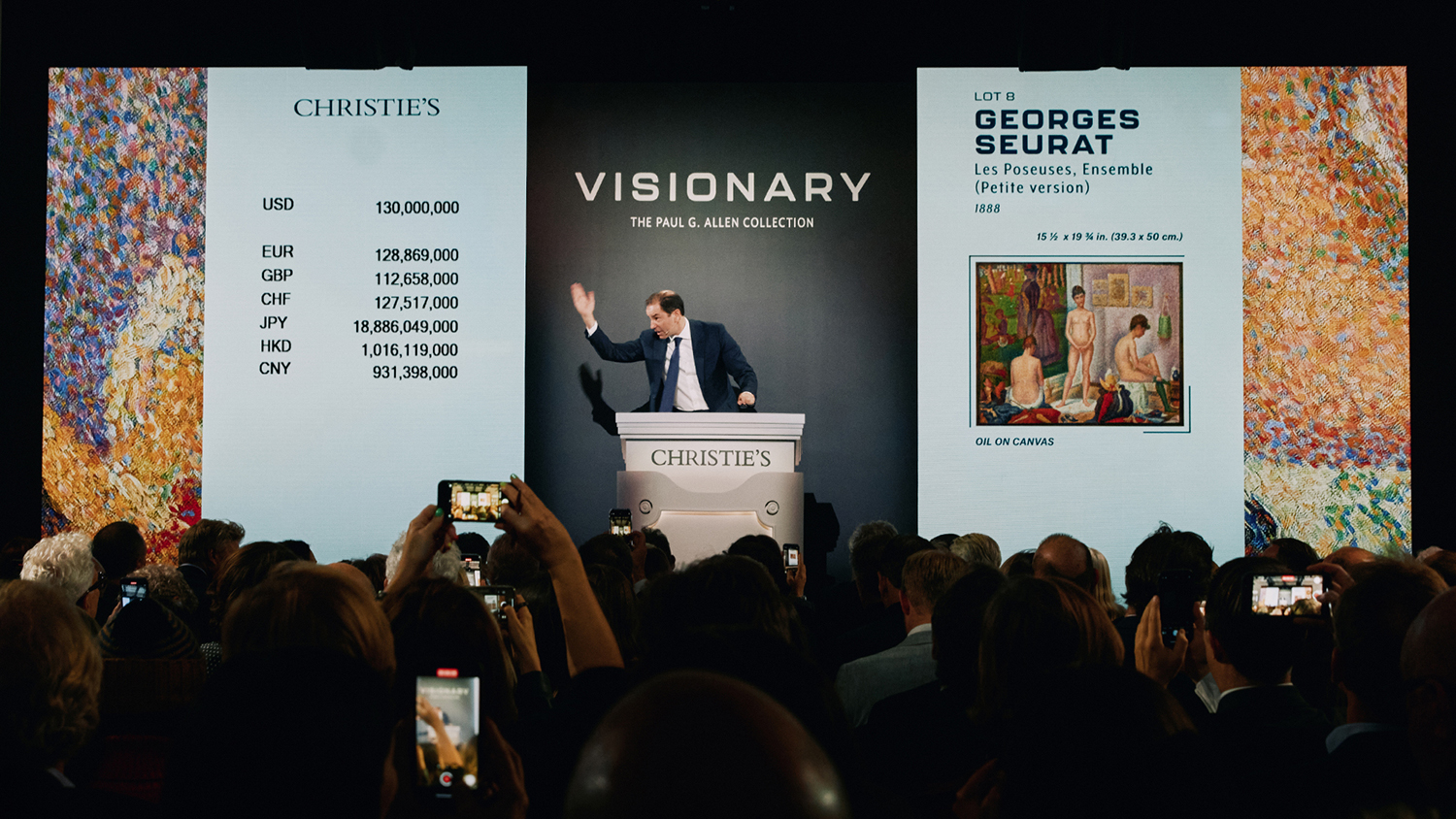 12. "Visionary: The Paul G. Allen Collection" at Christie's
Leave it to 2022 to set an astounding record only to smash it months later. That was the case when the collection of late Microsoft founder Paul G. Allen came across the block at Christie's. Broken into two parts, the white-glove sale featured works by Calder, Klimt, and Picasso, and spanned paintings, photography, drawing, and sculpture. At the summation, the auction garnered $1.6 billion, setting new records for 24 artists and earning it a place in history as the most valuable private collection of all time.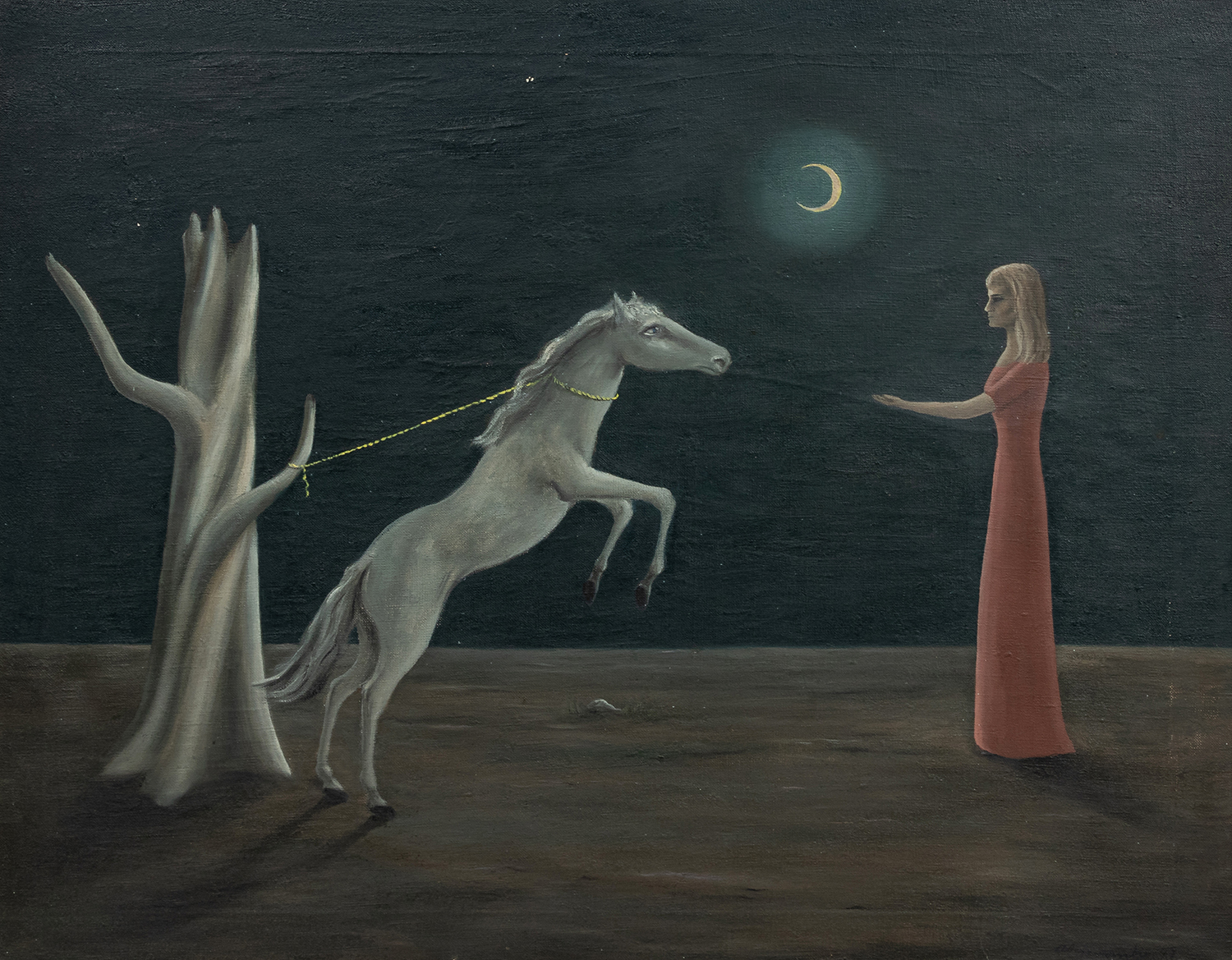 13. Gertrude Abercrombie at Hindman
Most of the works earning auction-world buzz are generally household names, but Hindman's recent sales of pieces by the Chicago painter Gertrude Abercrombie shows there can be plenty of excitement around less recognized talents. Their September single-owner sale saw big numbers for enigmatic works (some only the size of a postage stamp). Then, in December, a 1947 artwork by Abercrombie, Untitled (Woman with Tethered Horse and Moon) set a new record for the late artist in the house's Post-War & Contemporary Auction, bringing $437,500, far outpacing its early estimate of $80,000 to $120,000.
Next Post