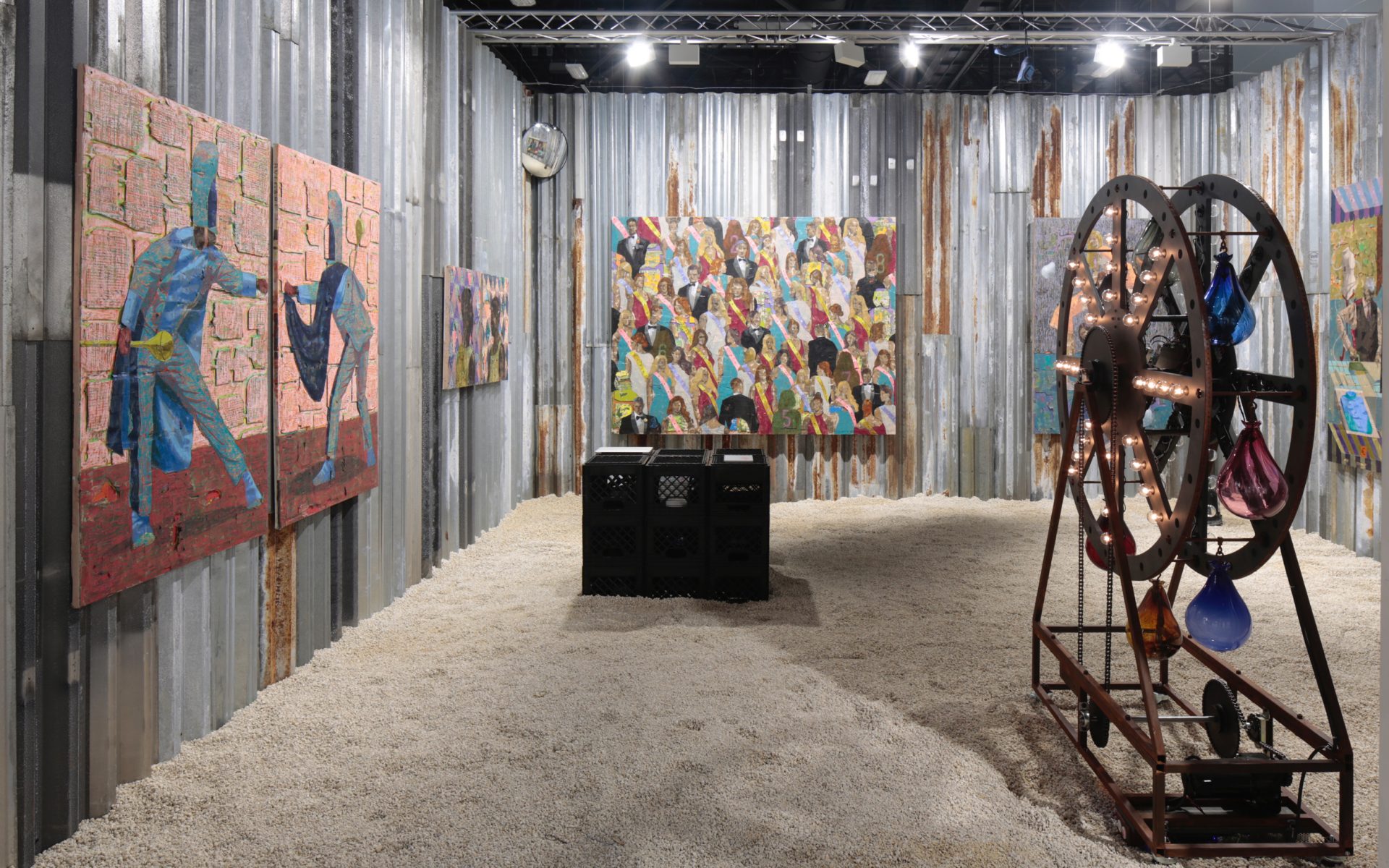 14 Highlights of Art Basel in Miami Beach
The 17th edition of Art Basel in Miami Beach featured intriguing works by Derek Fordjour, Betty Woodman, and Keith Haring
The 17th edition of Art Basel in Miami Beach kicked off for VIPs at the Miami Convention Center on Wednesday, December 6. The $615 million renovation resulted in a less congested and somewhat more civilized first-day experience as collectors navigated the 268 exhibitors without the usual mad rush.
Spotted during the VIP opening, which began at 11 a.m., was the usual crowd of museum directors, curators, collectors, and artists wandering through the expansive aisles, including artist Chuck Close; New Museum director Massimiliano Gioni and his wife, High Line Art director Cecilia Alemani; Performa director RoseLee Goldberg; director of the new Frieze L.A. Bettina Korek; and dealer Jeffrey Deitch.
Within the first few hours, galleries were enthusiastically making sales, with everything from a historic work by Philip Guston going for $7.5 million at Hauser & Wirth to a sold-out booth of works by rising star Derek Fordjour at Josh Lilley, who is showing at the fair for the first time. Major museum works spotted included a 1955 Rothko at Helly Nahmad (on offer for $50 million and on reserve as of Friday, December 7, the second public day of the fair); a monumental, 258-inch-long James Rosenquist at Landau Fine Art ($2 million); a 1982 work by Rosenquist, Reflector, sold at Thaddeus Ropac on the second public day for $1.2 million.
Read on for our selection of highlights from the fair from both established and emerging artists.
Derek Fordjour, Backroom, Josh Lilley
Derek Fordjour transformed the booth at Josh Lilley into a carnivalesque scene complete with a gravel floor, paintings hung on walls of corrugated steel, and a kinetic sculpture dotted with light bulbs that resembles a Ferris wheel. The work, Backroom, also features a performance. A small boy who appeared to be five or six years old sat on an upturned white bucket. According to the press release, the boy was meant to be "generally just hanging around for his paycheck," but in the context of the art fair, he appeared to be bored and waiting for his parents to finish looking at art. Fordjour's public art installation, Half Mast, which deals with the national reckoning with mass shootings, is currently on view at the Whitney Museum.
Recommended: See the Standout Pieces from Design Miami
Keith Haring, Installation, Gladstone
For New York mega-dealer Barbara Gladstone, Art Basel Miami is the one of the only fairs her gallery participates in in the U.S. (along with FOG and the ADAA)—and the presentation this year didn't disappoint. Visitors were invited to enter a ruby-red room dedicated to the artist Keith Haring with a series of works created in the 1980s, some during Haring's time in Japan. Celebrating his ever-creative mind, the booth features two painted Japanese screens, a paper chandelier, a terra-cotta vase, and painted windows that were originally from the façade of a gallery where he had a 1985 show. Also on display are a series of drawings that relate to his early subway works. All the works sold in the first few hours and were priced between $300,000 to $1 million. The gallery is also showing a beautiful 2007 diptych by Wangechi Mutu and a delightful sculpture by Maria Merz.
Doug Wheeler, Untitled, 1968, Pace
Rather than bringing the usual assortment of big-ticket works, Pace offers a thoughtfully curated booth titled "Lightness of Being." It focuses on seminal artists from the Light and Space and Finish Fetish movements such as Larry Bell, whose show is currently on view at the Institute of Contemporary Art, Miami, and Mary Corse, who emerged from Southern California in the late 1960s and early '70s with works that explore the perception and effects of light. A standout is Doug Wheeler's ethereal 1968 installation from his "Encasement" series, viewed in a specially constructed white environment with curved edges. The work has been in a private collection for 20 years and is on offer for $2.5 million.
Recommended: Women-Run Galleries Steal the Show at Untitled Art Fair
Tom Wesselmann, Bedroom Painting #76, Almine Rech
The showstopper at the Paris- and New York–based gallery Almine Rech is a video installation painting by the iconic American Pop Artist Tom Wesselmann, known for his classical representations of nudes, still lifes, and landscapes. The rare work, from his "Bedroom" painting series, on offer for $2 to $3 million, features a sensual nude of a woman against a background of a typical American bedroom with a working TV built into the canvas. "It's a totally unique, museum-quality piece," Almine Rech tells Galerie. The gallery is also presenting work by Claire Tabouret and Vivian Springford.
Alice Neel, Rosemary Frank, David Zwirner 
Alice Neel is regarded as one of the foremost American figurative artists of the 20th century, and her paintings of family, friends, neighbors, and art-world luminaries are beloved for their honest and candid approach. The work on view at David Zwirner depicts Time magazine's cover coordinator Rosemary Frank, who Neel collaborated with for the August 31, 1970, cover of an issue dedicated to "The  Politics of  Sex." On the first morning, Zwirner sold works by Lisa Yuskavage, Yayoi Kusama, Oscar Murillo, and newly signed Harold Ancart.
Frank Stella, Flin Flon XII, Kasmin 
This monumental 1970 Frank Stella marks the important moment he departed from the formal rectilinear compositions of his somber "Black Paintings." Titled Flin Flon, the luminous work, which is on offer for $3.85 million, is part of a series named after the Canadian town of Flin Flon in Manitoba, where he was teaching at the time. The geometric motifs reveal his interest in Islamic art, and the strong color and fluid arabesque lines nod to Henri Matisse, whom he cites as a major inspiration.
Njideka Akunyili Crosby, Tea Time in New Haven,  at Victoria Miro
This theatrical dining room scene by Njideka Akunyili Crosby is made up of figurative painting and Rauschenberg-like collaged transfers of found images from old Nigerian magazines and family photos that the artist uses to explore the nature of globalized identity today. In 2017, the rising star won the highly coveted MacArthur Fellowship and is the subject of the recently released and well-received HBO documentary The Price of Everything. In May of this year, her painting Bush Babies sold for nearly $3.4 million at Sotheby's New York, a new record for the artist. Her previous high was just over $3 million.
Robert Rauschenberg's, Rose Pole (Spread), Galerie Thaddaeus Ropac 
Rauschenberg revolutionized the picture plane with his innovative hybrid works that hovered somewhere between a painting and a sculpture with the addition of everyday objects, or what he called "gifts from the street." The monumental 85-by-146-inch "spread" presented at Galerie Thaddaeus Ropac, which has represented the artist's estate since 2015, shows no recognizable imagery but instead shines the spotlight on the materials themselves. Shown for the first time in 28 years, it is on offer for $1.5 to $2 million.
Recommended: Raúl de Nieves Creates Rome-Inspired Carousel at Art Basel in Miami Beach
Jitish Kallat, Sightings D19M4Y2017, Sperone Westwater
Sperone Westwater is showing Sightings D19M4Y2017 (2017), a work by contemporary Indian artist Jitish Kallat in which a series of large-scale lenticular images of the skin of peaches and pears appear as cosmic terrain. "Recently, in a conversation, I was saying that I could think of myself as a resident of Mumbai or India or Asia or in a vague sense a resident of planet Earth," he told Whitewall in May 2018. "I could also, somewhat facetiously, say that I am a resident of the Milky Way Galaxy.… The interplay between the terrestrial and the celestial, the cosmopolis and the cosmos, has recurred throughout my practice."
Betty Woodman, Balustrade Relief Vase, Salon 94
Salon 94 has two wonderful wall works of glazed earthenware by the late Betty Woodman, whose innovative approach to ceramics changed the way we view the medium. Her work is inspired by everything from the work of Pablo Picasso and Henri Matisse to Islamic tiles and the glaze techniques of the Tang dynasty, and the vase was a special focus for her. "The vase is the archetypal ceramic object," she once said in an interview. "The vase is also a symbol for a figure, a woman," she added. "Metaphorically, it's a container; it has that connection for everyone." Salon 94 also has a large-scale embroidered fabric work by Judy Chicago, a sculpture by Ruby Neri, and paintings by Marina Adams.
Shara Hughes, Interception, Eva Presenhuber
The playful brushwork, exuberant color, and hallucinatory compositions of Shara Hughes are on view in a couple of her paintings at Galerie Eva Presenhuber. Hughes, who graduated from the Rhode Island School of Design with a BFA in 2004, and was in the Whitney Biennial 2017, has said that playfulness is significant to her work. "I think it's hard to decide to be playful. You have to be aware of yourself, aware of the viewer, and aware of another type of freedom from both of those participants. To be 'playful' in the work I feel like you have to let go naturally." Hughes's work is also experiencing huge market growth. In early 2017, a painting of an interior scene sold for $6,400. At the Phillips 20th Century & Contemporary Art Day Sale in November the following year, her 2006 work Sailing soared past the high estimate of $15,000, hitting the block for $85,000.
Andy Warhol, Five Deaths on Turqouise, Acquavella Galleries 
Andy Warhol's "Death and Disaster" series, which reflects the violence and tragedy that often lurks beneath the surface of suburban America, sit highly within the Pop canon, and Five Deaths on Turquoise is a remarkable and powerful example. The voyeuristic image depicts a late-night car accident with two blood-covered survivors crawling from beneath the carnage. The striking synthetic "phthalo green" sets the work apart from the rest in the series and adds another layer of ambiguity. It was once in the collection of Ileana and Michael Sonnabend and is on offer for $13 million.
Maria Berrio, The Gatherer's Sigh, Kohn Gallery
Painstakingly slow to create, Colombian-born, Brooklyn-based artist Maria Berrio's beautifully textured work is crafted from layer upon layer of rare imported decorative papers from Japan, Thailand, and Nepal. She draws on her Colombian heritage by touching on themes of South American mythology and folklore, but the works are also strongly autobiographical and aim to represent a current mood or feeling. Two large-scale portraits of women in dreamy lush surroundings are on offer at the Los Angeles gallery Kohn.
Lauren Halsey, that fuss wuz us, David Kordansky 
A fantastical sculpture crafted in white cement, carpet, foam, wood, and mixed media standing at 112 feet by the buzzworthy Lauren Halsey sold on the first morning at Los Angeles gallery David Kordansky for $40,000. Halsey, whom the gallery has just signed to its roster, recently caused a stir with her presentation at the Hammer Museum's 2018 Made in L.A. biennial and for winning its $100,000 Mohn Award. She considers the relationship between architecture and community-building in urban centers. This past spring, she took up residence at MOCA Grand Avenue, where she created an immersive space resembling a fantastical system of caves that viewers were invited to enter.
Art Basel in Miami Beach runs through December 9.
Next Post