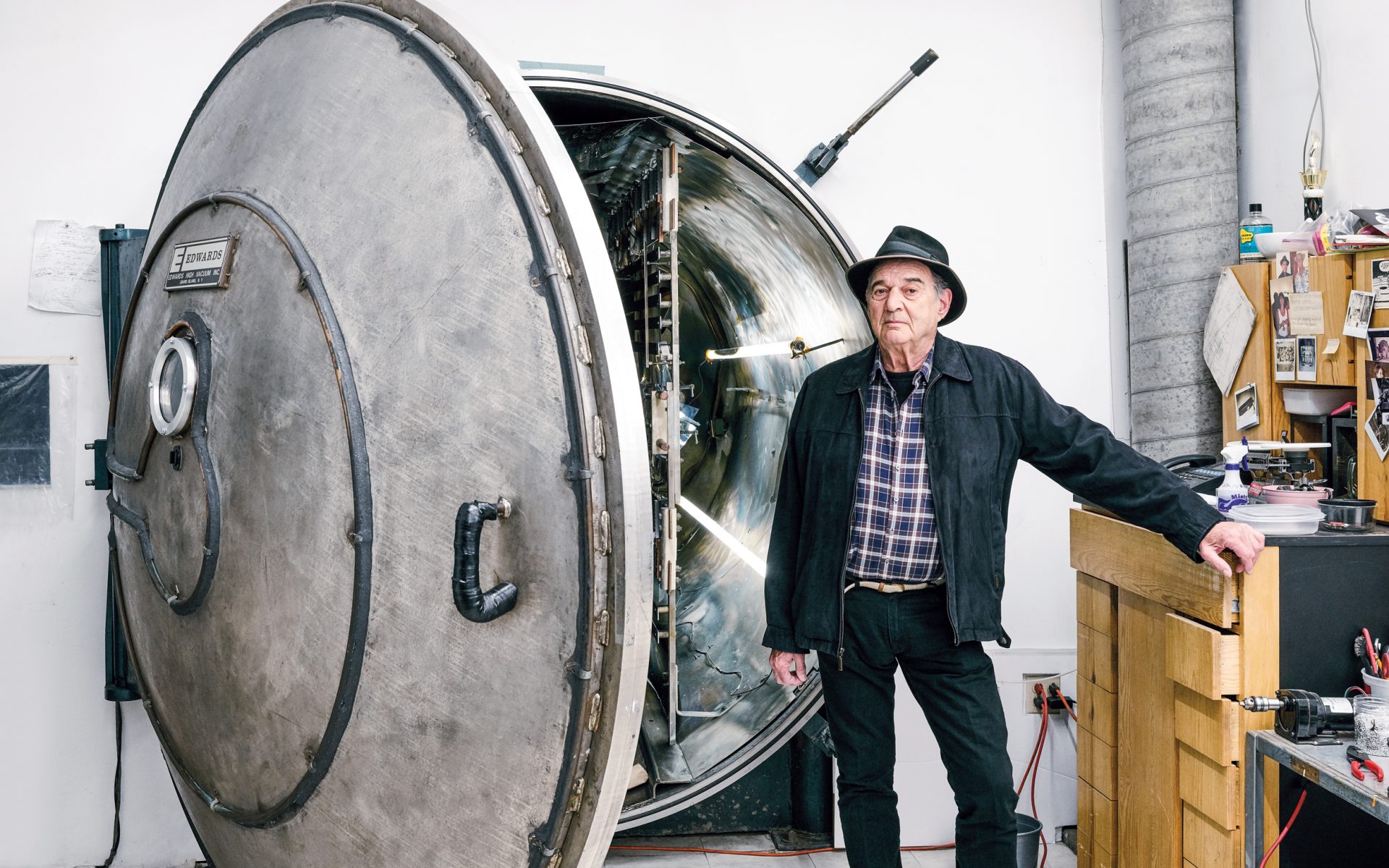 Tour Larry Bell's Incredible Studio in Taos, New Mexico
For 50 years the artist has been making inventive, immersive works that brilliantly blend art and industry
Rolling into the New Mexican outback town of Taos in 1972, artist Larry Bell was smitten. "I just loved the place, and I fell in love with the people," he says. "And it was quiet. You could really control your distractions." Bell, best known for his luminous glass-cube sculptures that radiate with pure energy, was living in Los Angeles but had come to Taos for his show at the Dennis Hopper Works of Art gallery. Hopper was one of Bell's earliest collectors, having discovered his work at the storied Ferus Gallery in the early 1960s. It was at the encouragement of fellow Ferus alum Ken Price, the ceramics visionary who'd decamped to Taos a few years earlier, that Bell had decided to make the trip. ­
The area had an artistic legacy. Names like Georgia O'Keeffe, Ansel Adams, D. H. Lawrence, and the Taos School hung in the piñon-scented air. ­The Sangre de Cristo Mountains loomed over it all, their ski slopes beckoning. Spanish was spoken in the streets. ­ The tacos were amazing. By the next year, Bell found himself trading a sculpture for a house. He wound up staying and raising a family. Though he also maintains a studio in Venice, California, and is widely considered an L.A. artist, Taos is his home, personally and creatively. "I came up here being a Jew from Los Angeles," he says with a laugh, "and everything was just so . . . great."
Interest in Bell's work, nearly five decades on, has never been stronger. On November 1, the Institute of Contemporary Art in Miami opened "Larry Bell: Time Machines," his first full-fledged museum exhibition in 40 years. In late November, Rizzoli published a whopping monograph covering the arc of his career. ­The timing is perfect: ­ The artist turns 80 next year. How does he feel about this victory-lap moment? "I've been resurrected from the dead more than once!" he says, again with that signature laugh.­
The building that his Taos studio is in, located near the center of town, is a resurrection story in itself. In 1974, when Bell first caught sight of the former commercial laundry facility, it was a ruin. A photo of the site—full of weeds and junked cars—looks like something Walker Evans might have taken. "­The place had been deserted for 20 years," Bell says. "­The roof was caving in. It was totally messed up. But there were four walls and so. . . . " So he went for it, incorporating a low-slung building next door as an annex, bringing the adobe-color, tin-roof facility up to 10,000 square feet of work space.
Bell has been labeled a "pioneer of Perceptualism"—not to mention Minimalism, Light and Space, Finish Fetish, L.A. Look, you name it. From paintings and hanging sculptures to his signature glass cubes and full-on environments (including the landmark Black Room, which he debuted at MoMA in 1970 and is re-creating in Miami), his work has probed human perceptions of light, surface, and dimensionality, harnessing industrial processes along the way. And yet, Bell points out, his work is also about "improvisation" and—to employ a key art-historical term—fun.
Recommended: Edgy Art Meets High Design at This Francis Sultana–Designed Home
Bell, after all, was the mustachioed guy who showed up at the 1963 Duchamp retrospective at the Pasadena Art Museum done up like Groucho Marx. He was a thrift-store dandy who earned the nickname Dr. Lux. (Bell still looks natty in his Borsalino hats.) He's an inveterate wiseacre, seemingly beloved by everyone, including the British artist Peter Blake, who put Bell on the cover of the Beatles' Sgt. Pepper's Lonely Hearts Club Band album. He played 12-string guitar in the goo­fball art-world pickup band Five Bags of Shit, whose lineup included him, Price, Ed Moses, John Altoon, Sam Francis, and, on lead toilet plunger, Frank Gehry. "Somebody played the kazoo," he adds uncertainly. The memories are vague.
Today, Bell has a collection of nearly 200 guitars, including 120 12-strings, many of which are displayed in his Taos studio annex. But the undisputed centerpiece of the operation here is the Tank: a high-vacuum thermal evaporator that enables him to fix impossibly thin, tinted, filmlike surfaces to glass. It's what gives his work its otherworldly quality—solid yet diaphanous, reflective yet translucent. The machine is turning 50 this year but shows no signs of slowing down.
The Tank and Bell are as synonymous as Sonny and Cher, although they probably get along better. "I do have a romantic relationship with the thing," he admits. "I've always considered my medium to be the interplay between light and surface, and this machine allows me to change that interaction." After the panels for his sculptures are made in Taos, the artist hauls them to his Venice studio for assembly.
Bell clocks in every morning around eight, working until whenever it's time to knock off. He employs a staff of five. "Everything is a collaboration," he notes. Lately, the team has been repairing Bell's iconic 1967 cube sculpture, Shadows, which somebody walked into at MoMA not long ago. That assignment puts Bell onto his favorite subject of all—glass. "It has a shelf life of about three million years," he says. "But the minute you take it off the shelf, danger lurks everywhere."
Recommended: How Art Advisor Elizabeth Margulies Is Blazing Her Own Trail
These days, Bell continues to explore the same fascinations that have been with him since the beginning. He's fiddling with the Tank in order to develop a new way of finishing surfaces, one that involves exciting ions as opposed to electrons, the current method. And why not? "I realize I can improvise in any way I want," he says, demonstrating the self-assuredness that comes with a long career and the freedom of living and creating in Taos. "If it doesn't work I can just say, 'that's okay, too.' My aesthetic license—I renewed it a couple of years ago!"
A version of this article first appeared in print in our 2018 Winter Issue under the headline Outside the Box. Subscribe to the magazine.
Next Post