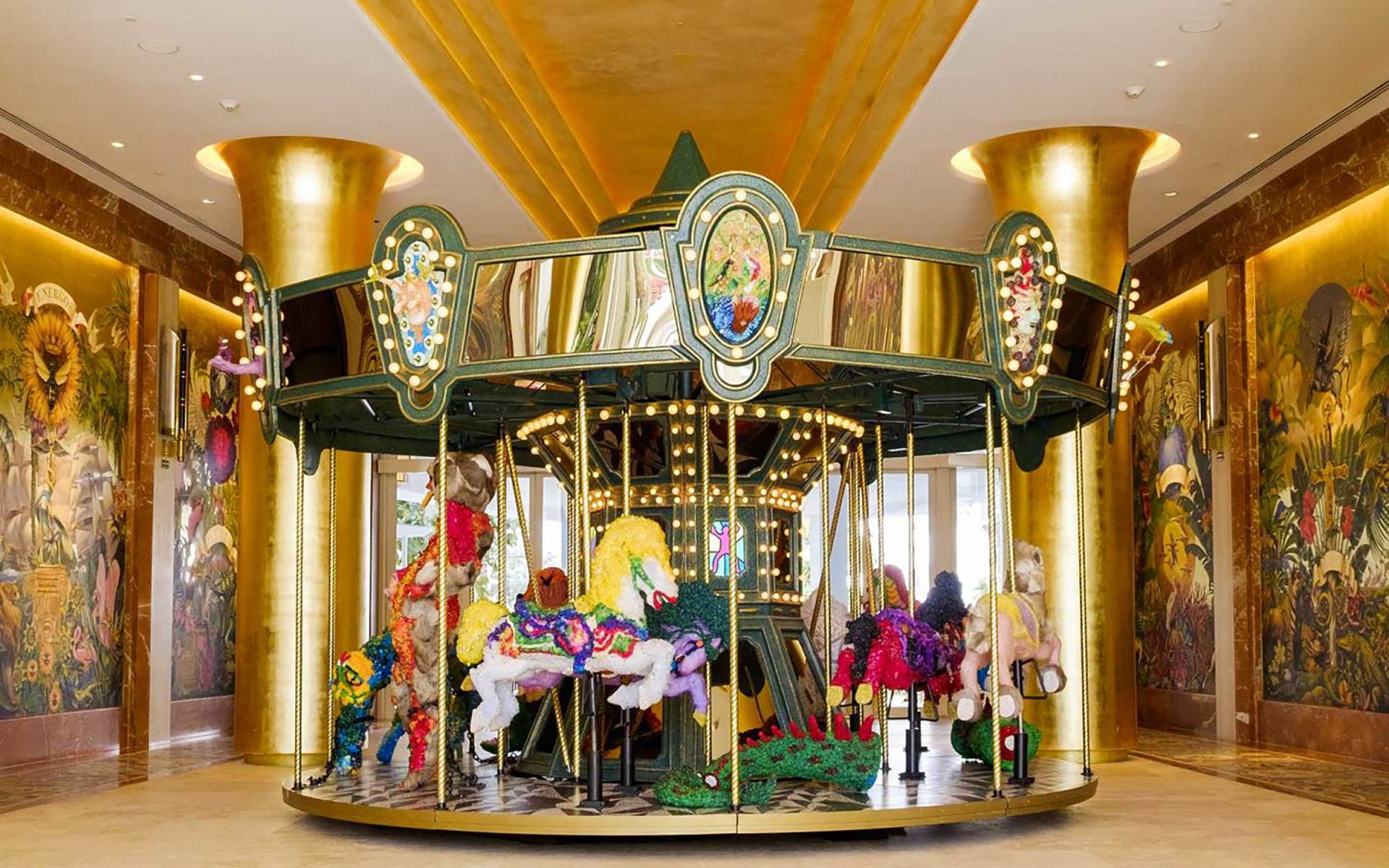 Raúl de Nieves Creates Rome-Inspired Carousel at Art Basel in Miami Beach
The Technicolor installation was commissioned by Bulgari in partnership with Art Production Fund
In his first major public sculpture commission, Mexican artist Raúl de Nieves has created a fantastical carousel inspired by Roman mythology, and it's now on view at the Faena Hotel in Miami Beach.
Commissioned by Bulgari and the Art Production Fund, the sculpture—dubbed When I Look in to Your Eyes I See the Sun—draws parallels with the famous jeweler in various ways, from the baroque elements inspired by the colors of the brand's high jewelry collection to the archetypal beasts that adorn the carousel with colorful beads, which reference the iconic Serpenti pieces.
"My work really derives through history and symbolism," De Nieves tells Galerie. "I've been working with the idea of using a serpent in my work, so it was such a great fit when Bulgari commissioned this, as the serpent is often a motif of their brand."
Recommended: Miami's Locust Projects Is Helping Emerging Artists Reach a Global Audience
To gather ideas for the sculpture, the high jeweler sent De Nieves to Rome, where he found inspiration in the mosaics at the Caracalla Baths, the black-and-white floor of which he replicated for the carousel. The façade is painted emerald green and includes stained-glass panels that recall the churches of the Italian capital.
The artist was also captivated by the cycle of the human life and how the circular, revolving carousel could reflect it.
"I was intrigued by the idea of this journey, moving at an uncontrollable speed," De Nieves said. "As life moves on and you get into the details of everyday life, how do we make room and allow joy to be a part of our lives? There's a lot of light and darkness to this piece, but I do think there's something inherently macabre about a carousel."
Presented in partnership with Art Production Fund, When I Look in to Your Eyes I See the Sun will be displayed at the Faena Hotel in Miami Beach from December 5 to 10.
Additional reporting by Rozalia Jovanovic
Next Post