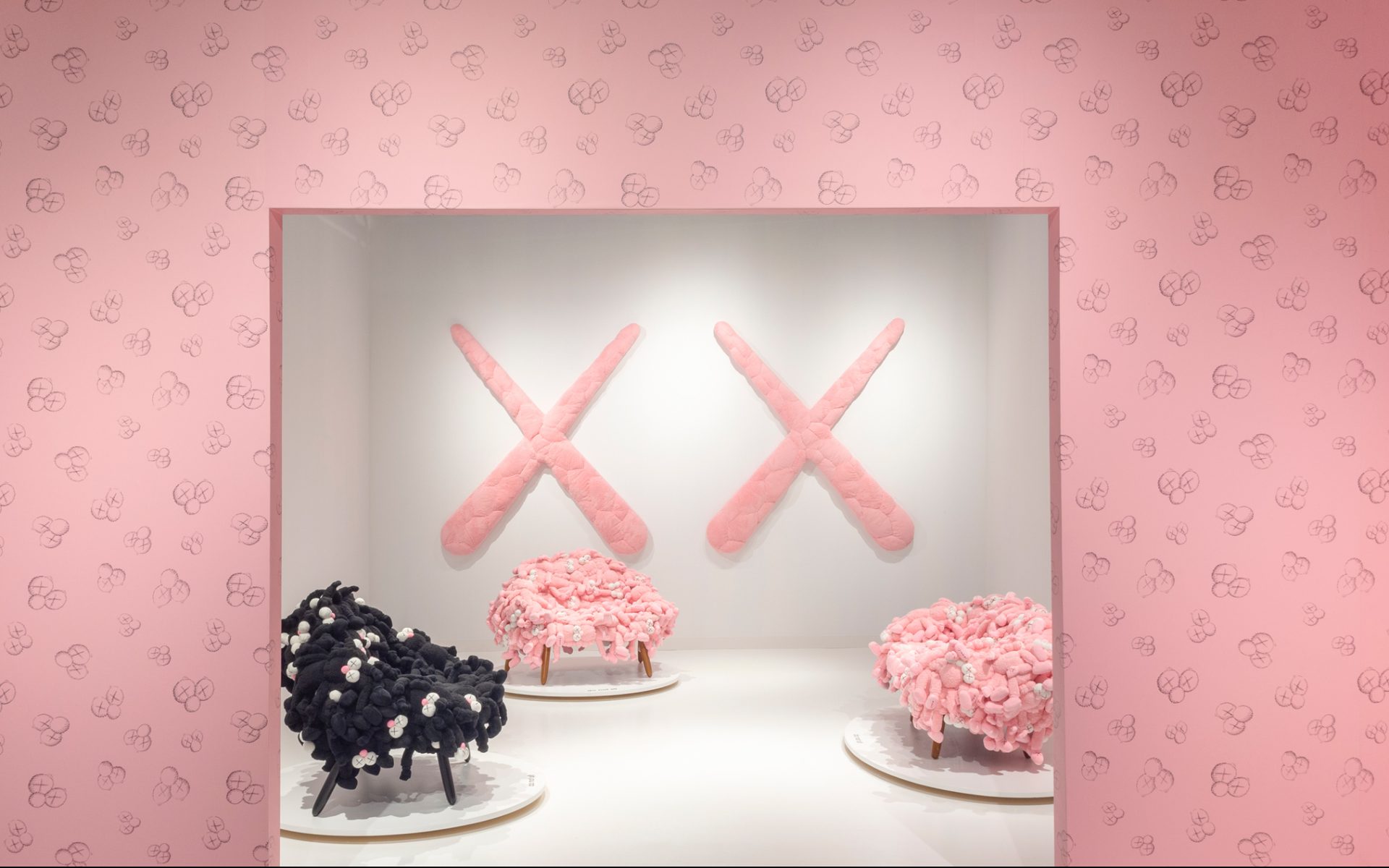 See the Standout Pieces from Design Miami
Works by Katie Stout, Porky Hefer, KAWS, and the Campana brothers were among those that made a splash
For the 14th edition of Design Miami, 33 galleries from 12 countries were on hand to show the latest and greatest in the world of collectible design. Visitors were greeted by a pair of monumental 30-foot-tall sculptures made by the event's 2018 Visionary Award recipients, husband-and-wife talents Pedro Reyes and Carla Fernández. Titled Unite, the pieces stretched toward the sky.
Inside the fair, the 72,000 square feet of exhibition space was abuzz with excitement fueled by the abundance of collectible design on display (and perhaps also by the flowing Perrier-Jouet HyperNature piece by British designer Bethan Laura Wood).
Below, see our picks for the standout pieces.
Upon entering, French dealer Patrick Seguin made a major statement with an installation of a Jean Prouvé demountable house reimagined as a fitness room.
At Carpenter's Workshop Gallery, Milan-based architect and designer Vincenzo de Cotiis combined Italian marble with bronze in a silver finish for cocktail and dining tables that found inspiration from the Baroque period. Also on display, the oversize Rick Owens bench that beautifully mixed materials both hard and soft and appeared to be made completely of concrete.
Recommended: The Haas Brothers' First Solo Museum Show Dazzles in Miami
Katie Stout's large-scale floor "Girl Lamps" lightened the mood with their bright colors and wild shapes at R & Company. Other highlights from the booth included a monumental bathtub of Pele de Tigre marble by the Haas Brothers. Called Bathy Bates, it weighs 50,000 pounds.
Friedman Benda presented two booths—one of which was entirely devoted to a collaboration between the artist KAWS and the Campana brothers. The four chairs were quickly snapped up on the first day of the fair.
Calico and Philippe Malouin combined creative forces to great effect with a collage-based wallpaper that was comprised of layering various materials to shape a room into a Matisse-inspired exercise in abstraction.
At Cristina Grajales, the Sang Hoon Kim–designed sofa grabbed attention—it was the piece you had to sit on to fully appreciate. Its delightful, drippy appearance called to mind the surface of another planet yet the sofa still had a squishy foam feel.
A limited-edition console, hand-cast in bronze, by Mauro Mori at Les Editions Courbet turned heads with its captivating, organic shape.
Malcolm James Kutner offered designers, artists, and collectors a cabinet of curiosity with "Re:construction." Playing with time and space, a selection of works from postwar France to present-day United States were on view. French Reconstruction furniture from René Gabriel, Marcel Gascoin, and Gustave Gautier anchored textiles by Mitchell Denburg, Bo Joseph, and Laura Kaufman; mirrors by Maureen Fullam and Radisay/Szarek; and a site-specific installation by Aleksandar Duravcevic. Gabriel's Chaise de Rèinstallation, no. 103, or Chaise Pour les Sinistrés, 1942–44, was offered to war victims who needed furniture in order to "reinstall" themselves at home after being displaced.
Southern Guild, a design gallery from South Africa, highlighted several pieces by Porky Hefer, who is known for creating absolutely smile-inducing human-size nests. These sophisticated cocoons come in various shapes, including a hermit-crab-shell-inspired lounger wrapped in cowhide and lined with leather.
Recommended: Dior Enlists 11 Women Artists to Create Chic New Handbag Collection
Hefer's work wasn't the only nautical inspiration to be found: There was a standout piece in the world of jewelry as well—the magnificent Claudette Colbert Starfish, a rare ruby-and-amethyst brooch. Designed by Juliette Moutard for René Boivin in 1937, it was purchased for the star to celebrate her Academy Award win for It Happened One Night.
Other noteworthy jewelry selections included a collection by Monique Péan that mixed a wide variety of materials—from dinosaur bones to meteorites—making all of the pieces sustainable.
Next Post