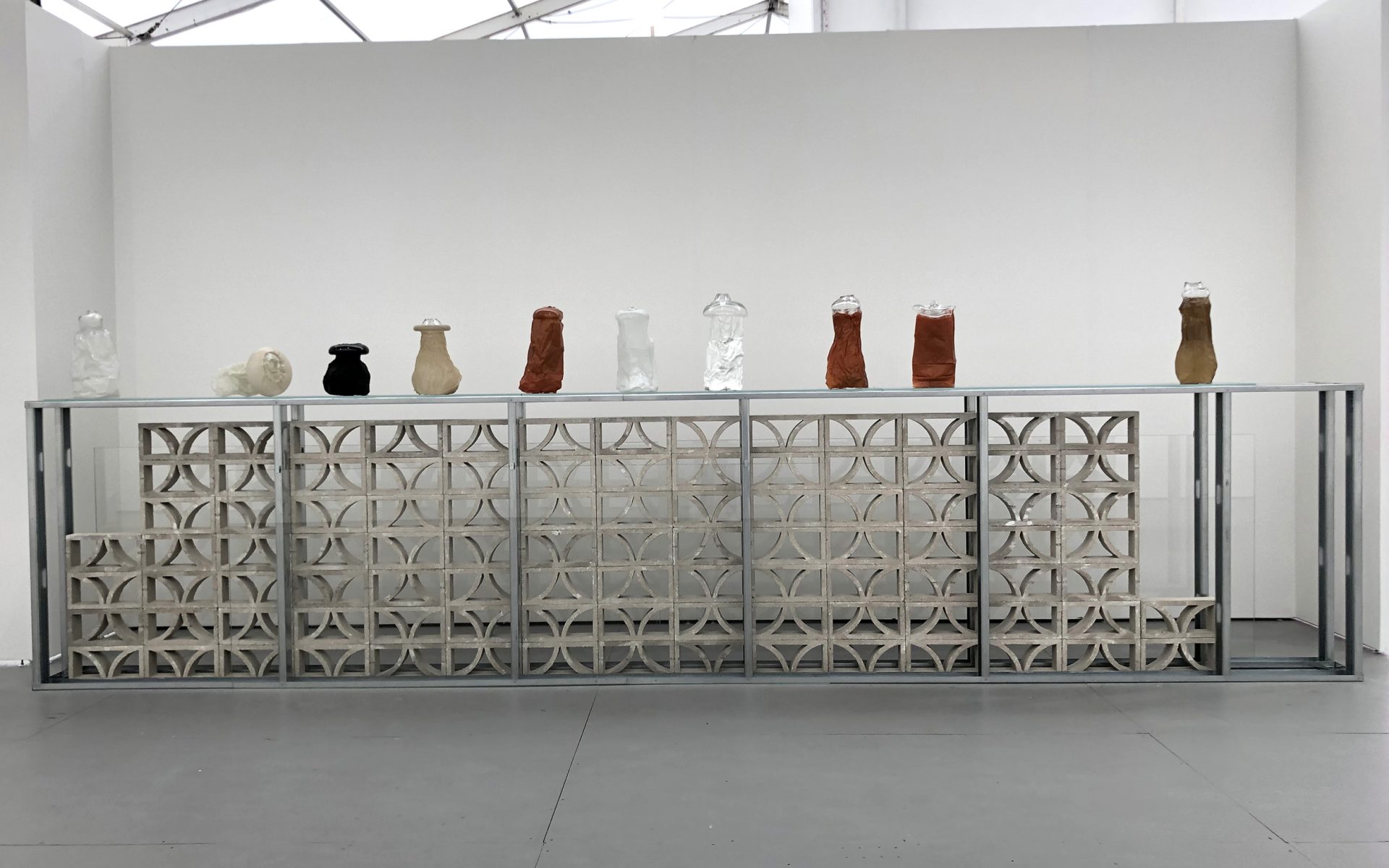 Women-Run Galleries Steal the Show at Miami's Untitled Art Fair
Cohesive exhibition spaces and a sale of masterful prints to benefit a worthwhile cause make this a must-visit stop during Miami Art Week
Few are able to hit the many "satellite" fairs that have popped up around Art Basel in Miami Beach, but Untitled has earned its way to the top of the bucket list for many collectors. With its tent set up right on the beach at Ocean Drive and 12th Street and a spacious deck overlooking the ocean, Untitled is a fun, early stop before Art Week fatigue sets in. (It's manageable, and it's nice not to be stuck in a windowless convention center all day.)
For its seventh edition, Untitled has really come into its own. Two women gallerists occupy the power positions that are often reserved for the likes of Gagosian, Pace, and Zwirner at larger fairs. Here, visitors are greeted with large booths from New York gallerist Josée Bienvenu and Seattle's Mariane Ibrahim.
Ibrahim, in her second year at the fair, has a dynamic and extremely international group show with works by Clay Apenouvon, Kudzanai Chiurai, Alexandra Karakashian, Sergio Lucena, Zohra Opoku, and the terrific Lina Iris Viktor. One standout is also new to the gallery: Florine Demosthene, who grew up in New York and Haiti, and currently divides her time among New York, Johannesburg, and Accra, Ghana. Lining the outer walls of the booth are Demosthene's pale-colored figurative works on paper that appear to be watercolor but are in fact beautifully complex mixed media with Mylar, ink, and glitter.
A treat at Untitled is that a number of booths presenting varied artists have made a real effort to present a cohesive exhibition. Los Angeles–based Steve Turner Gallery's booth is among the strongest. Despite a diverse array incorporating nine artists, there's a unity of palette and sensibility that makes the stand cohere as if it were a mini-exhibition in a museum. The gallery has installed a wainscoted wall and tan-and-white checkerboard flooring that together evoke a homey kitchen or early-20th-century diner and provides a warm setting for what appears to be folk art or art by self-taught or so-called outsider artists.
Yet the artists featured are all in fact art-world insiders, and most attended prestigious art programs like the Rhode Island School of Design, Art Institute of Chicago, Carnegie Mellon, Yale, and Cal Arts or elite residencies like Skowhegan. They include Laylah Ali, Samantha Bittman, Mariel Capanna, Nick Doyle, Lucy Fradkin, Kevin McNamee-Tweed, Paige Jiyoung Moon, Camilo Restrepo, and Hannah Epstein, who is a highlight with her smattering of soft textile wall sculptures. (Epstein's solo show at the gallery opens January 5 and runs through February 16, 2019.)
Recommended: Mexican Artist Pia Camil Makes Waves at Art Basel in Miami Beach
According to the materials accompanying this presentation, "Each artist has made the deliberate choice to sidestep much of his/her formal instruction in order to create works that instead involve such traditional craft techniques as weaving, ceramics, woodcarving, or welding. . . . They are part of a movement away from technology and new media, but they retain conceptual rigor and a societal/political purpose, making their iteration of folk art something new, something more than merely naive or primitive art for its own sake."
Another noteworthy cohesive booth is Burning in Water, which just this fall became one of the tenants of the new Highline Nine art spaces in New York. The gallery has successfully juxtaposed works by artists of two generations: Twisty wall sculptures of colorful rope and canvas by the Miami-born and Brooklyn-based artist Rachel Eulena Williams (born 1991) surround canvases by the renowned Oakland-based Oliver Lee Jackson, who emerged in the late 1960s in association with the Black Artists Group (BAG) in St. Louis. The National Gallery of Art in Washington, D.C., is mounting a survey of Jackson's work over the past 15 years March 24 through September 2, 2019.
Untitled has some cool special projects this year. Miami-based Kelley Johnson created the brightly colored listening room that is "hosting" the new Untitled podcast series. (He also has related sculptures on view in the booth of Portland, Oregon's Upfor gallery.) The podcast, organized and hosted by Amanda Schmitt, the fair's director of programming, evolved out of a bewildering radio broadcast Untitled began producing four years ago. (Although people constantly walk through the world with headphones, I always wonder why would you listen to a radio broadcast at an art fair, where half the fun is the impromptu conversations with the people you meet from all over the world.)
Recommended: The Haas Brothers' First Solo Museum Show Dazzles in Miami
Happily, now all programming will be available on-site, via web stream or for download later. According to the fair's organizers, the audio programming purportedly "takes the place of the customary fair program of talks, interviews, and roundtable discussions, and brings together artists, curators, and institutions from all around the world." Keep an ear out for conversations with the Haas Brothers (whose first museum show is up the beach at the Bass Museum), Hank Willis-Thomas, an array of curators including and artist-curated music selections, and spoken-word performances and readings.
A welcome addition to this year's edition is the introduction of the nonprofit LeRoy Neiman Center for Print Studies, which is part of Columbia University's School of the Arts. The center has made much of its sliver of space along one long wall where prints from master artists, including Kara Walker, Kiki Smith, Jasper Johns, and Sanford Biggers, are being sold to support scholarships for students, work opportunities for alumni, and future collaborations with artists.
The Neiman Center is also presenting this year's iteration of Tomas Vu and Rirkrit Tiravanija's ongoing endeavor "Do We Dream Under the Same Sky?" (the shorthand this week for this is "Rirkrit's T-shirt booth") along with an installation by the Brooklyn-based artist Michael Joo, Huff Wall for Single Breath Transfer. Woo created his sculptural installation, located near the VIP section, by breathing into paper and plastic bags like the ones huffers use to get high from chemical fumes. The work, installed along a low half-wall, shows the bags rendered in clear and colored molten glass.
Much will be made of the endnote to the fair—Nyehaus's presentation toward the exit with James Turrell's Catso Violet (1967) cosseted behind a purple Ultrasuede curtain, and Laddie John Dill works from the same era presented adjacent.
For those who can't make it to Miami, the third San Francisco edition of Untitled takes place January 18–20, at a new location at Pier 35.
Next Post