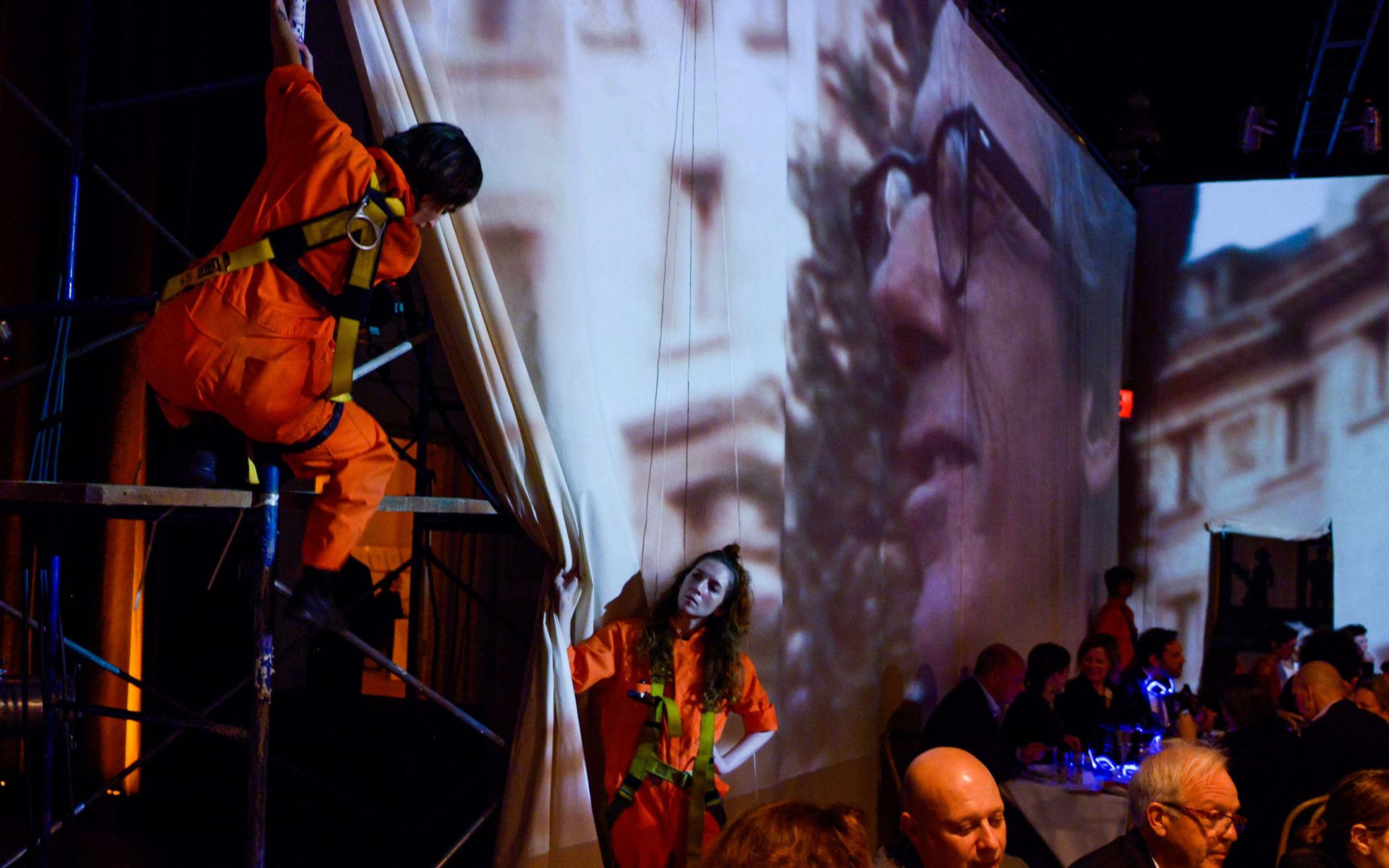 Inside the Star-Studded Performa Gala Celebrating Christo and Jeanne-Claude
Galerie spoke with Performa's founder, RoseLee Goldberg, about the artists' incredible lifetime of work
This year's Performa gala honored the artists Christo and his artistic partner and wife, the late Jeanne-Claude. The event in itself was a performance.
"We use galas as a way to rethink what galas can be," Performa's founder, RoseLee Goldberg, told Galerie in a phone interview. Case in point: At this year's event, which took place on November 1, dramatic scaffolding fringed the periphery of the event space, New York's Stage 37. The installation was designed to evoke the enormity of Christo and Jeanne-Claude's installations, which began with such early works as Wrapped Coast (1969)—in which they wrapped the coast of Little Bay in Sydney, Australia—to later works such as The Gates (1979-2005) in New York's Central Park and Surrounded Islands (1983) in Miami. Most recently, Christo completed the Mastaba, a work comprising over 7,000 colorful stacked oil drums that floated on a platform in London's Serpentine Lake this past summer.
"It was audacious in a way," said Goldberg about their work, particularly the early work. "An enormous risk—an enormous experiment—to turn upside down the idea of what art could be." Part of that stemmed from the projects' ephemeral nature, which continues with Christo's work today. "It's completely monumental," she added. "It takes such a long time for these works to be realized, and then for only that brief moment, they exist."
Now in its 15th year, Performa is the first biennial to commission and produce performance art for a modern audience. Since its founding in 2004, Performa has worked with more than 700 artists on 600 performances, a number that's only growing. The organization was founded by Goldberg, a lauded art historian and curator, whose book Performance Art: From Futurism to the Present has become a key text within the genre since its publication in 1979.
The annual gala helps to fund these efforts and in recent years has honored Yoko Ono and Okwui Enwezor. This year's honorees, Goldberg said, weren't chosen as a reflection of any upcoming programming (the next iteration of the biennial takes place in the fall of 2019); rather, the gala's theme honored the artists' lifetime of incredible determination, collaboration, and resulting achievement.
"We're focused on the idea of the wonder that they conjured with what they produced," said Goldberg. As pioneers in their field, Christo and Jeanne-Claude were met with constant setbacks. Though they always raised the funds for their own projects, securing the permission to install such radically large works in public often took decades.
In homage to this effort, the dinner was from time to time "interrupted" with performances within the scaffolding and moments where guests were asked to don headsets and watch archival footage of Christo and Jeanne-Claude making the case for their work with various government administrations beginning in the 1960s. (The Maysles brothers made several films documenting their journey.) The footage was poignantly projected onto large white curtains that were draped over the scaffolding.
Goldberg first connected with Christo and Jeanne-Claude in the early 1970s, when she had just been named curator of the Gulbenkian Gallery at the Royal College of Art in London. Goldberg invited the two artists to work with the gallery, an invitation that was met with enthusiasm. Collaborating closely with students at the college, who produced materials like exhibit invitations and posters, Goldberg, Christo, and Jeanne-Claude brought the show to life. The experience proved to be a formative one for Goldberg.
"Working with them was such a special moment for a young curator to have," Goldberg recalled. "It became a very important part of my early life as a curator."
Curator and Performa board member Roya Sachs, who cochaired the event, made an ardent toast to Christo and Jeanne-Claude at the dinner. Their work, she said, is powerful because it is almost always temporary.
"There's the time before, there's the brief moment during, and there's a lifetime after," she said. "Its urgency makes us feel as though we're a part of something bigger than ourselves."
Recommended: The 14 Most Stunning Public Artworks of All Time
Fashion-wise, the star-studded event was flocked with statement makers. Singer Ellie Goulding stood out in a plush golden coat, while artist Chloe Wise was chic in black. And Christo himself was unmistakeable, his dark, pared-back ensemble in sharp contrast to his snowy hair.
Other attendees of note included artists Rashid Johnson, Richard Kennedy, and Alex Schweder; the Armory Show's executive director, Nicole Berry; gallerists Marianne Boesky and Gavin Brown; curator at large of the Hirshhorn Museum Gianni Jetzer; White Cube's Eric Shiner; curator Stacy Engman; jeweler Jean-Thierry Besins; and entrepreneur Oberon Sinclair.
As a treat, guests were gifted black-and-white plates designed by artist Antoni Miralda. The plates, called Teddy's Apostrophe Dinner Plate, were created in partnership with Prospect NY. You can still purchase them on its website.
The night culminated with an eruption of confetti into the space, with the slivers of paper each inscribed with the name of a person who collaborated with Christo and Jeanne-Claude on a work. It was a touching moment. Sachs noted that as Christo turned over the pieces of confetti, he remembered each of the many friends and colleagues who brought his projects to life over the years. Touched, Christo said, "I didn't know why, until now, that they asked us for all of these thousands of names."
Rozalia Jovanovic contributed reporting.
Next Post