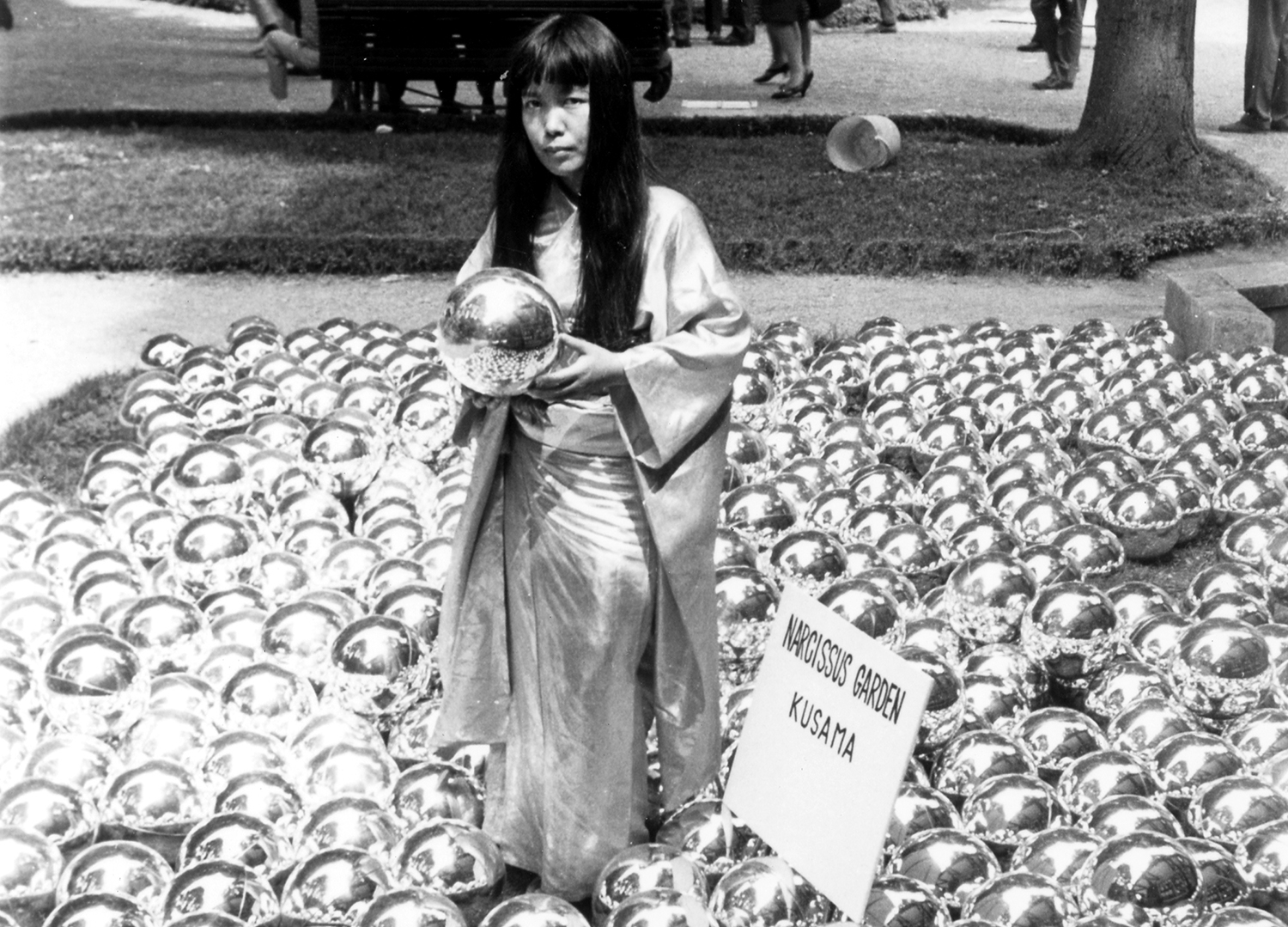 MoMA PS1's Klaus Biesenbach on the Yayoi Kusama You Haven't Seen
With Narcissus Garden, the artist returns to her political roots
One summer in 1966 in Venice, a young Yayoi Kusama stood barefoot among 1,500 plastic mirrored orbs and a handmade sign that read "Your Narcissism for Sale." It was the opening of the 33rd Venice Biennale, and in the garden in front of the Italian Pavilion, Kusama tossed the balls in the air and sold them to viewers for $2. She hadn't been invited to participate, and the unofficial installation would mark a shift for the artist from her installation work to a period of politically loaded public performances.
Just a few years later, in late August 1969, Kusama and a group of performers, naked except for the painted polka dots that covered their bodies, entered the Museum of Modern Art and staged a rogue performance by the fountain in the sculpture sarden. It was dubbed Grand Orgy to Awaken the Dead, and like much of Kusama's performance art at the time, the event explored anti-war and free love ideas challenging traditional notions of identity, sexuality, and the body. (The provocative work even made the cover of the Daily News.) "I think it's one of these rebellious, courageous empowerments that she allowed herself as a woman at the time," Klaus Biesenbach, the outgoing director of MoMA PS1 and chief curator at large of MoMA, told Galerie in a recent interview.
While Kusama has become something of a sensation in the past decade for her selfie-inducing infinity rooms—meticulous constructions comprising mirrors, light, and other objects that give the impression of endless space—her early activist and performance work is far less known.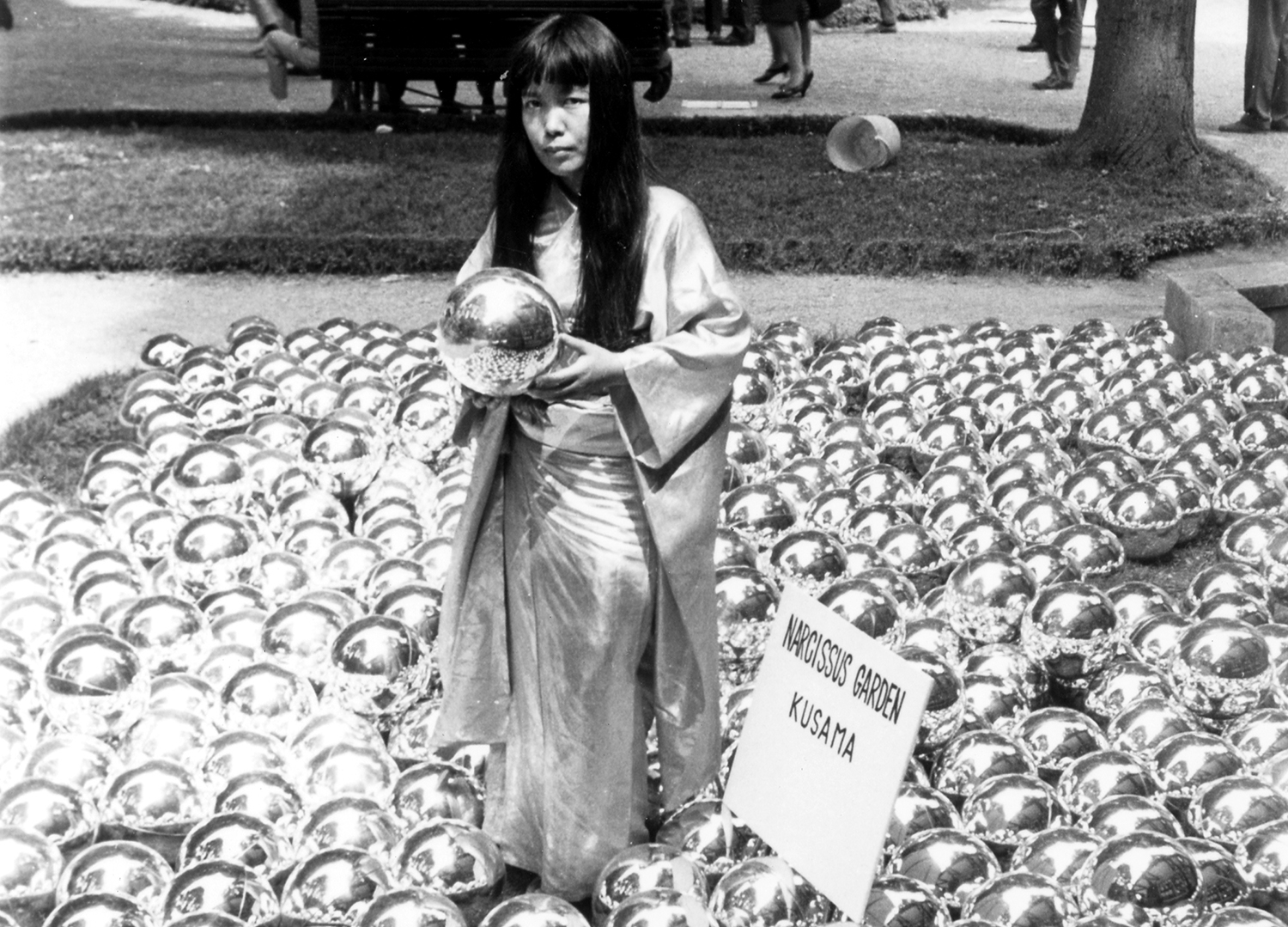 This summer, Narcissus Garden has been restaged at Fort Tilden for Rockaway!, the biennial festival supported by MoMA PS1, and driven by Biesenbach. The event was launched to celebrate the ongoing recovery of the Rockaway Peninsula after Hurricane Sandy in 2012. The balls, this time crafted in stainless steel, reflect the destroyed walls of the abandoned train garage it's staged in, spotlighting the damage caused by the devastating natural disaster. (Past iterations of the project—from the Philip Johnson Glass House in Connecticut to Inhotim in Brazil—have instead reflected blue skies and the surrounding natural landscape.)
Recommended: Inside Art Dealer Stacey Winston Levitan's Stunning Sun Valley Retreat
Kusama's activist roots feel alive again at Fort Tilden and, remarkably, seem to defy the impulse to take a selfie. An accompanying exhibition in the Rockaway Artist Alliance gallery showcases images of Kusama's past performance works from the 1960s, including Grand Orgy.
Here, we caught up with Klaus Biesenbach to find out more about the work and its particular installation for Rockaway!
Galerie: Something that really struck me when I first walked in here was how engaging the piece is. I've seen it installed at the Glass House, and it was pristine. The fact that you can actually touch the spheres and walk through them here is a very different experience. I'm wondering why it was chosen to be that way for this particular space?
Klaus Biesenbach: We had actually thought of the piece as being less participatory. But then when Kusama's team was here and constantly sending pictures and videos, all of a sudden it became clear that she really wanted this to be more interactive—to be more real. It's much closer to the work's beginnings in Venice than any of the other installations have been. It's participatory, it's interactive, and there is no barrier.
It sort of connects a little bit more with her earlier activist work than it does with the Instagram-sensation Infinity Mirror Rooms, that have caused hour-long lines at David Zwirner in New York, the Hirshhorn Museum in D.C., and the Broad in L.A. It's a far cry from the slick and colorful environments that people are not allowed to touch.
I think for me it was very important to give this piece a context away from the shiny surfaces because the shiny surfaces in the 1960s and the '70s were more a parallel to the ever-growing presence of the media at the time. That presence was empowering because she was an activist for certain movements. It was replaced with the idea that you see yourself, but there is a message behind it. We said it's very important to not leave out the message. Thus we show other pieces she did at the time, giving the work more context.
Recommended: Don't miss these summer shows in New York before they close.  
Can you speak a little bit about Grand Orgy to Awaken the Dead, the MoMA happening in the late 1960s where she came in with a group of naked performers. I don't think many people know that she staged an "orgy" in the sculpture garden.
In 1969, she came and did her first solo show at MoMA—of course it was unauthorized. She came to the sculpture garden for a performance and she declared it an orgy and it made it on the cover of a certain local magazine. I think it's one of these rebellious, courageous empowerments that she allowed herself as a woman at the time. These works that we're exhibiting in the gallery actually are groundbreaking pieces: Think about the stock exchange, what she did on the Brooklyn Bridge, the first gay wedding in 1968, how pioneering, how groundbreaking a sight that was. Democracy, activism, women's rights, and gay rights were so important for her 50 years ago. We thought we were growing in tolerance, and all of a sudden we are seeing it endangered again. I think this work is again more timely.
When you come in here, it feels somehow wrong to look at yourself in the mirrored orbs or to think of it as a magical setting for a selfie. In a way, you are kind of forced to contend with the whole environment. Why did you choose to do it in an old train garage?
We even thought about possibly placing it outside. I think when you have a situation like the Rockaways, we definitely wanted the environment to be part of it. But then a contained destroyed environment that has the history of this garage is more fitting—she's an anti-war activist and this being a military building that was heavily destroyed—that was a fact that made it only stronger. So it really takes it away from that artist that many people reduce her to. She is one of the most groundbreaking, empowering, encouraging, courageous, and activist artists of our times. I think what is important sometimes at these little shows that center around one piece is to give the whole context for the piece. That was the inspiration for me. It was a joy to get to see this piece as the rebellious act that it was when she first did it.
Narcissus Garden is on view at the Gateway National Recreation Area at Fort Tilden through September 3. Hours are 12–6 p.m. Friday through Sunday, as well as September 3.
Next Post