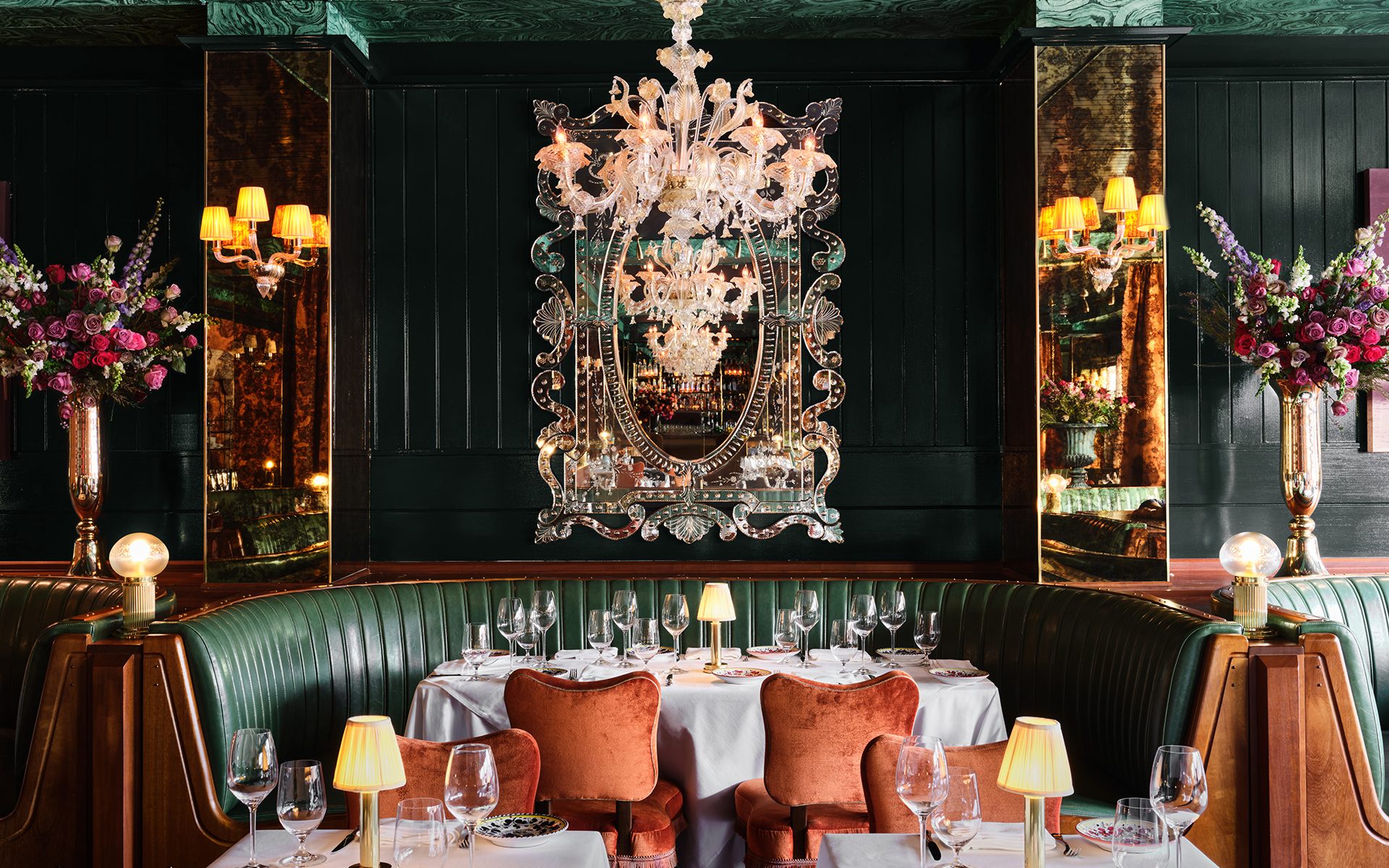 9 New High-Design Restaurants We Can't Wait to Visit
With decadent dishes and interiors conceived by Steven Harris, Ken Fulk, Andre Fu, and more, these haute new dining destinations are a feast for all the senses
The romanticism of a decadent meal, enjoyed in a beautiful restaurant, has taken on a greater allure as more and more eateries open their doors to in-person dining. While many guests are rediscovering old favorites, a number of new establishments have popped up, offering an epicurean menu by a world-renowned chef, served in a dining room conceived by a leading interior designer.
Inside these restaurants, from New York to Miami, Sydney to Hong Kong, creatives such as Ken Fulk, Andre Fu, Meyer Davis, and Steven Harris have conjured a remarkable environment that turns dinner into a memorable experience. Here, a look inside nine recently launched places that combine an artful ambience with a mouthwatering meal.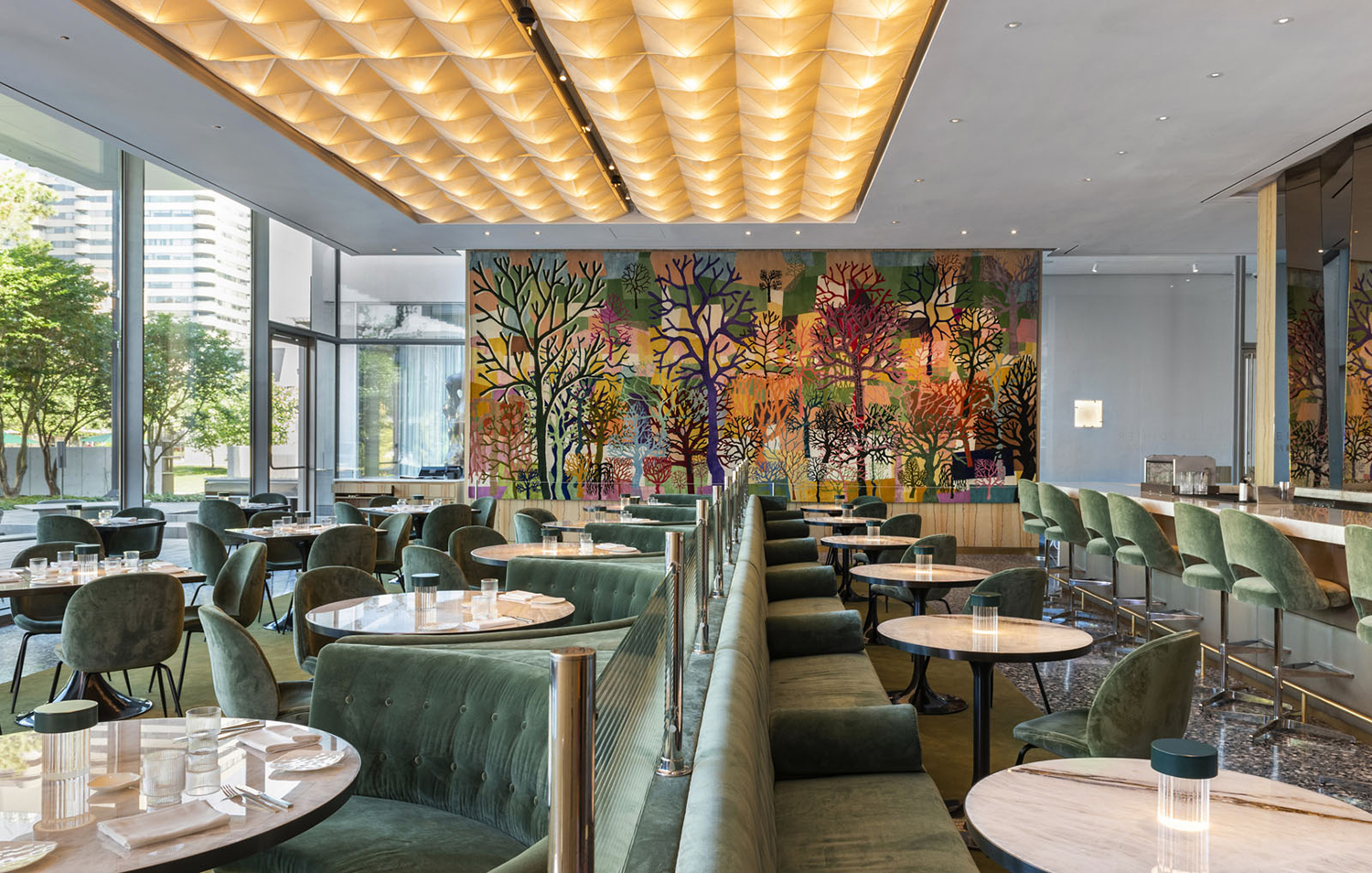 1. Le Jardinier, Houston
Houston's Museum of Fine Arts is already home to an extensive collection of art and antiquities. Now, it's also the site of the Texas city's most in-demand new dining destination. Le Jardinier's menu, overseen by Michelin-starred chef Alain Verzeroli, features a refreshing array of dishes robust with seasonal vegetables. Designed by architect Steven Harris in conjunction with designers Rees Roberts + Partners, the interior takes cues from the restaurant name (which translates to 'the gardener') with mossy green banquets, a grassy-hued carpet, and striking tapestry by Trenton Doyle Hancock called Color Flash for Chat and Chew, Paris Texas in Seventy-Two, that captures a densely layered forest over a kaleidoscope of colors.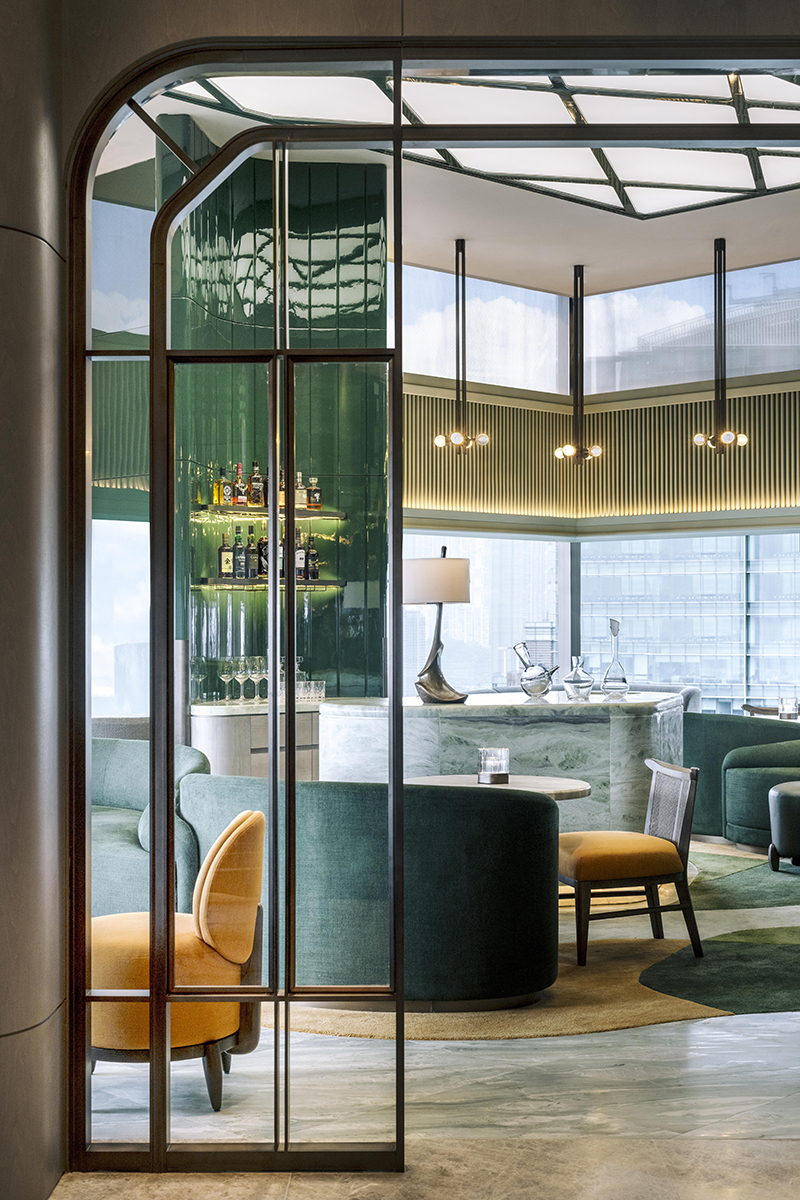 2. Salisterra, Hong Kong
Michelin-starred chef Jun Tanaka helms the kitchen at this cozy bistro high up inside the Upper House, a tranquil hotel offering panoramic views of Hong Kong. Here, André Fu has crafted a sophisticated interior inspired by the restaurant's name ('salis' and 'terra' are the Latin terms for salt and earth), featuring moody blues and greens and warm terra cotta, caramel, and burgundy tones. "My vision for Salisterra is rooted in the notion of modern authenticity," Fu tells Galerie. "It is a personal curation of the experiences that is highly layered, with moments of bold revolution to transport our guests into a world of warm Mediterranean tones, intriguing textures, and surprising geometries. I have also ventured to instill a new language of fluidity into the designs of the restaurant. The emphasis is to juxtapose the rectilinear spatial framework with organic forms and sculptural silhouettes."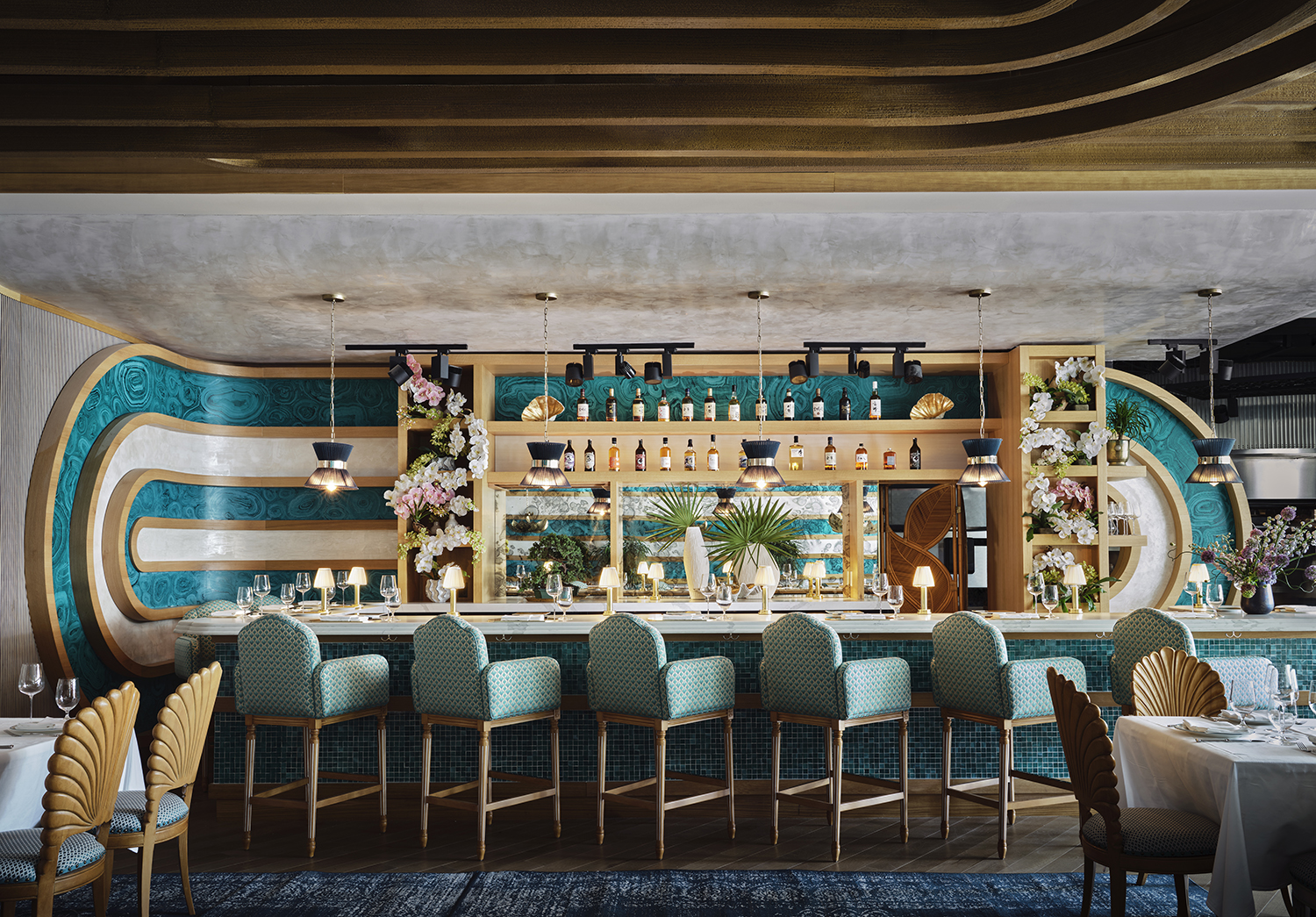 3. ZZ's Club, Miami
Ken Fulk is renowned for his transportive spaces that bring together rich colors and gilded accents to dramatic effect. At ZZ's Club, a Japanese restaurant and private club located in the heart of the Miami Design District, Fulk takes cues from the property's New York location, then turns up the volume with a teal cheetah print rug, hand-painted malachite details, and banana-leaf print wicker seating. "ZZ's has always been about surprise and delight," Fulk said in a statement. "In Miami, we wanted to amplify these qualities by creating a true urban oasis—a playful yet glamorous environment with old-school touches and bold flourishes. I would describe it as a tropical tuxedo: dressed up, but ready to party."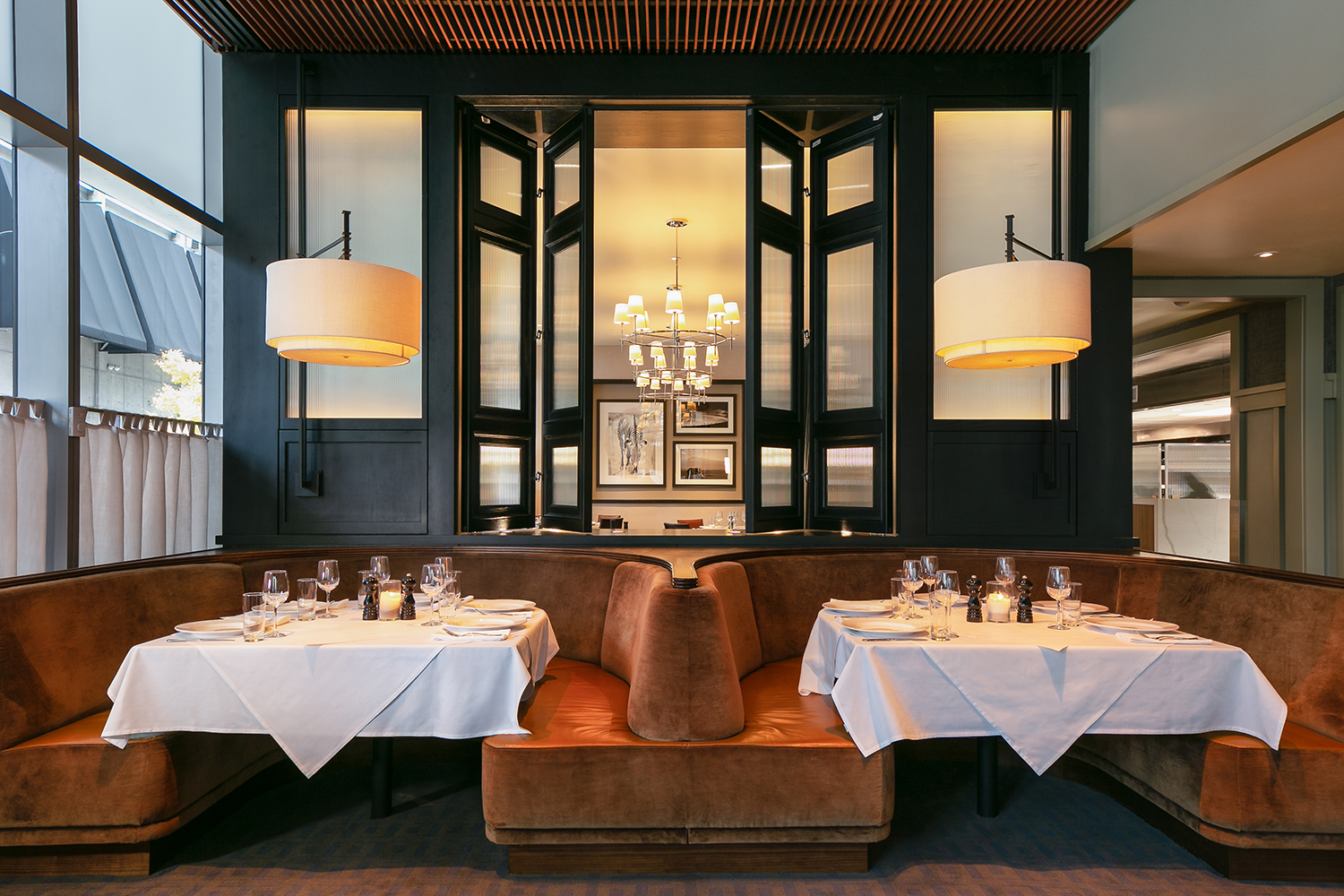 4. The River House, Nashville
Design firm Meyer Davis is known for its serene restaurant and hospitality spaces around the globe, including the new River House restaurant in Nashville. Here, hearty fare like wagyu filet mignon, steamed Maine lobster, and Chilean sea bass is served in a contemporary environment filled with buttery leather banquets, antiqued brass details, and classic restaurant details like sapphire-colored tiles, geometric pendants, and a tufted black-leather bar that punctuates a top-floor lounge.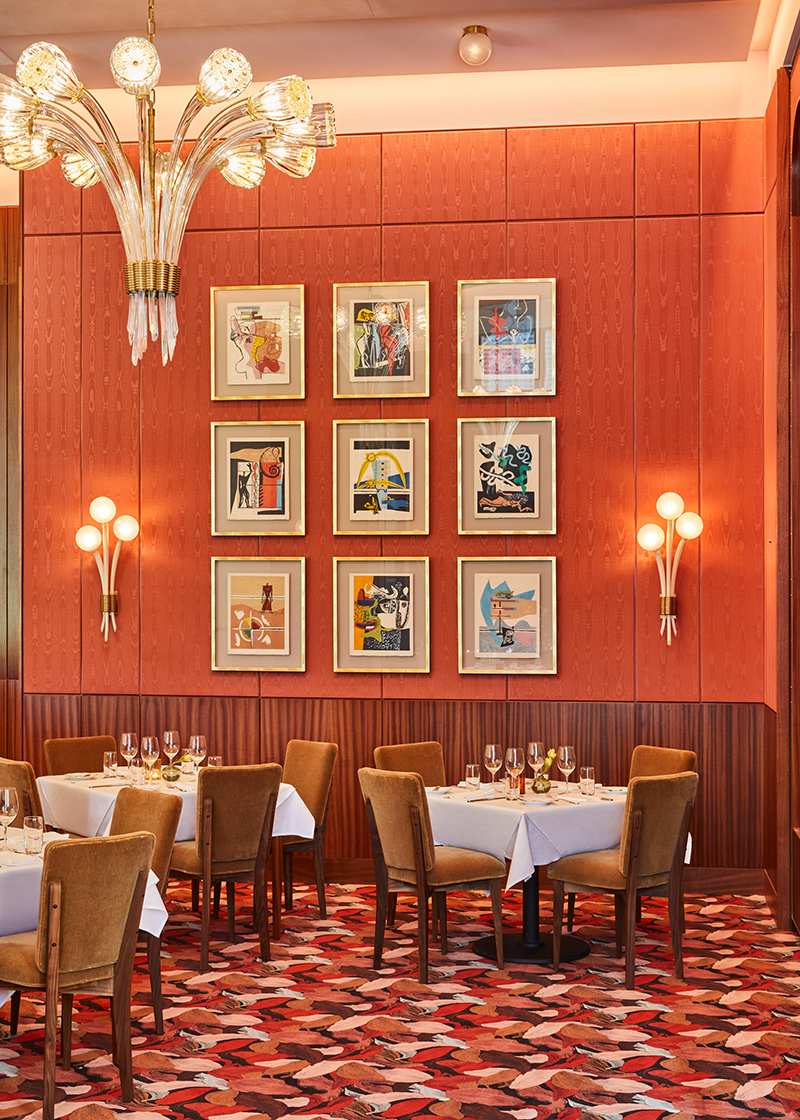 5. Sant Ambroeus, New York
Guests flock to the Sant Ambroeus restaurants in New York, the Hamptons, and Palm Beach for their delightful menu of Italian classics and their decadent array of desserts. The Studio Robert McKinley–conceived interior at the new Lower Manhattan location draws on classic Milanese design with a spritely patterned floor covering, warm wood paneling, and sunny coral walls that are adorned with jewel like sconces. A series of dramatic chandeliers shimmer with a halo of multifaceted blooms.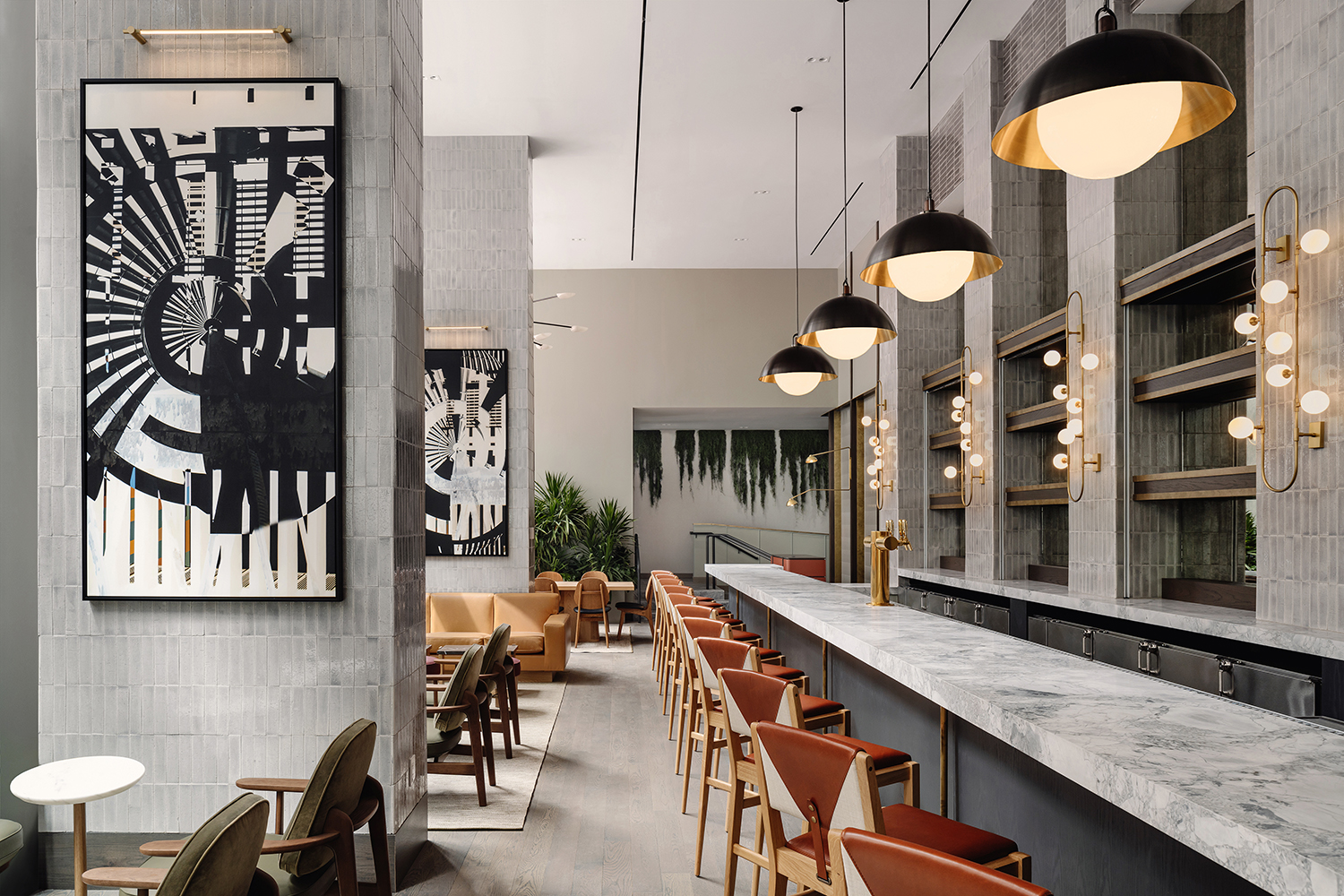 6. Nearly Ninth, New York
Gerber Group, the firm behind such iconic dining destinations as Mr. Purple, the Campbell, and the Crown, recently debuted its latest establishment at New York's Arlo Midtown Hotel. Executive chef Corey Becker, an alum of James Beard–award winner Larry Forgione, serves a seasonal Italian menu with nods to classic American dishes in the cosmopolitan dining room. The chic space is a perfect place to sample the rich cocktail menu that boasts customary mixed drinks and speciality concoctions like the Nearly Ninth Negroni, a refreshing twist on the summer favorite.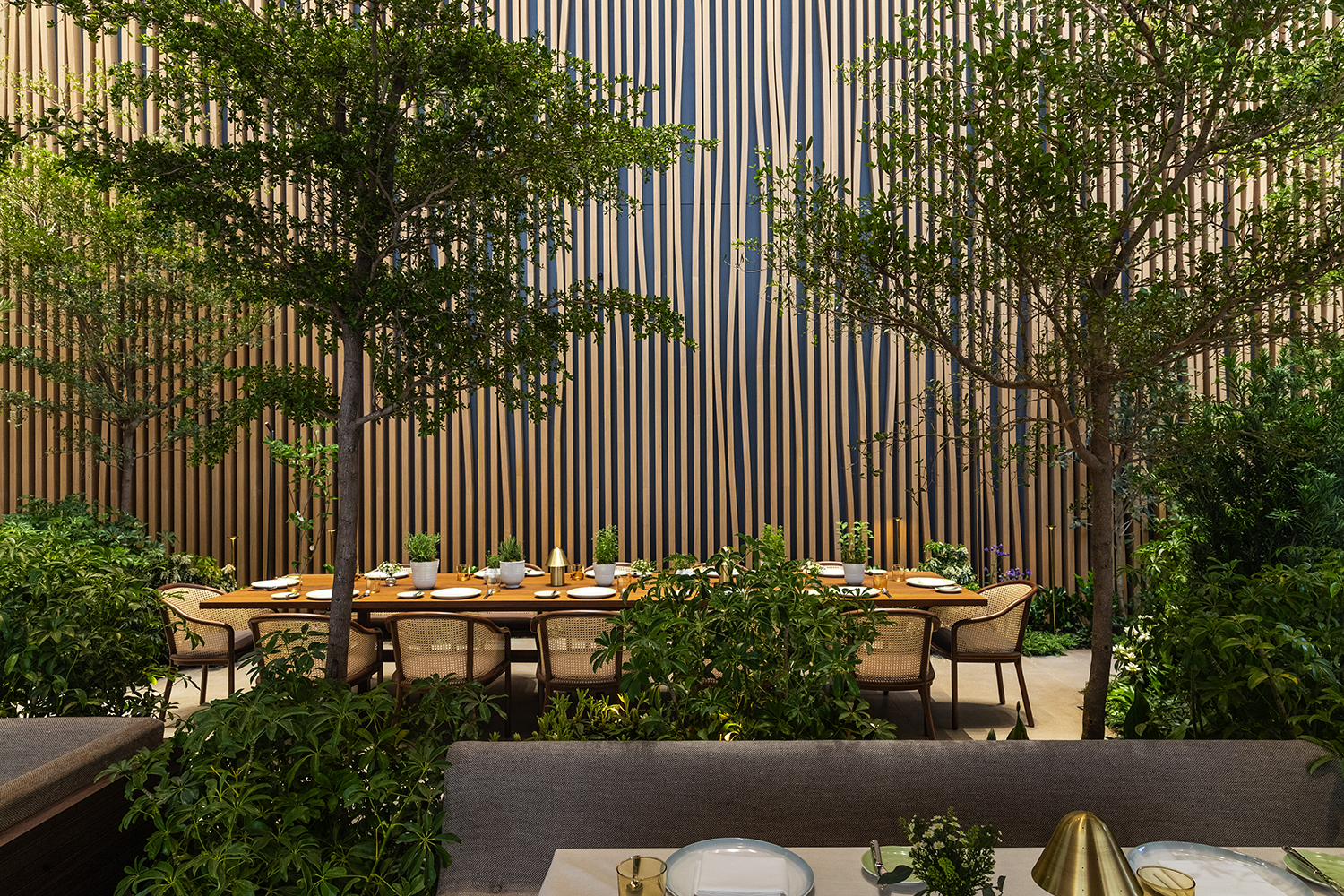 7. Le Pavillon, New York
Celebrated chef Daniel Boulud has opened a new 11,000-square-foot "dining oasis" on the second floor of the new Manhattan new skyscraper One Vanderbilt. Taking cues from the dining pavilions that populate France, this new establishment brings the outdoors in with towering trees, lush foliage, a winding garden path, and a multidimensional wall that captures the idea of a copse of reed-like plants. Le Pavillon's intimate dining room, designed by Brazilian architect Isay Weinfeld, also boasts an impressive custom chandelier, crafted of hand-blown glass by American artist Andy Paiko.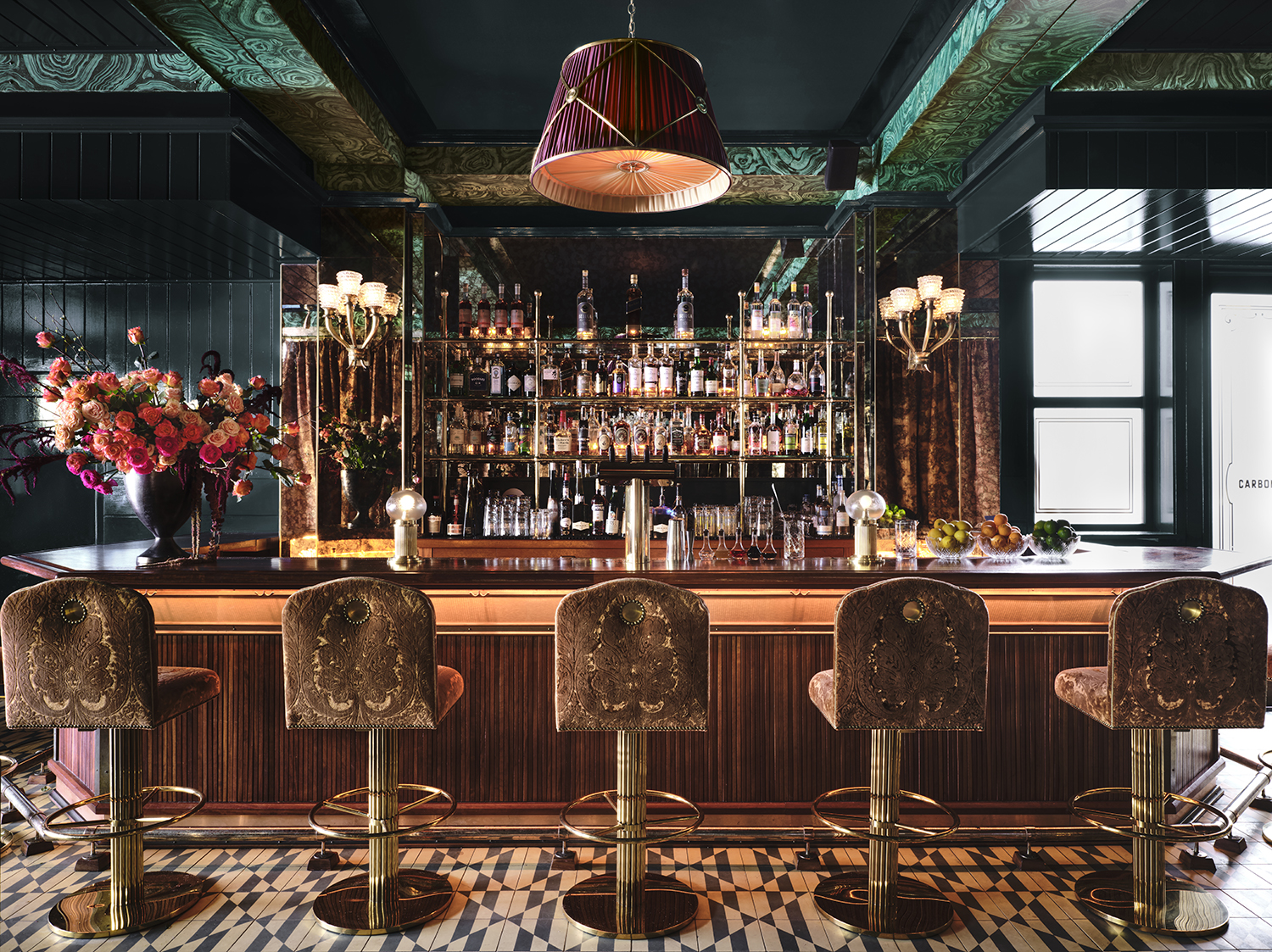 8. Carbone, Miami
"My inspiration for Carbone was Maria Callas and Frank Sinatra waking up on the Grand Canal after a night of passion," said designer Ken Fulk of this decadent new eatery on Miami Beach's ritzy Collins Avenue. Like walking through a Fabergé egg, Carbone touts a jewel-like interior that combines malachite ceiling beams, Murano sconces, and Fulk's hand-drawn wallpaper. A selection of artworks, curated by gallerist Vito Schnabel enhances the space, with works by Julian Schnabel, Gus Van Sant, and Harmony Korine adding to the magical atmosphere.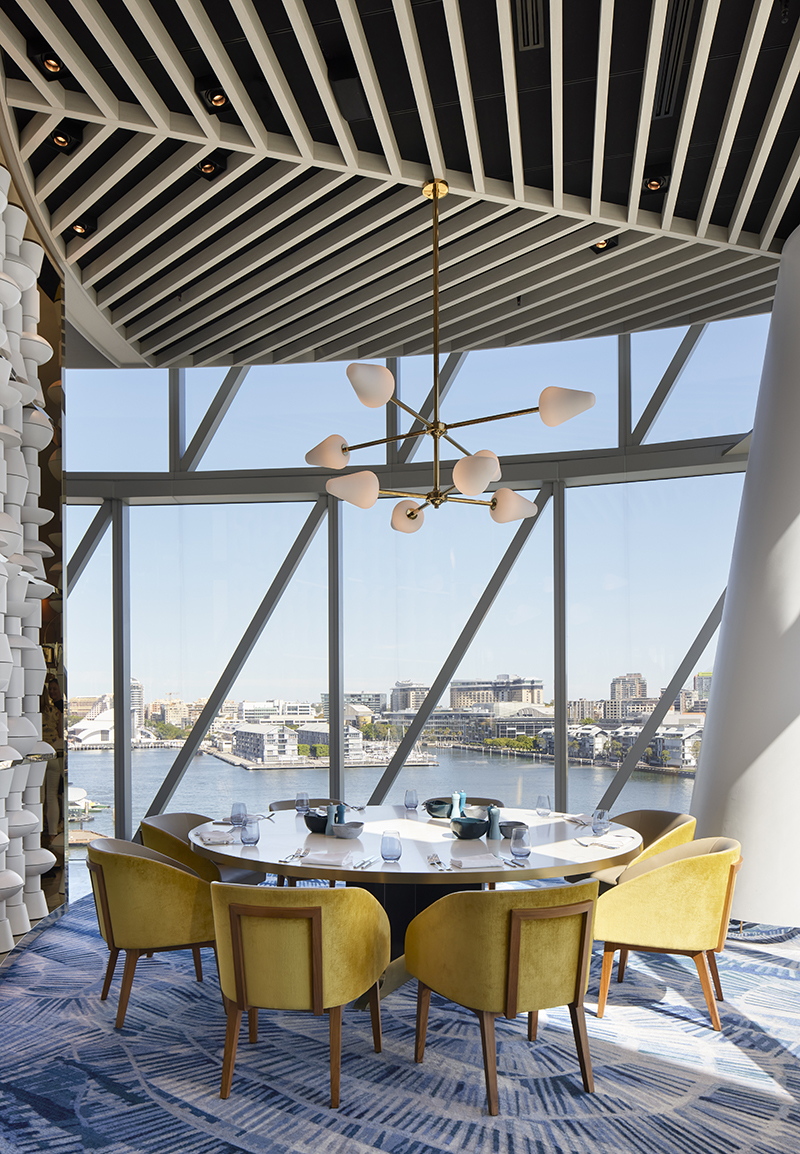 9. Epicurean, Sydney
Inside the new luxury hotel Crown Sydney, Meyer Davis has conceived a number of public spaces that offer sophisticated spots to take in dramatic views of the famed harbor. At Epicurean, guests can enjoy a panoramic vista of the Sydney Harbour Bridge and an ever-changing menu of fresh local seafood from one of the eatery's three private dining rooms.
Next Post