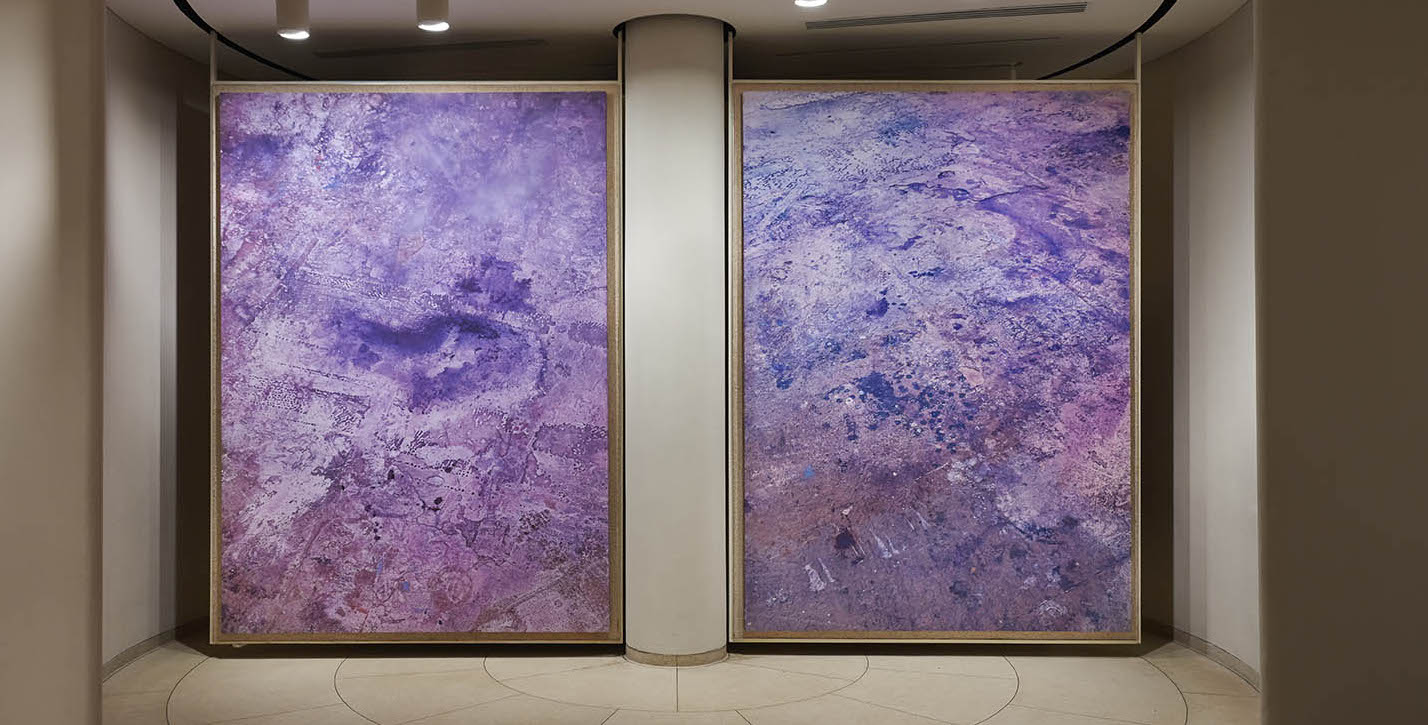 Intimate Julian Schnabel Survey Opens at the Philip Johnson Glass House
The rotating exhibition in New Canaan, Connecticut, showcases the artist's prolific painting career
Currently on view in New Canaan, Connecticut, is a one-of-a-kind retrospective of works by superstar artist Julian Schnabel, distilled into three parts. The setting is none other than late architect Philip Johnson's former estate, the Glass House, where he lived with partner David Whitney.
Spanning 41 years, "Paintings that I hope Philip and David would like," features 18 paintings and 5 drawings from across Schnabel's œuvre starting as early as Jack the Bellboy/A Season in Hell from 1975, and as recent as Landscape Paintings I & II from 2016.
As the title hints, Schnabel was interested in selecting works that may have appealed to Johnson and Whitney—an action in the present that communicates with spirits of the past. In addition to works from the Glass House Collection (Johnson and Whitney were avid collectors of his work), there are paintings borrowed from the artist's son Vito Schnabel's collection, and a handful pulled directly from Schnabel's studio.
Unlike a traditional museum retrospective, the works are rotated three times over the course of the exhibition: Schnabel's rare wax paintings from the 1970s are currently on view through June 5; works made after 2000 from June 8 to July 10; while the final rotation, from July 13 to August 14, features paintings from the 1980s and '90s.
The exhibition highlights how Schnabel's innovative techniques and application processes have evolved over the years, and makes clear that he has never stopped thinking about what painting means.
Forming a true collaborative partnership, he and Irene Shum, curator and collections manager of the Glass House, were hands-on when selecting works and hanging the show.
On Weather Paintings, IB & IIB, 2015, Shum says, "this is not what you think of when you think of Julian Schnabel—they look like the surface of a planet or aerial photography. I want people to see the work beyond the personality as I truly believe that he is the most important artist of his generation."
The show also continues a longstanding dialogue of his relationships with collectors and other artists, "Julian was friendly with both Philip Johnson and David Whitney, but more so with David. He was grateful for their support and really pleased when they started actively collecting him," Shum explains. And it's not the first time Schnabel has paid homage to those he's lost, she adds. "So much of the work he's made throughout his career is elegiac—tributes to passed friends such as Basquiat, or paintings dedicated to Philip Seymour Hoffman and Cy Twombly."
"Paintings that I hope Philip and David would like" runs through August 14, 2017. theglasshouse.org
Next Post