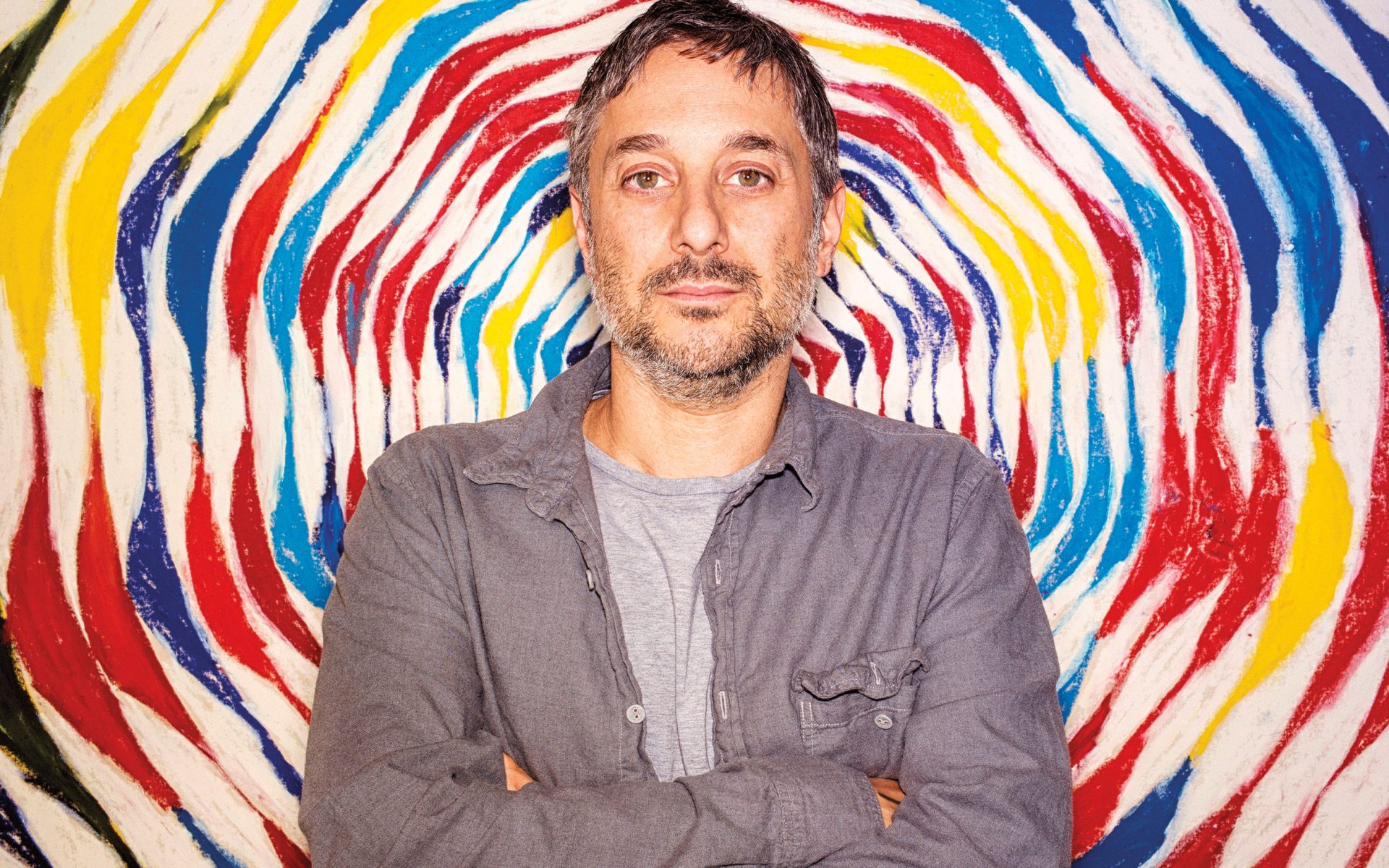 Inside Harmony Korine's "Blockbuster" Exhibition at Gagosian
The filmmaker's current series of paintings was inspired by the gonzo promotion of his 2009 film Trash Humpers
Harmony Korine is known as a disrupter. He came to public consciousness as the screenwriter of the controversial coming-of-age film Kids, which he followed up with a string of highly inventive paeans to societal outcasts, including Gummo and Spring Breakers, which earned him a cult following.
Simultaneously, Korine has been steadily creating and showing artwork, much of it blending the figurative and the abstract with the same kind of moody verve that drives his films. Such is the case with his most recent exhibition at Gagosian,"Blockbuster," which features pieces made with VHS cassettes and covers he bought at a Blockbuster video store in Nashville that was shuttering.
"I would drink a cup of Mountain Dew and stare into the vacant Blockbuster window," says Korine, who put copies of his 2009 film, Trash Humpers, in cassette boxes from other films, painted the covers, and sent them to random addresses—an early sampling of what would become his current opus. "I loved how it looked inside, and the Mountain Dew would get me all hopped up and dreaming of different ways to deface the video covers."
Recommended: Elizabeth Margulies Selects Her Top Five Emerging Artists of 2018
Many of Korine's paintings are colorful, messy, and collage-like. Some of the most striking are from a series of monochromatic assemblages in blue, yellow, and red ("Those colors pop the hardest for me") called "Anamorphic Blockbusters" because they have the same ratio as the anamorphic lens he uses to create his films.
Very distinctive in all of the works is a roughly rendered cartoonish figure with a simplistic body with limbs and a head but no facial features. "He's a friend or a ghost or a faceless character," Korine says of the icon, whom he named Twitchy.
Korine makes a film every five to six years and says when he's not in production, he'll go into the studio and "paint or throw things around and play with ideas." Film and art are "part of the same unified aesthetic vision" and "come from a similar place creatively." But, he vows, the process is different: "I like the idea of redoing the narrative, defacing the films, and turning them inward and making them my own." 
A version of this article first appeared in print in our 2018 Winter Issue under the headline Breaking the Mold. Subscribe to the magazine.
Next Post