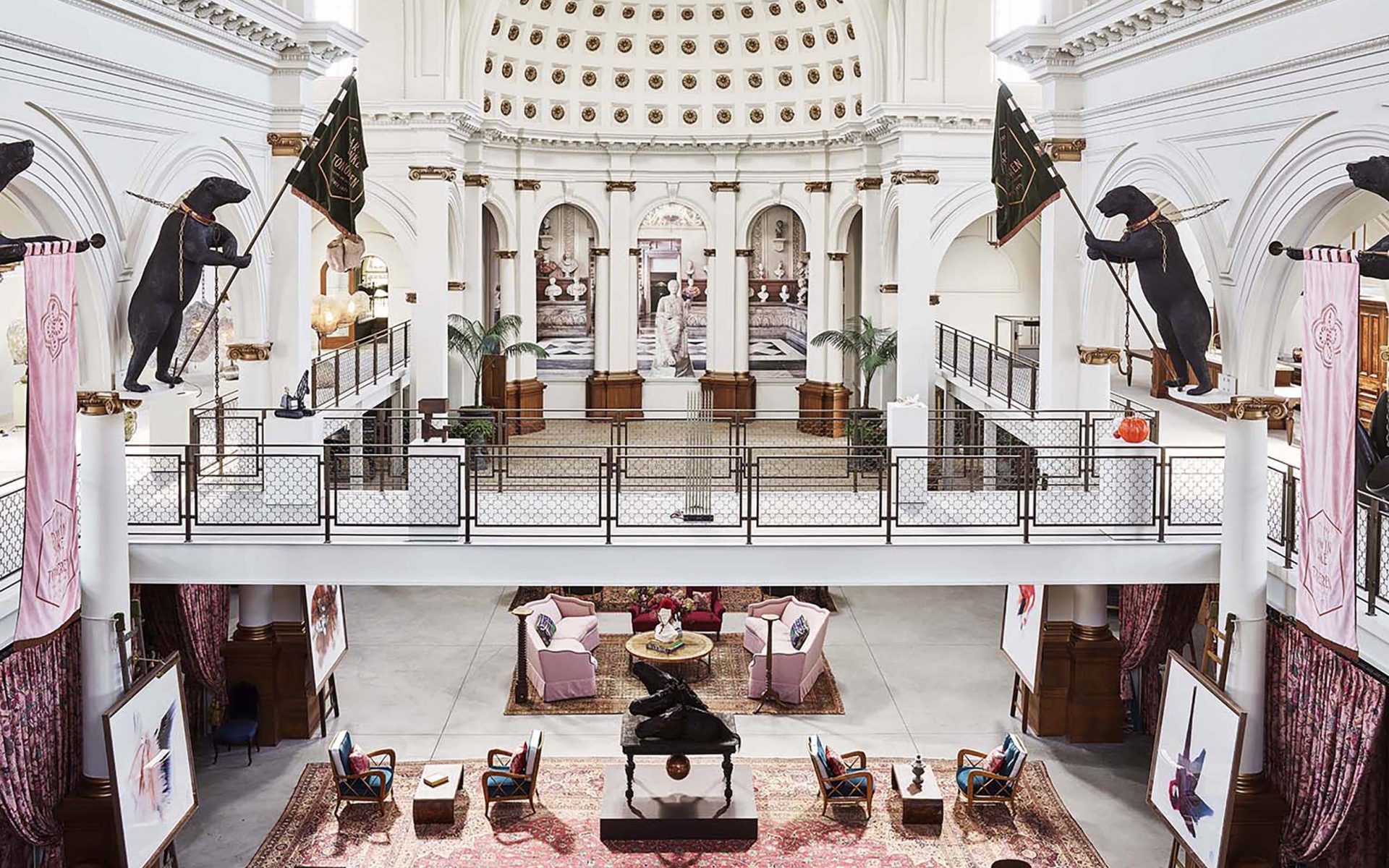 See Photos of Designer Ken Fulk's Heavenly New Art and Retail Space
Fulk transformed a blighted 22,000-square-foot church into Saint Joseph's Arts Society, an art, retail, and performance space
Even in a city like San Francisco, where people regularly spin straw into gold, designer and creative director Ken Fulk stands out. Fulk masterminded Sean Parker's enchanted-forest-themed wedding among Big Sur's redwoods and turned Alexis and Trevor Traina's Inverness retreat into a nostalgic fishing camp. He also designed some of the city's buzziest clubs and eateries, from The Battery SF, a private social club and hotel, to Leo's Oyster Bar, which was nominated for a Best Restaurant Design award by the James Beard Foundation. Instagram cofounder Kevin Systrom refers to him as San Francisco's "go-to creative resource."
Fulk's latest and greatest venture, Saint Joseph's Arts Society, for which he transformed a blighted 22,000-square-foot Romanesque revival church into an art, retail, and performance space, should solidify the tastemaker's position as a "unicorn," which in Silicon Valley parlance means a person or business who has achieved a statistically rare string of successes.
The best way to describe Saint Joseph's would be to conjure the image of a love child of the Whitney Museum and the Limelight club educated at an art school in the Mission District. Ten-foot-tall papier-mâché black bears on plinths hover over the church's nave—an installation by Dutch photographers and taxidermists Jaap Sinke and Ferry van Tongeren.
Recommended: Tour LA's Most Exclusive Homes and Gardens
Surrounding the altar is a 30-foot-high print of Catherine Wagner's photographic work Sala Degli Imperatori, an image taken in the Room of the Emperors at the Capitoline Museum in Rome. Assouline and French apothecary Buly 1803 offer handcrafted luxury books and perfumes, respectively. Everywhere there are beautiful vintage rugs and salons draped with custom Pierre Frey fabrics.
"I think what we do as designers matters," Fulk tells Galerie when asked what inspired this cultural mashup that demanded a three-year renovation. "We elevate people's lives. I love San Francisco and want to give something back. If you don't pay it forward, why do it all?"
Growing up in Virginia, Fulk encouraged his family and friends to celebrate the beauty around them. "I knew that dinner wasn't just dinner," he says. "I would cut the flowers and set the table in a certain way. Dinner was a celebration. Maybe I look at life through rose-colored glasses, but I like wearing them."
At the onset, however, Saint Joseph's wasn't an obvious project. "You almost didn't notice it," Fulk says of the church in its former incarnation. "It had fallen in on itself. I thought we might purchase it and move the studio there."
But when Fulk examined the interiors, the angels sang to him. "It was sort of a divine moment," he says. But in truth, Fulk's vision for how the space would be activated isn't far from how the building was originally used. "I imagined a place for the community, a congregation for art and design, with cultural programming."
The programming Fulk refers to will include readings, lectures, performances, and feasts that reflect Fulk's mantra, which has also become Saint Joseph's unofficial tagline: "Every moment matters." Names that might appear on the schedule include photographer Mary McCartney, filmmaker John Waters, and authors Amy Tan, Michael Cunningham, and Alice Sebold. "I hope this will be a resource to build a community around, a large glorious celebration."
Next Post