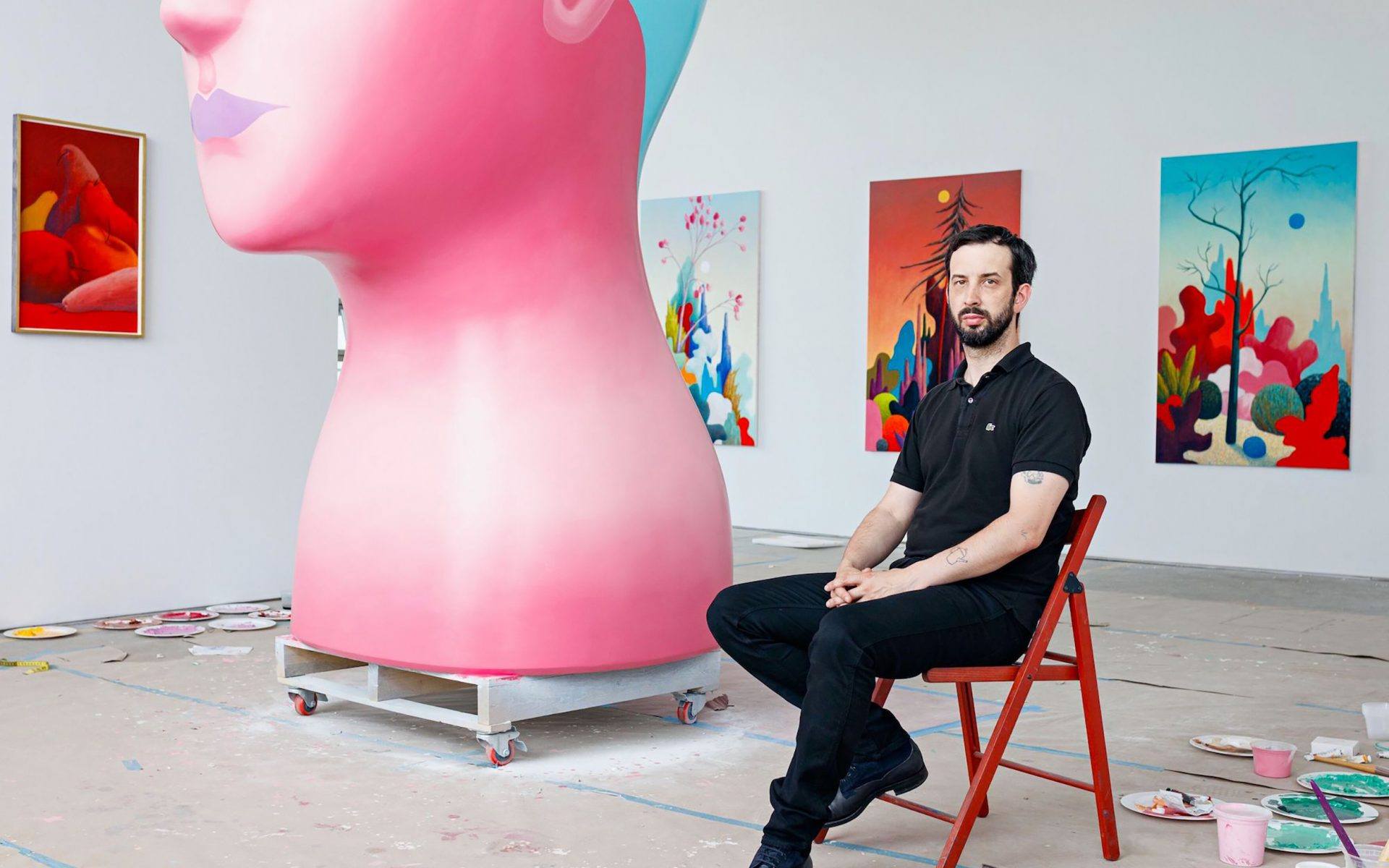 12 Must-See Art and Design Exhibitions in 2020
Shows featuring Nicolas Party, Niki de Saint Phalle, and Heatherwick Studio are not to be missed
If 2020 is anything like the past decade, the interest in art and design will exponentially increase as museum and gallery exhibitions continue to reconsider overlooked masters—particularly women—in their fields and promote new talents expanding the creative realms.
Rounding up the most highly anticipated exhibitions around the world in 2020, Galerie has assembled an amazing array of must-see art and design shows. Ranging from the emergence of Nicolas Party and Christina Quarles to Tatiana Bilbao and Heatherwick Studio's experimental designs, as well as surveys revisiting such past masters as Wendell Castle, Niki de Saint Phalle, Dora Maar, and Harry Bertoia, we've selected the unexpected and foreseeable to add to this year's cultural calendar.
1. "Wendell Castle and the 'Quiet Revolution'" at R & Company, New York
January 13–February 26
One of the most influential American industrial designers of the last half of the 20th century, Wendell Castle (1932–2018) produced highly innovative furniture that could easily be mistaken for biomorphic sculpture. Celebrating his early masterworks, this curated survey features a selection of Castle's finely crafted wood furnishings made between 1959 and '80 alongside sculptures and objects by artists and designers who inspired him, among them Wharton Esherick, Isamu Noguchi, and George Sugarman.
2. "Nicolas Party: Sottobosco" at Hauser & Wirth, Los Angeles
February 13–April 12
Primarily known for his color-saturated pastel portraits, landscapes, and still lifes, Nicolas Party is a master of many mediums, including sculpture, works on paper, and installation art. Coming off of two critically acclaimed exhibitions, at Xavier Hufkens in Brussels and New York's Flag Art Foundation, the Swiss-born artist makes both his Hauser & Wirth and Los Angeles solo show debuts with a site-specific environment featuring a monumental installation, murals, pastels, and sculpture—all planned to coincide with Frieze Los Angeles, where the gallery will present a solo show of another hot young painter, Avery Singer, whom it just signed in December.
Recommended: Copenhagen's Faurschou Foundation Opens Brooklyn Outpost
3. Tatiana Bilbao: Architecture from Outside In at San Francisco Museum of Modern Art
March 21–August
The architect for Pacific Gas & Electric's new San Francisco substation, which is located in the Hunters Point neighborhood, Tatiana Bilbao is being honored with the first American survey of her firm's environmentally and socially conscious design projects. Featuring models, drawings, and photographs, the exhibition focuses on the Mexico City–based architect's efficient use of raw materials and emphasis on hand labor to create what she aptly describes as "places and spaces for people by people." Projects in the show include Tatiana Bilbao Estudio's proposed Hunters Point master plan and the mixed-use Guatemala Tower, which imaginatively has palm trees and plant life growing all over it.
4. Christina Quarles at Museum of Contemporary Art, Chicago
April 4–August 23
An up-and-coming L.A. figurative painter with an eye for the surreal and abstract, Christina Quarles twists depictions of limbs, torsos, and faces into colorful compositions. Creating a mash-up of race, gender, and sexuality on shifting planes of pattern and color, her gestural canvases turn eroticism on its head. Exhibiting work from the past four years, along with a new large-scale commission, the show is the largest presentation of the Yale MFA grad's captivating works to date. Dubbed "the hottest artist in America right now" in 2017 by Jeffrey Deitch, who included her work in the Art Basel in Miami Beach exhibition that he co-curated with Gagosian, Quarles produces paintings that seem destined to be museum-bound.
5. Niki de Saint Phalle at MoMA PS1, New York
April 5–September 7
A self-taught artist, Niki de Saint Phalle began her career as a model, working in New York, where she appeared on the cover of Life magazine in 1949. Born to a French father and an American mother, she later turned to art—becoming the only female member of the French group of artists known as the Nouveau Realists (the European equivalent of American Pop Art). Controversial for her bleeding paintings, which were made by shooting bags of paint, attached to a canvas, and her colorful feminist sculptures of women, which she affectionately called Nanas, the radical Saint Phalle became a superstar in her time. The first New York museum exhibition of the artist's work, this display will feature over 100 works created from the 1970s until her death in 2002.
6. "Heatherwick Studio: Building Soulfulness" at Mori Art Museum, Tokyo
April 8–June 14
Best known in New York for the Vessel, the 150-foot high shiny structure with 2,500 steps located within Hudson Yards, Heatherwick Studio is one of Britain's most successful design firms. Led by Thomas Heatherwick, the group is responsible for such notable designs as the dynamic U.K. Pavilion, which was nicknamed the Seed Cathedral for its unusual shape and contents, at the Shanghai Expo 2010; the New Routemaster, London's first new bus in 50 years; the ceremonial cauldron for London's 2012 Olympics; and Singapore's The Learning Hub, which consists of stacked concrete rooms in 12 towers that are grouped together like a hive. Presenting an overview of the firm's innovative projects, the show aims to assess how dynamic design can stir the senses.
7. "Dora Maar" at Paul Getty Museum, Los Angeles
April 21–July 26
The Surrealist artist Dora Maar (1907–97) is unfortunately known as Picasso's "Weeping Woman" for the grief he gave her as his mistress and his use of her as the model for the namesake character in his epic masterpiece, Guernica. Ripe for reconsideration, Maar is finally getting recognition for her artistic pursuits. The subject of her first-ever retrospective, which opened at the Pompidou Center in Paris and traveled to the Tate Modern in London before landing at the Getty this spring, Maar was trained as a painter before Henri Cartier-Bresson urged her to focus on photography. Exploring both street photography and a commercial practice, she fell in with the surrealists in the 1930s, which led to her introduction to Picasso and painting, a medium she pursued for the remaining years of her life. With more than 200 works spanning six decades, this retrospective presents the experimental Maar as much more than a mere muse.
8. "Zanele Muholi" at Tate Modern, London
April 29–October
A standout at last year's Venice Biennale, Zanele Muholi defines herself as a visual activist working in the LGBTQI community of South Africa and beyond. Focusing on race, gender, and sexuality with black subjects, Muholi—a photographer and filmmaker who has been on the rise for the past several years—addresses issues of social injustice in postapartheid South Africa. The artist's first major survey in the U.K., this exhibition presents intimate portraits of black lesbian and transgender individuals fighting battles of existence and resistance with the hope of offsetting the stigma of queer identity in African society.
9."Michaela Eichwald" at Walker Art Center, Minneapolis
June 4–November 8
A German abstract painter living and working in Berlin, Michaela Eichwald has been exhibited internationally at some of the most significant museums and galleries of the past decade, but this will be her first museum solo show in the U.S. Trained in literature and philosophy, Eichwald makes densely layered, gestural paintings that employ a variety of media and methods and are uniquely painted on pleather rather than canvas. Her tabletop sculptures, which will be shown alongside her paintings and collages, are equally exceptional. Made by pouring resin into such everyday objects as bags, rubber gloves, and plastic bottles and then adding everything from food scraps to fishing tackle, they are simultaneously repellent and beautiful.
10. "Paula Rego: Obedience and Defiance" at Irish Museum of Modern Art, Dublin
June 12–November 1
Born in Portugal in 1935 and educated in the '50s at art schools in England, where her tutors included Andrew Forge and Lucian Freud, Paula Rego is known as a powerful painter and storyteller. Ranging from her '60s political collages, which were critical of the Fascist regime of Portugal's António de Oliveira Salazar, and her '80s paintings of family narratives centered around the experiences of women to her more recent pastel works that explore femininity through art history, folk tales, and nursery rhymes, the exhibition features more than 80 works covering the 84-year-old artist's compelling career.
11. "Harry Bertoia" at Nasher Sculpture Center, Dallas
September 19, 2020–January 10, 2021
An Italian-born American artist, sound-art sculptor, and modern furniture designer, Harry Bertoia (1915–78) started out as a jewelry designer, which helped him develop a love of craft—particularly metalwork. Living in Detroit, he attended the Cranbrook Academy of Art, where he met Florence Knoll and Charles and Ray Eames, whom he collaborated with on furniture design until he struck out on his own to create his famous wire steel chairs for Knoll. Successful as an industrial designer, Bertoia turned his attention to sculpture, creating scores of public artworks and countless sound sculptures and "Sonambient" record albums, which will be fully examined in this wide-ranging survey.
Recommended: 3 Fascinating New York Exhibitions Focusing on Craft
12. "Tracey Emin / Edvard Munch: The Loneliness of the Soul" at Royal Academy of Arts, London
November 15, 2020 — February 28, 2021
Tapping into Tracey Emin's longtime love of the work of Edvard Munch, "The Loneliness of the Soul" draws parallels between the YBA's heart-wrenching contemporary paintings, sculptures, textiles, and neons and the Expressionist master's iconic canvases and works on paper. Exploring the human condition through themes of grief, longing, and loneliness, the exhibition highlights the similarities between the two artists, along with the differences between a female and male approach to tough subjects related to the shadier side of human existence, which has changed significantly from Munch's troubling times to Emin's media-manipulating era.
Next Post