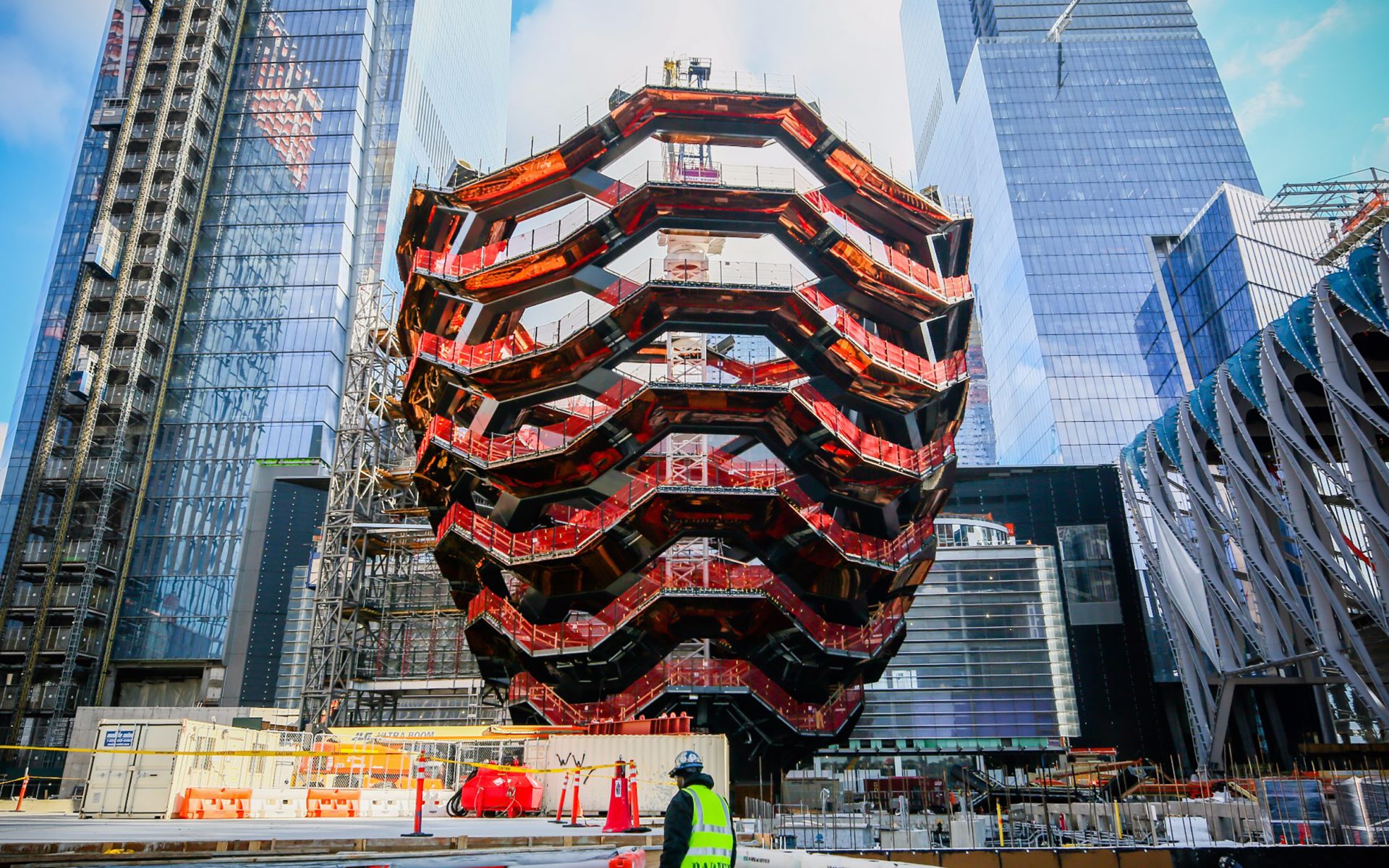 How to Be the First to Climb Thomas Heatherwick's Massive Interactive Sculpture
An early ticket sign-up is now available for those who wish to scale the 150-foot-tall Manhattan installation
As the Hudson Yards development on Manhattan's west side continues to evolve, its Thomas Heatherwick–designed interactive sculpture, Vessel, is accepting entries for early ticket notification, allowing enthusiastic visitors to be among the first to scale the 2,500-step installation.
The sculpture, which has an anticipated opening in spring 2019, consists of 154 interconnected staircases and 80 landings, totaling a mile of walkable pathways. It will be able to hold an estimated 1,000 people at a time. Vessel is made of bronzed steel and concrete and sits at the center of the forthcoming Hudson Yards Plaza, a meticulously landscaped public square set to span five acres.
The early sign-up is an effort to boost anticipation for the sculpture, which developers hope will become a landmark New York City attraction. Signing up now will help visitors to secure a dedicated time slot.
Recommended: New HBO Film Gives Revealing Look at the Art World's Major Players
"Vessel is one of the most complex pieces of steelwork ever made," Heatherwick has previously said. "Today, we are marking the exciting moment when the last of the enormous 75 prefabricated pieces, which traveled all the way from Italy to Manhattan, has been assembled ahead of schedule and with astonishing geometric accuracy."
The $200 million sculpture is being developed by Related Companies and Oxford Properties Group. Once finished, it will provide an architectural counterpoint to another popular attraction—the High Line. Vessel is slated to open to the public next spring.
Next Post