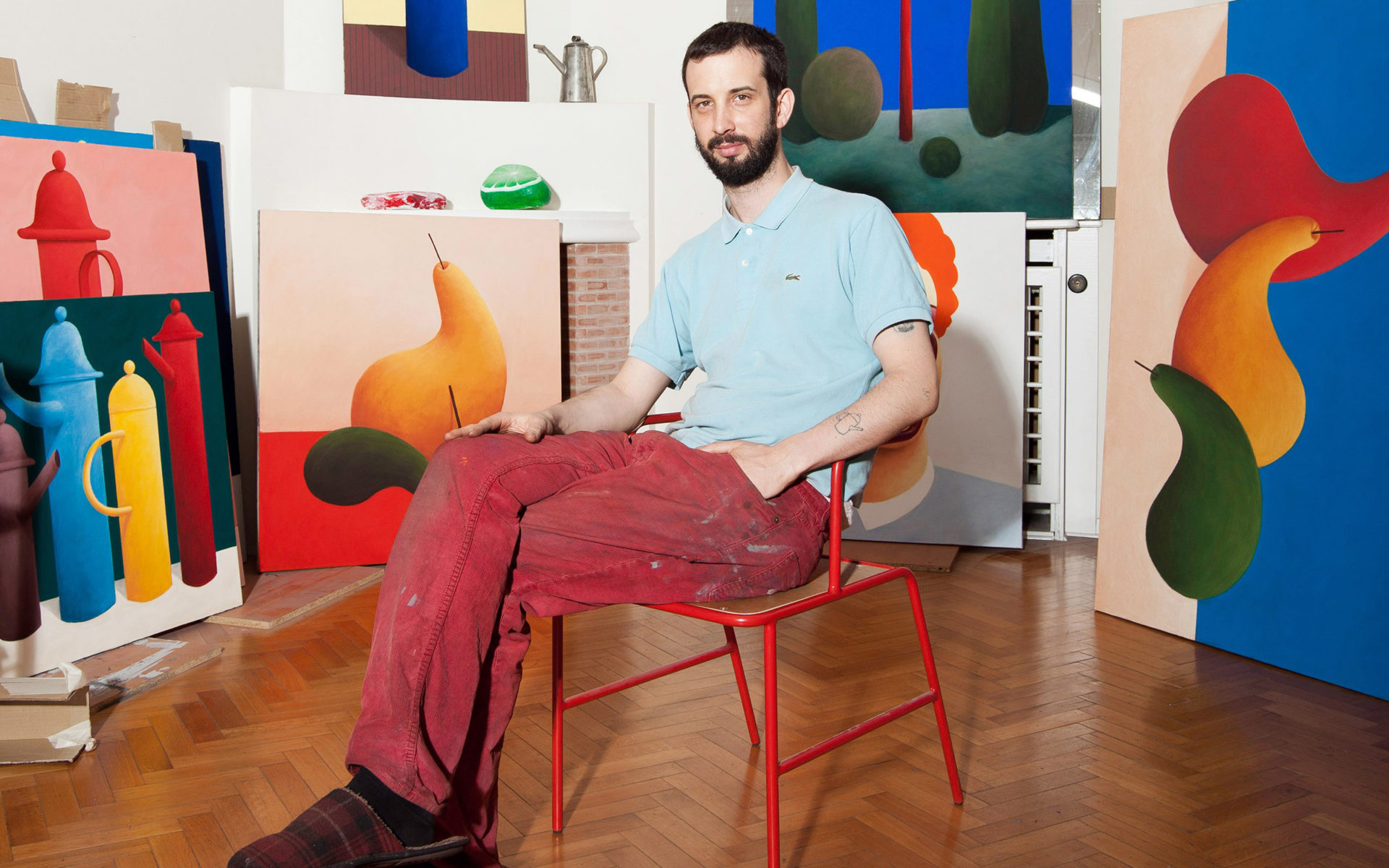 10 Emerging Artists to Watch at Art Basel Miami Beach 2017
See the buzzworthy talents to keep an eye on at this year's fair
Born in Haiti and now based in Montréal, Mathieu completed his MFA from Goldsmith's just last year and currently has a solo exhibition at London's Tiwani Contemporary, on view through December 22. At this year's ABMB, Kavi Gupta is including two of the artist's recent paintings in their booth and will present the artist's first North American solo show in February. Moving fluidly between figurative and abstract gestures, Mathieu's paintings—which are priced between $15,000 and $20,000—are at once personal and political.
Brooklyn-based Rommel is noted for her practice of un-stretching and re-stretching the canvas as she works, a process that results in a visual and almost sculptural recording of her labor, as fields of color are built around one another. New York's Bureau gallery is showcasing two of her works to the fair this year, while Oslo's Standard gallery—where Rommel is currently in a two-person show with Mathew Cerletty—is bringing one. A smaller work by the artist can be had for $12,000, with prices topping out at $45,000.
New York's Foxy Production makes their ABMB debut with a solo booth in the Nova sector dedicated to Cwynar, a Vancouver-born and Brooklyn-based photographer whose work was a hit at MoMA PS1's 2015 edition of Greater New York. Cwynar's conceptual photographs—ranging from $4,500 to $12,000—deal with issues of consumption and materialism, while challenging formal and art historical traditions of photography.
Recent works in varying media by the Swiss-born, Brussels-based Party are at the fair with Xavier Hufkens of Brussels; the Modern Institute of Glasgow; and Kaufmann Repetto of New York and Milan. Party's minimal yet colorful depictions of houseplants, cats, and other typical still-life subject matter have a winsome charm that belies their rigor. Though works on offer here are on the more modest scale, Party also does murals and installations and was recently commissioned by Washington D.C.'s Hirshhorn Museum for Sunrise, Sunset, an immersive depiction of an entire day from dawn to dusk.
As part of ABMB's Public program, Los Angeles-based Honor Fraser gallery is presenting MIA, Youngblood's first sculpture in bronze, on view at Collins Park. Meanwhile, inside the Convention Center, New York's Tilton Gallery includes American Flag, a 2017 painting. Invested equally in both American political history and formal elements of such artists as Jasper Johns and Robert Rauschenberg, Youngblood employs painting, sculpture, photography, and collage in her dynamic practice. An edition of three, MIA is priced at $150,000, while American Flag is $25,000.
A rising star of Chinese contemporary art, Xu is confined neither by medium nor subject matter. For ABMB, Shanghai's Antenna Space presents two installations by the Beijing-based artist within the fair's Positions sector. A series of six Qing dynasty-style ceramics depicting British diplomat Sir Harry Smith Parkes are on display. Also on offer are a series of six large-format lead reproductions of I-Ching covers that were brought from China to Europe in the early 20th century.
For Mexico City–based Martinez's inaugural ABMB outing, Arredondo \ Arozarena gallery (also based in the Mexican capital) presents an installation of photographs and a turntable within the fair's Positions sector. The highly conceptual meditation on sound, silence, and their related aesthetic experiences continues Martinez's long-standing and continually expanding engagement with such subject matter.
Dépendance gallery, of Brussels, is presenting two works by Wächtler within their Nova sector booth. One is a charcoal-on-paper recalling the bottom part of a whale whose front half is already submerged, while the other is an abstracted sculpture of a dog, made of tannish leather. Distinct from each other in form and sensibility, there is an underlying poetry to both. The Hanover-born, Brussels-based Wächtler has had solo shows at the Museum of Contemporary Art, Antwerp and Chisenhale gallery in London, among other venues.
Consisting of French-born Julia Rometti and Belarussian-born Victor Costales, Rometti Costales is a collective based in Mexico City. The pair regularly experiments with new forms of production in their politically-driven work that examines the relationship between humans and our natural environment. For ABMB, Mexico City–based joségarcía gallery presents a selection of recent photographs, several of which are in dialogue with a historical anthropological inventory of textiles and folk art from the Chiapas region of Mexico.
Born in Málaga, Spain, de Miguel now lives in Berlin. Her multivalent practice results in photographs, installations, videos, and other documentation of her research into such issues as the construction of reality, the influence of politics on science, and role of language in humanity. Maisterravalbuena, from Madrid, includes work from several of de Miguel's recent series in their Nova sector booth.
Next Post