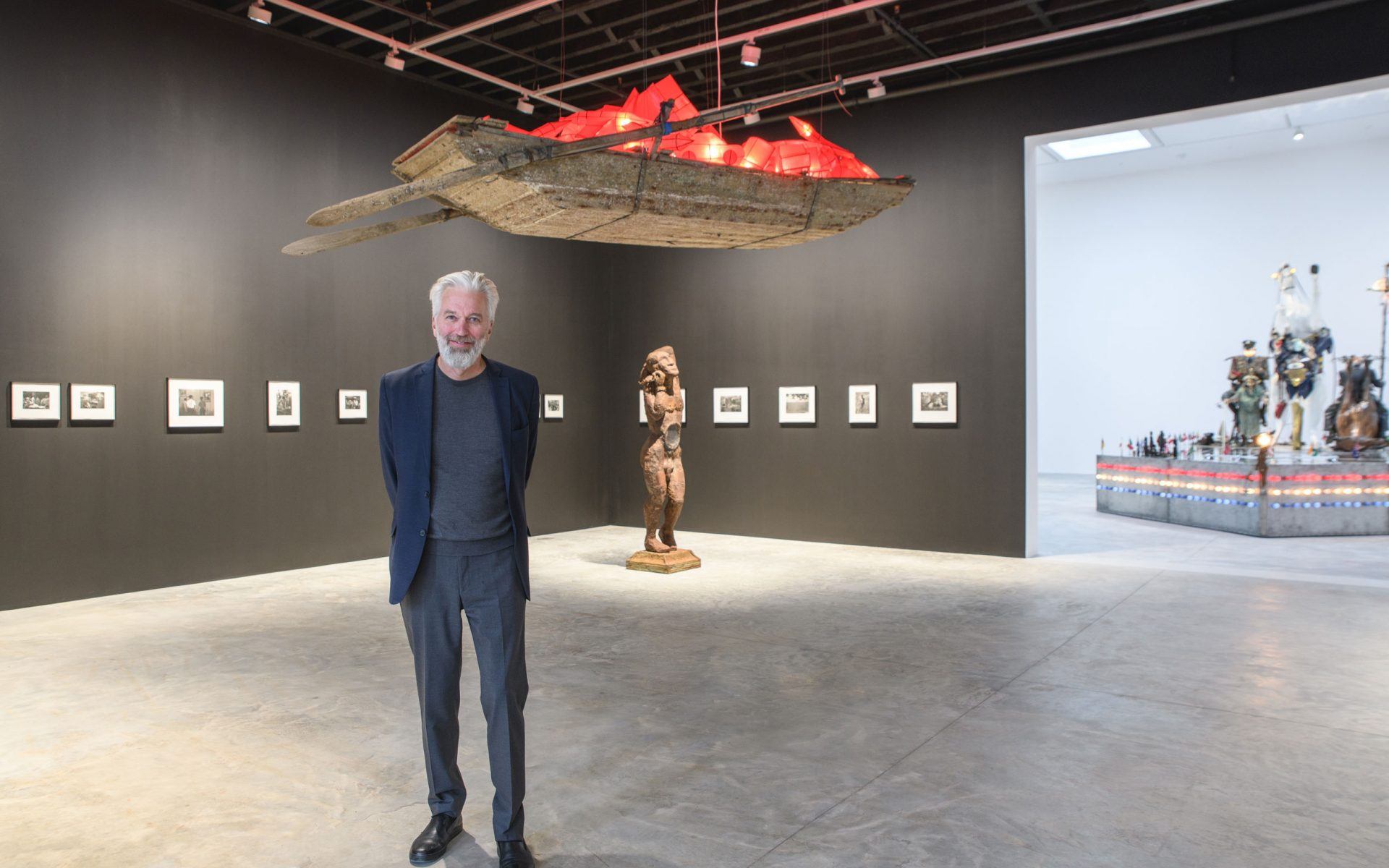 Copenhagen's Faurschou Foundation Opens Brooklyn Outpost
Masterminded by StudioMDA, the Greenpoint art space opened its doors with an ambitious group show featuring exciting work from the U.S., Asia, and Europe
After operating his Copenhagen-based gallery for more than two decades, Jens Faurschou changed gears in 2011 and opened Faurschou Foundation, with locations in the Danish capital and Beijing, as well as a rotating space in Venice. "Each location constitutes different challenges," Faurschou tells Galerie.
The challenge, however, is inspiring for the collector and adviser, who recently expanded his foundation's outreach across the Atlantic with a storefront space in the north Brooklyn neighborhood of Greenpoint. "Extending our institution to the U.S. fulfills our vision of cross-cultural exchange between the East and the West through our programming and provides an opportunity to foster meaningful dialogue between our spaces and their unique cultural contexts," he says.
Dotted with Polish mom-and-pop shops, trendy boutiques, and artist studios, Greenpoint is home to a flourishing creative community. In its first days, the neighborhood newcomer was visited by locals and art aficionados from all boroughs, eager to discover the area's first major art museum—a former shoe factory transformed into a single-floor exhibition venue by Tribeca architecture firm StudioMDA, run by Markus Dochantschi.
Inside, the inaugural exhibition, "The Red Bean Grows in the South," offers a sliver of Faurschou's art collection, which he started to amass in the 1980s, with a vision to bridge Western contemporary art with that of China. Suitably, the exhibition juxtaposes cherrypicked artworks from both parts of the globe, intertwined into a meditation on politics of war, love, death, and desire. From Cai Guo-Qiang and Yu Hong to Tracey Emin and Louise Bourgeois, the 17-artist roster reflects experiences of war-torn geographies and lovelorn hearts in a variety of media spanning mundane objects and industrial materials, unfolding over consecutive mini-sections, each orchestrating a distinct statement on overarching themes of compassion, glory, and loss.
Recommended: Inside the Dazzling New Wing at the Montreal Museum of Fine Arts
The show's title refers to a line from Tang dynasty–era poet Wang Wei's poem Love Seeds, which assumes the red beans' traditional connotations of love and yearning. The sentiment is embodied in Two Figures (2018), Ai Weiwei's plaster sculpture of himself and an anonymous Brazilian woman splayed on a mattress partially covered in ormosia seeds that visually echo the red beans of the artist's hometown. A poet's son, Ai, in fact, introduced the poem to Faurschou.
Inside a corner gallery, Emin's pink neon text-based work The More of You the More I Love You reflects its aching desire onto the gleaming skin of Bourgeoise's large-scale bronze sculpture, The Couple, of two lovers melded into a single blobbed body. Another pairing does not shy away from catching visitors off-guard with its alarming view of man-made terrors: Yoko Ono's single-channel video Happy Xmas (War Is Over) (1971–2003) runs devastating images of war in company of the eponymous song written by Ono and John Lennon; Robert Rauschenberg's The Lurid Attack of the Monsters from the Postal News, August, 1875 (Kabal American Zephyr) (1981–82) is a wood and aluminum carriage wrapped in war images and crowned with curved saws, hauling terrors of political conflict similar to those appearing in Ono's video across its body.
Faurschou's curatorial vision to unveil the space stemmed from the conversation between Mit Roter Fahne (1965), Georg Baselitz's painting of an exasperated soldier carrying a red flag and Paul McCarthy's phantasmagorical mixed-media sculpture of a deformed cowboy on horseback, CSSC, Frederic Remington Charles Bronson (2014–16), both tapping into representations of failed masculinity and bygone glory.
Bookending the curation process was Edward and Nancy Reddin Kienholz's room-filling showstopper installation, The Ozymandias Parade (1985), a potpourri of flea-market-sourced objects and references about loss of political and internal authority that is spread across a glass platform lined with national flags and colorful lightbulbs.
"The Red Bean Grows in the South" is open through April 11, 2020, at Faurschou Foundation, 148 Green St, Brooklyn, New York. 
Next Post