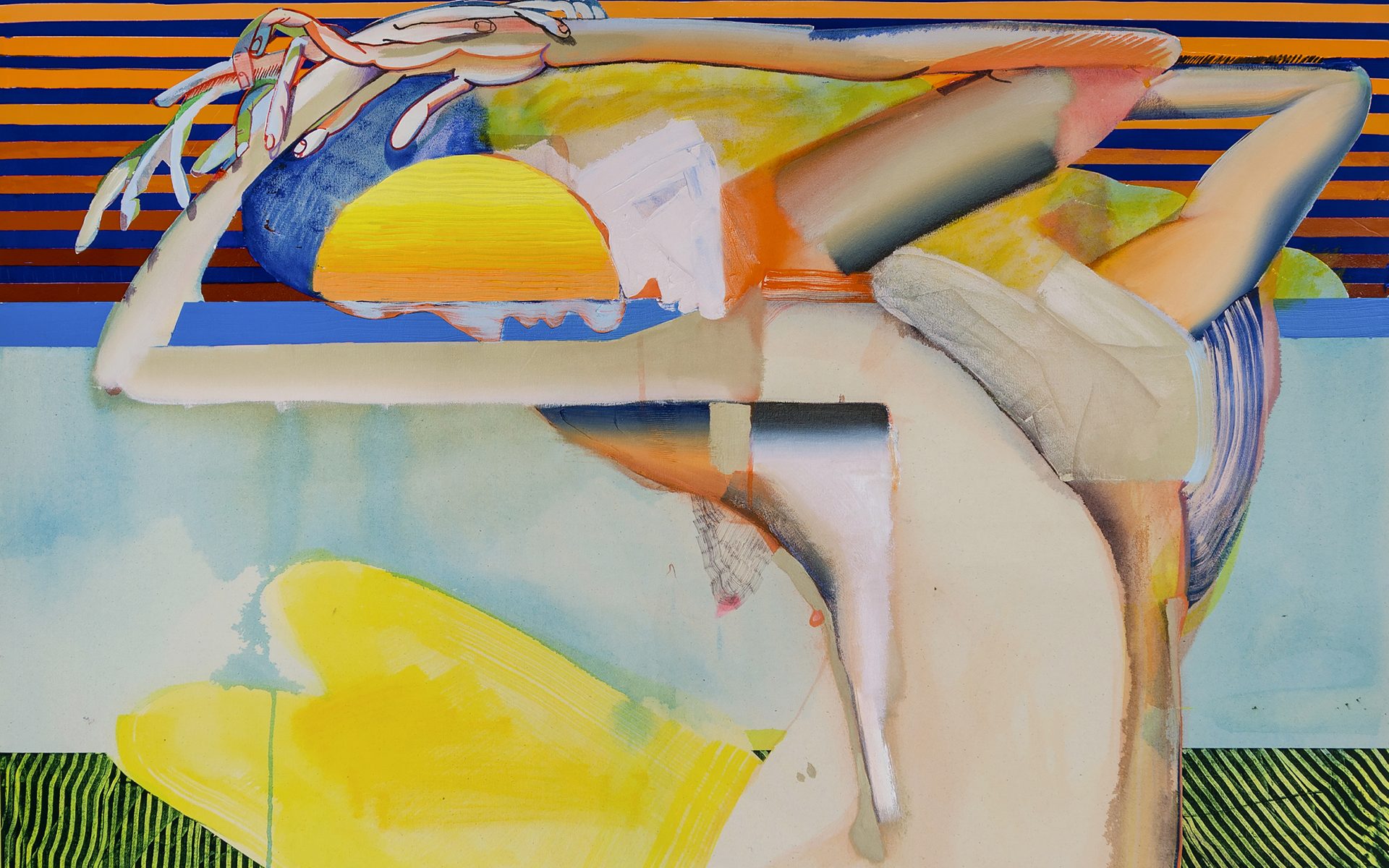 Christina Quarles's Magnetic Paintings Are a Hit at 'Made in L.A.'
The Los Angeles–based artist is a stand-out at this year's Hammer Museum biennial
Christina Quarles's paintings lie somewhere between figuration and abstraction, stretching the human body over the canvas in tangles of bent and elongated limbs.
Their outlines are loosely defined by washes of pastels that run and bleed together, taking on ambiguous, almost liquid properties. Arms and legs slip through the walls, floors, and tables implied by the artist's patterned surfaces, and then come shooting out the other side.
This transgressive fluidity forms the central theme of Quarles's practice, defying the rigid definitions placed on the human experience.
"My work is very much informed by the edge of the frame and the boundaries that demarcate the self," says the Chicago-born, Los Angeles–based biracial artist, who understands that identity exceeds the limitations of labels.
"As someone who was born to a white mother and a black father, I always felt that the term 'mixed' was insufficient."
In "Made in L.A. 2018," the fourth iteration of a biennial focusing on the area's artists, which just opened at the Hammer Museum in Los Angeles (and runs through September 2), Quarles's bodies are about to become amplified in a multiple-canvas installation occupying a 16-by-21-foot wall.
Recommended: The Ultimate Art-Lover's Guide to Los Angeles
Magnetic as they are, the works will easily sustain the increased public attention. As her Miami gallerist, David Castillo, explains, recalling his first encounter with Quarles's work when she was a student at Yale (she completed her MFA in 2016): "They drew me in, on a personal level." Expect to be drawn in, too.
A version of this article first appeared in print in our 2018 Summer Issue in the section called Trending Talent. Subscribe to the magazine.
SaveSave
Next Post