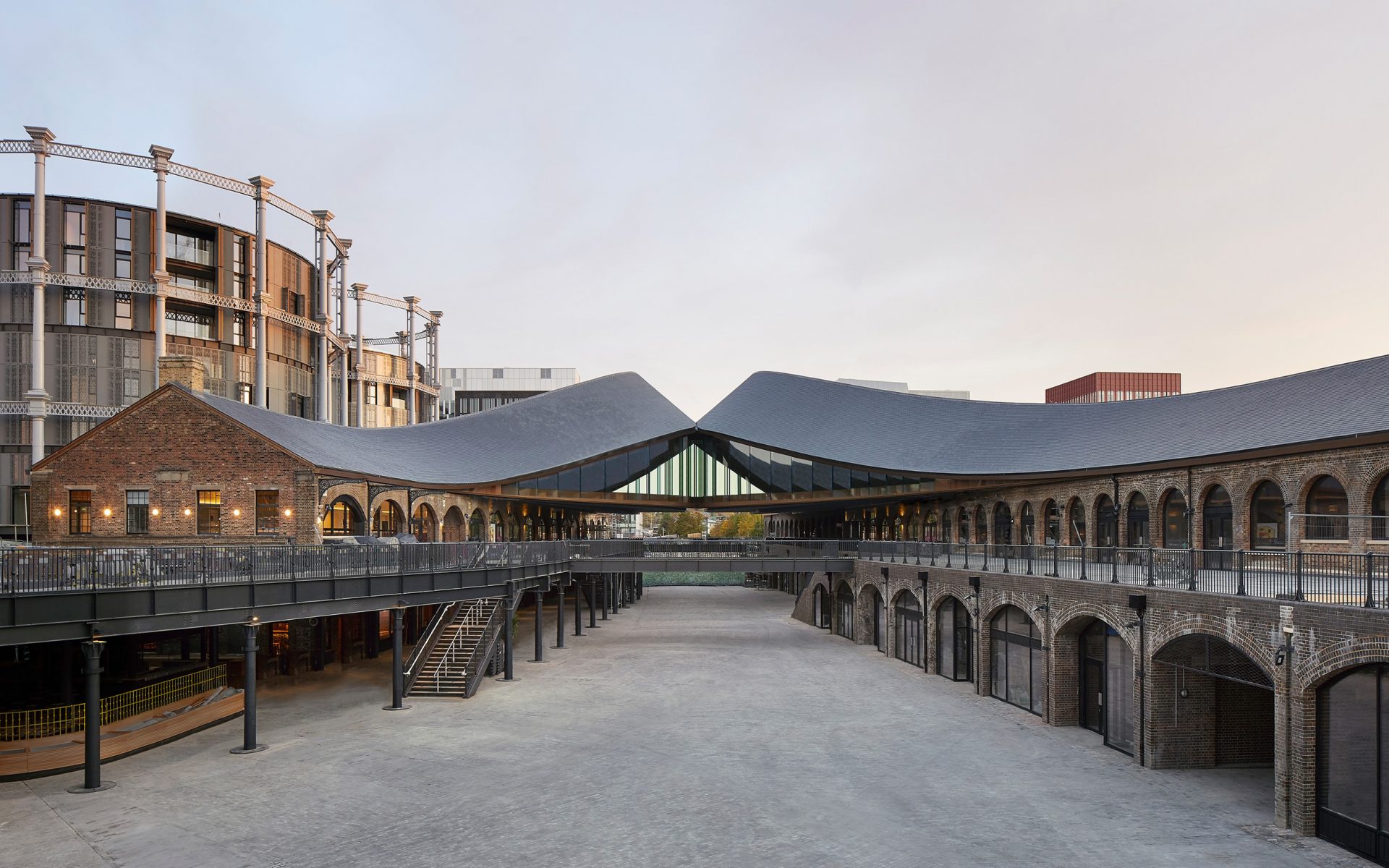 Thomas Heatherwick Transforms Victorian Warehouses into a Dazzling Shopping Center
Heatherwick Studio took two 19th-century coal warehouses and made them into a contemporary London landmark
A pair of 19th-century warehouses have been completely reimagined by Heatherwick Studio as a new shopping center in London's Kings Cross district.
The structures' undulating roofs converge over a central plaza at a spot that designer Thomas Heatherwick jokingly said some of his team refer to as the "kissing point." It's those sweeping rooftops that just may make the project a contender for the city's next landmark.
Like much of Heatherwick's portfolio—whose highlights include the United Kingdom's pavilion at the 2010 Shanghai World Expo and the interactive sculpture Vessel, set to open at New York's Hudson Yards in 2019—Coal Drops Yard treads the line between architecture and urban planning. In an age where online shopping is increasingly popular, the studio had to consider how a shopping space like this might also function as a center for social engagement. Ultimately, it conceived the central plaza as a potential venue for live music and other performances.
Recommended: VIDEO: Take a Tour of the Newly Expanded Glenstone Museum
Heatherwick honored the history of the warehouses, which were used to house coal in the Victorian era, by keeping the original color palette and building materials. The rolling roof is even made of Welsh slate, as the structures' previous roofs were.
Inside the new retail development—Heatherwick's fourth—are some 100,000 square feet of retail and café spaces, including a Samsung outlet, a Paul Smith store, and a new headquarters for lighting and product designer Tom Dixon. Notably, Coal Drop Yards will also allocate a few small gallery spaces for graduates of the nearby Central Saint Martins art school.
Heatherwick and his firm are currently working on projects in Singapore, Shanghai, and the United States, including a new office for Google in California and a floating park at New York City's Pier 55.
Coal Drops Yard, located on Stable Street in London, is now open to the public.
Next Post