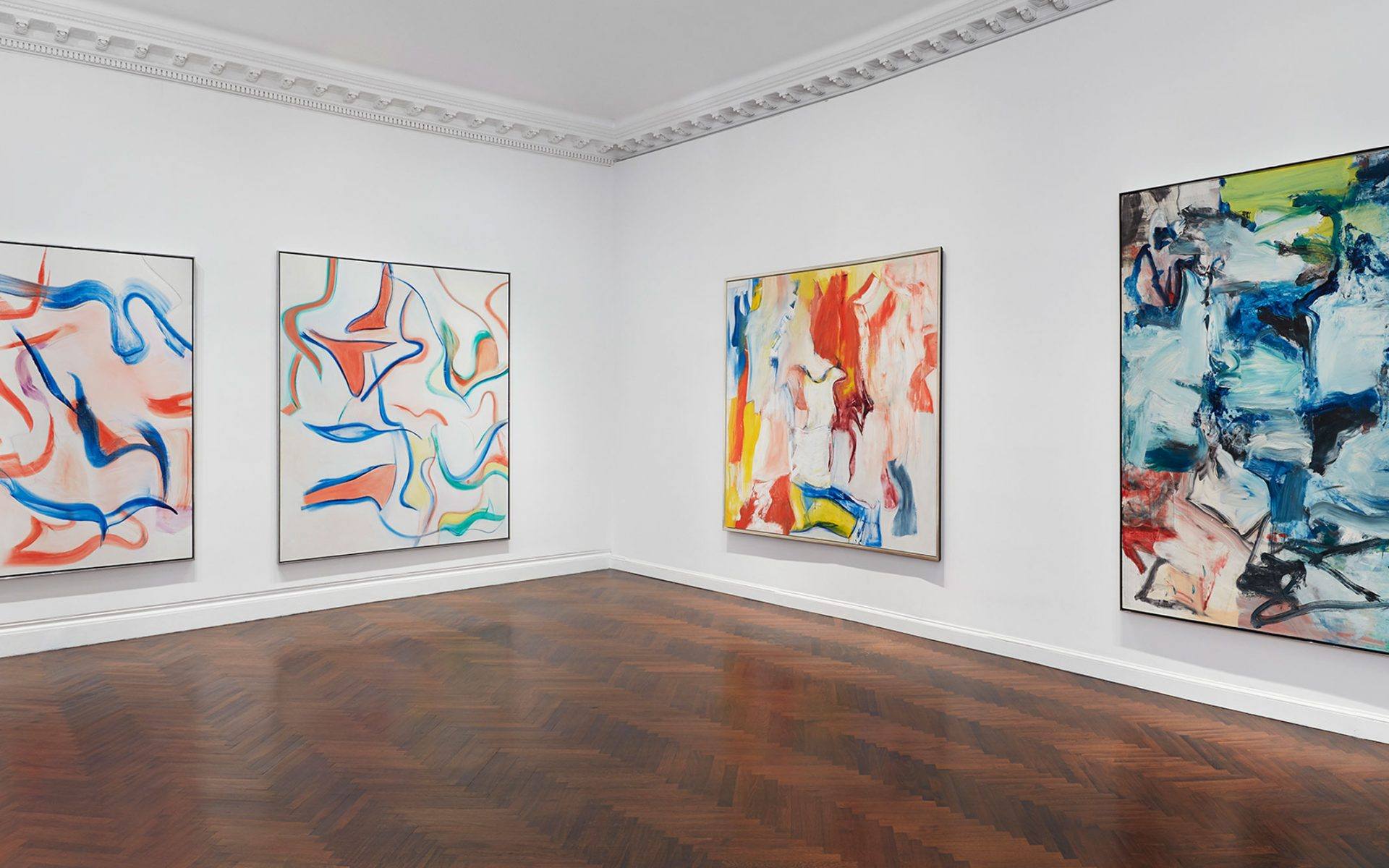 5 Museum-Quality Gallery Shows to See in New York Right Now
From Mnuchin Gallery's career-spanning De Kooning show to 'Picasso's Women' at Gagosian
Although New York's major art museums—The Met, MoMA, Guggenheim, and Whitney—charge adults a $25 admission fee, exhibitions at the city's hundreds of art galleries can be accessed free of charge. Nevertheless, it's not often that galleries meet museum standards for scholarly exhibitions with in-depth investigations into an artist's body of work and major loans from private and institutional collections to support it, but when they do it can be an enlightening experience.
Rounding up a selection of exceptional exhibitions at Upper East Side and Chelsea galleries, we take you on a timely tour of museum-quality shows that definitely deliver the goods.
1. Lucian Freud: Monumental
Acquavella Galleries, 18 East 79th Street
Through May 24
Engagingly curated by David Dawson, Freud's assistant from 1991 to 2011 and the director of the Lucian Freud Archive, this striking survey presents 13 large-scale portraits of celebrated British painter's naked subjects, including the larger-than-life performance artist Leigh Bowery and his friend Sue Tilley, a government benefits supervisor who was lovingly known as Big Sue. The grandson of psychoanalyst Sigmund Freud, the Berlin-born, London-based artist relished in an extreme examination of the human body rather than that of the mind.
Recommended: VIDEO—Take a Look Inside the 2019 Whitney Biennial
Borrowing major paintings from The Met, the Art Institute of Chicago, and numerous private collections, the gallery exhibits the realist painter at his fleshy best, along with a couple of surreal twists, such as Sunny Morning—Eight Legs, which captures a naked Dawson reclining with a sleeping whippet as another pair of legs pop out from under his bed, and Large Interior, Notting Hill, where Dawson's face on a nude nursing a baby has taken the place of a famous model who stopped showing up to pose. "The painting's had a sex change," Freud amusingly told William Acquavella. "Jerry [Hall] didn't show up for two sittings, so I changed her into a man."
2. De Kooning: Five Decades
Mnuchin Gallery, 45 East 78th Street
Through June 15
Highlighting key moments from every decade of Willem de Kooning's mature career, this smart show offers 28 important paintings, drawings, and sculptures by the modern master. Featuring loans from the Guggenheim Museum, Glenstone, and several private collections, the exhibition follows the Rotterdam-born, New York–based artist from the beginnings of Abstract Expressionism in the late 1940s, when his studio was located in Union Square, to his funky figurative bronzes of the 1970s and the sublime canvases that isolated brushstrokes in patches of soft-white overpainting from the early 1980s, when he was living and working in East Hampton.
There are nearly a dozen paintings and drawings from his famous "Woman" series, which brought the figure into his action paintings. Standouts in the series include the painting on paper Woman, which has a second sardonic face emerging from the figure's torso; Monumental Woman, a dynamic charcoal drawing that the artist dedicated to the venerable art critic Harold Rosenberg; and his prized painting Woman III, where the rambunctious De Kooning wielded his brush like a sword, aggressively attacking the canvas to heroically bring his imaginary femme fatale to life.
3. Picasso's Women: Fernande to Jacqueline
Gagosian, 980 Madison Avenue
Through June 22
Billed as a tribute to art historian and Picasso scholar Sir John Richardson, this remarkable selection of paintings and sculptures by the commanding Spanish painter focuses on the many inspiring women in Picasso's audacious life. Making his wives and lovers the muses in his evolving painting styles, Picasso painted his Bateau-Lavoir passion Fernande Olivier as a robust pink nude in his Rose Period mode and his first wife, the Russian ballet dancer Olga Khokhlova, in a neoclassical manner and later as a frightening character raging with jealously when she found out about his affair with Marie-Thérèse Walter, whom he portrays most amorously in a surreal way.
Recommended: In Honor of Sir John Richardson, We Take a Look at His Most Beloved Homes

The French photographer Dora Maar also gets the surreal treatment, when physically merged with Walter in a couple of eccentric canvases and with Isabel Rawsthorne, an artist and model who was Alberto Giacometti's Parisian lover and later Francis Bacon's London bar mate and muse, in a fantastic 1940 painting, where the shifting facial features anticipate Bacon's technique of monstrously distorting his subject's looks. More tenderly, Françoise Gilot is portrayed as an abstracted figure merging with a flower in a grisaille canvas and as a pregnant nude in a bronze sculpture, while his last wife—Jacqueline Roque, whom he met in a Vallauris pottery shop when she was 26 years old and he was 72—is best captured in a black-and-blue painting of a two-faced fractured bust, which oddly reveals facets of all of the women Picasso painted and loved.
4. Piero Manzoni: Lines and Materials of His Time
Hauser & Wirth, 548 West 22nd Street
Through Jul 26
Presented on two floors of the former Dia Center for the Arts in Chelsea as two concurrent exhibitions, these shows offer an overview of Manzoni's use of lines and unconventional materials in his groundbreaking artistic processes. Curated by Rosalia Pasqualino di Marineo, director of the Piero Manzoni Foundation in Milan, the exhibitions are focused on the celebrated Italian artist's straightforward assemblage of everyday substances to make monochromatic paintings and his employment of singular lines on paper to create conceptual artworks.
Designed by architect Stephanie Goto, the layouts of the exhibitions channel visitors through the various bodies of work in a decisive yet adventurous way. "Materials" presents the artist's fascinating Achromes (paintings without color), constructed from cotton-wool squares and balls, natural and synthetic fibers, sewn together fabric, painted bread and sheets and balls of polystyrene on the gallery's second floor, while his lines on individual sheets and rolls of paper are intriguingly packaged on the third level. Varying in lengths from a 19-inch brushed line across the width of a piece of paper to a 23,622-foot line on a giant scroll of paper that Manzoni painstakingly inked by hand at a newspaper's printing press in Denmark in 1960, "Lines" exhibits art in its purest, most conceptual form.
5. Joan Mitchell: I Carry My Landscapes Around with Me
David Zwirner, 537 West 20th Street
Through June 22
Making marks in a highly gestural manner, Mitchell was one of the few female artists associated with the American Abstract Expressionist movement, even though the Chicago-born painter spent most of her life after 1959 living and working in France. Exhibiting at Zwirner in the first solo show since the gallery started representing the artist's estate in 2018, this concentrated exhibition presents nine multipaneled abstractions that interpret aspects of nature in a variety of ways.
Made between 1967 and 1992, the year of Mitchell's death at age 67, the abstract canvases bring sunflowers, rivers, and rural terrains to life in a flurry of layered and beautifully balanced brushstrokes. The painting La Seine—on loan from the Governor Nelson A. Rockefeller Empire State Plaza Collection—consists of four panels of action and color flowing together to create a view of the legendary river from the artist's home and garden, which overlooked it just north of Paris. Her four-panel canvas Minnesota captures the sun brightly burning across the plains. And the diptych Sunflowers depicts an assortment of the giant blooms in an array of colors, which—like most of Mitchell's marvelous work—expresses an emotional response to the scene rather than a mere realistic portrayal.
Next Post