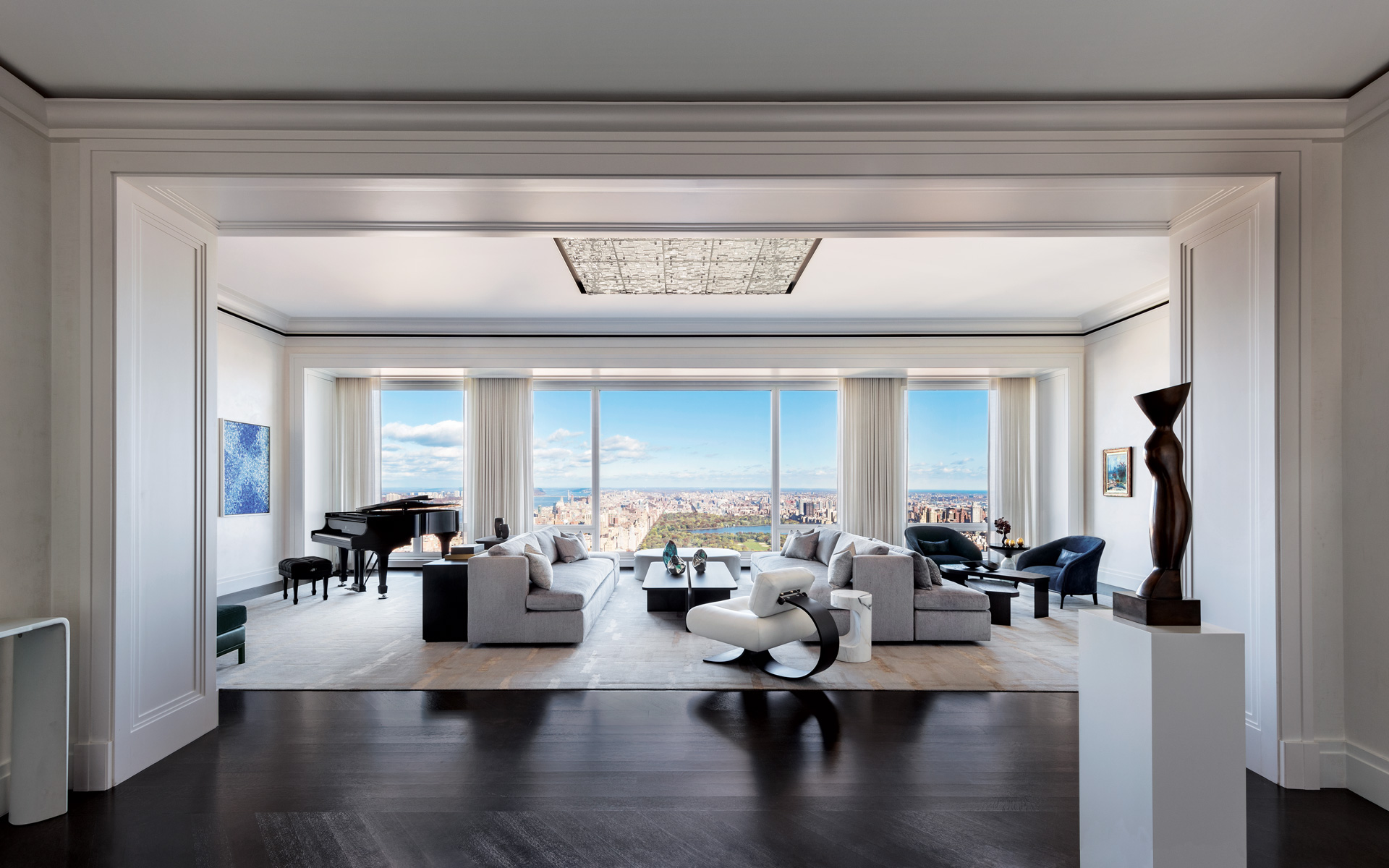 Atop of One of Manhattan's Tallest Skyscrapers, This Apartment Brings Together Architectural Pedigree with Masterful Works of Art
The firm TenBerke adds a warm, modern touch to a family residence whose design is as elevated as its views
When the architecture is classically pure and the wraparound views are breathtaking, the tiniest details in the interior decoration make all the difference. So it is with a family's three-bedroom apartment in a sky-high limestone tower overlooking New York's Central Park. Perfectly placed furnishings, all clean-lined and low profile, make sure not to distract from the views. A muted palette, striking an optimal balance of light and dark, allows a wide-ranging art collection to shine. A subtle interplay of textures and materials adds visual and tactile appeal.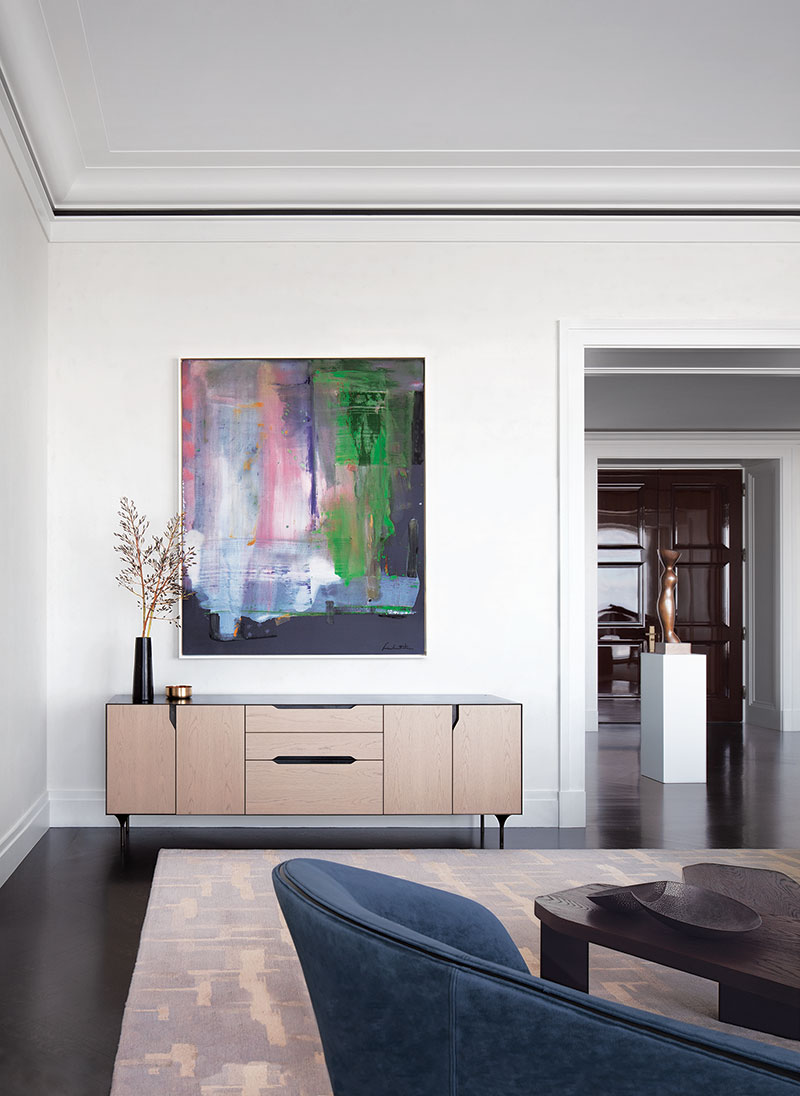 The 4,600-square-foot home is on an upper floor of a 70-story building designed by Robert A.M. Stern Architects, completed a few years ago on Billionaires' Row—so called because of the neighborhood's profusion of überluxe skyscrapers. The owners, a couple with two young adult children, sought to create a serene environment in which to live comfortably, entertain on a fairly large scale, and showcase their art—a sublime mix that includes works by Henri Matisse, Pat Steir, Mark Bradford, and Miya Ando, among others.
They found a kindred spirit in architect Deborah Berke, a master of fine details. "They loved our aesthetic," she recalls. "I think they also appreciated our knowledge of art and the sensitivity to its placement in the presence of the jaw-dropping views."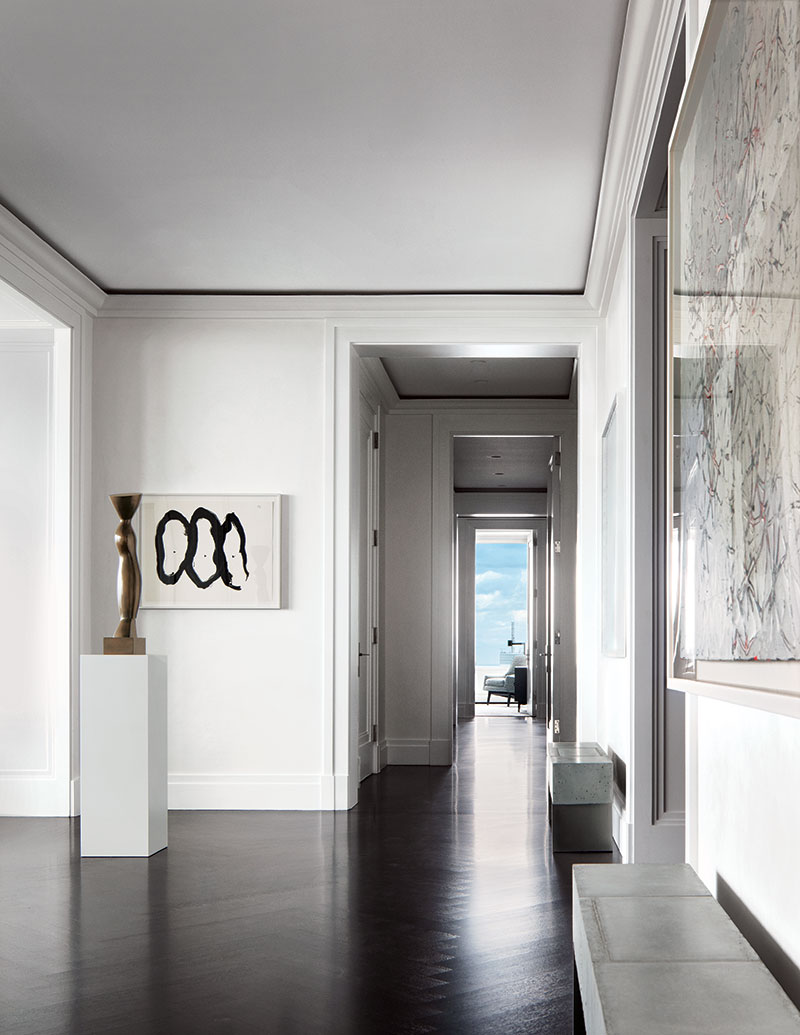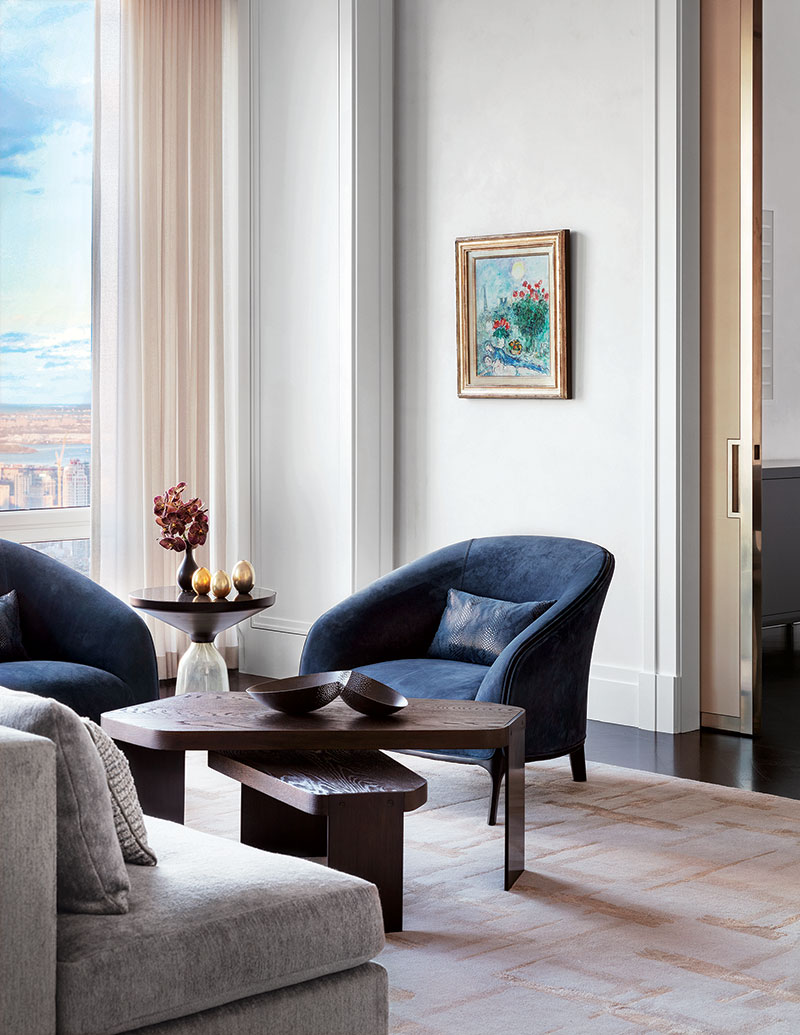 Berke's firm, founded in 1982 and recently renamed TenBerke, specializes in a warm version of modernism, defined by orderly yet inviting, deeply imaginative spaces. The award-winning practice has overhauled institutional buildings to refined effect at Princeton, Harvard, and the University of Pennsylvania; conceived a sleek 20-story residential tower on the Upper East Side; and transformed a former Buffalo, New York, mental hospital and an Oklahoma auto plant into stylish, inviting boutique hotels. Berke and her team have also designed luxuriously minimal houses across the country, many of them in New England and the Hamptons.
"Our residential projects are always rooted in their surroundings, drawing inspiration from as well as framing their settings," Berke says. "We are always inventing new ways to connect back to key views and to pull experiences into the moment."
"We are always inventing new ways to connect back to key views and to pull experiences into the moment"

Deborah Berke
Modest but significant interventions in the apartment include swapping out the living room's dark-wood pocket doors for ones covered in light-beige suede, applying marmorino plaster to the walls in the entertaining spaces, and darkening the unstained oak floors. Throughout, decorative elements were kept elegantly subdued.
"The dark flooring grounded everything and also allowed us to have subtle furniture in muted colors to connect with the natural light," says TenBerke principal Caroline Wharton Ewing, who oversaw the renovation and coleads TenBerke's interiors department. "Everything is a little understated."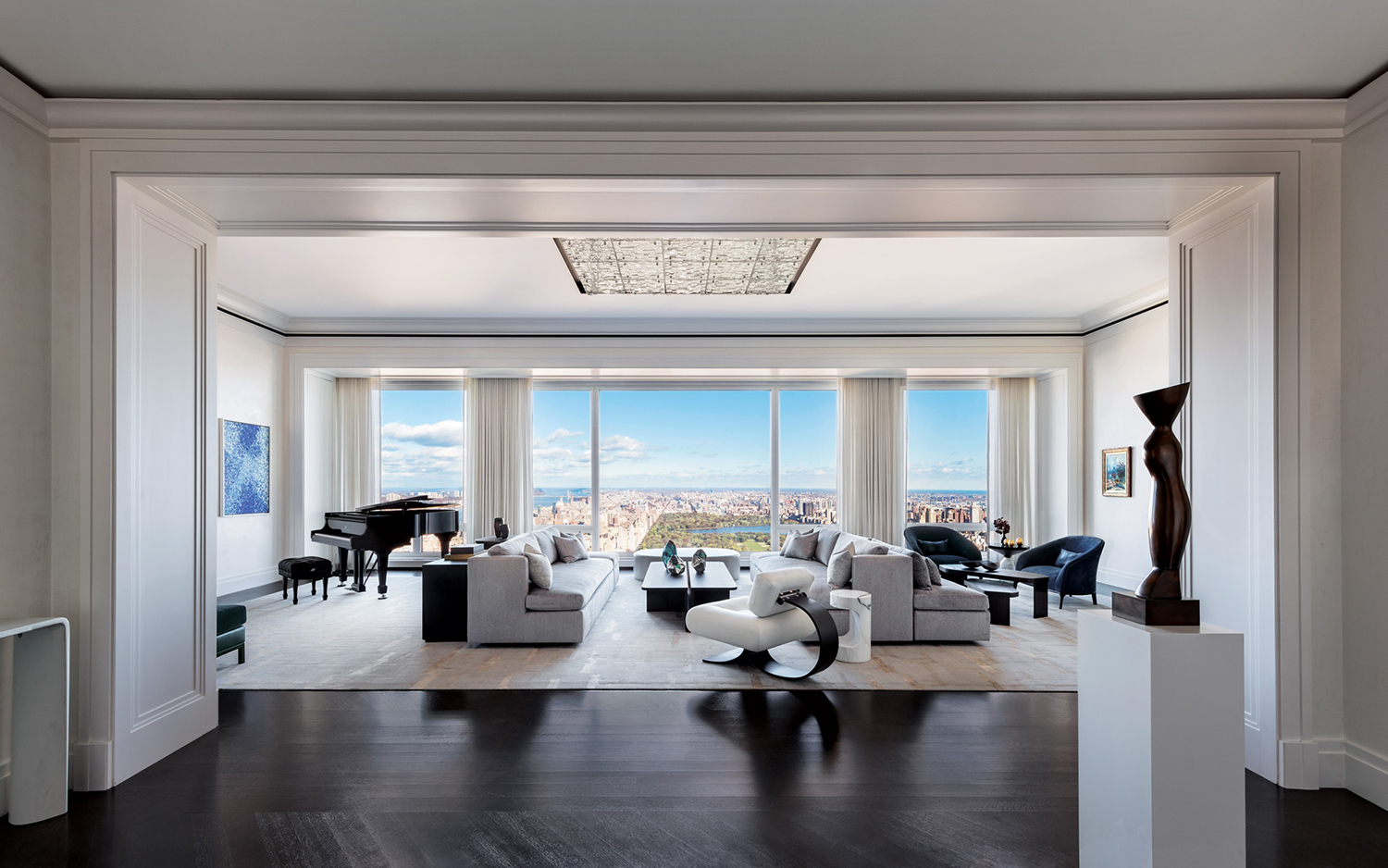 The entry to the apartment sets a Zen-like tone. Concrete furnishings in the form of a slender console by Tadao Ando and low benches by Eric Slayton quietly complement a minimalist bronze figurine by Jean Arp and the swooping brushstrokes of a black-and-white work on paper by Robert Motherwell.
In the living room just beyond, where expanses of glass In the living room just beyond, where expanses of glass offer sweeping park views, a variety of seating arrangements can comfortably accommodate an intimate tête-à-tête or a full-out party. Custom-made sofas, including a clever multifunctional back-to-back set, flank a statement-making sculptural chair by the Brazilian modernist Oscar Niemeyer. Nestled along one side of the room are two navy leather armchairs that make an inviting nook for sunset drinks.
"The calm you sense in this apartment is exactly what its owners wanted"

Deborah Berke
In a corner at the room's opposite end, the husband's Steinway piano perches next to one of Chung Sang-Hwa's meticulously painted grid canvases, in luminous blues, a work that nods to the homeowners' growing interest in South Korean artists. Bright colors are reserved for the artworks here, including a small yet potent painting of flowers by Marc Chagall and an abstract canvas by Helen Frankenthaler awash in springtime hues.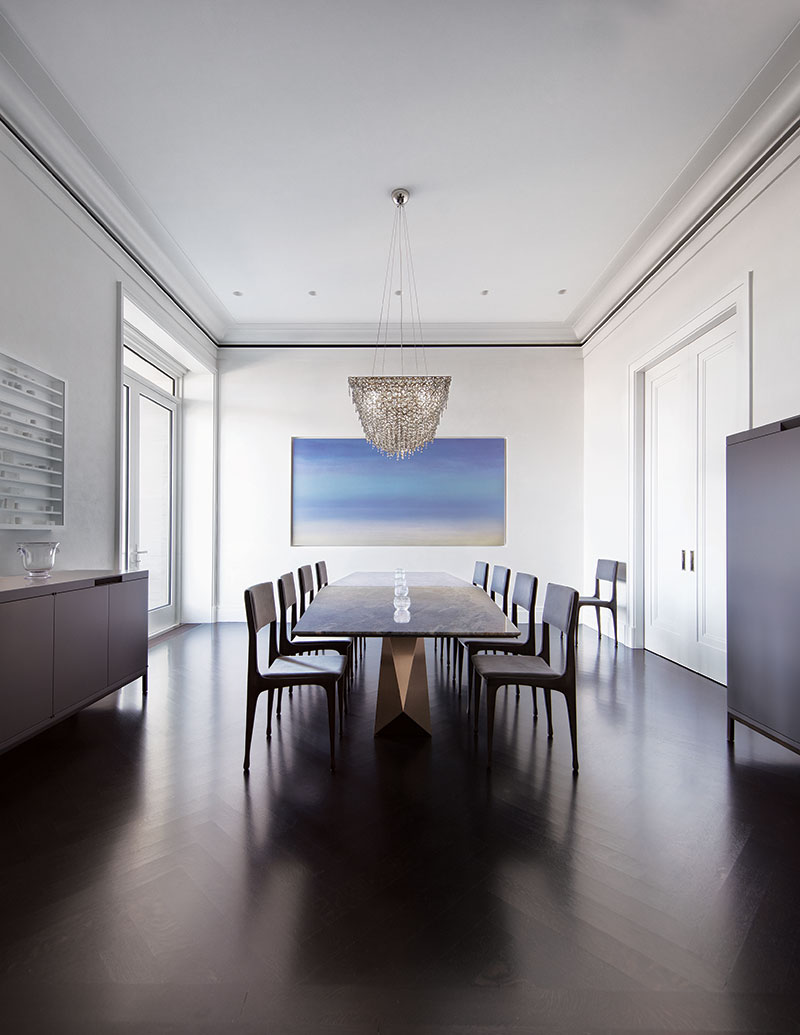 The dining room is anchored by an Egg Collective table whose gray marble top was customized to be slightly wider in the center, a request by the wife, so that diners perched on slim 1950s Carlo de Carli chairs can better see one another from all angles of the table. Presiding over the space are two large, singular works of art: a ceramic installation by master potter Edmund de Waal and a mesmerizing painting on aluminum by Japanese American conceptual artist Miya Ando, who suggested that her commissioned piece be recessed into the wall. Its fields of restful blue recall the azure skies visible throughout the residence.
"The calm you sense in this apartment is exactly what its owners wanted," says Berke. "It celebrates New York through the views and the creative richness of the city through the art and furnishings." But, she adds, "it's also very much a real retreat from urban stress."
A version of this article first appeared in print in our 2023 Fall Issue under the headline "Take It To the Top." Subscribe to the magazine.
Next Post