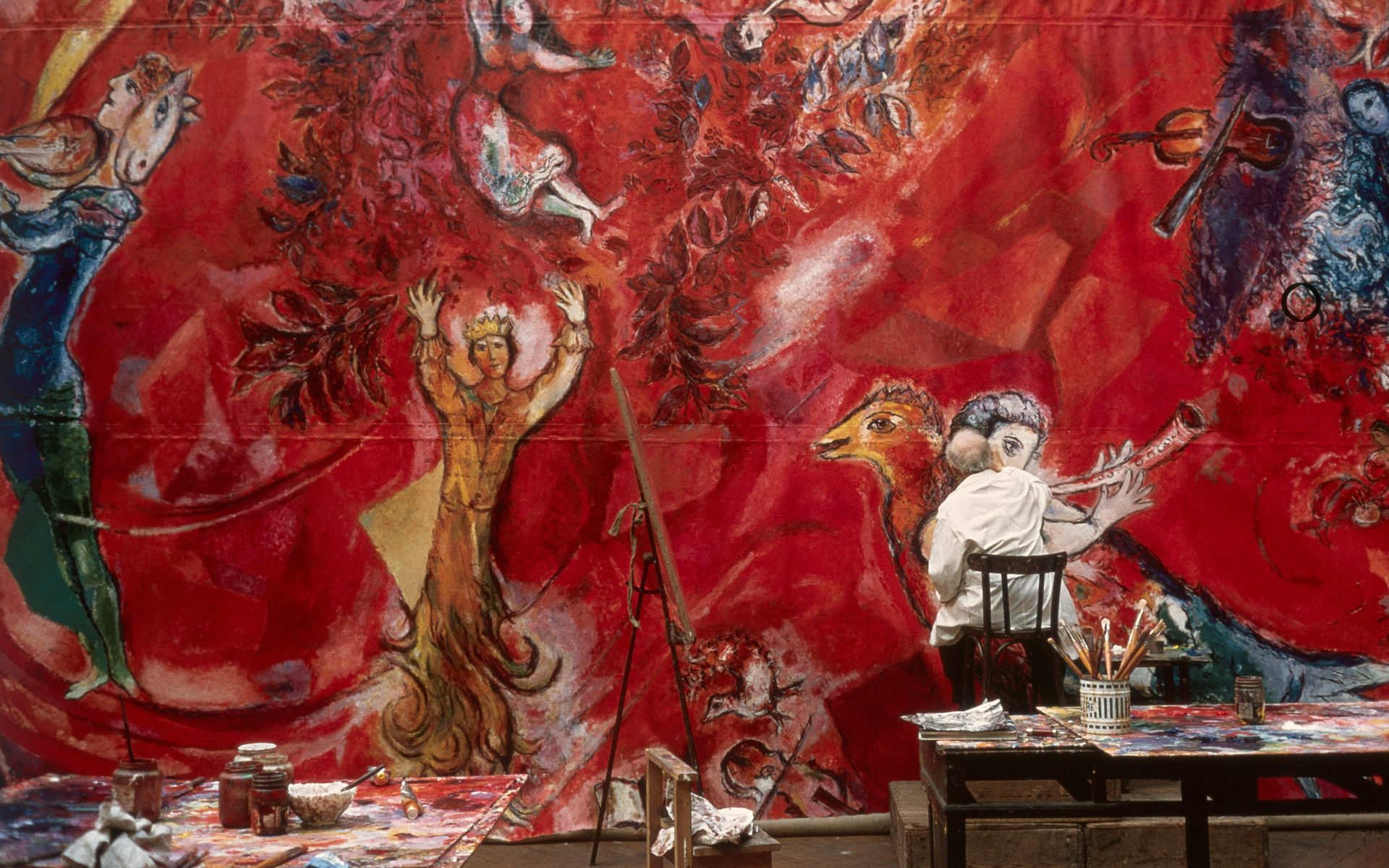 Marc Chagall Takes Center Stage with Fantastical Costumes and Set Design At LACMA
A survey of the painter's lesser-known theater designs are a life-size voyage into the surreal
The late Belarusian painter Marc Chagall is beloved for his dream-like landscapes, hyper-saturated with color and populated with weightless characters. But the Los Angeles County Museum of Art's newly opened exhibition, "Chagall: Fantasies for the Stage," casts the spotlight on his lesser-known works in costume and set design, inviting visitors into a total immersion of Chagall's vividly colored imagination.
The exhibition, on view through January 7, focuses on four major productions of Chagall's design: the ballets Aleko, The Firebird, and Daphnis and Chloe, and opera The Magic Flute. Throughout his career, Chagall had a great admiration for these composers—Tchaikovsky, Stravinsky, Ravel, and, above all, Mozart—and approached his paintings like silent compositions, inspired by music's ability to fill boundless spaces.
"Music was an essential part of his life," says LACMA curator Stephanie Barron, "so to do costumes and sets for something that would be performed to music was very much in keeping with something he loved." The memories of his childhood in a Hasidic shtetl that recur throughout his paintings—namely, the wandering klezmer violinist, often found floating alongside various livestock—made their way to the stage. In 1942, shortly after he arrived in New York in exile from Nazi-occupied France, the Ballet Theater of New York commissioned him to design the costumes and backdrop for Aleko by friend and fellow Russian Léonide Massine, and choreographed to Tchaikovsky's Trio in A Minor.
Each production that followed was imbued with an extraordinary color and flair; Chagall painted directly onto the costumes and collaged fabrics like layers of watercolors. His particularly memorable cow from The Magic Flute wears turquoise eye shadow and magenta ostrich feathers. At its 1967 opening, the opera's backdrops were met with rave reviews, save from a few critics irritated by the art's seeming efforts to upstage the music.
"A lot depends on which you want more, Mozart or Chagall," John Canaday wrote in 1967 in a review in The New York Times. "This reporter has a greater weakness for Mozart, which made the evening extremely wearing for him."
By design, the exhibition itself serves as a life-size replica of Chagall's world. "It was very important to me that this presentation feel very much like it belonged in the theater," says Barron, who commissioned Yuval Sharon for the show. As the artistic director of the L.A. opera the Industry, Sharon has staged performances in warehouses, parking lots, and escalator corridors. "I don't know that he's ever designed for a museum exhibition," Barron adds, "but I really admired some of his experimental productions."
Sharon, with visual artist Jason H. Thompson, gave the gallery a dramatic transformation, elevating the costumes on stages and illuminating them with footlights. The works are foregrounded by velvet curtains and large-scale projections of Chagall's paintings and backdrops, and as music floats through the exhibition, radiating from some invisible orchestra pit below, Chagall's visions are once again full of life. lacma.org 
Next Post