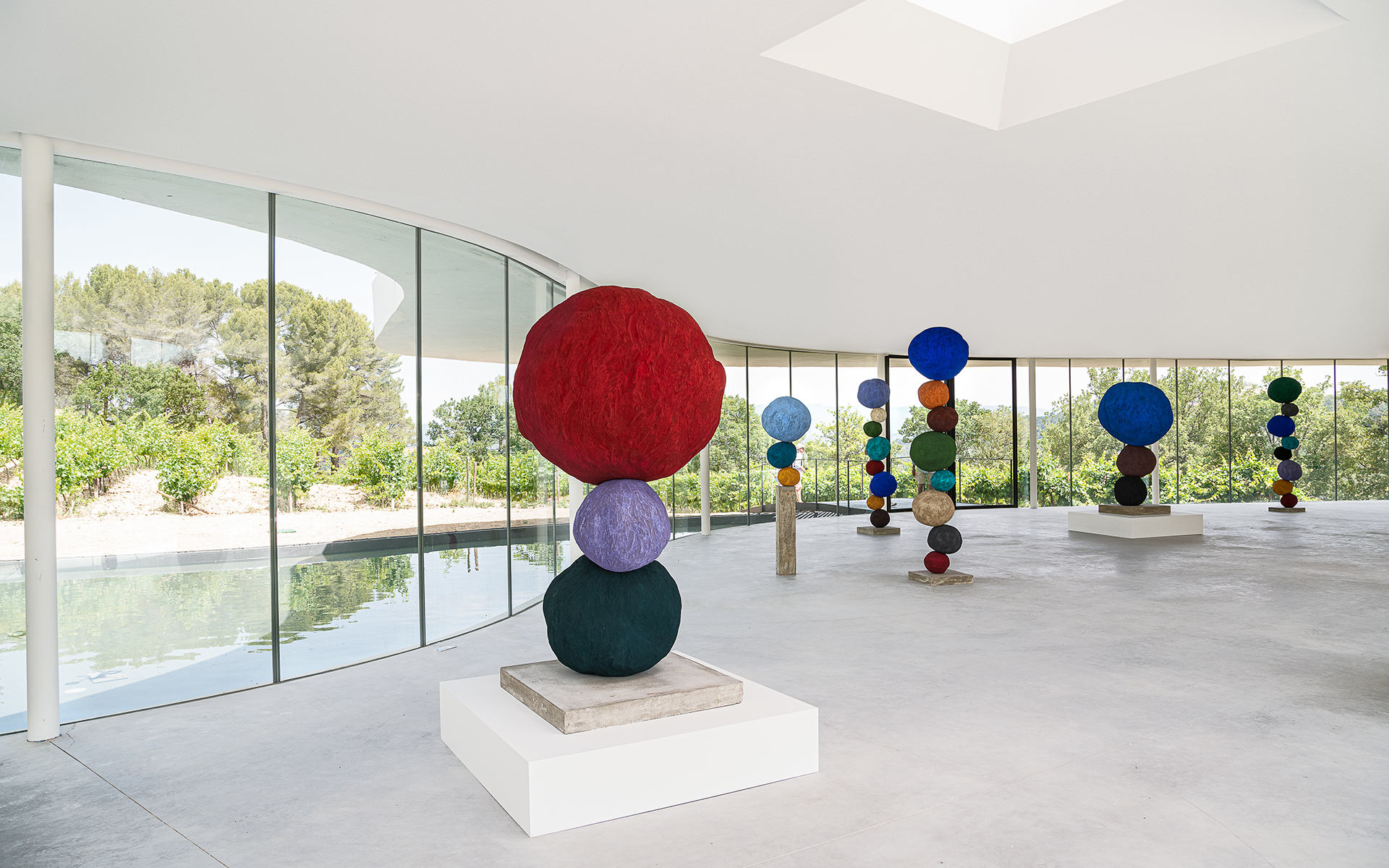 Château La Coste in France Debuts a Futuristic Pavilion Designed by Oscar Niemeyer
Annie Morris's colorful Stack sculptures inaugurate the sinuous space, while works by Idris Khan take over the Richard Rogers–designed gallery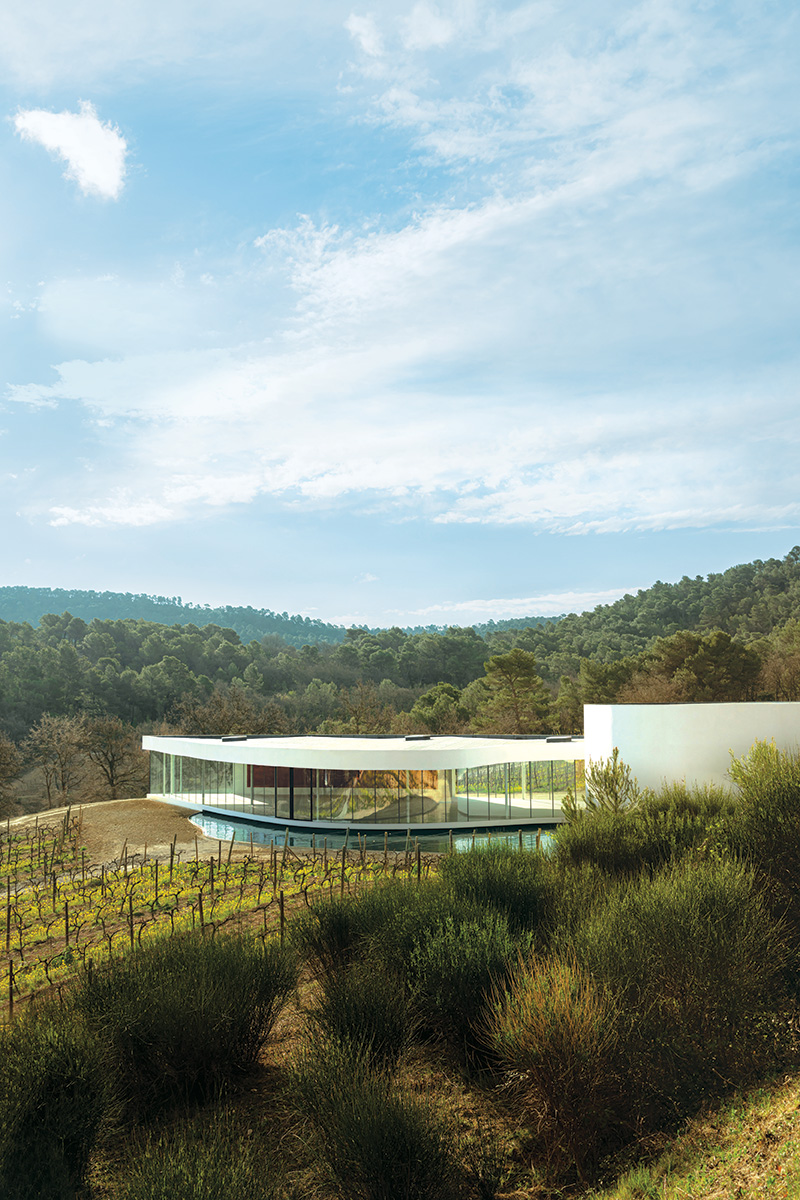 Château La Coste in the South of France is rather more than a sculpture park. Rambling over 500 acres of Provençal countryside, it is home to outdoor artworks by more than 40 (very famous) artists. It has its own deluxe hotel, tucked away discreetly at the top of a hill, composed of low-slung stone buildings which seem to have been there forever–though it opened in 2017.
It has a series of restaurants, from a buzzing terrace bistro to a smoke-filled hacienda presided over by the Argentinian super-chef, Francois Mallman. There is an on-site winery housed in a building by Jean Nouvel and gallery spaces designed by Jean-Michel Wilmotte and Richard Rogers. And there is always something new to see. Nowhere repays a return visit better.
This year, the latest additions include a tottering tower of brilliantly colored, roughly hewn balls, newly installed at the entrance of the estate. At six meters high and popping color into the sunlight, it is the largest work to date by the British artist Annie Morris, who also has a show of new works here in a pavilion by Oscar Niemeyer, which was completed (posthumously and with the help of his long-term right-hand man Jair Valera) this year.
Meanwhile, her husband and fellow artist, Idris Khan, has taken over the Richard Rogers gallery–the architect's last building, which opened in 2021. Khan has thoughtfully filled the perfect rectangular box, which cantilevers 27 meters off of a hillside, with an exhibition of paper and watercolor collages on aluminum panels. Both shows, co-curated by Gagosian director Georgina Cohen, run until the end of September.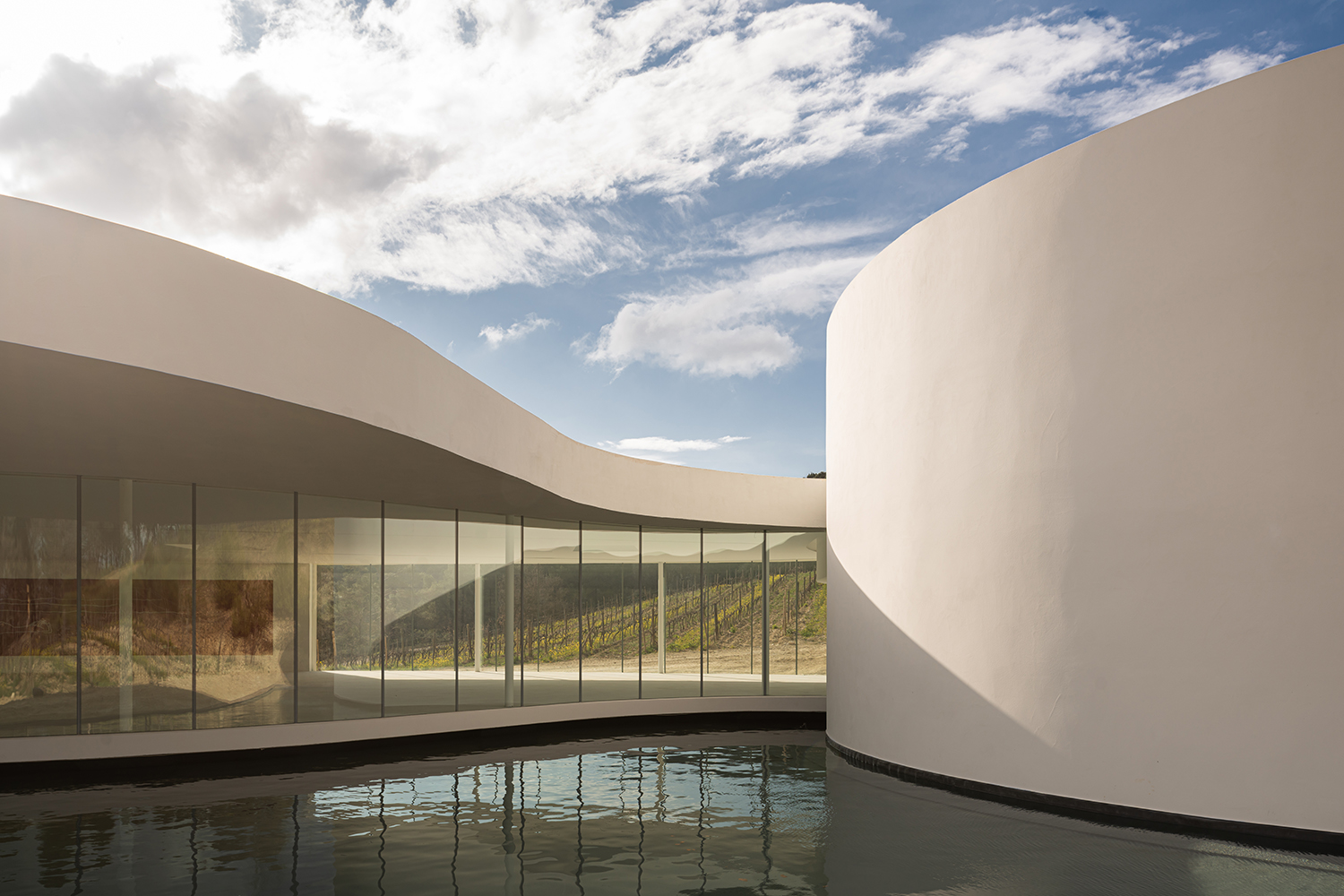 This isn't the first time the artists have worked with La Coste's owner, Irish hotelier Paddy McKillen. The pair created a dazzling technicolor Christmas tree to stand outside his Connaught Hotel in London in 2021, and earlier that year Morris had made a stunning stained-glass window and continuous monochrome mural for the Painters Room in Claridge's. La Coste, however—its acres of pines, olives, and oaks connected by meandering paths and scattered with artworks by Lee Ufan, Tracey Emin, and Hiroshi Sugimoto, among others—is a special case for any artist.
Morris first saw the Niemeyer building two years ago. "It was a work in progress—there was no floor or ceiling," she says. "When I came back to install my work in June, it felt so much bigger. It was quite overwhelming." Now, her Stack sculptures are grouped in the loose interior, the strong colors that comes from their dense pigment finishes pulsating in the dramatic wash of Provençal light. "You can stand here all day and watch that streaming sunlight change the colors minute by minute." She is fascinated by a new dark winey hue and a new ultramarine light.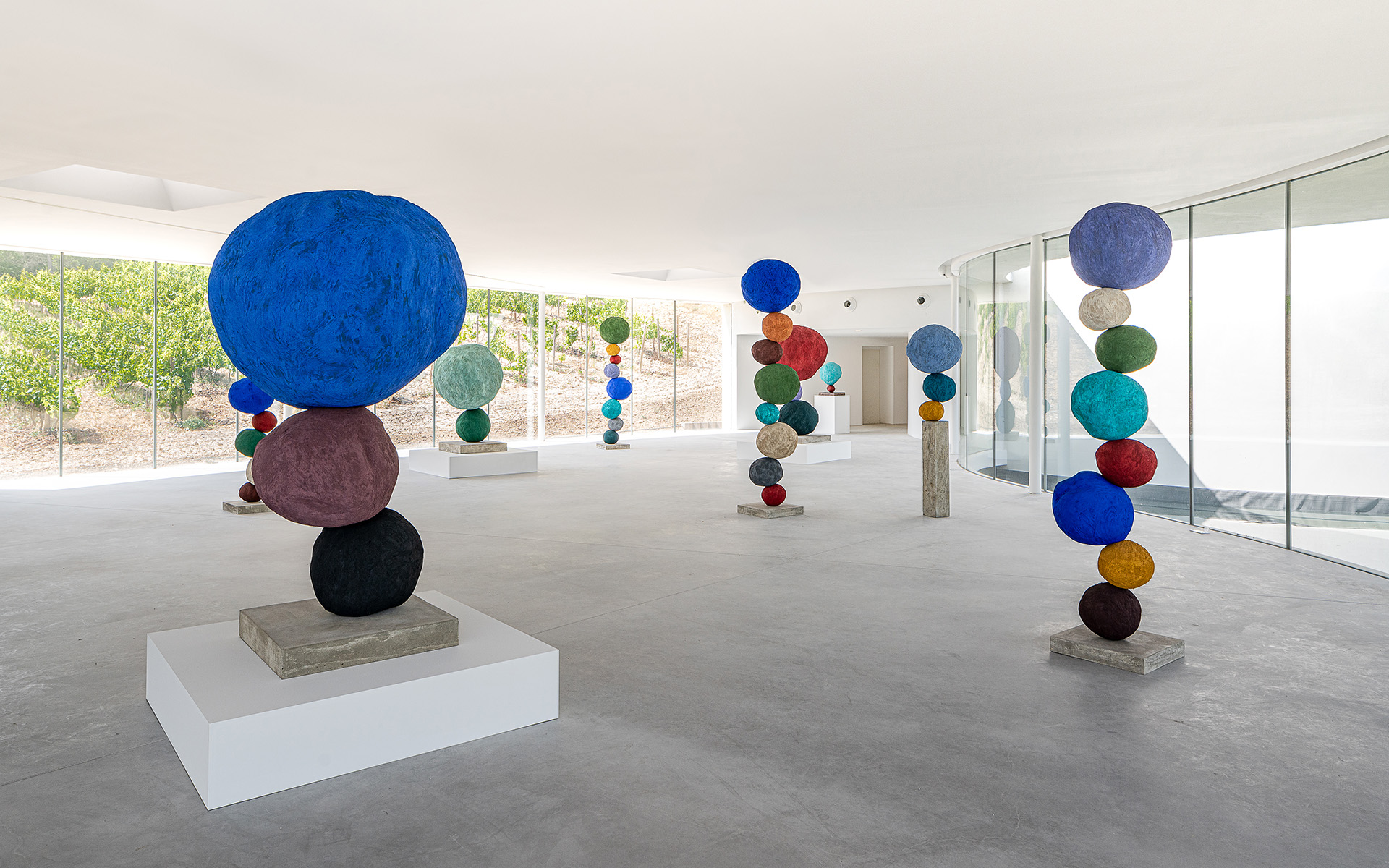 The boulder-like shapes that Morris and her studio team carve by hand, before treating with pigment and sand, evolved as a response to a distressingly late miscarriage, seeking comfort through the creation of forms. "They were about processing and capturing grief," she explains. "But now, nearly ten years on, they're about capturing joy." (The couple went on to have two children.) "I've never had therapy, I don't deal with things that way. But it all comes out in my work."
On the gallery's single wall is a vast tapestry, an animated series of emotional highs and lows: figures in burgundy and blue, acid yellow, and ochre, crouch and curl, and have heads that explode into flowers. "It is a landscape, too," she says. In the days of sleek digital works, she has chosen an old-fashioned embroidery technique, stitching certain parts over and over. "The fabric can become very rumpled," she says. "But with every line you add, it becomes more alive."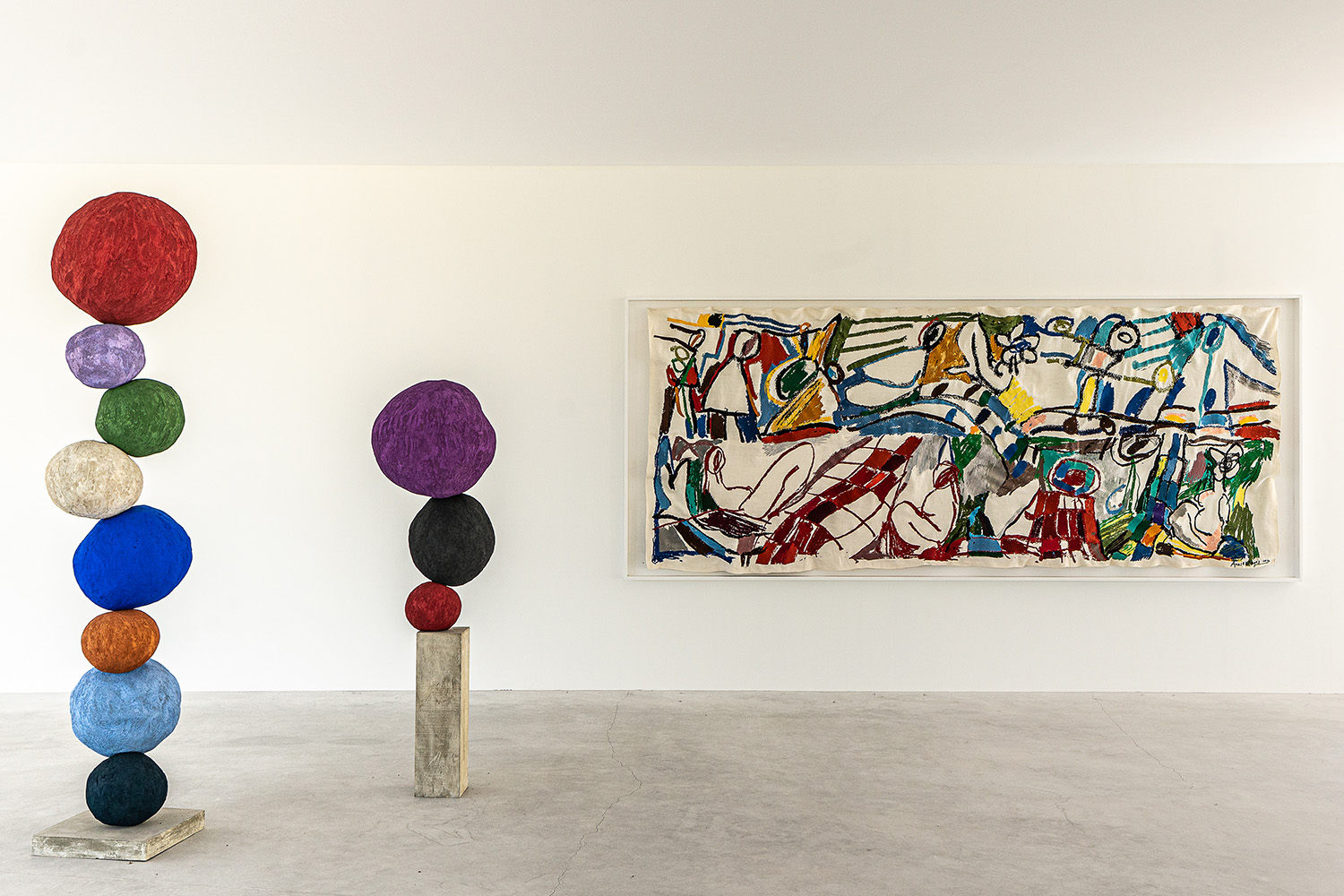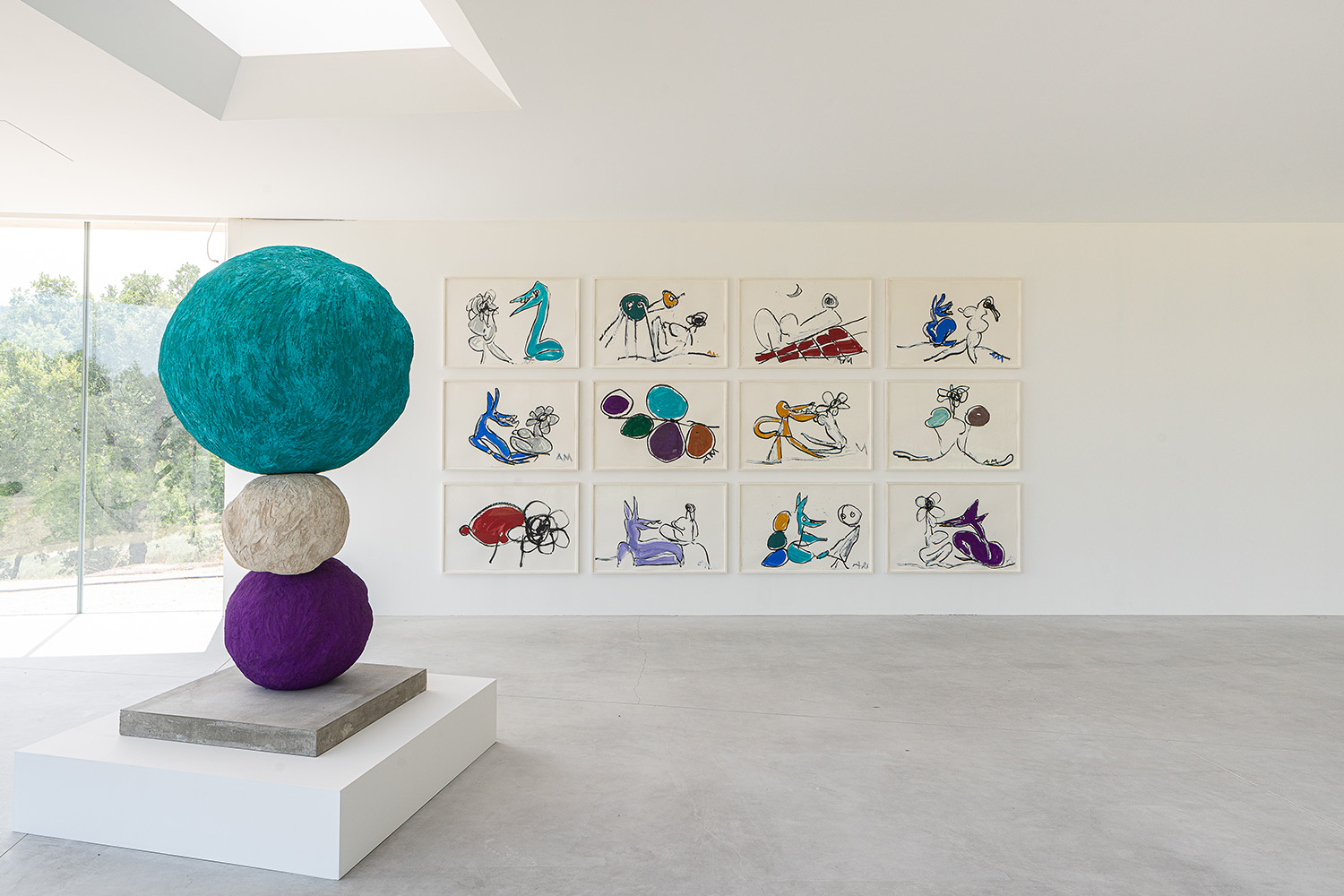 Morris knows how to capture energy–in pigment, in stitching, in a quickly drawn line. A suite of 12 works on paper are pen and oil-stick drawings of voracious foxlike men and more petal-headed women. Expressions of a complicated family history, Morris describes them as "archetypes. I started drawing them along time ago, to resolve things that were happening. The flower women, that's about fading female beauty." Though the impression is one of rapidly made sketches, the process is long. "I'll make about 50 then chose the one l like best," she says. 
Morris and Khan work together in a studio in Stoke Newington, in northeast London. Though they produce work independently, there is a strong sense of collusion in their practice. While Khan helped Morris install her sculptures into meaningful groupings that bring them to a near-figurative state, Morris's sensational involvement in color has bled into Khan's own work. His latest series, seen here, runs through a sequence of rainbow colors. "I see it as a time-line, about the rhythm of life," says Khan. It's also evocative of Richard Rogers himself, a lively sole whose exquisitely designed multi-colored sock drawer was once the subject of an entire New Yorker article.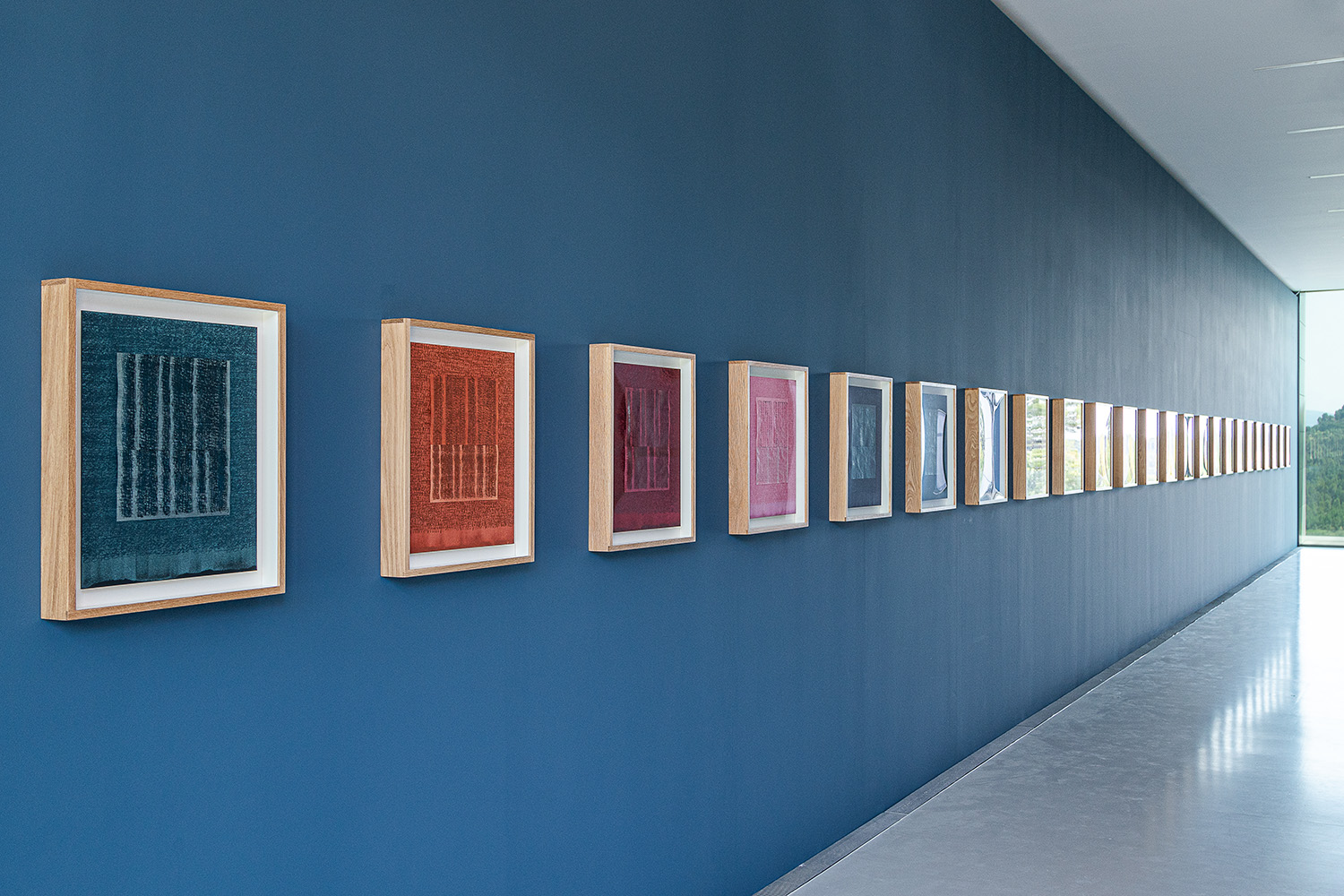 As often happens in Khan's work, the surface is stamped with sheet music, turned through 90 degrees, with the notes gently dropping down the page. In this case, it's Samuel Barber's Adagio for Strings, an appropriately elegiac choice for this memorial of a building with its navelike processional interior leading to a final wall of window. "You have to take your shoes off to enter this space, like going to the mosque," says Khan, who grew up Muslim. "It is a gallery designed for light things, like drawing and watercolor. For meditation."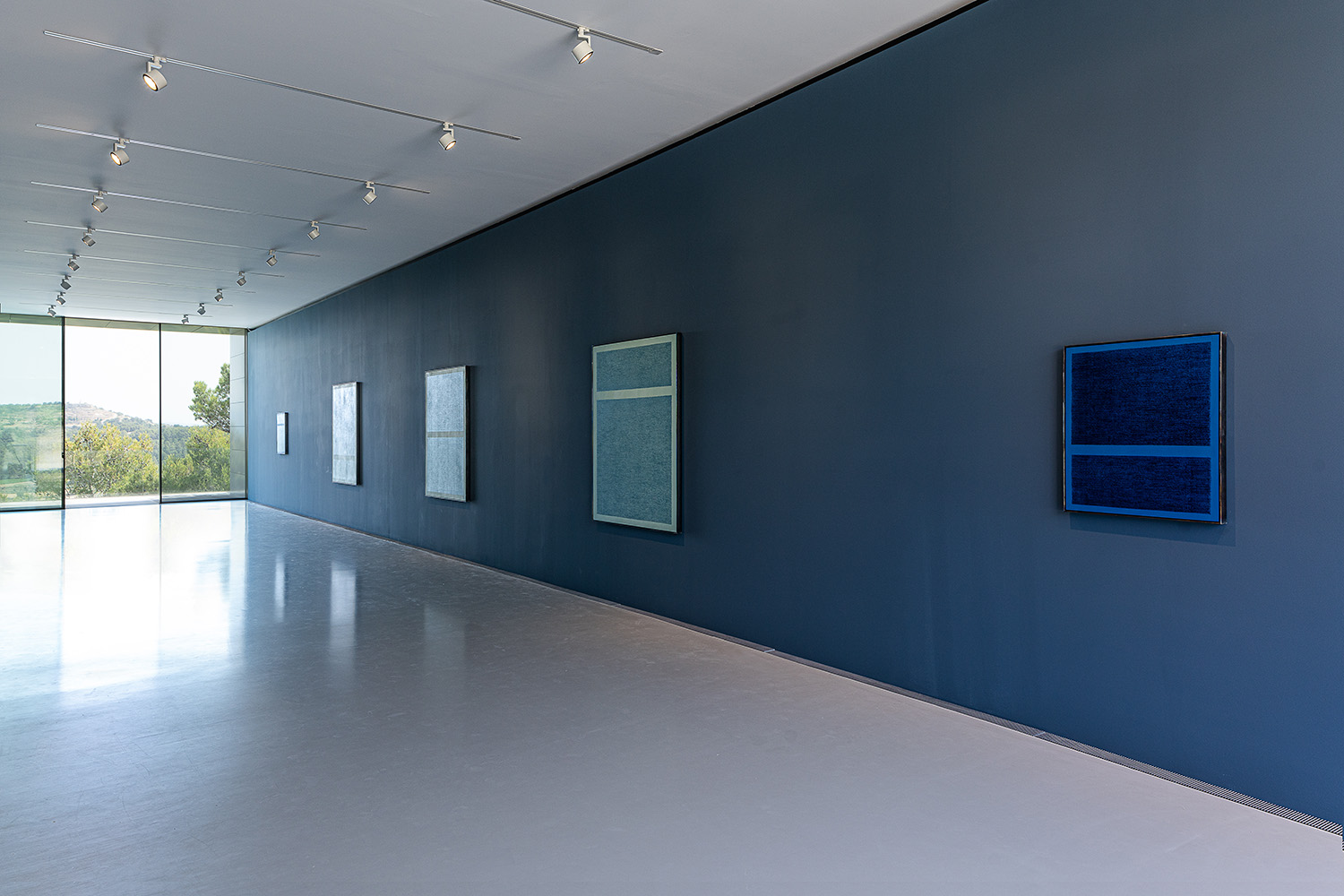 Effectively a free-standing jetty, it can only take the weight of 25 people. "You are drawn to the dazzling light of that final window, then you reach the balcony and you are suddenly immersed in nature. It's not a space to mess around in." Instead, Khan has painted the walls a deep delicious blue, accentuating the tunnel effect, and the colors of the individual works. Five new paintings, created with 15 layers of endlessly sanded and reapplied gesso, in shades of ultramarine, variously absorb and reflect the light. "They are experiential," he says. As, indeed, are the perfect landscapes of Château La Coste.
Next Post