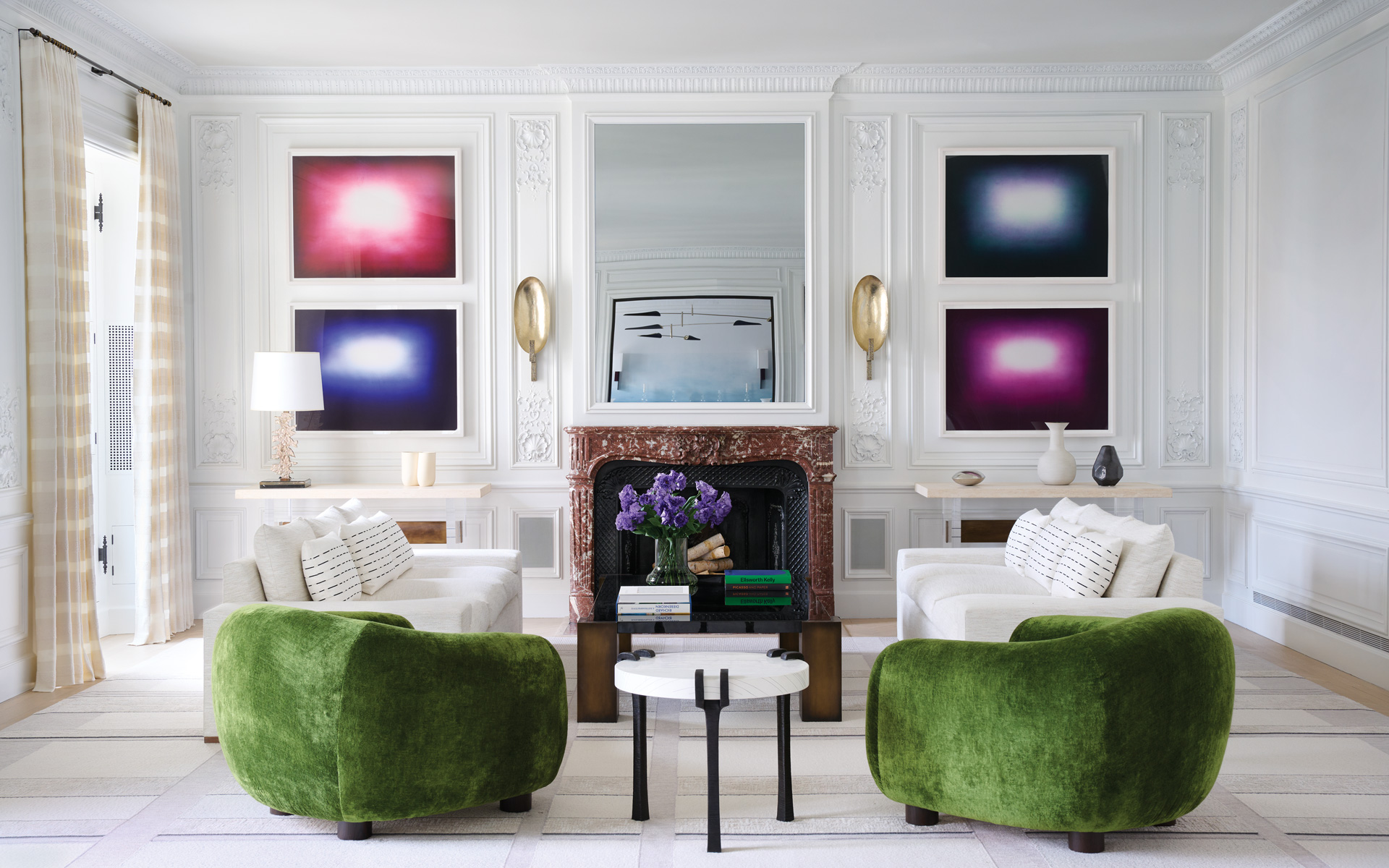 Victoria Hagan Melds Traditional Architectural Details with a Forward-Thinking Art Collection in This New York Residence
This elegant prewar Upper East Side apartment radiates with a fresh spirit fit for a young family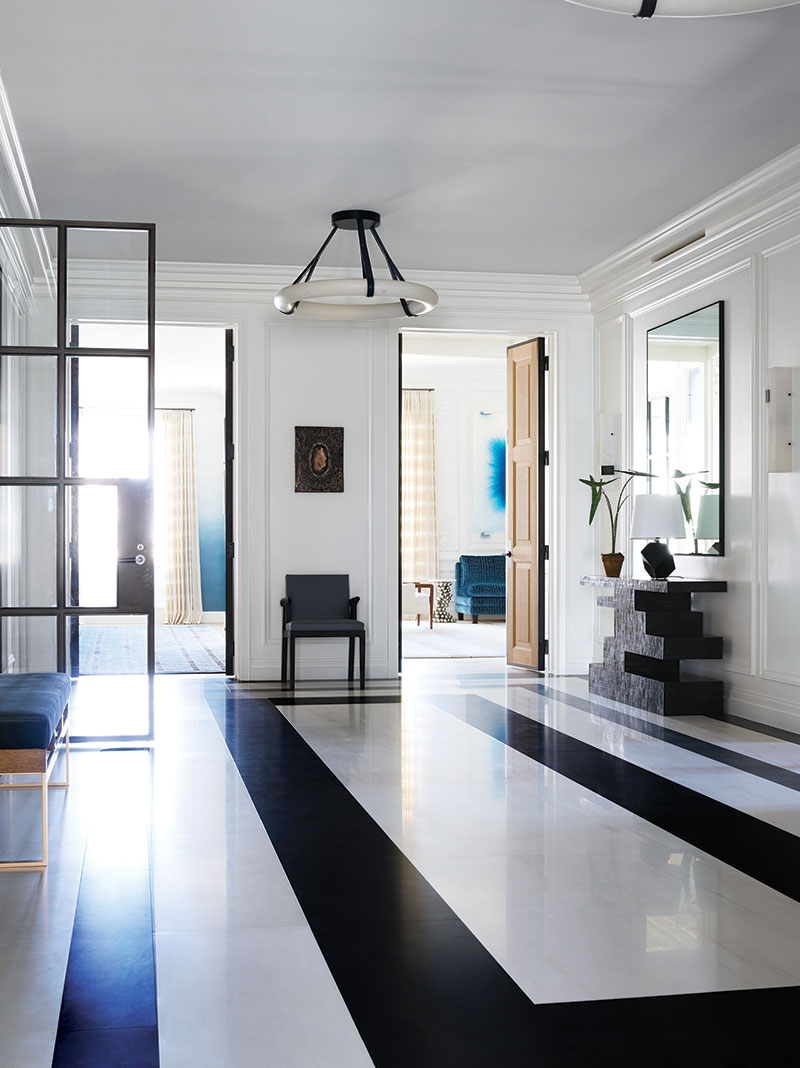 When a New York City couple approached designer Victoria Hagan about renovating an apartment they had bought for their young family on the Upper East Side, there was good news and bad news. First, the bad. Occupying a full floor in an elegant prewar building, the residence was "in estate condition," as Hagan puts it, with "layers of time" fully in evidence. The apartment needed new everything, from mechanical and electrical systems to updated room configurations better tailored to how people live today.
And the good? Also the condition. Having avoided major alterations meant that the apartment retained many original architectural elements, notably the living room's paneling with lovely foliate details and the library's board-and-batten oak walls.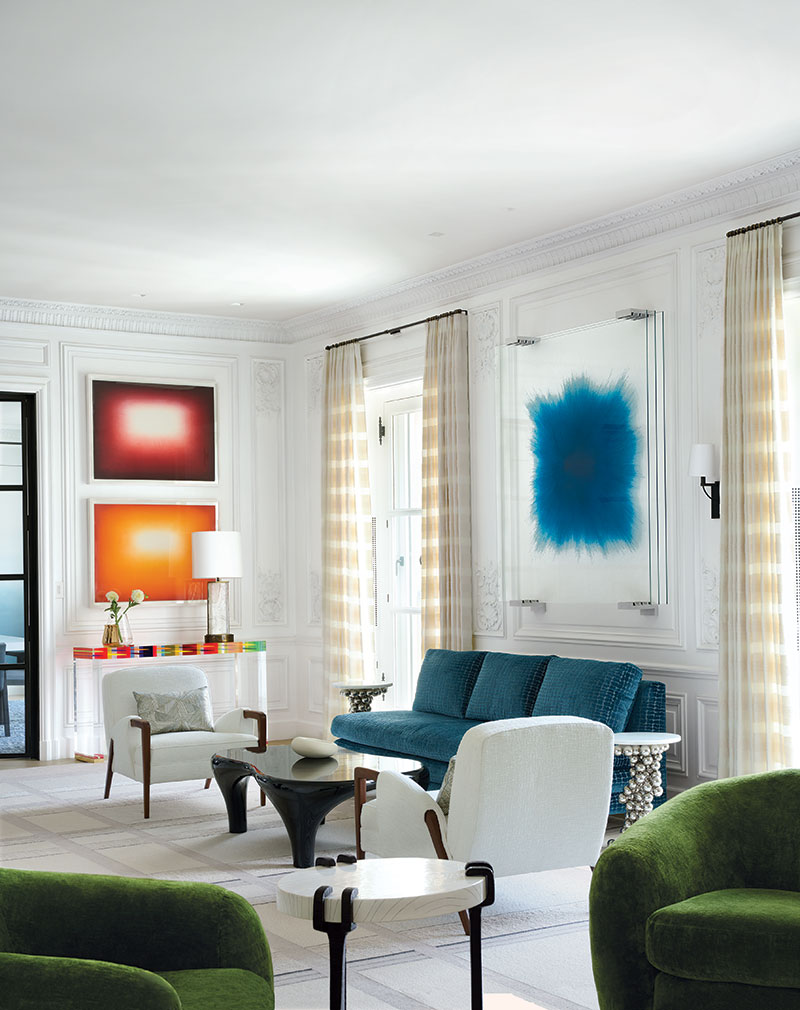 The thing was, the homeowners, who have two children under ten, weren't sure those traditional elements aligned with their desire for a youthful and contemporary home that has places to play, do homework, and watch television. "They were like, 'Are you sure we shouldn't get rid of all this?' And the contractor chimed in, 'Well, you know, it's more work to keep it,' " says Hagan. "I think I shocked my clients when I told them I love it the way it is. It's special. And I always like to take a bit of the past and weave it into the present, because that sense of history gives an apartment its roots."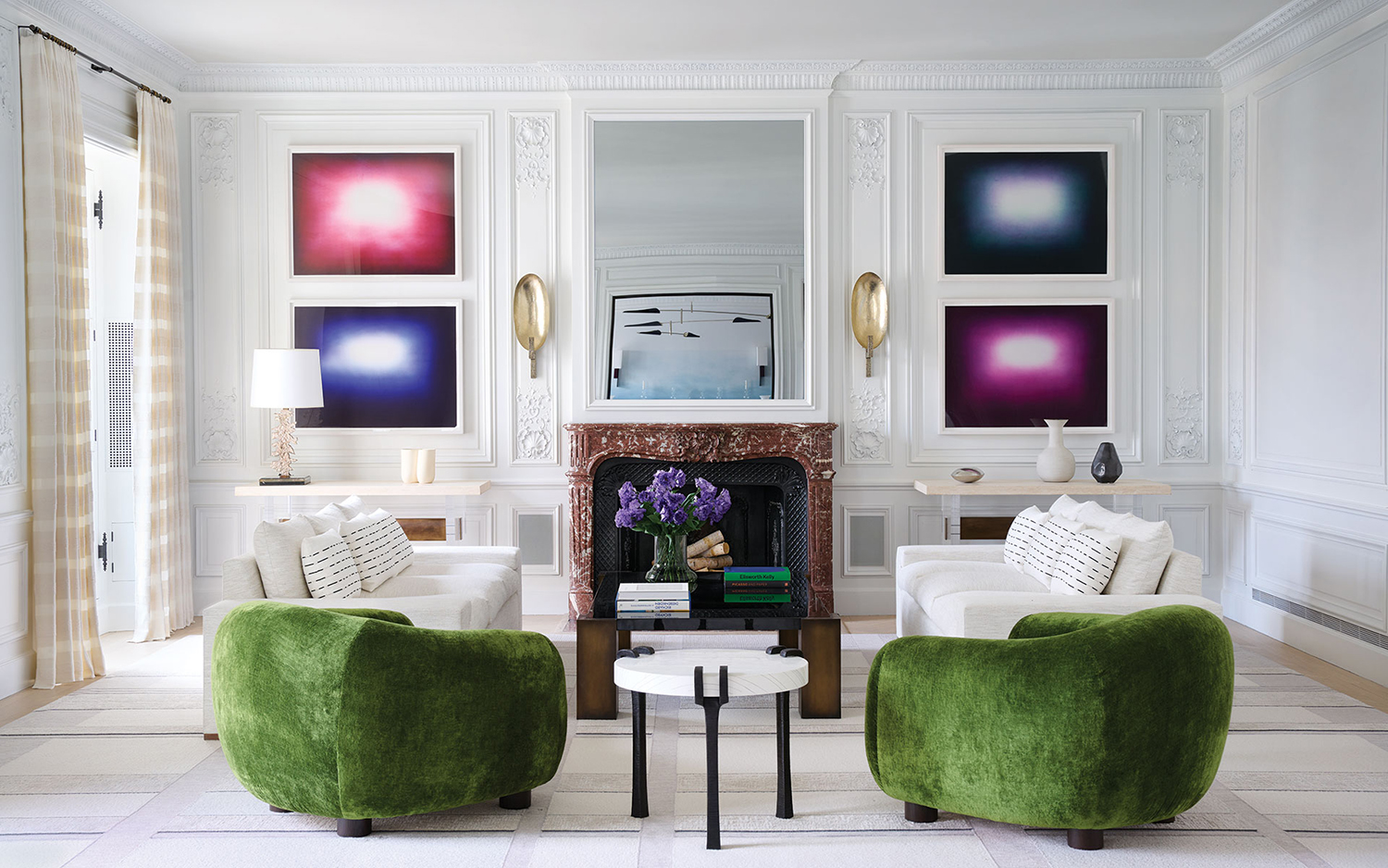 Hagan prevailed and brought in architect Bryan Brown, a collaborator she's done multiple projects with, to carry out the structural work, which was significant. Some changes were no-brainers, like knocking down walls in the original staff areas to open up the cramped kitchen and create a family room and playroom for the kids. Baths and closets were expanded, doorframes were raised, and millwork was lightened. "The whole apartment seems fresh now," says Brown, "leaving some of the old and embracing the new."
That mix of then and now starts in the entrance hall, where Hagan designed a striking marble floor using the classic combination of black and white, only in an overscale geometric pattern. "I wanted the apartment to be casually elegant, with a touch of the unexpected," says the designer, who repaneled the entry in a traditional manner but outfitted it with contemporary lighting and furnishings, including a pair of zigzagging tiered bronze consoles by Ingrid Donat. "You come in and you're like, Wow, this feels fun and open."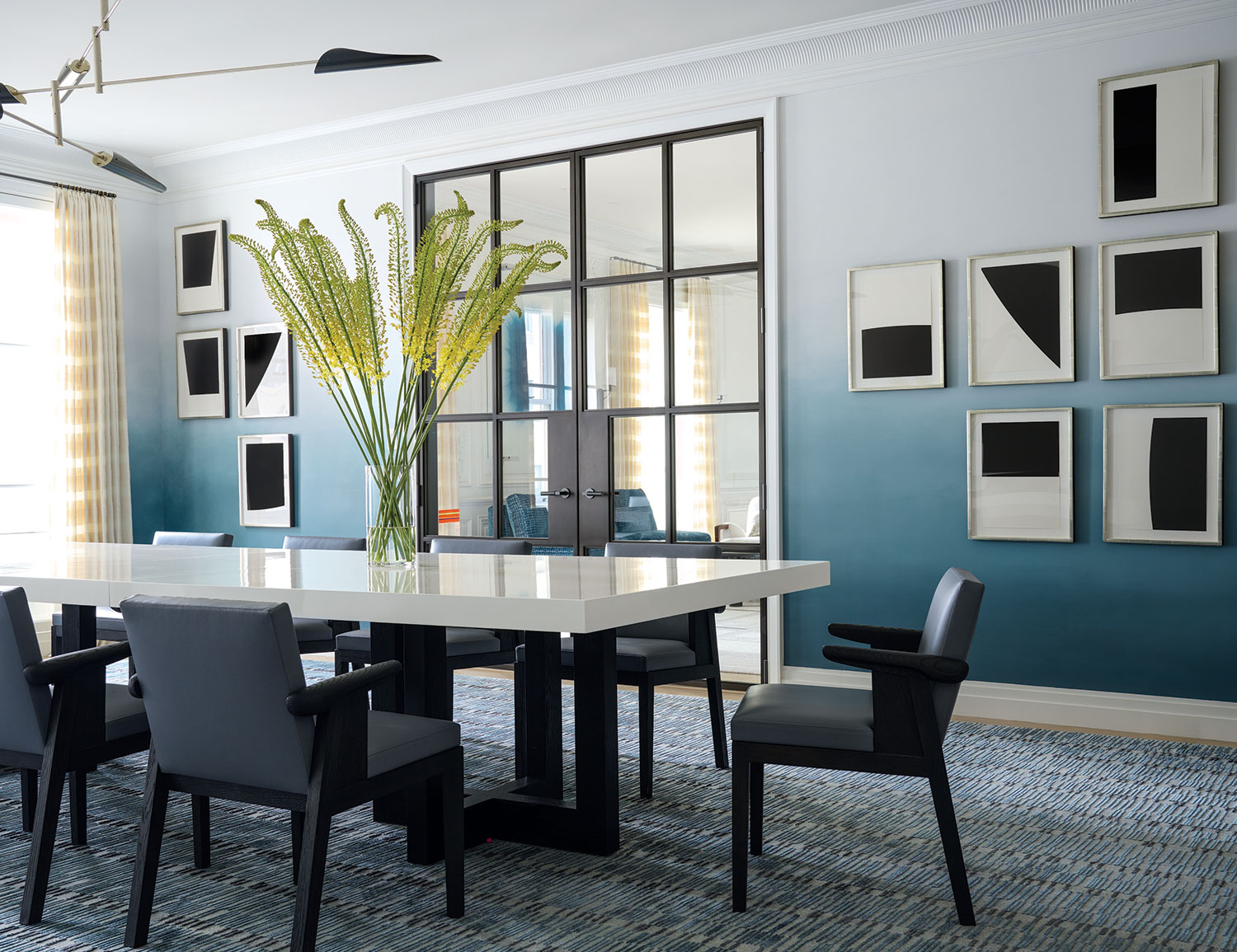 Her approach was similar in the salon-like living room, where groupings of prints from Anish Kapoor's "Shadow" series add a chromatic splash atop the paneling at both ends. Gleaming minimalist bronze sconces by Hervé Van der Straeten frame the burgundy-marble mantelpiece, around which Hagan arrayed cozy custom-made white sofas and a pair of voluptuous Jean Royère Polar Bear chairs covered in eye-catching emerald velvet. "I love using color for an added feeling of lushness," says Hagan. "The apartment is close to Central Park, and the green just feels very natural, almost like topiaries in a garden."
On the room's opposite side, a blue velvet sofa echoes the radiant hues of the Idris Khan artwork above it, joined by vintage boomerang armchairs, playful side tables encrusted with silver balls, and, in the nearby corner, a funky '70s Lucite console whose top is embedded with kaleidoscopic bands and blocks of color. The room-size rug, with grid-pattern variations in pile and texture, was specially designed for the space, while the curtains are made of a handwoven fabric. "There's a very custom quality and a great attention to detail," says Hagan.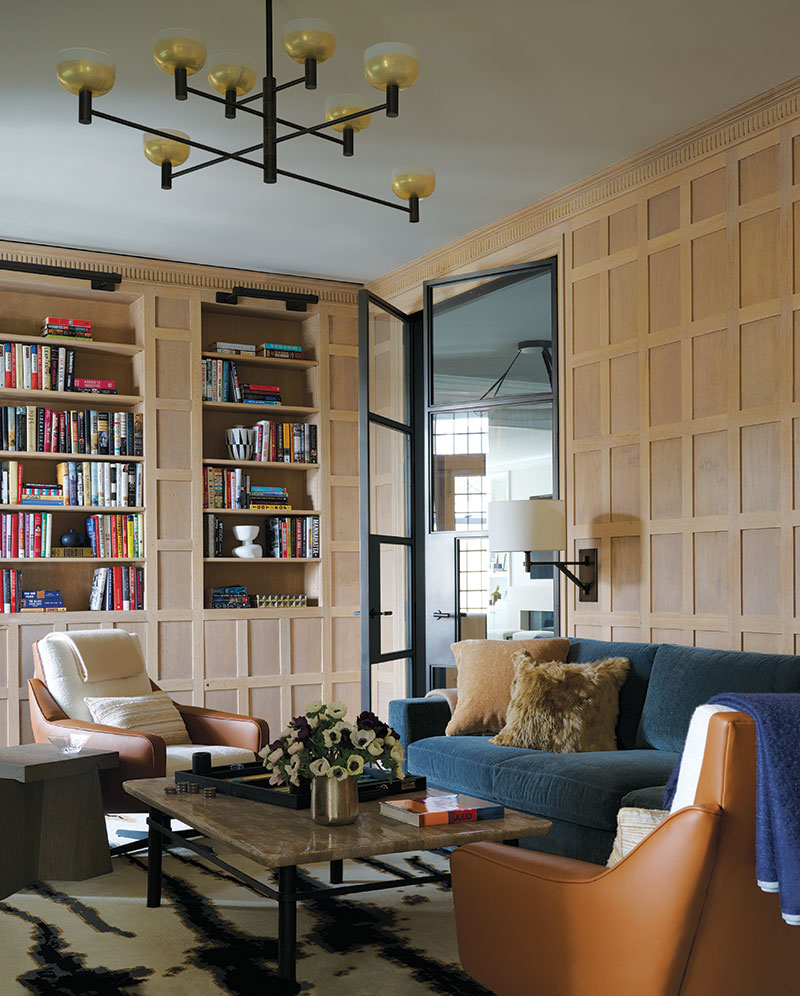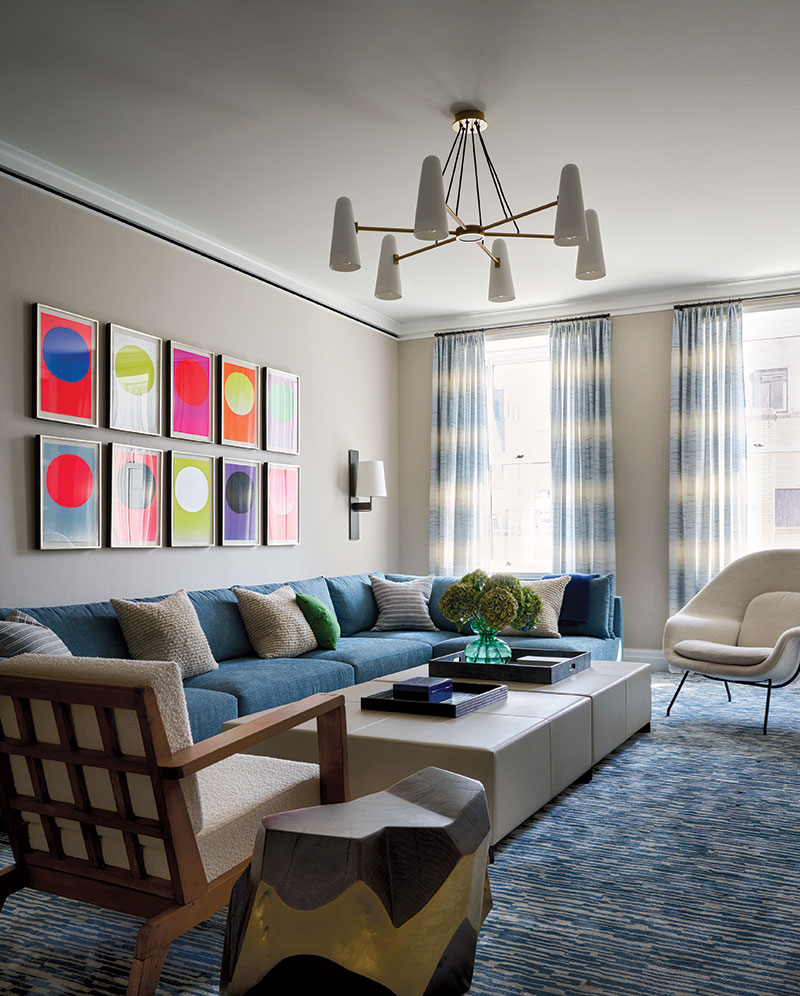 One of the less obvious changes Hagan and Brown made was cutting an opening between the living and dining rooms, inserting bronze-framed glass doors that can be closed for greater intimacy or left open for an appealing sense of flow that extends through all of the entertaining spaces. The dining room, which features punchy black-and-white Ellsworth Kelly prints mounted asymmetrically on walls finished in a blue ombré plaster, was conceived as much as a seductive setting for dinner parties as a gathering place for daily family meals.
"I always like to take a bit of the past and weave it into the present, because that sense of history gives an apartment its roots"

Victoria Hagan
As a home with young children, functionality and comfort were paramount, from the kitchen's breakfast-ready island counter with soft-leather barstools to the family room's cushy sectional and big leather coffee tables that are perfectly geared toward relaxed movie nights. A somewhat more formal, clubby vibe can be found in the library, which was utterly transformed by stripping and bleaching the existing paneling, "giving the wood a fresh new life, shifting it from looking old and dowdy to a cleaner and more contemporary kind of feeling," says Brown.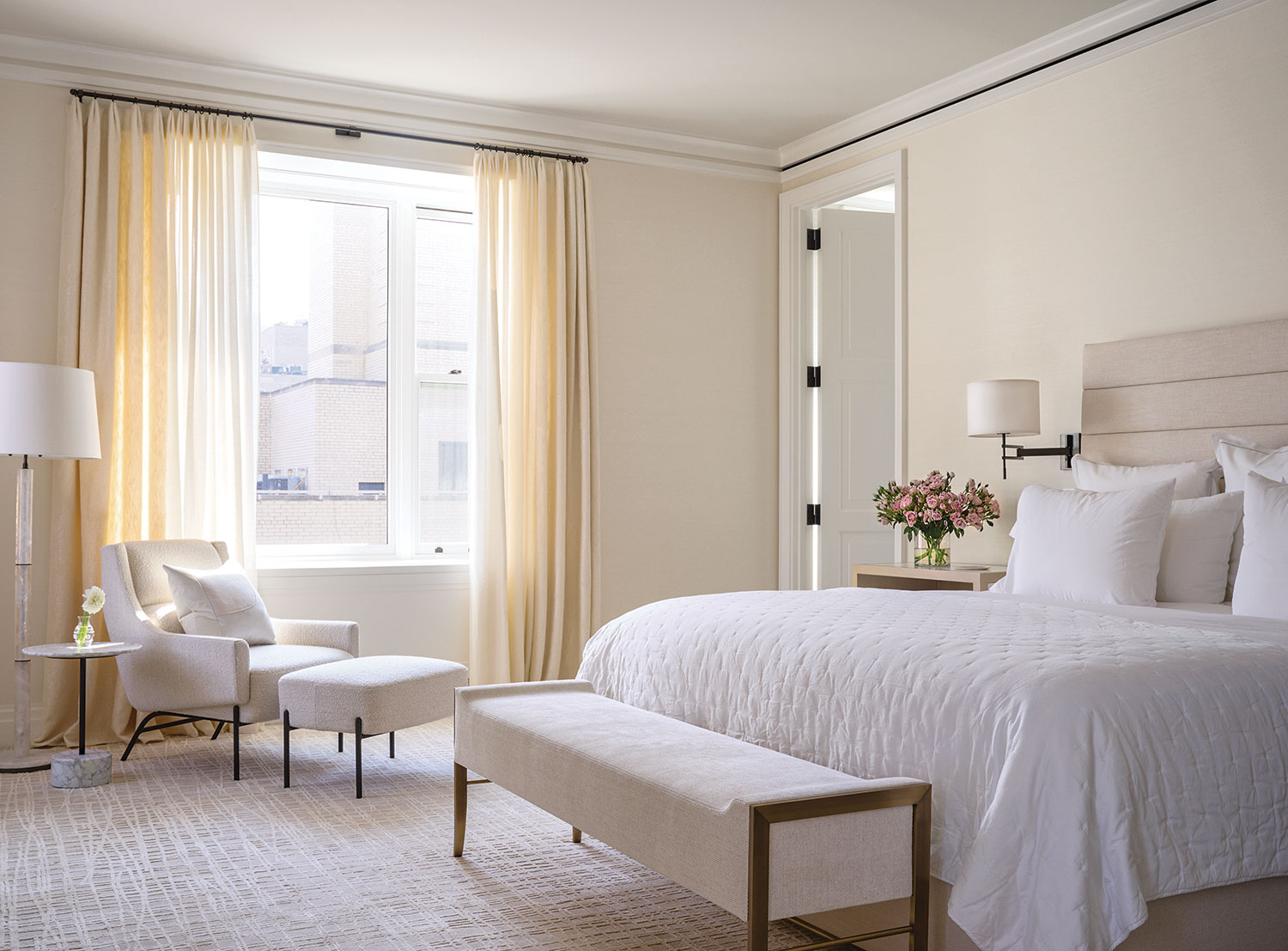 Throughout the residence, the rooms feel complementary but also distinctive, not least the primary bedroom, with its harmony of plush textures and pale hues—a soft upholstered bed, walls clad in a warm vanilla silk, and windows framed with blush sheers. "The whole room has a glow to it," says Hagan, who sums up the space as something every parent needs now and then: "A touch of serenity."
A version of this article first appeared in print in our 2023 Fall Issue under the headline "After Glow." Subscribe to the magazine.
Next Post