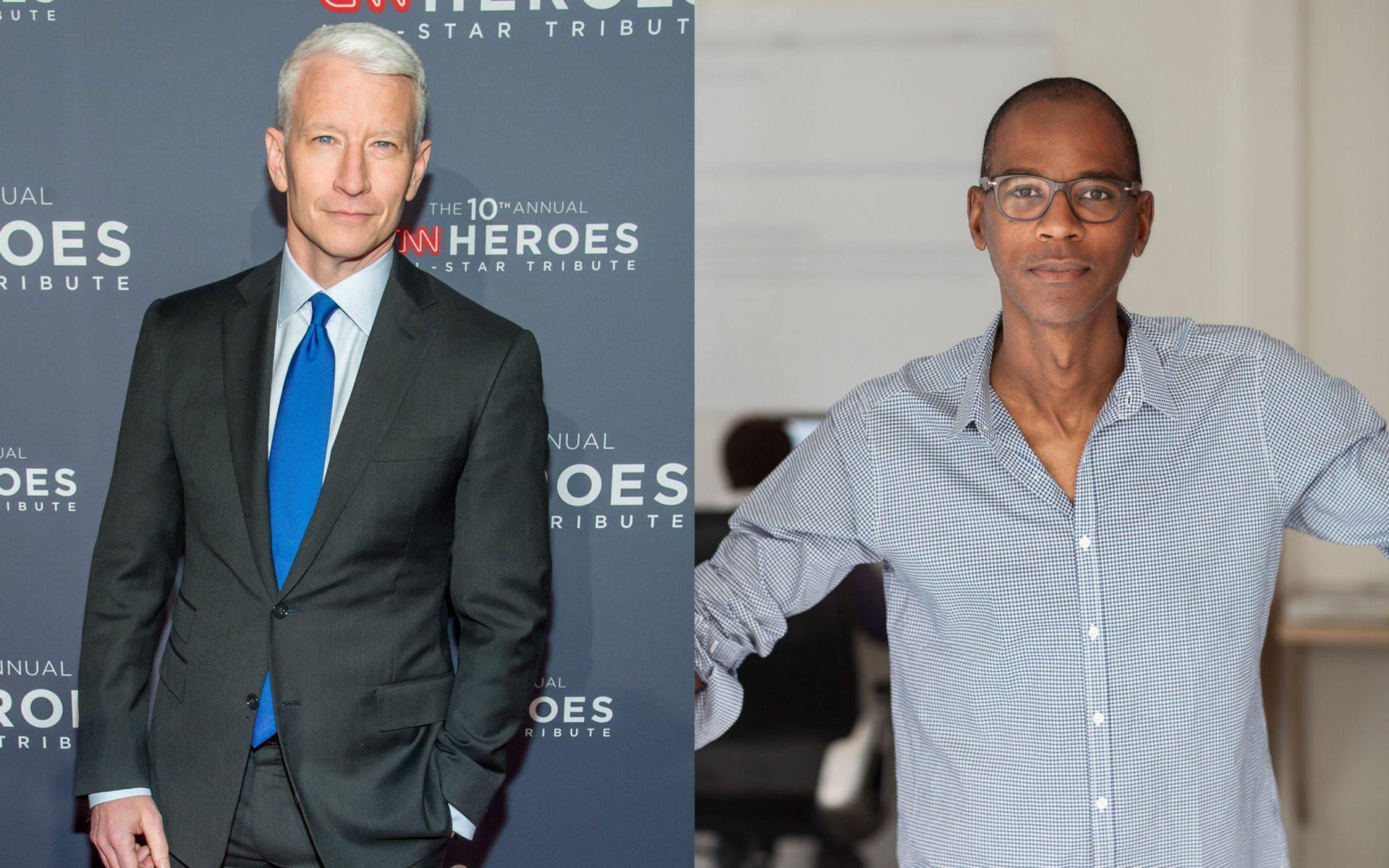 Art Collector Anderson Cooper Profiles Mark Bradford
The 60 Minutes segment followed the creation of the artist's work Deep Blue, now installed at L.A.'s Broad Museum
In the latest installment of art on 60 Minutes veteran journalist and art collector Anderson Cooper sat down with artist Mark Bradford as his massive work Deep Blue was being installed at The Broad in Los Angeles. The museum has several pieces by Bradford in its collection, including Scorched Earth (2006), Yellow Bird (2012), and I Heard You Got Arrested Today (2018).
The artist started making work in his 30s but didn't sell his first piece until nearly a decade later in 2001. Now represented by Hauser & Wirth, Bradford makes layered compilations of paper on canvas that can fetch millions, like the 34-foot-long Helter Skelter I (2007), which sold in 2018 at Phillips London for close to $10.4 million, the highest-ever auction price achieved by a living African-American artist. (The piece was consigned by tennis pro John McEnroe.) Bradford's work will be displayed at the Long Museum in Shanghai from July 27 through October 13 in the site-specific exhibition "Mark Bradford: Los Angeles," the artist's largest survey in China to date.
Deep Blue, an abstract work that takes as its starting point the street maps of L.A.'s Watts neighborhood, is equally commanding at 12 feet high and 50 feet long. In the work, bathroom caulking and other materials found at Home Depot are used to help represent places that were looted or damaged in 1965 during the Watts riots. "I start from a map, and then on top of it I lay art history and my imagination," Bradford said. "I'm creating my own archeological and psychological digs. Sometimes when I'm digging on my own painting, I'm asking myself, What exactly are you digging for? Where do you want to go, child?"
Bradford's works, which delve into both political and social issues, including racism, HIV/AIDS, and civil rights, are his way of grappling with the subjects both personally and racially. In the 60 Minutes segment, Cooper and Bradford explored the artist's struggles with bullying at a young age as well as the period in the 1980s, when, in his teenage years, his friends started dying from AIDS and he felt like he didn't have a future. An art class at a junior college put him on his current path. At the time, Bradford was working as a hairstylist at his mother's salon; his first works were made from layers of the endpapers he used to make permanent waves.
"What's interesting about the endpaper paintings is that I think they're beautiful; mine has two sneakers in the lower part of it, which I really like," said Cooper, who owns one of Bradford's endpaper paintings, The Hood Is Moody, in 60 Minutes Overtime. "His art is interesting to look at whether you like it or not, whether you understand it or not. It is compelling, and there is meaning to it."
Next Post