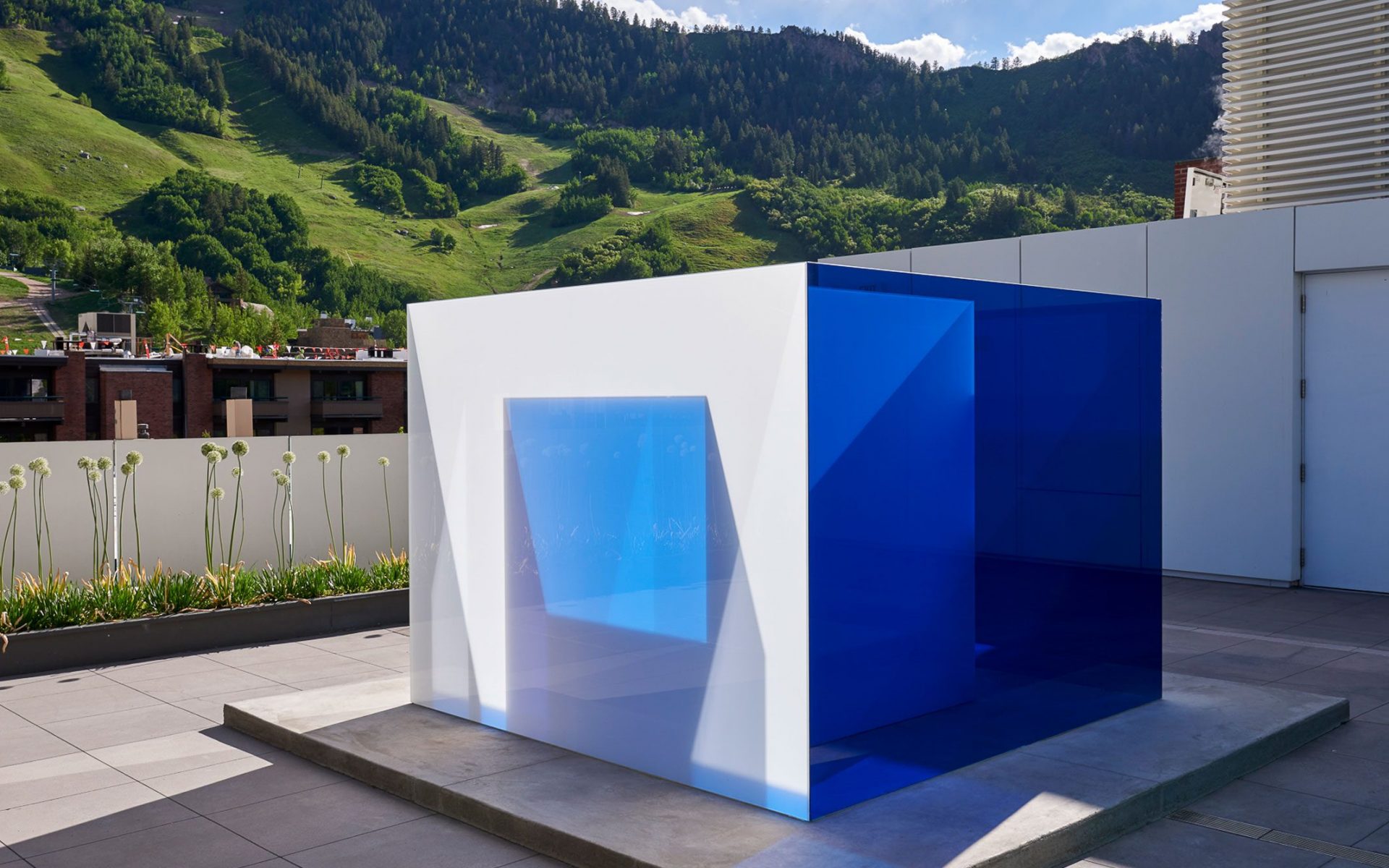 The Essential Aspen Summer Art Guide
From the Aspen Art Museum's Larry Bell show to the boutique Art Aspen fair, here are the can't-miss cultural offerings
Nestled high up in the Rocky Mountains of Colorado, Aspen has been a cultural haven since the 1970s. An Alpine paradise, where the jet set ski in the winter and hike in the summer, Aspen and its environs are home to a major museum exhibiting international artists, an art center with visiting artists and workshops in all mediums, a boutique-style art fair, a handful of quality galleries and some exciting public art. Here, we highlight a selection of summer art offerings that visitors won't want to miss.
Art Aspen
Showcasing contemporary art from 1950 to the present, the ninth edition of Art Aspen (July 27-29, opening night July 26) features 28 national exhibitors from 20 different cities. Highlights from New York galleries include ceramic mosaic vessels by Joan Bankemper at Nancy Hoffman, Sandro Chia's dreamy figurative paintings at Marc Straus and Tucker Nichols' colorful still-life paintings of flowers and fruit at Zieher Smith. Further afar, Houston's Sicardi Ayers Bacino has striking Op Art work by Carlos Cruz-Diez, one of the optical art movement's masters, while Palm Desert, California's Melissa Morgan Fine Art features Marc Dennis' hyperrealist paintings, which skillfully revisit modernist masterpieces from a whimsical point of view.
ArtCrush Summer Benefit
Aspen's most prestigious art world gathering, ArtCrush is the Aspen Art Museum's annual (August 1-3) summer fundraiser. Attracting international collectors, gallerists, artists and museum professionals, the benefit events kicks off with WineCrush, hosted by collectors Amy and John Phelan, followed by PreviewCrush and PreviewExtra, the first-look at artworks contributed by such celebrated artists as Ursula von Rydingsvard, James Turrell and Rashid Johnson, the 2018 recipient of the Aspen Award for Art, at Baldwin Gallery and Casterline | Goodman Gallery. The fundraising activities come to a climax with ArtCrush, a dinner and auction at Buttermilk Mountain, and the three-day event wraps with AfterPartyCrush, featuring the sounds of legendary DJ Jellybean Benitez, at Belly Up Aspen.
Aspen Art Museum
Founded in 1977 as the Aspen Center for Visual Arts, the Aspen Art Museum (AAM) changed its name in 1984 and moved into its expansive Shigeru Ban-designed building in the summer of 2014. This summer, the range of exhibitions include a solo show of work by French-Moroccan artist Yto Barrada exploring the ways children learn and create; a dynamic rooftop presentation of West Coast Light and Space artist Larry Bell's blue, large-scale, laminated glass cubes; and the first museum exhibition largely devoted to New Yorker Cheryl Donegan's abstract paintings, combined with dresses she created for a fashion line commissioned by the museum. The Barrada exhibition is on view until November 25, while Bell and Donegan run through December 16.
Anderson Ranch Arts Center
A center for creative studies for more than 50 years, Anderson Ranch provides artist-in-residence workshops for painting, sculpture, photography, printmaking, furniture design, ceramics and various other mediums. The center is widely known for its annual International Artist Award (Ai Weiwei received this year's honor), classes with such visiting artists as Tom Sachs and Trevor Paglen and a Summer Series of talks, which includes upcoming conversations between painter Njideka Akunyili Crosby and Museum of Contemporary Art Chicago curator Naomi Beckwith (July 26) and Brazilian conceptualist Vik Muniz and Independent Curators International director Renaud Proch (August 2,) as well as lectures by artists Alex Israel (July 27) and Robert Longo (August 9.)
Recommended: Go Inside a Stunning Art-Filled Aspen Retreat
Aspen Art Galleries
Baldwin Gallery, Aspen's oldest and most venerable art dealer, opens side-by-side solo shows on July 27 with new pieces by Gary Simmons and Marilyn Minter. Simmons premieres big works on paper with smudged chalk words referencing the history of black cinema, such as James Russell's starring role in the 1912 silent movie A Fool and His Money, while Minter exhibits seductive photos of femme fatales and her glittery, shoe-fetish video Smash, which debuted at the Brooklyn Museum's Killer Heels exhibition in 2014. Neo-expressionist painter Marcus Jansen presents a group of gestural landscapes at Casterline | Goodman Gallery (through August 5) and Marianne Boesky Gallery, which opened its Aspen project space in 2016, features The Haas Brothers' surreal art and design objects, ingeniously crafted in bronze, marble, porcelain and fur, through August 25.
Recommended: The Definitive Guide to Detroit Art Week
Public Art Projects
Recently completed, Shepard Fairey's Durant Street mural is the celebrated street artist's 86th painting for his Global Mural Project. Wrong Path, which focuses on environmental issues, joins his ongoing project of public paintings in Los Angeles, New York, Paris, London and other cultural capitals. Two more public art projects also grapple with eco-friendly concerns: Paula Crown's Jokester presents a giant crushed Solo cup on the upper plaza of the Little Nell (through September) as a reminder to recycle and Paula Hayes' giant planter, filled with the artist's sculptures and local plants, offers a place for birds to nest and rest on the AAM's Crown Commons (through October 14). Meanwhile, Sarah Cain's site-responsive project at Elk Camp on Snowmass Mountain (through September 30) presents her massive installation, Mountain Song, as a visual ode to the area's inviting terrain.
Next Post