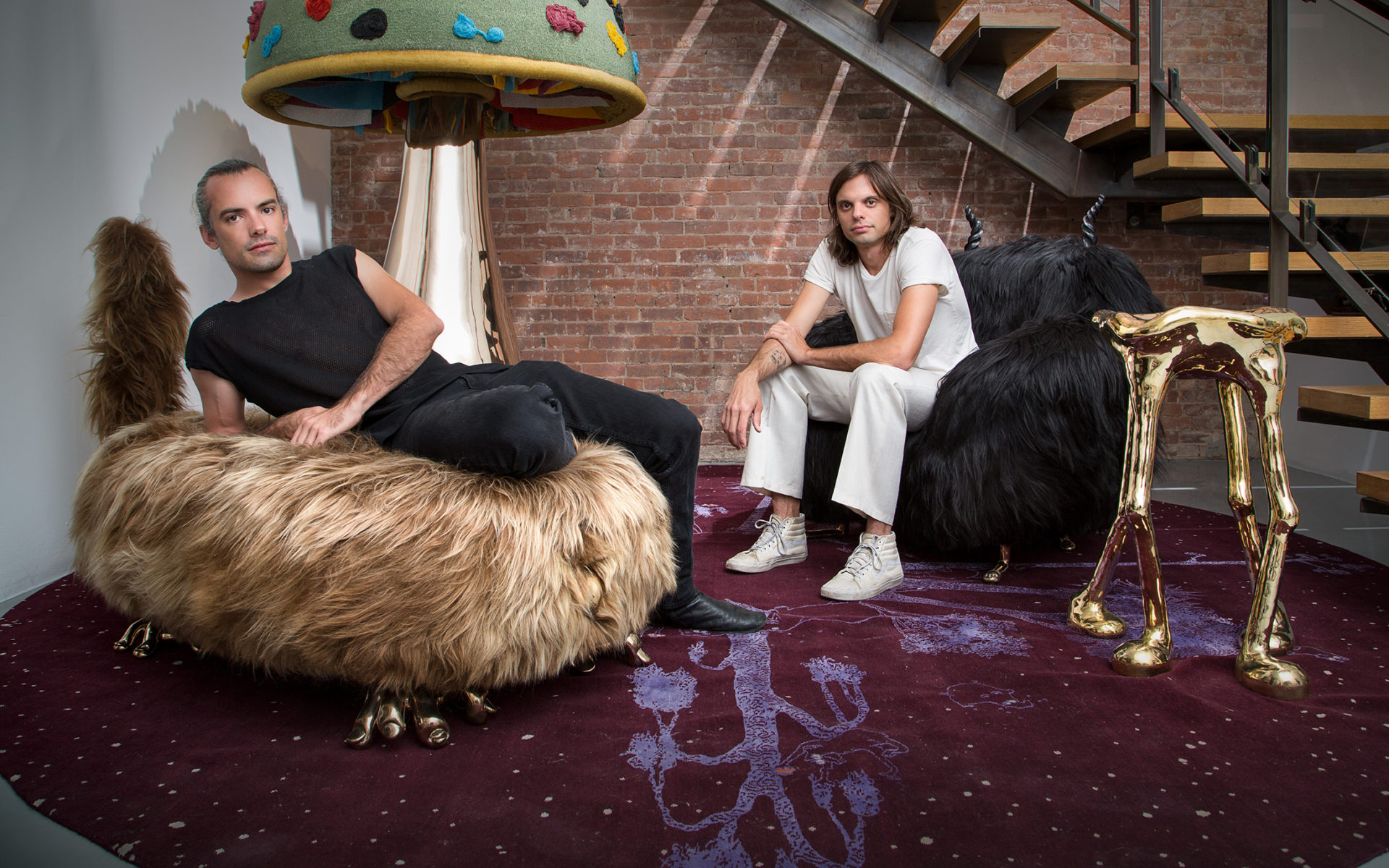 The Haas Brothers' Psychedelic Show in Los Angeles
At UTA Artist Space, the daring duo showcase a flurry of sumptuous new creations
Slip through the magenta curtains and suggestive archway on view at UTA Artist Space gallery in Downtown Los Angeles, and the work stops being polite and starts getting NSFW. Various phallic sculpted objects rest on a brass table at the center, while shiny sculptures in each corner are portals to mini peep shows. Some even have an accompanying furry tactile component hidden on the base; here, touching is strongly encouraged.
Welcome to "Haas Angeles," a sumptuous and psychedelic survey of the prolific twin brothers Simon and Nikolai Haas, who turned 33 in September. On paper, the Haas Brothers are officially a design studio. But the contents of their aforementioned Sex Room, a Gesamtkunstwerk they unveiled to much shock and awe with the gallery R & Company at Design Miami/Basel 2014, demonstrate how much labels are just a formality. Skirting around the fair's rigid guidelines for what constitutes design, they got creative with some questionably functional work. "There were regulations that we couldn't hang paintings, so we were selling the frames as frames and the paintings inside as throwaways," Simon says of the wall-mounted molded female genitals framed in brass. "There's not really a function to these sculptures. You could call it a lamp."
Outside the Sex Room, visceral works abound, each piece created using a different technique: There are voluptuously bulging benches with paw-like feet, finished in high-sheen hexagonal metal tiles; neon porcelain vessels with Seussian antennae; some animated creature playing on a monitor in a surreally oozing landscape to the distant sound of dripping water. Two lifelong craftsmen who began sculpting limestone and marble as teenagers at their father's stone company, the Haas Brothers are fond of developing experimental techniques—hexagonal tiling, accretion, luxe taxidermy, and beyond—and outsourcing their craft to other artisans, whether it's to the 10 in their L.A. studio, a collective of beadworkers in South Africa, metalworkers in Tijuana, or stonemasons in Portugal.
"There's not a process that we outsource that we haven't thoroughly investigated," says Simon. "It's just that if you have a stone shop, it's hard to make other things." Working with many sets of hands, they say, allows them to more nimbly move on to something new.
This survey of greatest hits marks a turning point in their career. It's their first solo show in their hometown, and a newly optimistic outlook comes through in their latest work: The video on display, their very first, is called Meditation Not Medication, and a collection of cartoon animals in gestures of thanks is called The Gratitude Series.
"We went through a very difficult year or two, and we've really come out of it," says Simon, newly sober and out of rehab. "We were always producing, but our relationship got rocky." Their King Dong, from 2016, a nine-foot-tall creature made of brass and black Icelandic sheepskin that presides over the center of the exhibition, is  "a record of a darker time for us," says Nikki.
"We were just dealing with the success of the career," he explains. "We were coming to the realization that we had worked ourselves to the bone, making ourselves unhappy with this immense workload without taking the time to understand why we even did it." Now, amid the bright colors of their most recent work, King Dong, who was once "a lot more menacing," is "a much happier guy."
There's a soul and a conscience at the center of the duo's practice, whether manifested as a living salary and commission for the artisans they employ in Africa, or in acknowledging the role new galleries play in the gentrification of Downtown Los Angeles by supporting local causes (the twins are donating the proceeds from T-shirts sold at this latest show—with cheeky slogans like "I Got a Beast Infection"—to La Promesa, an advocacy group for L.A. residents at risk of deportation). Next on their agenda this winter is making more democratized design that "a lot of people will be able to buy," says Simon, although for now, it's top secret.
"Haas Angeles" is on view through October 14 at UTA Artist Space, 670 South Anderson Street, Los Angeles.
Next Post