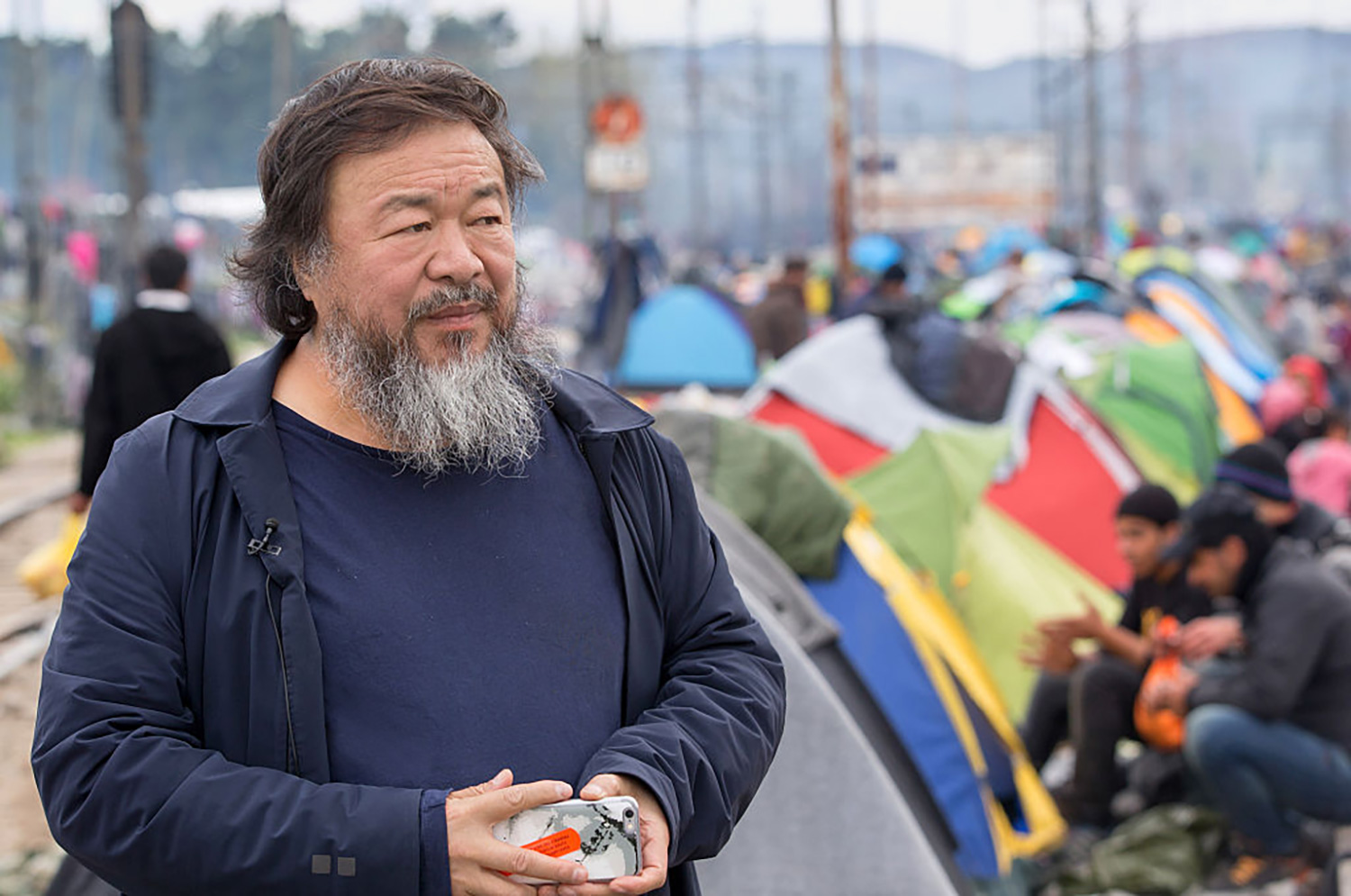 Ai Weiwei Talks About the Power of Public Art
On the eve of his city-wide exhibition, the activist artist discusses growing up in China, his relationship with New York, and the importance of free speech
Ai Weiwei's installation "Good Fences Make Good Neighbors" is slated to take over New York City on October 12. The project, commissioned by the Public Art Fund in celebration of its 40th anniversary, plans to bring to all five boroughs 300 works centered around the theme of borders and immigration. No stranger to challenges and setbacks, Weiwei received a wave of criticism from the public in the weeks leading up to the city-wide exhibition—specifically from the Washington Square Association, which is protesting the politically charged installation in the park's historic archway. (The community felt that it took away from the monument's own cultural significance, and would affect the annual Christmas-tree lighting.) In a prior interview with Galerie about the project, Public Art Fund director Nicholas Baume explained, "I think that a vibrant democratic city that embraces the value of creative expression is fundamental to a healthy, open society. That's something we are incredibly committed to. We are also committed to the idea that the spaces of a city should be welcoming and available as a platform for artistic expression."
Here, Ai Weiwei shares his view on the project.
On growing up in Communist China 
"I have a combination of my first 24 years growing up in communism—a very hard-core Communist society, through the Cultural Revolution—and then 12 years of 1980s capitalism when living in the U.S. as a student. Then I went back to China for another 24 years in this post-Communist state capitalism. China is not really Communist anymore; it still has the structure of a totalitarian society, but with capitalist economic play. It's a very extreme divided society because of a certain rule by one party. And citizens have no chance to make a change."
On his relationship with New York  
"New York is not my homeland, but it's my chosen homeland. I learned all my vocabulary and understanding about modern society and modern man from this city. When I accepted the invitation from the Public Art Fund, of course I had such strong feelings towards New York. When I left the city in the 1980s, I was basically empty-handed: I didn't have a university degree, I didn't know how to drive a car, I didn't have money in my bank account, I worried about the next month's rent. It was a lonely period of time, so I always think of New York as not being romantic. It's very difficult to make a comeback to an old city you love. It's like you going back to an old lover."
On the power of the internet 
"With the internet, people can freely gather information and knowledge and express themselves. This is the biggest possibility for human beings in the whole human development, because we never had chances like that with the power structure, with all these people determining who you are. It was always about your social status, but with the Internet, that structure has been dramatically changed."
On his project for Public Art Fund's 40th anniversary 
"I really wanted to do something to show New York what I learned from the city. The second I come back here, I just fall in love again, hopelessly. The decision was I'm not going to make a sculpture—I'm not interested in something at Rockefeller Center. If I do something, I don't want it to be the art that you see in the museum or galleries."
On the definition of public art
"It has to first reflect the public. Then, of course, it could be art or not. I have the chance to do it, I'm not going to waste that. As an architect and somebody working with social political struggle, I want to make my artwork more relevant to today's political discussion. So gradually I came up with this project. I want to say how special this project is to me."
On why freedom of expression is important
"As an artist, I think freedom of expression is the foundation of our origins. To protect our rights is to guarantee our creativity still has some space to reach the people we respect and trust. As human beings, we don't understand ourselves. We constantly rediscover ourselves around uncertainties. Today we can see that there are more uncertainties ahead of us. We are privileged to have this kind of self-consciousness and awareness, and at the same time the possibility to express ourselves. Art is an important part of humanity. We need freedom of speech because only through that we find humanity is more than us just moving in a big crowd."
"Good Fences Make Good Neighbors" runs from October 12, 2017 through February 11, 2018 at various locations around New York City.
Next Post