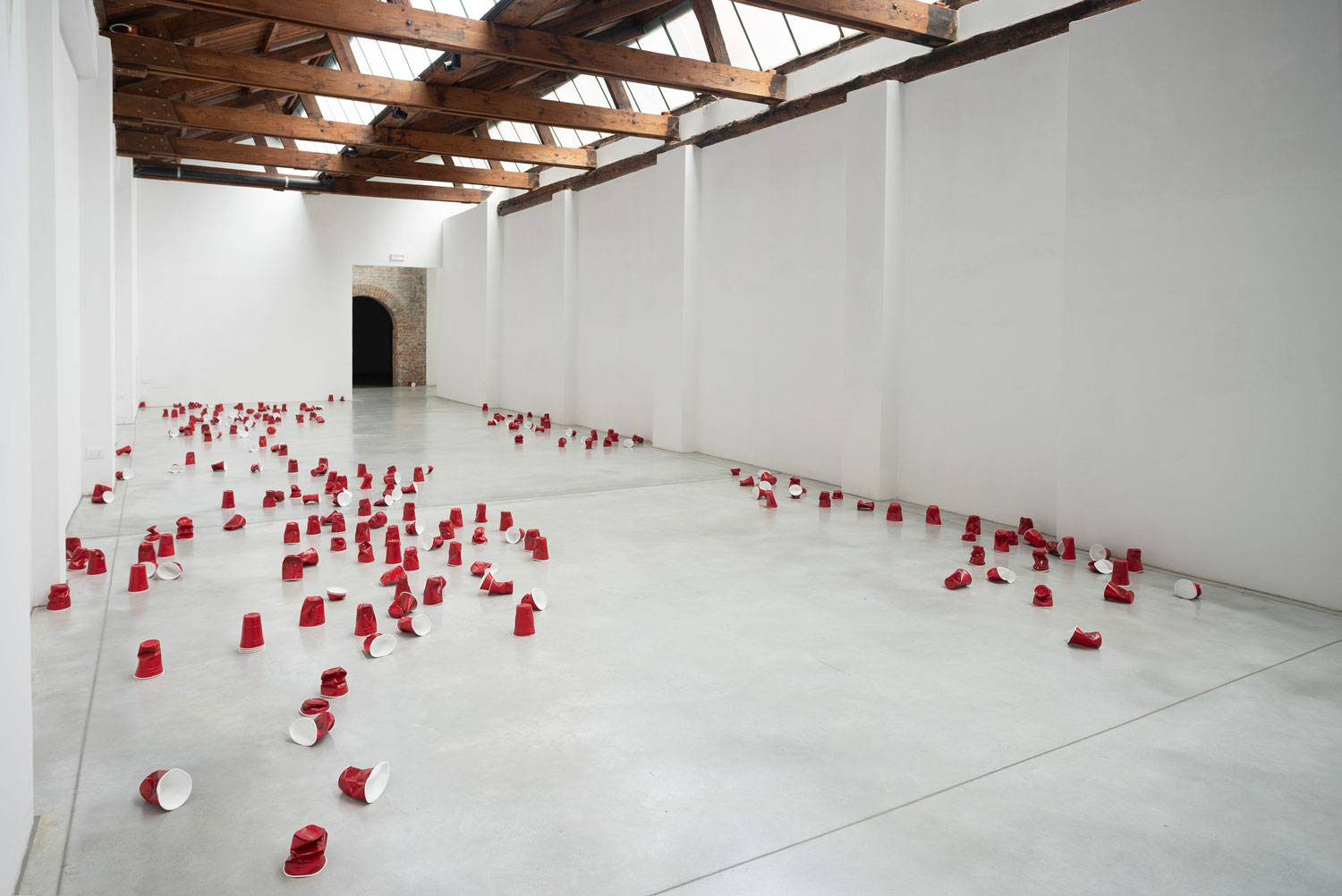 With Paula Crown's Venice Show, Dallas Contemporary Launches New Global Series
The American artist's show during the Venice Architecture Biennale is the first in a new series off-site projects
In late May, as many in the art and design industry were in Venice celebrating the launch of the 16th Architecture Biennale, Dallas Contemporary, which was founded in 1978, was quietly signing off on a new plan.
"We have a massive space in Dallas—it's almost 300 square meters—but we don't want to stick to only working within the walls," the museum's executive director, Peter Doroshenko, told Galerie this past week. "In our opinion, our seminal curatorial scholarship has no boundaries, and neither should our projects."
We were at the opening of "The Architecture of Memory," an exhibition by artist and activist Paula Crown, which is the first in a new series of shows by the non-profit art space that intends to push this "no boundaries" ethos. Curated by Doroshenko, the opening was as buzzy as Dallas has become in recent years, and a strong calling card for the ambitious curatorial program that aims to raise the Texas city's profile on the global map.
Recommended: See Highlights from the 2018 Venice Architecture Biennale
Located in the historic Jewish quarter of Cannaregio, in northern Venice, "The Architecture of Memory" occupies a beautifully restored 2,200-square-foot former glass-making factory. It marks only the second time the building has been used as an art space. (The first was to host the Ukraine Pavilion at the art Biennale in 2017.)
Upon entering the space, visitors see hundreds of crumpled and discarded red plastic cups strewn across the polished concrete floor. It appears to be the aftermath of a gallery opening, or perhaps even a frat party, and leaves viewers to wonder where everyone went and why it hasn't been cleaned up. On closer inspection, however, we realize the cups are hand-painted, and have been painstakingly cast in plaster. What seemed like a cheap, throwaway object is in fact, something of value and permanence.
The notion of questioning and perception is at the core of Crown's work.
"The sculptures act as a vehicle to express my environmental advocacy, without being didactic," said Crown. "Over time, the planet becomes a log of our collective marks. In the case of single-use plastics, our legacy is piling up in landfills and forming bogs in our oceans. I wanted to propose the question: How do we solve this urgent issue solo and together?"
Other works that fill the rest of the space include Chalice, a seven-foot fiberglass sculpture that introduces a dramatic shift in scale and transforms the cup into a commanding, almost god-like form. Venetian, another work, is composed of shard-like columns of colored glass— a kaleidoscopic interpretation of the original gothic stained-glass windows in the space.
Crown's journey to becoming an artist is a recent one. Until a few years ago, she served as the Vice President of Real Estate Finance at Salomon Brothers in New York City and worked for her family-owned investment firm in Chicago.
In 2012 she received her MFA in painting and drawing from the School of the Art Institute of Chicago, and had her first exhibition at at Marlborough Gallery in New York in 2015.
"I have really stopped everything else," said Crown, who is now fully committed to art-making. "I'm still on the board of MoMA because it's about art and education, and that's important to me. I did other things for over 20 years but now I need lots of time on my own. I can't be going to meetings and being on the phone all the time and also make art. You need time to play."
Ultimately, Crown's work reflects the gentle optimism and urge for change presented by the exhibitors at this year's fair, which is focused "Freespace," the sense of humanity at the core of architecture's agenda. "It's a call to action and now is the time to do it. We are all in charge and must take responsibility for the collective good. We need to come to the fore and think, what is the question I am not asking?"
The next two locations for Dallas Contemporary are going to be Miami and the Ukrainian capital of Kiev.
"The Architecture of Memory" is on view at Studio Cannaregio through November 26, 2018.
SaveSave
SaveSave
SaveSave
SaveSave
SaveSave
SaveSave
SaveSave
SaveSave
SaveSave
SaveSave
SaveSave
Next Post