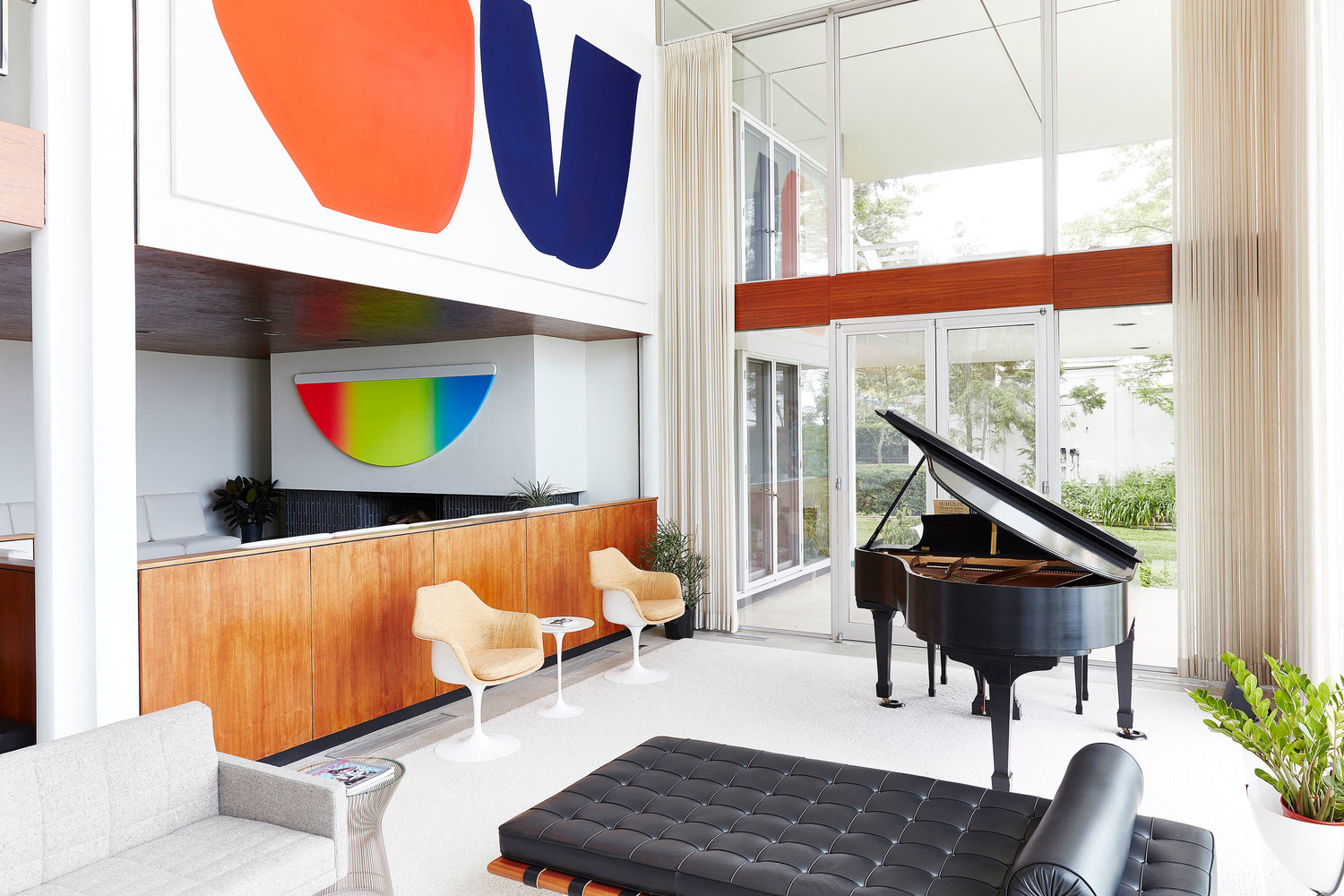 The Definitive Guide to Detroit Art Week
Here's what to see at the galleries, museums and unorthodox art spaces of Detroit
"I want an international audience to discover the Detroit art scene," said arts writer and publicist Amani Olu, "and to leave feeling like, 'I want to come back.'"
Olu has spent the past year organizing Detroit Art Week, a citywide celebration of contemporary art and culture that will take visitors on a self-guided tour of the city from local galleries and museums to artists' studios and homes of collectors. "It can be a big moment in terms of breaking an artist, sales, doing business in the future," he said. "We're making it clear to people that the art here is worthy of an annual event."
The event, which is being held in honor of textile artist Carole Harris and abstract expressionist painter Allie McGhee, kicks off Friday, July 20, at the Detroit Institute of Arts with an artist talk with the honorees as well as an exhibition of their work.
Recommended: Headed to Detroit Art Week? Here Are Some Insider Tips on What to Do
"I think the whole community has decided that collaboration is key," said Olu who, as a publicist, has worked with such international art fairs as the Dallas Art Fair (2011), NADA's NYC debut in 2012, The Armory Show (2015), and Silicon Valley Contemporary (2014). And collaboration he got. He recalled telling prospective institutional participants, "'If we're going to do [this event], everybody has to be at the table to pull this off.'" As a result, he said, "99.9 percent of cultural institutions are involved."
It's an impressive feat to have this many galleries and museums committed to the event. Here, we've compiled a sampling of some of the expected highlights, from the great shows to see to the events to attend, over the course of the weekend.
Exhibition Highlights
Carole Harris and Allie McGhee, Repetition, Rhythm and Vocab
Detroit Institute of Arts
The inaugural event launches with Repetition, Rhythm and Vocab, a show at Detroit Institute of Arts showcasing the work of Carole Harris and Allie McGhee, two abstract artists established in the local community. "I pitched [the DIA] a show of two artists they've never shown before," said Olu about Harris and McGhee. "Two artists who have been living and working here for 40 years and never had a museum show." Olu said it was important to him to highlight the local artists.
Nari Ward, G.O.A.T.
Ride It Sculpture Park
At the northeast corner of a skatepark along the E. Davison Expressway, this 2017 site-specific installation by Nari Ward consists of a sculpture of a goat atop an industrial crate tower. Commissioned by Power House Productions, the work, which makes use of everyday objects, has become a neighborhood landmark.
Tal R., : this is not Detroit
Museum of Contemporary Art Detroit
MOCAD will stage a solo exhibition by the Copenhagen-based artist Tal R. that will serve as a reflection on identity and "dream places" and reveals the artist's "fantasy of Detroit." Also of note at MOCAD is Mike Kelley's Mobile Homestead, a permanent installation of a replica of the artist's 1950s ranch-style childhood home, which now serves as a community gallery and space for gathering. It's also the site of a summer concert series.
Puppies Puppies, Andrew D. Olivo 6.7.89 – 6.7.18
What Pipeline
Andrew D. Olivo 6.7.89 – 6.7.18, an eerie installation by viral artist Puppies Puppies, illustrates a change in identity through the metaphor of death. The exhibition space itself is run by two artists who are only involved part-time: "We don't represent artists," co-owner Alivia Zivich told contemporaryartgalleries.net. "We don't have the resources." Instead, they want the gallery to speak for the organic network of artists and exhibitors working to evolve Detroit's art scene.
Bruce High Quality Foundation (BHQF), As We Lay: A smack and then nothing
JTG Detroit Project
On the grounds of the Woods Cathedral in the La Salle Gardens neighborhood of Detroit, the JTG Detroit Project will stage a large-scale inflatable sculpture by the Bruce High Quality Foundation (BHQF) as well as a selection of work from the collection of Paul Johnson, the dealer of high-end vintage and contemporary design. Works on view will be those that the New York-based Johnson  has supported over the years, including BHQF, Gaetano Pesce, Alex Da Corte, Bjarne Melgaard, Misaki Kawai, Robert Loughlin, and Max Lamb.
Recommended: Meet the Secret Artist Collective Critiquing the Art World
Mario Moore, Recovery
David Klein Gallery
Newly arrived in Detroit but with almost 30 years of exhibition history in nearby Birmingham, David Klein Gallery represents both contemporary and postwar American art. The current spotlight is on realist painter Mario Moore. The show will be one part personal, one part social, reflecting on his experience of recovery following physical trauma and neurological surgery, as well as the bodily experience of African-American men. The show pairs a series of silverpoint drawings of famous African-American artists, writers, musicians, and revolutionary figures with oil-on-copper paintings of Moore's close friends and even a self-portrait.
Xeriscape
Library Street Collective
Library Street Collective, a hip community art space in Downtown Detroit run by collecting couple Anthony and JJ Curis will present Xeriscape, a group exhibition featuring Nina Chanel Abney, Rosson Crow, Beverly Fishman, Tschabalala Self and Wendy White. The show will be staged in the gallery and the adjacent outdoor area known as The Belt, an alley that has been transformed into an exhibition space and cultural hub.
Recommended: How JJ and Anthony Curis are Energizing Detroit's Art Scene
LaKela Brown, Material Relief
Reyes Projects
A solo show of Detroit native LaKela Brown's 'Material Relief' will be on view at Reyes Projects. Her series of plaster reliefs preserve jewelry from the hip hop era of the 1990s and other objects often associated with African-American culture. Also on view will be Miles Huston's 'The Style: Dweller On the Threshold."
Brook Hsu, Fruiting Body
Bahamas Biennale
"One day," remarks artist Brook Hsu, "after I'd grown very tired of eating so many kiwis, I started to eat lots of pears. For a while I was eating pears every day. I'd put a pear in my Baggu bag printed with bunnies holding donuts on it and walk to my studio." That was the origin of her current exhibition at Bahamas Biennale, "Fruiting Body," for which the artist proposes the question, "How are pears, vomit, bunny-dogs, mushrooms, stools, and fountains related?"
Color-Aid
Wasserman Projects
Combining the ceramics of Abigal Murray with colored resin paintings by Peter Zimmerman and Ken Aptekar's text-heavy compositions, a group show at the multi-disciplinary gallery will delve into concepts of color and its hold on human emotion.
A Difficult Pair
Playground Detroit
Creatives Victoria Shaheen and George Vidas debut A Difficult Pair, a mixed-media exhibition comprising two- and three-dimensional works in everything from neon to glazed stoneware. The two artists don't work as a duo; rather, Shaheen provides Vidas with conceptual inspiration and feedback, while he procures neon materials for some of her sculpture. It lends cohesion to the resulting exhibition. The hosting venue is both a traditional, sales-based gallery and an arts advocacy center, keenly focused on the professional development of artists as well as their integration with the community. An opening reception for A Difficult Pair will take place on Saturday, July 21 with a public reception from 6-9pm, and a members-only viewing hour beginning at 5pm.
Tyree Guyton, The Heidelberg Project, 1986
Tyree Guyton's Heidelberg Project is a world-renowned installation and non-profit community arts organization whose aim is to enhance the neighborhood and the lives of the people who live there. Initiated in 1986, the project incorporates found objects to encourage discussion and allow residents to realize their own creativity.
Event Highlights
Repetition, Rhythm and Vocab Opening Reception
Friday, July 20, 6-8pm
Detroit Institute of Arts, Jack and Aviva Robinson Gallery
Free
After the artist talk and walk-through of Repetition, Rhythm and Vocab, the exhibition of the festival's honorees Carole Harris and Allie McGhee, stay on for the revelry to follow, officially kicking off Detroit Art Week.
Fete
Stanley Kresge Estate
74 Arden Park Blvd
$30
Don't miss Fete, an evening of cocktails and music at the historic Stanley Kresge Estate benefitting the Cristal Rey High School Saturday, July 21, 8pm-12am.
Rejecting Reality
Red Bull Arts Detroit
1551 Winder Street
Sunday, July 22, 7-10pm
Free
The unofficial closing party for the event, this party will feature Aaron Jones blending avant-garde music with site-specific architectural installations to provide a 'sensory escape.'
Next Post