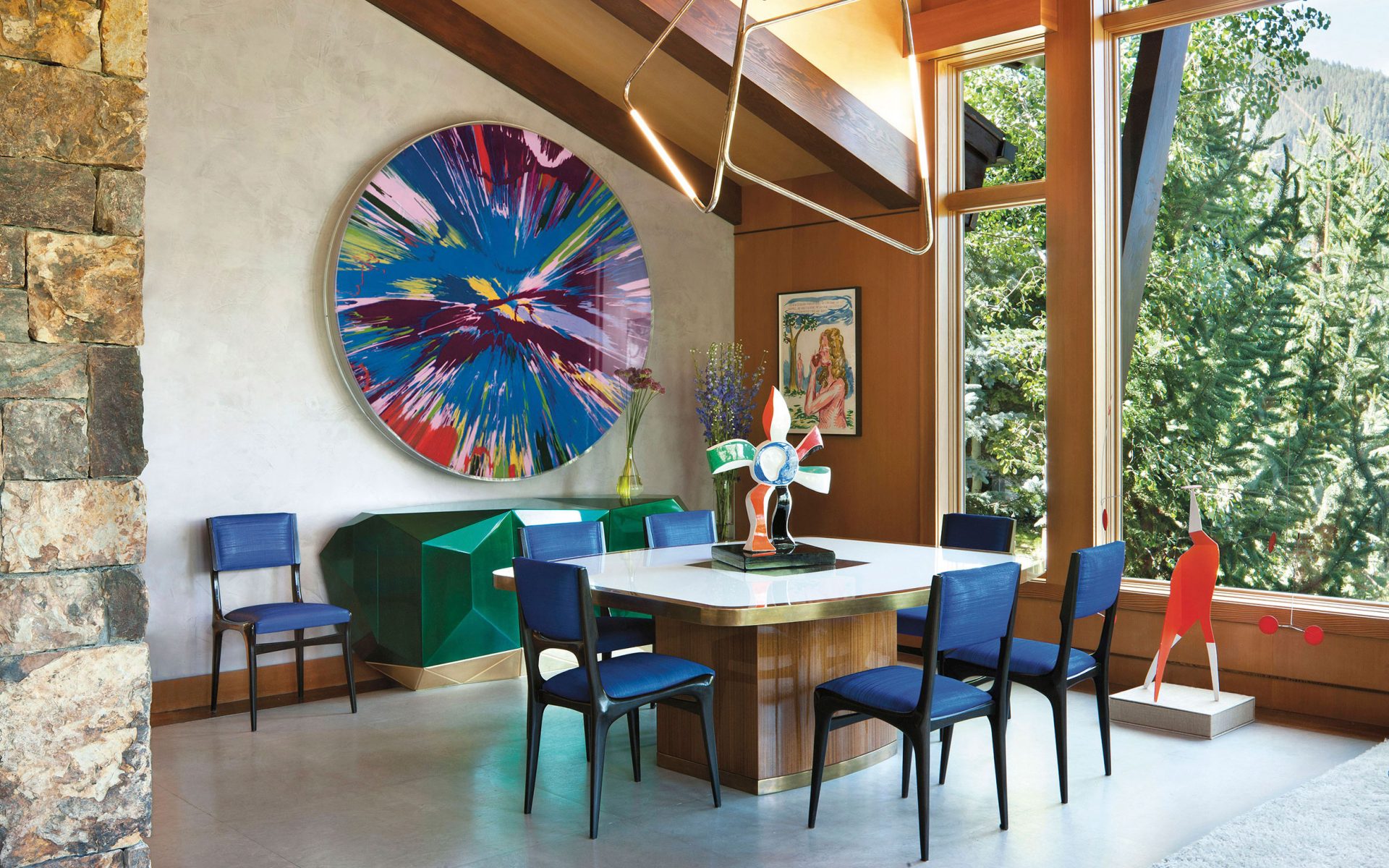 Go Inside a Stunning Art-Filled Aspen Retreat
Decorator Sara Story conceives a stylishly cozy setting for editor Sue Hostetler's spirited collection
About seven years ago, Sue Hostetler, the editor in chief of Art Basel Magazine, was at a Los Angeles art fair when she spotted a wall sculpture by the Scottish duo Littlewhitehead of a disheveled but well-dressed man balancing precariously on a window ledge, looking morose and, understandably, a tad frightened. Hostetler snapped up the piece, titled The Jumper, for her collection. "One of the reasons I bought it was, living in New York, I always felt I was a little on edge," she says.
These days the 24/7 stress of high-octane New York is but a distant memory for Hostetler, and The Jumper now overlooks the entry hall of her house in Aspen, Colorado, where she resides year-round. The piece serves as a daily reminder of her life in Manhattan—and why she left it for the calmer pace and fresher air of the Rocky Mountains. It was actually on a bit of a whim that Hostetler and her late partner, noted financier Donald Drapkin, first decided to spend a year in Aspen.
That was three years ago. "It's a big joke in Aspen: People say they'll stay for a year and then never leave," she says with a laugh. Her daughter, Spencer, now 13, sealed the deal. "She came home after the first day of school and announced, 'You just need to know, I'm never going back,'" recalls Hostetler.
[Slideshow: See more photos of Sue Hostetler's Aspen retreat]
The move wasn't a total stretch: Throughout Hostetler's childhood in Kansas, her family had a house in Keystone, Colorado, and, later, in Aspen. "It's always been my happy place," she says. Drapkin, who died early last year, also had long, deep ties to the ski mecca, and he and Hostetler bonded over Aspen and art. The still-grieving Hostetler describes him as "an extraordinary aesthete with an insatiable curiosity, whether for the theater or midcentury architecture or the perfect bouillabaisse at his beloved Tetou restaurant in Antibes."
When the couple went house-hunting together in Aspen, a spectacular setting was their number one requirement. "I felt like if we're going to live here, with all this natural beauty, I really wanted a view," Hostetler says. They certainly found that in this home. Close to town but nestled among trees, it has stunning vistas of both Aspen and Buttermilk mountains. Plus, she adds, "The place just has a great vibe—there's something serene, warm, and cozy about it."
Recommended: See How Peter Dunham Creates a Room at the Kips Bay Show House Palm Beach
But this house was never going to be only about views and comfort. Between them, Hostetler and Drapkin had assembled an extensive collection of contemporary works by such artists as Tracey Emin, Barnaby Furnas, Elizabeth Peyton, and Robin Rhode. To create a properly sophisticated showcase for the art, they brought in New York–based designer Sara Story, who sits on the board of the Texas art foundation Ballroom Marfa with Hostetler.
A collector herself, Story came up with a plan where each room has something unexpected and "each artwork is in conversation with another piece of art or a chair or a lamp," she says. A large Damien Hirst Spin painting, for instance, was earmarked early on for the asymmetrical wall in the dining area, where it now hangs above a striking emerald-lacquer cabinet with a silhouette faceted like a gem. "When I found that piece," Story notes, "I had the Hirst in my head."
Starting with a neutral palette, Story then introduced sumptuous textural notes using mohair and cashmere. She also peppered the spaces with plenty of what she calls "fun, cool pops of color," from furnishings like the vintage cobalt-blue woven-leather dining chairs to artworks such as the bright-red Alexander Calder mobile perched at a picture window like an exotic bird.
[Slideshow: See more photos of Sue Hostetler's Aspen retreat]
The seating is modern but inviting, including curvaceous Vladimir Kagan settees and a playful furry Beast chair by the Haas Brothers. "That chair was the only piece Don and I disagreed on," says Hostetler, who obviously won that argument. "It's crazy—it has little feet and horns. Sara knew when to throw in a little whimsy."
Other than furry furniture, Hostetler and Drapkin were pretty simpatico in matters of aesthetics. Hostetler has been buying art since she was in her early 20s, and after she met Drapkin—also a longtime collector—going to galleries and fairs became a shared pastime.
Recommended: Anne Vanderbilt's Manhattan Townhouse Hits the Market for $21 Million
One of her favorite finds is their only video work, a Michal Rovner piece with abstracted forms whose movements suggest a journey or migration. The couple discovered it in the Pace Gallery booth at the opening of Art Basel Miami Beach a few years ago. "I remember the frenzy and [Pace president] Marc Glimcher saying, 'You've got it on hold for one hour,'" she says. "We both loved it, but you want to see as much as you can before buying, and the fair is huge. So we speed-walked through!"
Though she's a force in the art world, Hostetler takes a self-deprecating view of her own collecting acumen. "They say that great collections have some thematic thread," she says. "This probably would not be considered a great collection—I'm not that disciplined." Struggling to explain what drives her art acquisitions, she finally offers, "It's emotion and passion and wanting to look at a piece for the rest of my life." Is there any better reason?
A version of this article first appeared in print in our 2017 Spring Issue under the headline Aspen Glow. Subscribe to the magazine. 
Next Post