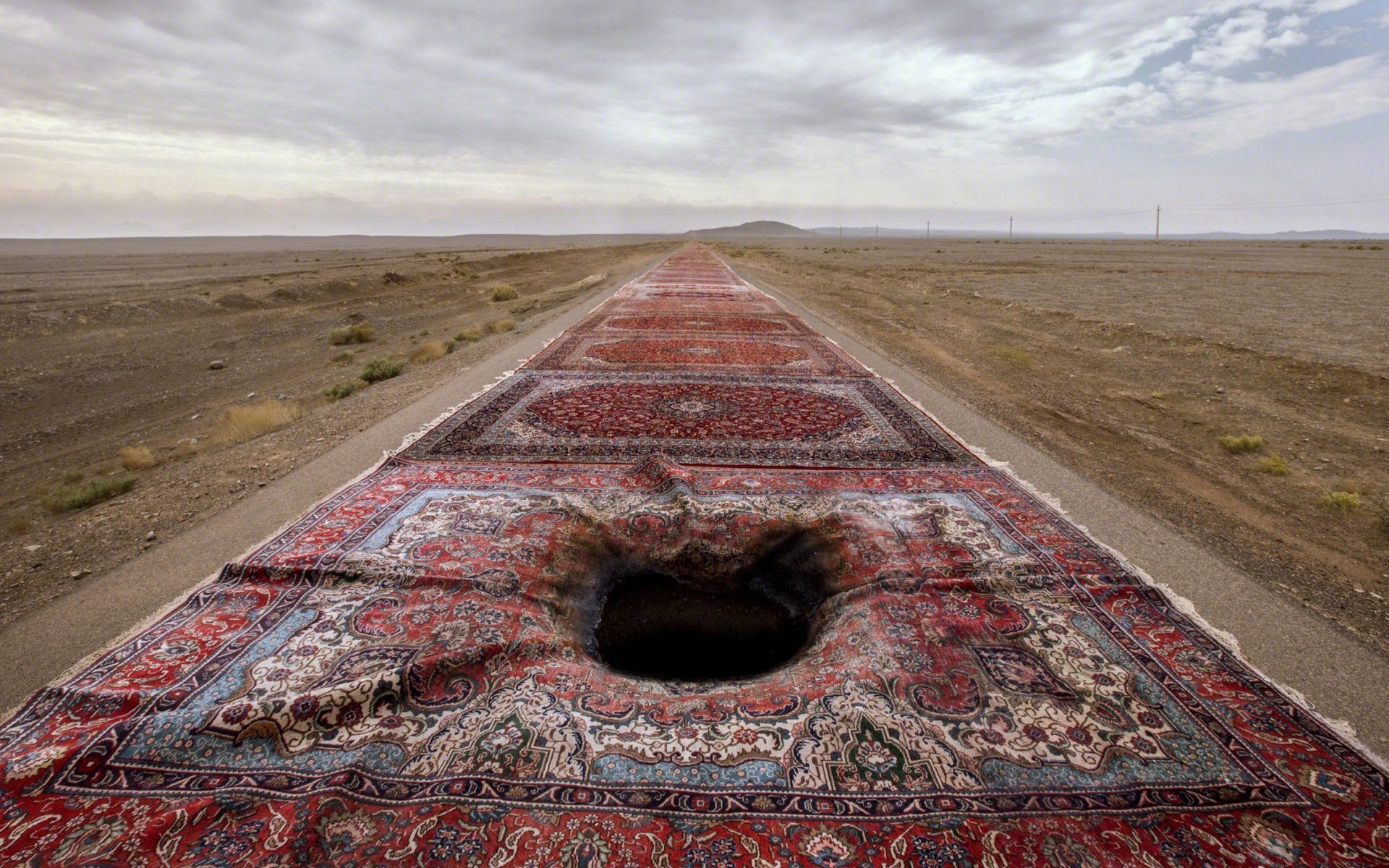 This Year's Abu Dhabi Art Fair Reflects an Evolving Art Scene
The 11th edition focuses on India and China in two new curated sections
On a balmy November evening, the 11th edition of Abu Dhabi Art kicked off at the Manarat Al Saadiyat on Saadiyat Island, located on the Gulf of Abu Dhabi, with 50 global galleries and a slew of top-notch exhibitions. 
The cornerstone of the city's cultural calendar and flourishing art scene, this year's celebrations were somewhat more subdued than past years due a rare rain downpour in the desert city—an event which caused the vernissage to be held the day earlier—and the passing of the brother of the Crown Prince of Abu Dhabi. 
The preview days still drew a dynamic crowd, including members of the esteemed Royal Family such as H.H. Sheikh Khalid bin Mohamed bin Zayed Al Nahyan, government officials, as well as the Solomon R. Guggenheim Museum director Richard Armstrong, Louvre Abu Dhabi director Manuel Rabaté, and officials from the prestigious Comité Colbert in Paris. Some of the world's biggest collectors (among them Dimitris Daskalopoulos from Greece and India's Kiran Shiv Nadar) were also in attendance; many of whom were invited and hosted by the governmental Department of Tourism and Culture, which sponsors the fair. 
Since Dyala Nusseibeh, a UAE native and the daughter of the Minister of State, took over as director three years ago, special curated programs and initiatives have been crucial to the fair's identity. 
New this year are two sections that focus on India (helmed by Indian gallerist Ashwin Thadani,) and China (conceived by Jérôme Sans co-founder of the Palais de Tokyo). This strategic move is a response to the United Arab Emirates's largest immigrant community, which comes from the former, as well as a major influx of tourists from the latter. 
In "New Horizons: China Today," fair visitors are greeted by a life-size fiberglass dinosaur and rhinoceros, a thought-provoking work from 2011-12 by the enfant terrible duo Sun Yuan and Peng Yu, who show with Galleria Continua. "I never believe that there are more than five artists in a generation that are interesting in any city, anywhere," says Sans, who handpicked ten Chinese artists he considers the most important from the last two generations for the occasion. There are also striking works by Zhao Zhao (Chambers Fine Art), Li Shirui (White Space Beijing), and Li Qing (Tang Contemporary).
"China has a long history, but these works question the present and the future," says Sans, comparing the recent cultural boom in Abu Dhabi to that of Shanghai. "When I arrived in China in 2007, there was nothing; zero infrastructure, zero museums. Now there are there are hundreds of museums, and this month, the Centre Pompidou Shanghai opened, and the entire international art world was there for the West Bund Art & Design and ART021 fairs." 
For the Indian section, six galleries were invited to showcase the diverse creative output in the region. Highlights here include a dazzling circular piece crafted with bindis by Bharti Kher at Nature Morte, Nadira Husain's kaleidoscopic arrangements, which riff on traditions of Indian miniature painting at Galerie Isa, and vibrant paintings by the modernist master and founding member of the Bombay Progressive Artists' Group, M. F. Husain at Aicon Gallery. 
The dynamic Dr. Omar Kholeif, senior curator of the Sharjah Art Foundation, returns for the third year to curate the Focus section, with an attempt to introduce new galleries to the region. "I wanted to think how we could do something different and bring an interesting curatorial voice to something that is ultimately quite commercial," Kholeif tells Galerie. "I've been thinking about territory—roaming and moving. Art is not compartmentalized but part of a broad polyphonic dialogue that is happening in the region." 
His section takes drawing and mapping as its theme, with a focus on works on paper. "An art fair is an interesting way to see what is coming out of an artist's studio right now." Highlights here include painted works by Huma Bhabha at New York's Salon 94, which is showing in the Middle East for the first time. (Gallery director Alissa Friedman was hosted on a recent research trip to understand the city, an example of the government's active support and contribution to the fair.)
At Jhaveri Contemporary, a cutting-edge projects space in Mumbai, the standout is Pakistani artist Ali Kazim's poetic watercolor drawings of the once flourishing Indus Valley in Lahore, which is now a desolate landscape strewn with ancient terra-cotta shards. Istanbul's Galerist, meanwhile, presents ceramic sculptures by Elif Uras made at the historic workshop of Iznik, and works by the pioneer of the French feminist movement Nil Yalter. 
Sales here are a slower burn and also look a little different than on the Western art-fair circuit. For instance, "the Ladies Preview is very important," says Amir Besharat of Dubai's Cuadro gallery, which presents an installation crafted from reused glass by design duo Yomuto. "It's where the Sheikhas tour the fair in private and many put works on reserve. The ladies have a lot of power in the art scene."
Overall, the most popular booths seemed to be those with a focus on regional artists whose aesthetics appeal to local tastes, and abstract and conceptual works abound. Multiple international dealers revealed an important reason for attending Abu Dhabi Art is the fruitful connections made with the government. "We have been coming here since the beginning and the support and relationships are tremendous," says Dee Haughney of London's October gallery, which presents works by Rachid Koraïchi, El Anatsui, and Romuald Hazoumè.
The most impressive artworks, however, are to be found outside the fair walls. In an annual commissioned project titled Beyond, the buzzworthy British talent Oliver Beer (Galerie Thaddaeus Ropac) and Leandro Erlrich (Galleria Continua) presented works at Qasr al-Hosn, the oldest stone building in the city, as well as at the Al Ain oasis, a 4,000-year-old, UNESCO-listed site, a two-hour drive away. For his part, Beer selected key works from the new Louvre Abu Dhabi museum and tasked hundreds of local Emirati children from diverse backgrounds to recreate them in colored pencil, which he then turned into a dazzling animation. Erlich, meanwhile, took the oasis as his inspiration with one of his signature cloud installations. "Oasis has always been one of my favorite words" says Erlich. "I had been dreaming of this space without knowing it," he says. 
On the whole, the 11th edition of Abu Dhabi Art reflects an evolved and nuanced art scene. The first few editions were a glitzy affair, with the powerhouses Gagosian, Lisson, Hauser & Wirth, and Acquavella taking over the majestic Emirates Palace hotel, where it was once located. Back then, dealers were lured with the main aim of selling to the new museums such as the Louvre and the still-to-come Guggenheim Abu Dhabi, which have been actively acquiring works for their collections. The fair has since evolved into a more regional affair thanks in part to a growing middle-class Emirati collector base. 
Along with the new Jean Nouvel-designed Louvre Abu Dhabi, which presents a universal view of art history, there are several other key factors—prestigious international universities opening campuses, and dynamic creative platforms such as the newly reopened Cultural Foundation, Warehouse421 and the artist-run Bait 15—contributing to the cultural renaissance. The future plans are monumental too. Along with the construction of the Frank Gehry-designed Guggenheim and the Zayed National Museum, there were whispers of a new private project helmed by the Chairman that will feature studio spaces and commercial galleries. While the government-owned art fair model in Abu Dhabi is unique, Nusseibeh believes it works. "At the end of the day, the mission of Abu Dhabi Art is to support the whole ecosystem, and that includes galleries selling and artists selling. We are supporting the cultural economy." 
Abu Dhabi Art runs through November 24 at Manarat Al Saadiyat. 
Next Post