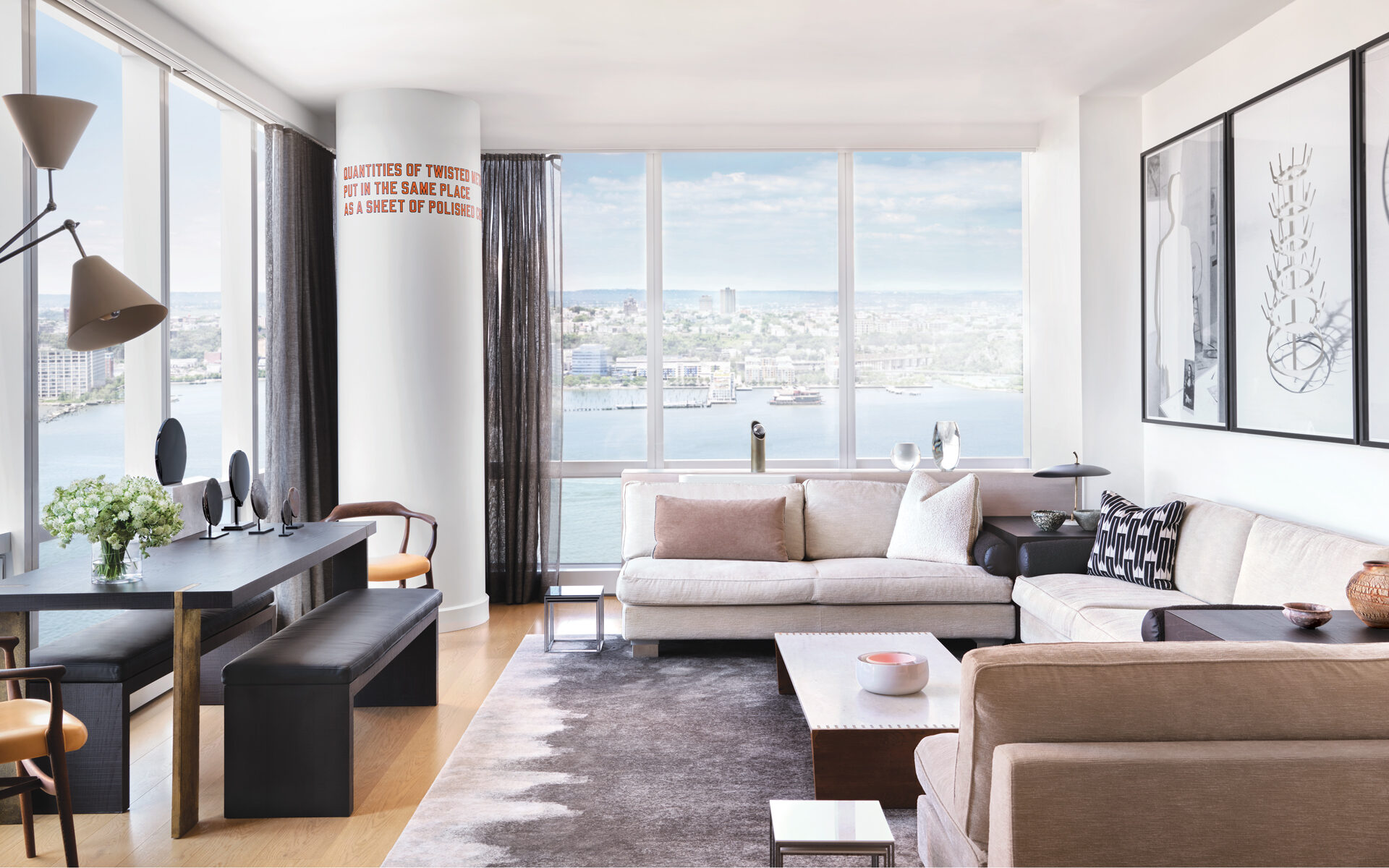 Tour Gallerist Sean Kelly's Hudson Yards Apartment
The art dealer and his wife, Mary, enlist designer Gloria Cortina to curate an expressive backdrop for their art
Sean Kelly is a risk-taker and something of a contrarian. It's a combination that explains a lot about the gallerist's life and career, not least his decision three decades ago to pick up and leave Bath, England, for New York, where he and his wife, Mary, settled in SoHo—back when the neighborhood was still the city's art epicenter. Living in a spacious penthouse loft, they raised their two now-adult children, while Kelly ran his gallery nearby, before moving it to an off-the-beaten-path block in Chelsea and, later, to an even more unexpected but ultimately prescient location next to what would become Hudson Yards.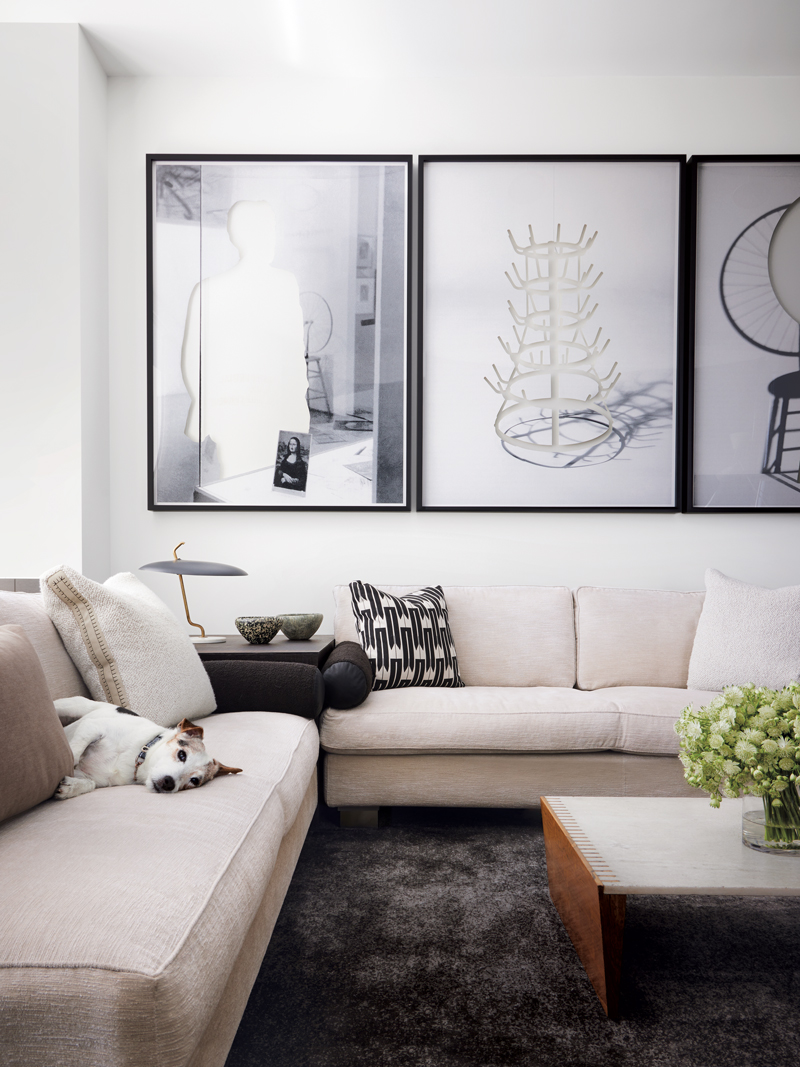 From the start, Kelly's gallery had a distinctive bent, reflecting his predilection for art that is challenging, cerebral, and often steeped in narrative. His roster ranges from eminences like Marina Abramović, Antony Gormley, Rebecca Horn, and Joseph Kosuth—some of whom he's shown since the '90s—to mid-career and rising stars such as Jose Dávila, Julian Charrière, and Kehinde Wiley. The Kellys were known for hosting parties for 150 people at their loft, attracting a lively mix of artists, collectors, curators, and other art-world personalities.
But a few years ago, the couple felt it was time for a change. "We sort of lived through the last stage of SoHo when it was interesting," Kelly says. "With the kids moved out and starting families of their own, we were rattling around in the space. Mary just said, 'I want a different lifestyle.' " Plus, the couple had built a home and an art barn for their collection—both designed by architect Toshiko Mori—near the Hudson Valley town of Canaan, where they spend most weekends.
If the Kellys giving up their loft wasn't entirely a surprise, their choice of a new address was: a 1,700-square-foot, two-bedroom apartment in the 88-story tower Fifteen Hudson Yards. While a five-minute walk from the gallery, it was as dramatic a move as one could make in New York. "That's the fun part," says Kelly, who notes that he and Mary are friendly with the building's architects, Elizabeth Diller, Ricardo Scofidio, and Charles Renfro, as well as David Rockwell, who worked on the interiors. "In a funny way, it fit the profile of what I like to do, which is take these giant leaps and do the opposite of what might seem natural."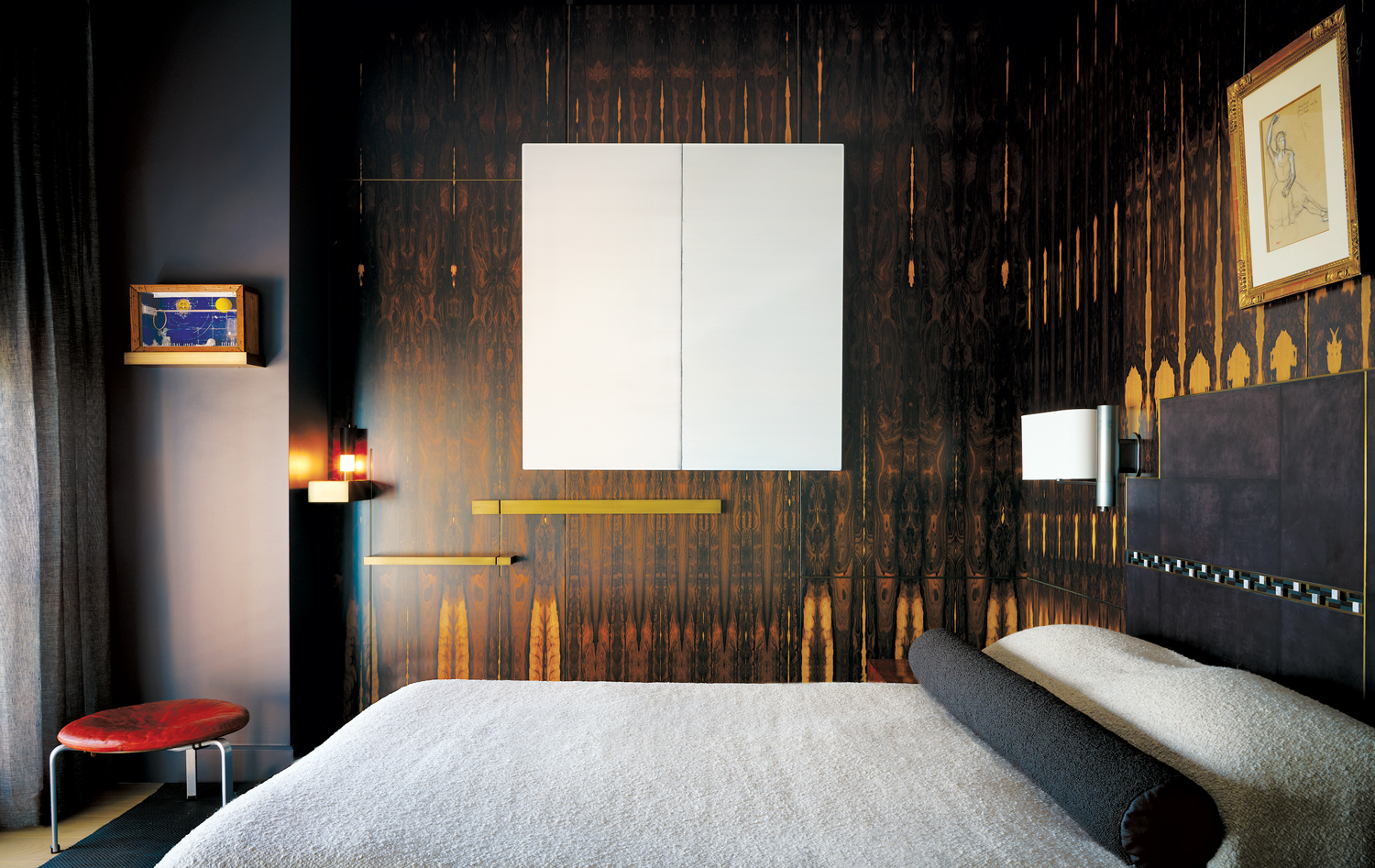 Equally unexpected was the couple's decision to bring in an interior designer, a new step for them, to tailor the apartment's unfinished spaces (everything but the kitchen and the baths). They enlisted longtime friend Gloria Cortina, a furniture and interior designer who runs an established practice in Mexico City but had never done a project in New York.
"My husband, Santiago [Sepúlveda], and I are art lovers, and we would see Sean and Mary everywhere, and we started this amazing relationship," explains Cortina. "At one of the fairs, Sean comes up and tells me, 'We're moving, we need to downsize, and we want to make kind of like a jewel box, something that is super precious and custom made. And we want you to do it.' "
The symbolic inspiration for the Kellys' vision was one of Joseph Cornell's small vitrines that they own, containing a poetic assortment of found and handmade objects, with references to the sun and cosmos. Now mounted in the couple's bedroom, the Cornell serves as a metaphor for the entire apartment, Kelly says, as "a tiny machine, comparatively, for living that is full of wondrous things."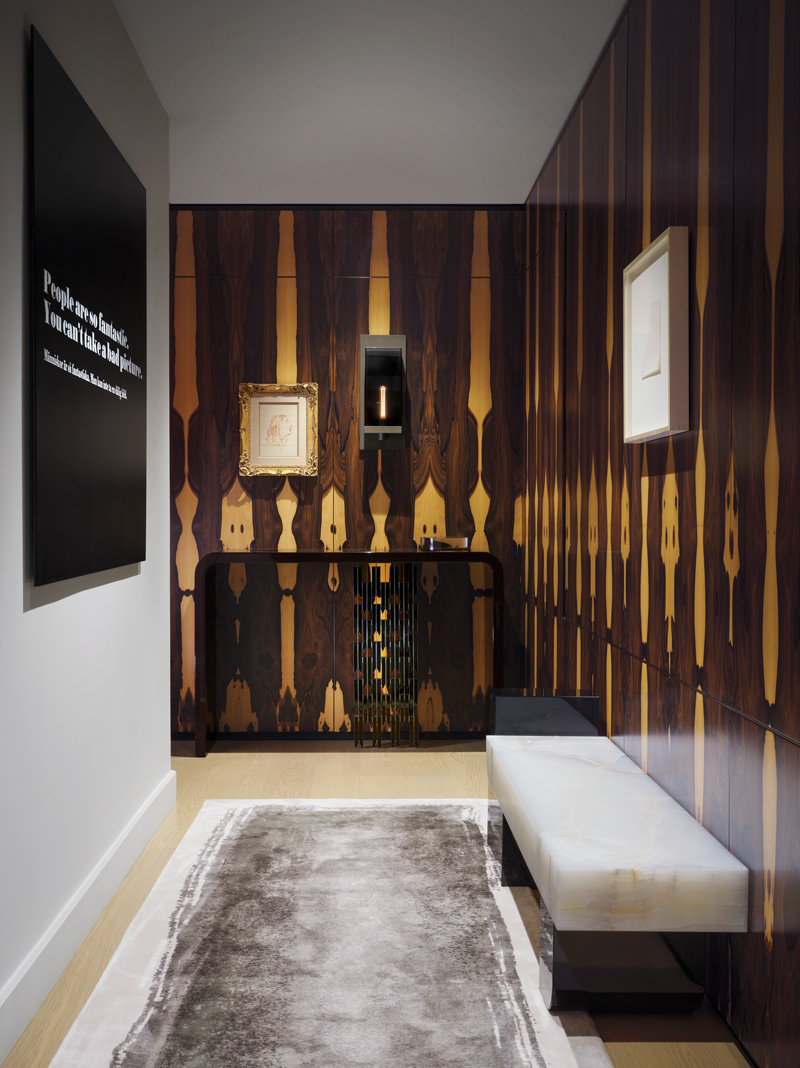 The Kellys were attracted to Cortina's flair for exquisite materials and refined details, often with a distinct Mexican character, which can be seen in the ziricote wood paneling that covers the entry and main bedroom. It's also reflected in her use of black obsidian—a stone highly valued by the Aztec—in the furnishings she creates for her interiors and sells through New York dealer Cristina Grajales.
One piece in particular that Kelly insisted on having was Cortina's Black Hawk console, a version of which is in the Cooper Hewitt, Smithsonian Design Museum. The table is coated in a deep-red cochineal lacquer, its minimalist form embellished with a cascade of stylized bronze feathers—another Aztec reference—inlaid with obsidian. The table is surmounted by her moody Dark Light sconce and an Édouard Manet drawing, with all three elements engaging in a lyrical dialogue.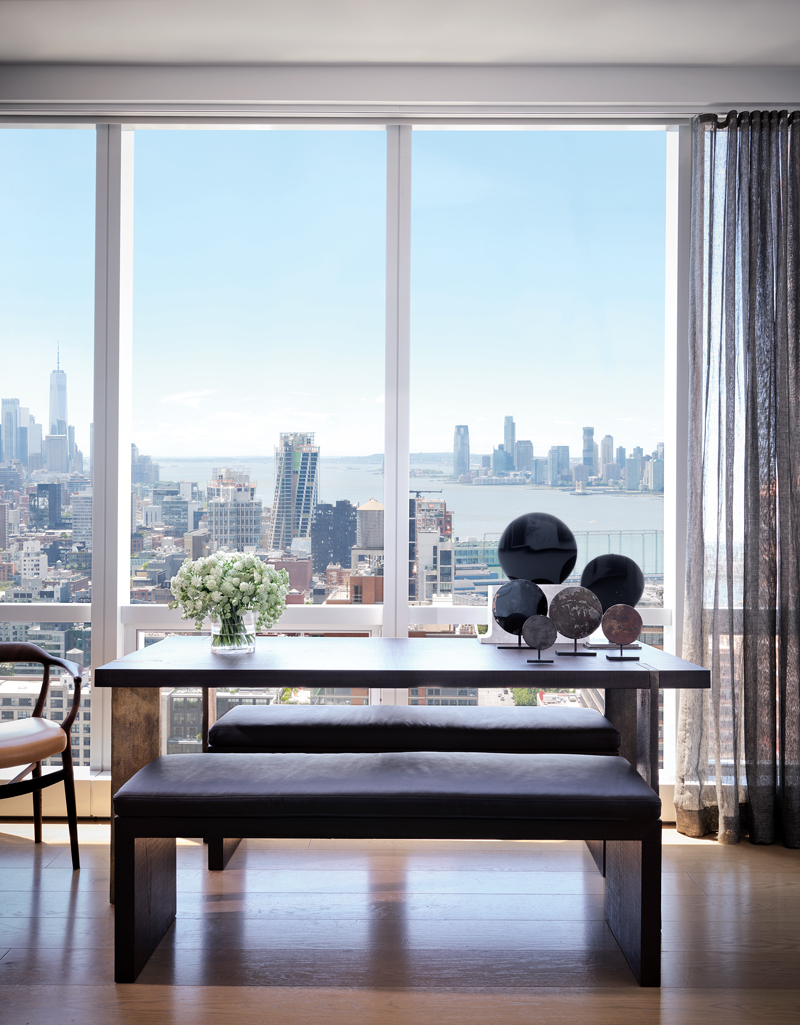 "For Sean, everything needs to have a story, a line of thought," says Cortina, who also created a custom piece, dubbed the Brújula (or compass) table, for the dining area. The hand-hammered walnut top rests upon legs, which represent the four cardinal lights that color the apartment, with its expansive views over the Hudson River and lower Manhattan. 
Sprinkled throughout the apartment are international vintage treasures, from a marble-top Jorge Zalszupin cocktail table to leather-cushioned stools by Poul Kjærholm and multiple light fixtures by Angelo Lelii, whose designs Kelly calls a "total obsession." As for the art, it's a mix of gallery artists and historical works, mostly intimately scaled and all very personal.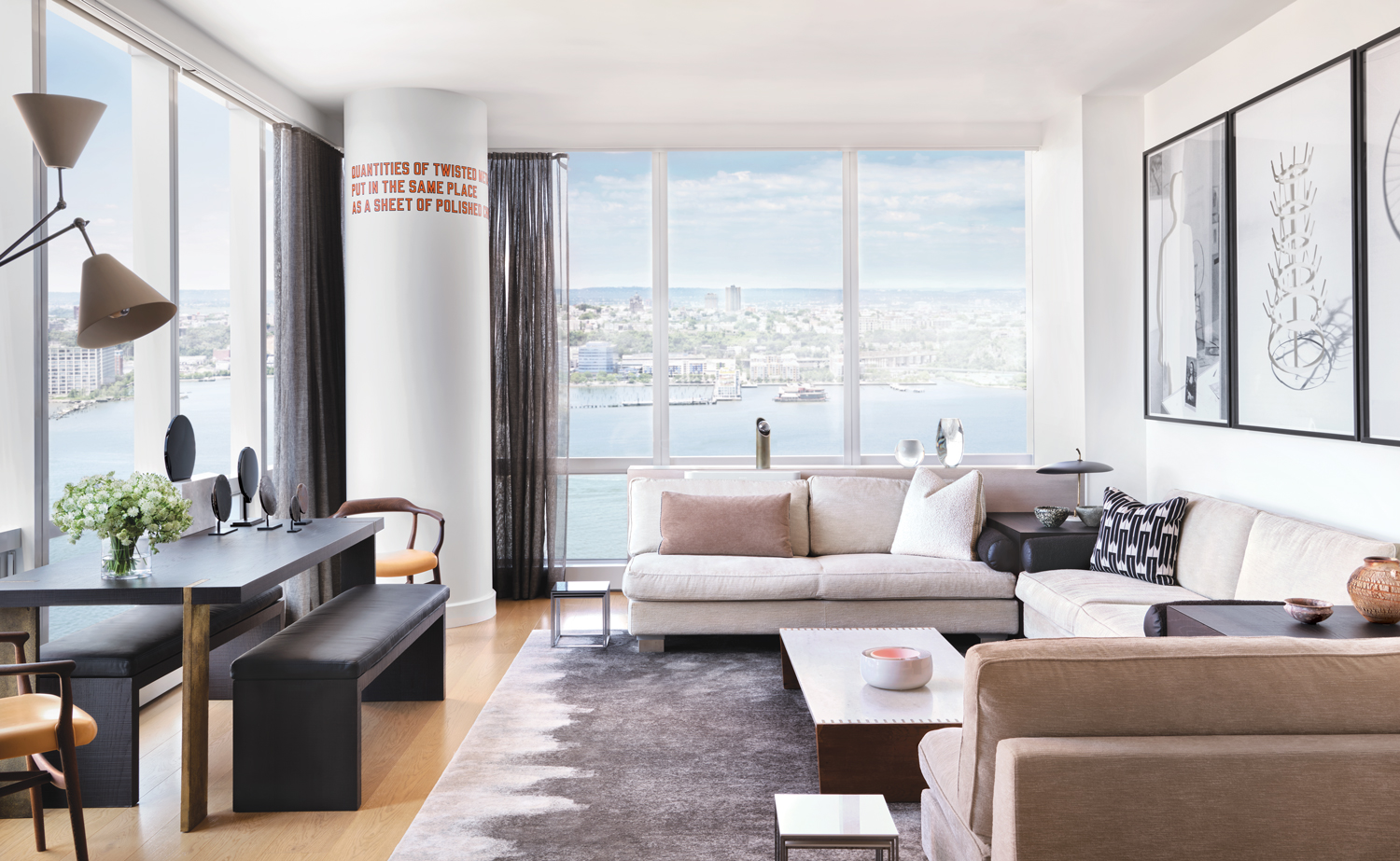 The largest work is a quartet of specially commissioned Dávila photographs above the living room sofa that reference iconic pieces by Marcel Duchamp, another of Kelly's obsessions. The couple owns some 60 works by the artist, one of which, displayed prominently at the end of the kitchen, is a mirror etched with Duchamp's signature in reverse, cleverly casting each person who stands before it as his latest portrait, explains Kelly, who regards it as a masterpiece.
Another touchstone, hanging nearby, is Harry Shunk's famous staged photograph in which Yves Klein appears to dive from a building into the street. After all, Kelly remarks, "it's what I did 30 years ago."
A version of this article first appeared in print in our 2021 Winter Issue under the headline "Into the Heights." Subscribe to the magazine.
Next Post