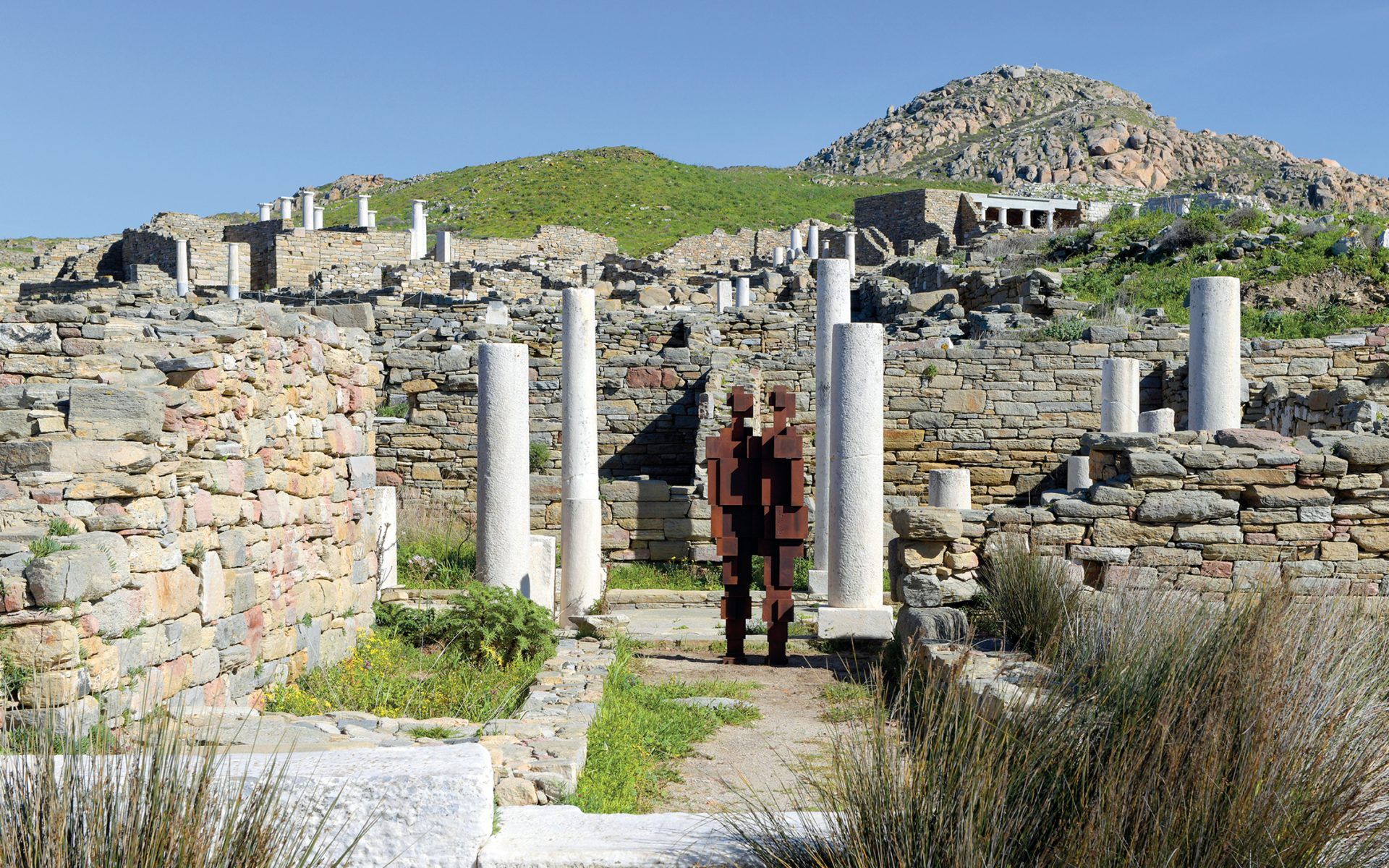 Antony Gormley Installs Arresting Sculptures Amid Ancient Grecian Ruins
A 5,000-year-old archaeological site in Greece plays host to 'Sight: Anthony Gormley on the Island of Delos'
A 5,000-year-old archaeological site in Greece will get a new lease on life this summer with an ambitious installation by acclaimed British sculptor Antony Gormley, on view through October. The tiny island of Delos, once a flourishing trading center in the middle of the Aegean Sea, is revered in Greek mythology as the sacred birthplace of twins Apollo, god of light, and Artemis, goddess of the hunt. Usually inhabited by just a handful of archaeologists and scientific researchers, Delos will be home to 29 life-size iron body forms by Gormley, who is known for site-specific works that investigate our relationship to place.
The artist was tapped for the project by Neon, a nonprofit founded by collector and entrepreneur Dimitris Daskalopoulos, in collaboration with the Ephorate of Antiquities of Cyclades. The humanlike figures stand, sit, and lie across the island, from the rocky beach to the ancient ruins of Doric temples, markets, and the iconic Terrace of the Lions statues, echoing the traditional statuary of the ancient world. "The ultimate challenge was how to approach it respectfully," says Neon director Elina Kountouri, "and not use the site as a stage but to really form a kind of cohabitation."
Recommended: Artist Alicja Kwade's Latest Installation Beguiles Crowds on the Met Rooftop
The project follows a slew of historic interventions by Neon, including presentations by artists Tino Sehgal at the Roman Agora and Adrian Villar Rojas at the National Observatory of Athens atop the Hill of the Nymphs. "Archaeological spaces should be a constant reminder not only of the layers of time but how cultures and nations are interconnected," says Kountouri. "It is a necessary return to our human and democratic values." Or, as Gormley suggests, "maybe we can connect with something vital we've lost." 
A version of this article first appeared in print in our 2019 Summer Issue in the section called The Artful Life. Subscribe to the magazine.
Next Post